Since NHL training camps won't get started for another month, what better way to fill a hockey news void with some bold (but perhaps not as crazy as one might think) predictions? Without further ado, here are three perhaps bold predictions for the San Jose Sharks.
1. Brent Burns Will Set a Career High For Points
In case you have been living under a rock this offseason, the Sharks have decided to move Brent Burns back to defense for the upcoming season. It is a move that yours truly strongly believes is a wrong one. Last season Burns set a career high in points while playing right wing, potting 48 in 69 games. On the surface, one would be safe to assume Burns' point totals would come down moving back to the blue-line. However, that might not be the case.
In his last year with the Minnesota Wild Burns scored 46 points as a defenseman, only two fewer than his career high set last season as a Sharks forward. Burns was Minnesota's No. 1 power-play point man but in San Jose he's rarely seen time on the top unit. This year though he will almost assuredly be on the top unit with Dan Boyle moving onto the New York Rangers.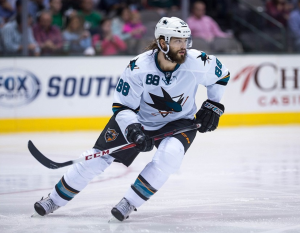 In his prime at just 29-years-old, Burns is poised to have a big, big year on the man advantage. When you consider Boyle scored over 25 points on the power-play in each of his first three seasons with the Sharks, it is a good bet Burns will score about the same. If we simply do the math and add 25 power-play points to the 21 even strength points Burns scored in his first year with the Sharks (when he was a defenseman), that would be 46 points to tie his previous career high on the blue-line.
But given the fact the Sharks are a more lethal offensive team than Burns' Minnesota teams were, and that Burns is much more familiar with San Jose now than he was in 2011-12, it's a safe bet he will score even more at even strength. Not to mention, this time around he will have defense guru Larry Robinson around for expert tips and advice. When one really thinks about it, maybe this isn't so bold of a prediction. Given a healthy season, I'm predicting over 50 points for Burns, a new career high.
2. Antti Niemi Will Be Nominated For The Vezina
Given Antti Niemi's struggles last season this may seem like a major reach, but then again, maybe not. Niemi has had an up and down career and whenever the Finnish netminder has had something to prove, he has come out the next season with a strong performance. After winning the Stanley Cup with the Chicago Blackhawks, Niemi became a salary cap casualty. Niemi played behind one of the best NHL teams of the past decade and his numbers outside his terrific series against San Jose were mediocre. Fans and experts alike were doubting what Niemi would become. The next season though saw "Nemo" prove the doubters wrong as he seized control of the Sharks No. 1 job and finished the 2010-11 season with a .920 save percentage, 2.38 GAA and six shutouts.
The following year however, Niemi struggled. He began the season recovering from the removal of a cyst on his leg and missed all of training camp. His overall performance took a hit, as his save percentage dropped to .915 and the number of soft goals seemed to increase.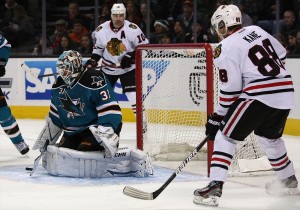 People would again start to doubt Niemi but what did he do? In his third season with the Sharks Niemi would be the team MVP and earn a nomination for the Vezina Trophy. He sparkled from start to finish during the lockout shortened 2013 season. He finished the year with a .924 save percentage and a miniscule 2.16 GAA, once again proving his doubters wrong.
This past season though the trend continued for Niemi. After a strong 2013, Niemi took a step back as his save percentage fell back down to .913 and he struggled mightily in the playoffs. Rookie backup Alex Stalock even started Game 6 of the series because of Niemi's poor performance. Once again, Niemi has plenty of doubters going into 2014-15, which also happens to be his contract year. You all know what that means!
Niemi will once again have a terrific bounce back season, and it will be the best season of his career. Playing for a new contract, Niemi will set a career high in save percentage and be nominated for the Vezina trophy earning himself a handsome pay day in free agency.
3. Raffi Torres Will Score 20 Goals
Hockey fans who haven't had Raffi Torres play for their team can't stand the guy. They often group him in with other goons who can't score. In reality, he's a tremendous offensive role player and fans who have seen him on their team absolutely love his presence. He is physically intimidating but he can also score goals. In his first two seasons in the league in 2003-04 and 2005-06 Torres scored 27 and 20 goals for the Edmonton Oilers. While he hasn't reached the 20 goal plateau since, he has consistently been between 14 and 20 during full years with some not so great teams. He scored 19 with the Columbus Blue-Jackets during the 2009-10 season and 15 with the then Phoenix (now Arizona) Coyotes in 2011-12.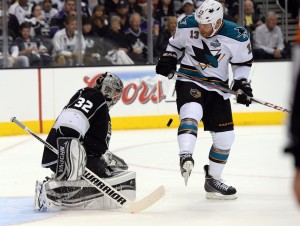 While a majority of players in the league have more assists than they do goals, Torres is one of the few who scores more goals. For his career he has 137 goals to just 123 assists. In other words, Torres is a finisher, a top-9 goal scoring winger.
There are certainly question marks concerning his health after missing nearly all of last season with a second ACL injury on the same knee. That said, there have been no reports of setbacks this offseason and so far Torres has done nothing but score and score a lot in his small sample size with the Sharks.
In 28 combined games between the regular season and the playoffs, Torres has scored eight goals for the Sharks. At that pace over 82 games, Torres would score either 23 or 24 goals. If he is healthy and San Jose does the wise thing and play him with either Joe Thornton, Logan Couture, or Joe Pavelski as his center, mark my words Torres will eclipse the 20 goal mark.
What do you think?
Are these predictions really that bold? Leave a comment below and let me know your thoughts!