Saturday, the Boston College Eagles head coach Jerry York was notified by Sonny Milano that he will play for the Plymouth Whalers of the the OHL, instead of  the Eagles. Milano will sign an entry-level contract with the Columbus Blue Jackets, forgoing his college eligibility. Milano was drafted 16th overall in the 2014 NHL Entry Level Draft.
Aaron Portzline, Puck-Rakers Blog – Sonny Milano, the Blue Jackets' first-round draft pick in the June draft, has pulled out of a commitment to Boston College and will instead play this season for the Plymouth Whalers of the Ontario Hockey League.

Milano, the No. 16 overall pick, informed Boston College coach Jerry York of his decision today.

"Sonny has informed me he will sign a contract," York was quoted as saying in a tweet by @BCHockey, the Boston College sports informational department. "They will dictate his path as he embarks on his pro career."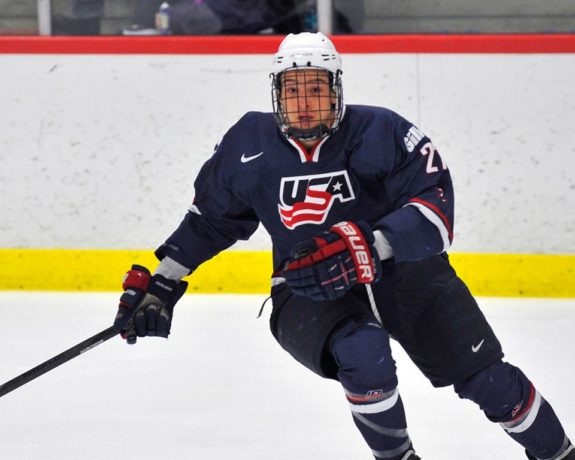 While it stings that another players has decommitted from his college team to go the CHL route, none of us should be shocked by this move. This has been a re-occurring theme for the United States National Team Development players that have been taken in the early rounds of the NHL draft.
I told another hockey writer the other day, until these blue-chip players make it on campus they're a threat to sign with a CHL team, especially if they were drafted high. The recruitment process doesn't end there, CHL team's recruit players that are on college hockey rosters even after they arrive on campus.
Puck-rakers: #CBJ first-round draft pick Sonny Milano has pulled out of BC committment, will play for (OHL) Plymouth http://t.co/3uJcvEet42

— Aaron Portzline (@Aportzline) August 17, 2014
Decommitments leave a hole in team's roster
Milano snubbing Boston College for Plymouth, is a big loss for College hockey in general. Milano's decommitment leaves hockey fans wondering what could have been. Granted, he probably wouldn't have been at Boston College more than a season or two.
When a player decommits from his college team this late in the summer, it leaves that team scrambling. Also, late decommitments leaves a hole in that team's roster, that might be impossible to fill. Milano was expected to arrive in Chestnut Hill next weekend, now he's off to the OHL. When a player backs out of a commitment, it can drastically change the makeup of a team. Obviously, without Milano, Boston College is a different hockey team.
Because of the timing of this decommitment, these players are usually replaced with less talented players or players that may have benefited from another season of junior hockey.
After reading the Columbus beat writer's blog, one must ask the question, how committed to Boston College was Milano, or was he using his commitment to Boston College as leverage?
Milano was said to be leaning away from Boston College even before he was drafted, but he denied repeatedly that a decision had been made — first at the NHL draft in Philadelphia, then at Blue Jackets' development camp, and again last week at the United States national junior development camp in Lake Placid, N.Y. (Puck-Rakers blog)
If you've followed college hockey, you will know that the CHL and the NCAA are in direct competition with each other for the high-end, blue chip recruits. It's not much of a stretch to suggest that the CHL and the NCAA are at war with each other. This time, the CHL won this battle.