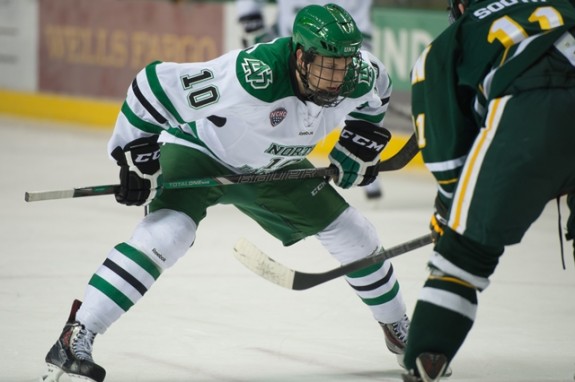 According to Grand Forks Herald, Tambellini notified the UND coaching staff on Tuesday evening, that he was leaving UND hockey program for the WHL.
During his time at UND, Tambellini played in 16-of-18 games, scoring (2g-2a—4pts).  The freshman forward played mostly on the third and fourth lines. Recently, it appeared that things were starting to click for the lanky forward.
At the Wednesday press conference, head coach Dave Hakstol was asked about the Tambellini's defection, and this is what he had this to say.
"That's his choice," UND coach Dave Hakstol said. "This (North Dakota) isn't an easy place to play or be successful, nor should it be. He made his own personal choice."
It didn't take long to figure out that the UND hockey team had already moved on. The Green and White are preparing for this weekend's series against the Colorado College Tigers without Tambellini.
Coach Hakstol continued. "I don't spend a lot of time worrying about it. We had a great practice today with a bunch of guys that are all-in and focused. I'm pretty excited about that. I'm excited to get going this Friday against Colorado College."
The UND head coach was asked if there's a concern that CHL teams might be recruiting players from NCAA rosters.
"They do, plain and simple," Hakstol said. "That's part of their job and part of their world."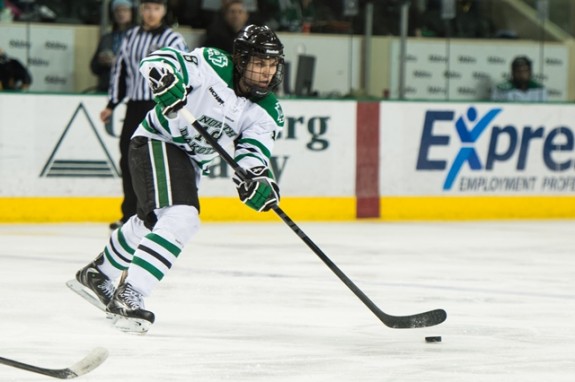 Tambellini's former UND teammates weigh in on the midseason defection
Tambellini leaving the UND hockey team was the hot topic of discussion at the Wednesday press conference. Two of Tambellini's former teammates weighed in on the mater.
"It surprised us all," Captain Dillon Simpson said. "It's his decision. At the end of the day, we've got to worry about Colorado College this weekend. In that dressing room, we're not going to worry about it."
UND goalie Zane Gothberg added: "Hey, it's hockey. It's his decision where he wants to play. I hope the best for him."
While the Tambellini defection caught some of his teammates off guard, it sounds like Tambellini had put a lot of thought into his hockey future over the holiday break.
 Over the holidays when Tambellini was debating his hockey future with his family, he liked the possibility of playing with the Hitmen because of the right level of comfortability with the organization.

"Things were moving a little slow (in North Dakota)," said the New York Rangers prospect. "We thought the right decision was to play more games, and the ability to come to an organization like Calgary is truly exciting.

"I kind of singled out Calgary as the one place I wanted to come to. With the level of comfortability and a really strong team, I thought I'd fit in well here and hopefully can get to the Memorial Cup with the Hitmen." (Hitmen Hockey)
Player defections to the CHL: a reality for the NCAA teams
Like other high profile NCAA teams, the UND hockey team has experienced their fair share of players de-committing from their commitments and deciding to play in the CHL instead.  However, this is the first time in recent years that a player has left midseason to go play in the CHL.  Nonetheless, it does leave UND one man short at the forward position. Wednesday night, Tambellini made his debut with the Calgary Hitmen, scoring (1g-3a—4pts).
In the first period of his first #WHL game, Adam Tambellini just recorded his first career #WHL point!

— Calgary Hitmen (@WHLHitmen) January 9, 2014