Not much has gone right for the New Jersey Devils through their first 44 games of the 2013-14 season. After an overtime loss to the Philadelphia Flyers they have 43 points (17-18-9) and find themselves amongst a logjam of teams vying for a playoff spot in the Eastern Conference. They've had injuries, just like every other NHL team, and only six skaters have played in every game this season. Jaromir Jagr, who is almost 42-years-old, is their leading scorer with 35 points (13g-22a) and as great as he has been, they need other players to start contributing on a more consistent basis.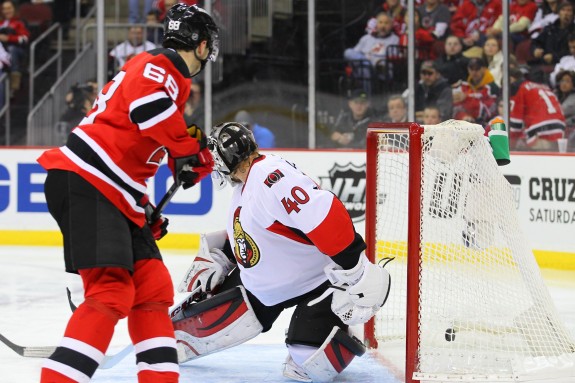 INJURY CREATES OPPORTUNITY
With injuries to some regular blueliners early in the season New Jersey was forced to call up two-rookie defensemen likely earlier in their maturation process then they would have liked to. Eric Gelinas has played in 33 games (16 points/4 goals) and has provided an offensive presence with his shot that the Devils haven't had for a long time. Jon Merrill has added some size and speed to the blue line in the 22 games he has played in so far.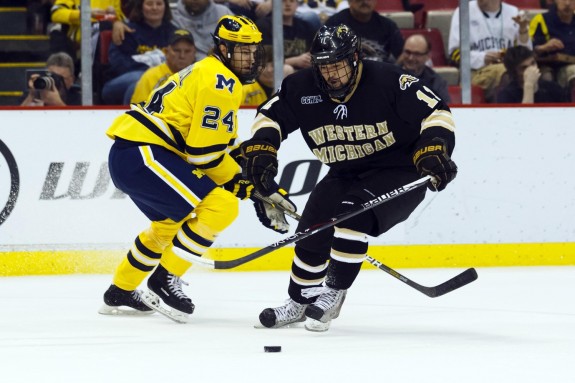 "I think every game is a new game and I'm just trying to play my game and do whatever it takes to help this team get wins," Merrill told the Hockey Writers after the loss to the Flyers. "Our D is a great group of guys; they help (me) a lot. They lead by example and they talk you through some things."
Martin Brodeur has played behind almost every defenseman that ever wore a Devils uniform (slight exaggeration) and likes what he sees so far from Merrill, who turns 22 on February 3. "He has played good; he's a young guy, he still has a lot of things to learn but he's a big body with tremendous skating ability and a good hockey IQ. I think it's nice that he has an opportunity at his age to play in the NHL," Brodeur said, "it's going to be a big positive for his career. It's definitely good for us because it's hard sometimes to give plenty of ice-time to young players. This year we've been giving it to two of them, it's a good time for us to have that."
NOT SO FRIENDLY CONFINES
With an 8-6-6 record at Prudential Center it's safe to say the Devils have been wildly inconsistent at home so far. Only once this season have they won back-to-back games in their own building (December 14 & 18) and they have four shootout losses plus two in overtime. By failing to grab those extra points New Jersey finds itself currently four points out of an automatic playoff spot in their division and four points out of the final Wild Card spot in the East.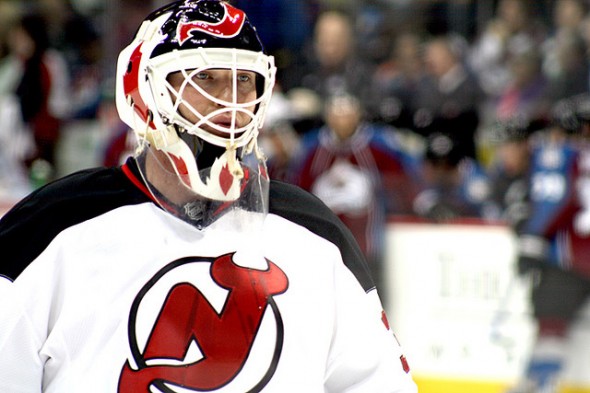 "There's plenty of time (left in the season)," said Brodeur after the loss to Philly. "At some point teams are going to play a lot against their own divisions and this is where you need to make your move (in the standings) when you play these teams. Definitely that extra point we gave them doesn't help; they took about four points from us so far and I think we have three (against them), it's not too, too bad."
The goalie went on to give his assessment of where his team has stumbled this season in the Garden State, which has been consistently inconsistent. "That killer instinct has to be there for us. It's one thing to get chances and to work hard to get them, but if you don't finish them eventually when you play teams that have good weapons offensively they're going to make you pay," lamented Brodeur. "These guys kind of waited us out; they didn't play a great game and they were able to beat us."
Brayden Schenn had an eventful night in New Jersey:
Yesterday Brayden Schenn took a skate to the stomach and came back out to score the game winner in overtime. pic.twitter.com/ApxKRqQ4i2

— Hockey History (@HistoricHockey) January 8, 2014
He was still upbeat, while disappointed with the ultimate result of the overtime loss to a division rival (and a team currently ahead of them in the standings). "It was a tough play; you don't think that a guy like (Niklas) Grossman would make a play like that. It was a pretty nice fake shot there. It was through a screen so I couldn't really pick it up if he shot it or not; I just kind of heard the slapper boom and I didn't know where the puck was. Brayden Schenn, I guess I couldn't rob him twice in a row," Brodeur said, alluding to a save on him earlier, "that would've sucked for him."
Here is the save that Brodeur referred to on Schenn:
NUMBERS DON'T LIE; OR DO THEY?
The problem for the Devils this season certainly hasn't been goaltending as both Brodeur and Cory Schneider have posted great numbers in the crease, they just haven't gotten much goal support. "It's tough, we play well, I don't think it's that. It's just a matter of a goalie making a save that you're not supposed to make or score a goal you're not supposed to get. What's the answer? I don't know," said Brodeur with a puzzled look on his face.
"We're not playing bad hockey, I don't know if it's something with our depth, I don't know. Its kind of mind boggling a little bit because we are better than what the results on the ice are," he said while shrugging his shoulders. "I'd love to be able to pinpoint it, everyone would love to be able to pinpoint it, but we're going to keep working hard, doing the right things and hopefully we'll get on it."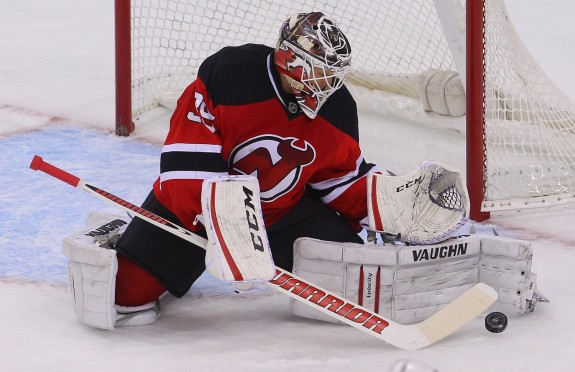 They have played well in spurts, here and there, but never for a few weeks at a time and that has led them right to where they are now: looking to overtake a myriad of teams with 38 games remaining from now until game no. 82 on April 13 against the Boston Bruins. If they don't find a way to become more consistent they will find themselves on the outside of the playoffs for the third time in four seasons.
Dan Rice can be reached via Twitter: @DRdiabloTHW or via Email: drdiablo321@yahoo.com