Don't look now, but the New York Islanders are putting a nice little streak of road victories together.
Clutterbuck with the empty netter ISLANDERS WINNN!!! 12 goals in 2 games!! Back to back wins and 5 straight on the road WAY TO GO BOYS!

— Islanders Pride (@IslandersPride) January 8, 2014
And there's reason to be excited. The Islanders, for the first time since last spring, are playing confident hockey and are playing very well. They have played much better on the road this season, even during their slump, but have managed to string together seven straight road wins. And here's why:
Special Teams
I've harped on it for a month; the Isles can not be successful if their Special Teams don't get better.  And thankfully for Islander fans, since I published that articles, Isles special teams have dramatically changed… for the better.
First off, during this 7 game road win streak, the Isles are converting on 31% of their man advantage opportunities. That is a huge improvement and is direct factor in winning games! The Isles are also doing a good job killing penalties. They've killed off 20 of 24 in their five previous road wins. That number would look much better if not for the very chippy game played at Madison Square Garden that saw the Isles take 7 penalties.
I've said it once and I'll continue to say it; the Isles NEED to play well on special teams to get their season back on track. They've done so the last few weeks and it's led to 8 wins in 10 games. But it has to continue and it has to improve if they want to continue this streak. Seven games is nice, but a ten game streak would be even nicer.
Offense Offense Offense
HOLY GOALS BATMAN!  For a team that's been shutout 4 times this year and struggled to find goals outside of their first line for most of the first two months of the season, the Isles have found their stride as of late and have been putting on an offensive clinic.
The Islanders have scored as many goals in the last 29 hours as the Flames have in the last 17 days…….(12)

— Mike Kelly (@MikeKellyNHL) January 8, 2014
The Islanders have managed to climb up into the top 12 in goals/game at 2.7 after scoring 39 goals in their last 10 games. And yes, the top line is leading the way but they aren't scoring all the points. Michael Grabner has finally gotten his swagger back and the defenseman have been playing well offensively lately as well which is directly impacting this current streak.
Time to Reminisce?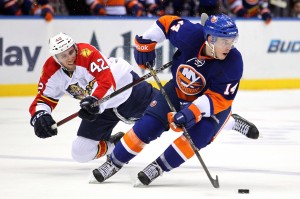 It's beginning to look like the spring of 2013 again. The team is playing great; John Tavares is dominating and is among the league best in points and goals; Evgeni Nabokov is giving his team a chance to win (his injury isn't serious and he WILL be back soon), and the team is playing TEAM hockey, led by their very strong top line, that is scoring more than last season's top line (the Vanek trade is beginning to look a little better huh?)
The Isles dug themselves a large hole but luckily, aside from the Pittsburgh Penguins, no one in the Metropolitan Division is playing all that well either; it's very wide open and inconsistent. The Isles are now only 7 points out of 3rd place in the division, thanks to the Washington Capitals recent 4 game losing skid. The Islanders are honestly one of the top 3 teams in the division as of the last 10 games. Obviously Pittsburgh is in a different league, and the Philadelphia Flyers have strung together a great few games, but as have the Islanders.
The Isles need to continue playing well (obviously) and run this streak as long as they can. They have seven division games left to play before the Sochi Olympic break. Those are 14 HUGE points that could spring board them up into the top half of the standings.
They are capable.
Be sure to catch me on Twitter @BSmithTHW and get in on the action using #THW.