Hockey is a game that is very multifaceted. It's much more than just putting a puck into a net; it takes many talents and many different strategies to be successful in the game of hockey. One of the biggest facets of hockey that is needed to win… Special Teams; and without it, it is VERY hard to win in the NHL. Just ask the New York Islanders, who have lost 12 of their last 13 games.
The Penalty Kill
The PK unit, in my opinion, is the heart and soul of any good hockey team. The Penalty Kill is not about putting your best players on the ice or the most talented guys… The PK is about who's going to get on the ice and do whatever it takes to keep the puck out of their net. It's all about heart. Tell me who in their right mind would jump in front of a frozen puck going over 100 MPH if they didn't have heart and pride for the name on the front of their jersey?
All that being said, the Isles just don't have it working. Currently, they find themselves dead last in Penalty Killing Percentage killing only 72% of penalties taken. The Vancouver Canucks lead the league killing 90% and the league average is about 83%.
Over the last 13 games, the Isles have surrendered 12 goals while on the PK; they lost five of those games by one goal and in a 6-3 loss to the St. Louis Blues, they gave up three goals on the PK. Something's gotta give.
Needless to say, the Isles aren't helping themselves at all. They need to figure out how they are going to start killing some penalties. That's a huge step in getting things back on track. Their PK unit has to find an identity and tighten things up. Coach Capuano knows that and was particularly hard on his defense Monday in practice.
Tense #Isles practice today, a few f-bombs being thrown around by the coaching stafff. Loudly

— Matt Saidman (@MattSaidman) December 16, 2013
However, I must add that the easiest way to kill a penalty is to not take it in the first place, but that's another story.
The Power Play
Let's start by saying the Islanders current unit has only 12 power play goals. To put that in prospective, Alex Ovechkin leads the league in Power Play goals with 11, by himself.
The Power Play is supposed to be an opportunity for the team who's up a man, to gain momentum and ultimately put a puck in the back of the net. It's a great opportunity at any point in a game to easily create some offense. But lately, the Isles have not cashed in on any of their odd man situations. In their last 13 games, they've scored just three power play goals on 38 attempts. There's a reason they find themselves in 23rd place in the NHL converting on just 15% of power play opportunities. It should also be noted that in the 12 games Matt Moulson played for the Isles this season, he scored five power play goals.
And why? Because he understood the value of getting into the goal crease, creating traffic, and getting his stick on pucks. He brought a very important element to the Islanders power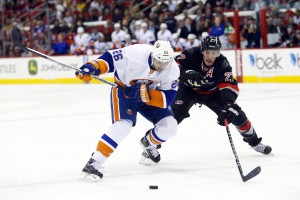 play, and he took it to the Buffalo Sabres with him. Since his trade, the Isles are 7/73 (9.5%). In case you were wondering, Vanek has ZERO power play goals in a New York Islanders uniform.
Strome to the rescue? Isles fan can hope. The power play did create some chances in the rookies debut, but it's to early to tell. The biggest part of a power play unit is chemistry. It does take time to develop. But it's key in winning games. If you're only converting on 10% of you chances when you have one more player than your opponent, you're making it much harder to win hockey games.
Ryan Strome and John Tavares have chemistry. Throw Vanek into the mix and you have your three forwards on the power play. That's pretty obvious to me. But, the points need to change. As of now, Kyle Okposo and Andrew MacDonald play the points on the top power play unit. If it's not working, which I think I've proven with stats that it's not, change it. I'm a firm believer in "Nothing can change if Nothing changes." Put Travis Hamonic on the point and move MacDonald to the 2nd unit. Mix it up some. It can't get much worse, statistically.
Their Not So Special Teams strike again #Isles

— Chris McNally (@thechrismcnally) December 13, 2013
What's Next…
The Islanders have four games before the Christmas break. That's four games that they need to compete in and come out of with at least five points at Christmas, preferably more. There's a lot of hockey left this season. But I promise, if the Special Teams don't improve, the losses will continue to come for the Isles. Sad, but true.
Check out our partners at TiqIQ for the best deals on New York Islanders tickets for all 2013-14 games.