Every year on Boxing Day (December 26th for non-Canadians), hockey fans are given one final holiday gift.  The gift is the beginning of the 2014 under-20 World Junior Championships.  The tournament pits the best U20 players in the world from these ten nations: USA, Canada, Russia, Sweden, Finland, Germany, Norway, Czech Republic, Slovakia, and Switzerland.  It is some of the most exciting hockey you can see, filled with speed and skill from the future stars of the NHL.
In addition to seeing your favorite team's prospects, it is very interesting to watch the rosters try to gel quickly and become a team.  Many of the players have played together before in some capacity, but the rosters are only put together in early December.  That leaves a few precious practices and exhibition games to implement a system and create lines.
In the past few years, the Flyers haven't had too many representatives in the tournament.  This is due to the organization's commitment to winning now, sacrificing draft picks and prospects in favor of established NHL players.  But this year, the Flyers should send a number of players to the tournament for four different nations.
Check out our partners at TiqIQ for the best deals on Philadelphia Flyers tickets for all 2013-14 games.
Scott Laughton, C, Canada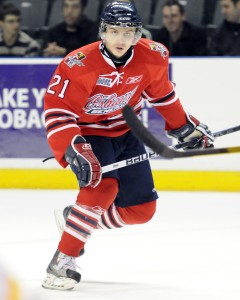 The Flyers' 2012 first round selection, Laughton has been on fire in the OHL since being sent down by the Flyers.  He currently has 50 points in only 29 games, good for seventh in the league in points and third in points-per-game.  He's done all of this in addition to being probably the best two-way player in the league.  According to Bob McKenzie, Laughton has a good chance to be named the captain of Team Canada, a prestigious honor.  Laughton is already the captain of his OHL team the Oshawa Generals, and was the OHL captain when their all star team faced a team of Russian all stars.
Scott Laughton (PHI) named captain of OHL stars. It won't surprise me if he's a strong candidate to be captain of CAN's nat'l jr team.

— Bob McKenzie (@TSNBobMcKenzie) November 20, 2013
Laughton could fill a number of roles for Team Canada.  He will likely be a major contributor on the penalty killing unit, and will take a lot of defensive zone faceoffs due to his strong defensive ability.  He will most likely be the third line center.  In Canada's scrimmage against a select team of Canadian college players, Laughton skated on a two-way line with fellow Flyers prospect Taylor Leier, and Felix Girard.
Taylor Leier, LW, Canada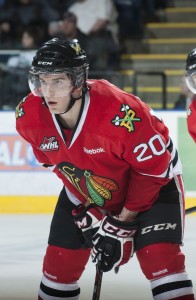 Leading up to the announcement of the selection camp roster, very few people had mentioned Leier as a potential invitee.  Leier is the type of player that helps you win games by doing all of the little things right.  With Canada's lack of gold medals in recent tournaments, it appears that they made a point to invite a number of gritty, character guys to complement their skill.  Leier is the captain of his junior team, the Portland Winterhawks, one of the best teams in all of Canadian junior hockey.
Like Laughton, Leier will be a valuable contributor on the penalty kill, very possibly alongside Laughton.  He should be a bottom six player that provides a mix of grittiness, speed, and defensive acumen.  Leier is a very good skater, which is important because the tournament is being played on an Olympic sized rink.  He's had an impressive offensive season this year for the Portland Winterhawks with 43 points in 31 games, but will not be relied upon to score goals for this team.
Anthony Stolarz, G, USA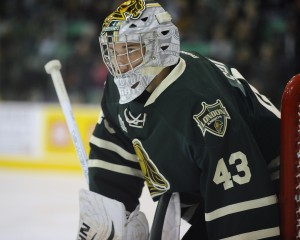 A mammoth in the net at 6'5″, 225 lbs., Stolarz has been one of the best goalies in the OHL this year.  Playing for the powerhouse London Knights, he leads the league in wins, is second in save percentage, and fifth in goals-against-average.  Although his numbers appear to be slightly down from last year, Stolarz has actually been even better this year.  London lost two of their best defenders in Scott Harrington and Olli Maatta, so the fact that Stolarz has put up numbers close to last year is impressive.
Stolarz relies on his incredible athleticism to make saves.  He can be stressful to watch because he can be reckless in the net, but his agility and size allow him to make up for mistakes in his positioning.  Stolarz is still very raw as a prospect, but has made significant strides in his game.
Don Lucia not committing to Jon Gillies or Anthony Stolarz as the No. 1 goalie at this time. Wants to let things play out in camp.

— Chris Peters (@chrismpeters) December 4, 2013
Stolarz is expected to serve as the backup goalie for the US to Providence College's Jon Gillies.  Gillies was the backup on last year's gold medal winning team.  But, according to Team USA coach Don Lucia, nothing has been decided about who will start, and they want to use the pre-tournament camp to determine the starter.  Although most expect Gillies to win the job, a strong camp by Stolarz could get him the job.
Robert Hagg, D, Sweden
One of three returning defensemen for Sweden this year, Hagg will play a large role for Sweden in a number of roles.  Last year's World Juniors was a coming out party of sorts for Hagg.  He showed great skating, poise, and vision for Sweden as a young player, en route to picking up two points in five games.  This year, his role should expand even further.  As you can see in the highlights from his performance last year, he makes a strong first pass to break out of the defensive zone.  He is also willing to skate the puck out, using his patience and skating ability to generate transition offense.
Hagg has had a decent season this year in the Swedish Elite League thus far.  He has five points in 32 games, but has been somewhat inconsistent.  When he was drafted, Hagg said that consistency was one of the biggest things that he needed to work on, and it appears to still be a work in progress.  Regardless, Hagg will play a big role for the Swedes this year as a veteran contributor.
Valeri Vasiliev, D, Russia
Among Flyers prospects, Vasiliev gets very little attention.  Being a stay-at-home defenseman playing all the way over in  on Russia does not create a lot of media buzz.  But, Vasiliev has progressed nicely since being drafted in the 7th round of the 2012 draft.  Scouts liked his talent, but an injury limited him to 18 games in his draft year, which hurt his draft stock.  Vasiliev has decent size at 6'2, and likes to to play the body.
Of the ten defensemen invited to the Russian selection camp, Vasiliev has some of the most KHL experience.  Russia has tended to rely on older, more experienced players in previous World Juniors over younger talent.  As a result, Vasiliev should see decent minutes at even strength in a shutdown role, and on the penalty kill.
The 2014 World Juniors
The 2014 World Juniors will begin on December 26th, and the gold medal game will be on January 5th.  A complete schedule can be found here.
Bill Schoeninger is a Philadelphia Flyers writer and current Boston University student studying business. Coming to THW from Hometown Hockey, Bill follows and writes about the Flyers, Boston University Terriers, and NHL Draft prospects. Follow him on twitter @BSchoeninger17