After examining the rosters of Russia, USA and Canada, we now focus our attention on Finland. The Finns have a total of 10 NHL prospects on their roster. As they venture over to their neighboring country Sweden, they be looking to turn around recent misfortunes. They haven't managed to medal since finishing third in 2006. Here are the top players from Team Finland to watch at the World Juniors.
Rasmus Ristolainen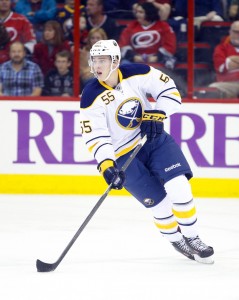 It's always a benefit to get a player with NHL experience on a World Juniors roster. That's what the Finns have with Rasmus Ristolainen. After drafting the defenseman eighth overall, the Buffalo Sabres placed Ristolainen on the opening day roster. Before being sent down to the Rochester Amerks, Ristolainen appeared in 19 NHL games and managed to score his first NHL goal.
This will be the 6'4″ defenseman's third World Junior tournament, including being captain of last year's squad. Therefore, he'll come into the tournament with a wealth of experience and leadership qualities. He's a calm, composed and mature player with two-way ability. Look for Ristolainen to generate additional offense from the blue line because of his puck moving ability, strong shot and power play prowess.
Teuvo Teräväinen
This will also be the third World Junior tournament for Teuvo Teräväinen. The forward was a  2012 first-round pick of the Chicago Blackhawks and has played for Jokerit for the last three seasons, developing his game within the professional ranks. He's not only participated in the top league in Finland, but has played at a high level.
Teräväinen is versatile and can either play the wing or center position. Look for him to make plays as he has excellent vision and a high hockey IQ. He has the ability to both create plays and finish. Look for Team Finland to utilize his skills on the power play. Where Teräväinen can improve is in his own zone. Therefore, he is better suited as a winger at this point in his career.
Kasperi Kapanen
Kasperi Kapanen is the son of former NHL player Sami Kapanen. Now the two have the unique privilege of playing alongside one another for KalPa. Kasperi Kapanen comes into the tournament looking to improve his stock as he'll be eligible for the 2014 NHL Draft.

"Kasper" is an undersized player that makes up for his stature with quickness and speed. He has great hands and possesses the ability to beat defenders 1-on-1.  The 5'10" forward is incredibly dangerous with the puck and his agility makes him a dangerous goal scorer. He could be Team Finland's most dynamic player.
Artturi Lehkonen
Artturi Lehkonen is another small forward on Team Finland. Because of their size disadvantage, they may have trouble competing against the more physical North American teams. Lehkonen was selected in the second round of last year's draft by the Montréal Canadiens. He's a teammate of the Kapanens and has been fine tuning his skills in the SM-liiga for the last two seasons.
Lehkonen has intangible goal scoring instincts and is an exceptional stickhandler. Combining that with his smooth skating and high compete level make him difficult to defend against. If he's put on the same line as Kasperi Kapanen, they could form an energetic and lethal combo in the tournament.
Ville Pokka
Ville Pokka is Finland's  second best defenseman in the tournament behind Ristolainen. He was selected just outside the first round at 34th overall by the New York Islanders in 2012. He's spent the last three seasons playing for Kärpät of the SM-liiga, steadily improving each season.
Pokka can do a number of things well and is great at moving the puck up the ice. He's seldom out of position and plays with a lot of confidence. However, he can sometimes make mistakes by forcing the play. Look for him to log a lot of minutes for Finland alongside Ristolainen.
Other players to keep an eye on: goaltender Ville Husso, forward Juuso Vainio, forward Artturi Lehkonen
As we inch closer towards the World Junior Championships, stayed tuned here and follow me on Twitter to stay up to date. I'll be on the ground in Malmö for the duration of the tournament providing all of the latest news and analysis.
As an American based in Amsterdam, Joe provides a unique hockey insight, bringing a global perspective to the game. Joe has several years of experience covering the game on both a domestic and international level, including being credentialed for multiple World and World Junior Championships.