We took a look at Team Canada and Team USA's rosters. Next on the World Junior Championships agenda is Team Russia. Having won Gold in 2011 and medaling in the last two tournaments, Russia will come into Malmö with plenty of momentum. They'll look for another strong performance with a number of impact players returning from last year.
Mikhail Grigorenko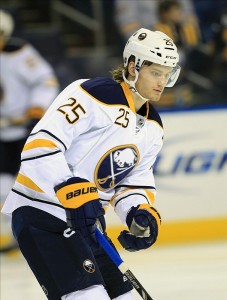 Team Russia benefits greatly from the Buffalo Sabres misfortunes. In the midst of a difficult season, the Sabres have given Mikhail Grigorenko clearance to join the team through the duration of World Juniors. Although the 6'3″ forward has struggled at the NHL level, he's been dominant at in Juniors, including a strong showing at last year's World Juniors in which he tallied two goals and four assists in seven games.
Grigorenko is a strong player who still has yet to completely grow into his body. He's great with the puck and has superior playmaking ability. Additionally, he has excellent puck possession skills and a long reach. Given his talent and experience, look for Grigorenko to be the Catalyst of Russia's offense.
Ivan Barbashev
Ivan Barbashev is one of the most explosive imports in the CHL. He leads his Junior team the Moncton Wildcats in scoring in his second season in the QMJHL. In addition to his offensive prowess, the forward has also proved to be valuable when it comes to situational hockey. Although a natural winger, he's shown success at the faceoff dot.
Barbashev is a skilled playmaker who loves playing an uptempo game. He doesn't shy away from taking the shot or trying to thread the needle through traffic. The only knock against Barbashev is that he can sometimes be inconsistent. He's a draft eligible player who will be looking to boost his stock with a strong performance.
Andrey Vasilevskiy
Andrey Vasilevskiy is one of four returning players from last year's World Juniors team. It's happened many times before where a hot goaltender has lead his team to a championship during a short tournament. Vasilevskiy could be that player for Russia. As a 2012 first-round pick of the Tampa Bay Lightning, this will actually be his third World Junior appearance.
Vasilevskiy has already shown he can perform on the big stage. In 2012 he posted a .953 save percentage and followed that up with a .950 save percentage at last year's World Juniors. He's a big goaltender who has impressive mobility and quickness for his size. Most importantly, he's technically sound and consistent.
Nikita Zadorov
Joining his Sabres teammate is Nikita Zadorov. Like Grigorneko, Zadorov will be called upon to be a leader for Team Russia because of his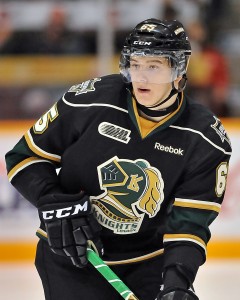 experience. He got his feet wet in the NHL with the Sabres this season, showing promise, but was sent back to his OHL club the London Knights in order to develop a bit further.
The large-frame defenseman is an absolute force at the Junior level. Not only does he play a physical game and love to play the body, he also has above average offensive abilities, highlighted by his hard shot. Look for Russia to leverage Zadorov's versatility and utilize the defenseman in a variety of roles including the power play and penalty kill.
Valentin Zykov
Valentin Zykov just failed to crack the first-round at last year's draft. He was drafted 37th overall by the Los Angeles Kings. Averaging better than a point per game playing for Baie-Comeau Drakkar of the QMJHL, the forward has put his offensive talents on full display.
Zykov is a truly dynamic player with game-breaking potential. He's a strong skater with impressive hands that can seemingly make a play out of nothing. If he continues his development he could look great alongside Anze Kopitar. At World Juniors, he'll be one of the most exciting players to watch on Team Russia.
Other players to keep an eye on: forward Andrei Mironov, forward Anton Slepyshev, defenseman Vladislav Gavrikov
As we inch closer towards the World Junior Championships, stayed tuned here and follow me on Twitter to stay up to date. I'll be on the ground in Malmö for the duration of the tournament providing all of the latest news and analysis.
As an American based in Amsterdam, Joe provides a unique hockey insight, bringing a global perspective to the game. Joe has several years of experience covering the game on both a domestic and international level, including being credentialed for multiple World and World Junior Championships.