After taking a look at Team Canada's roster, we now shift our attention to Team USA's World Junior Championships squad. They'll come into Malmö with big shoes to fill as last year's unit won the gold medal. Here are the top Americans to watch out for.
Jack Eichel
Jack Eichel is the closest thing the Americans have to a Connor McDavid. He's already expected to be a top-five pick in the 2015 NHL Draft. In the fall of 2014, the forward is set to attend Boston University, which will make him the most sought after NCAA player since James van Riemsdyk. Eichel's dynamic play and defensive awareness should make him a solid two-way player at the professional level. Below is an example of his skills.
"Everyone likes big, fast centermen who have a lot of skill. Absolutely. At the end of the day, what always separates those guys is the willingness to prepare and the willingness to prepare to win," said Eichel's U.S. National Team Development Program coach Danton Cole."The hard part is doing all the work — the time in the weight room, video room, applying practice to games. Jack has that will. He has that will to prepare. He's a driven young man. It's a dangerous combination to have that skill and drive. That's what you look for in hockey players."
The bar is set high for Eichel. It'll be up to him to deliver. Hopefully, the American team won't demand too much out of the 17 year old in his World Juniors premiere as he develops into the potential superstar he could become.
Anthony DeAngelo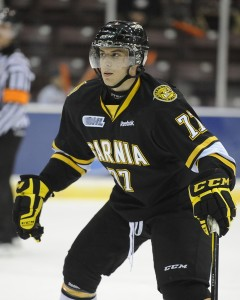 Anthony DeAngelo is a truly gifted offensive defenseman. Through 29 games, he's generated nine goals and 33 assists for his OHL team the Sarnia Sting. Those are eye popping numbers for a defenseman playing on an offensively challenged team.
DeAngelo is a great skater that possesses creativeness and high offensive awareness. Look for him to quarterback the Team USA power play and generate scoring chances from the point as well as by jumping in on the rush. He'll have big skates to fill from the defensive corps the U.S. had at last year's World Juniors. If there's a knock against DeAngelo, it's that he can improve on his toughness and positioning in his own end. He'll be hoping for a strong showing to enhance his draft position.
Jon Gillies
Jon Gillies has the daunting task of filling the goaltending void left by John Gibson and his remarkable performance at last year's World Juniors. However, Gillies also has the benefit of being a part of last year's squad. The experience should prove to be invaluable.
The Calgary Flames are high on their third-round pick from the 2012 draft. Gillies is currently leading the way for Providence College, transforming them into a National Title contender and currently hold a goals-against average south of two. He's a big goaltender who likes to come out and challenge the shooter and does a good job of playing the angles.
Stefan Matteau
Stefan Matteau is a 2012 first-round draft pick of the Devils, who needs no introduction in New Jersey. His father Stéphane Matteau is known for his double-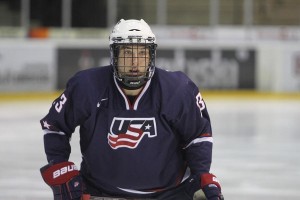 overtime game-seven goal for the New York Rangers in the Eastern Conference Finals, which knocked the Devils out of the 1994 Stanley Cup playoffs.
Matteau has the benefit of already having some NHL games under his belt. He appeared in 17 games last season with the Devils, notching a goal and two assists. The forward is a unique combination of size and speed. His offensive skill and aggressive style make him a great utility player. Look for Team USA to use him in a variety of ways.
Adam Erne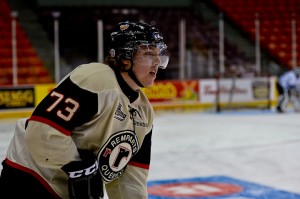 Adam Erne's name has been in the news most recently for his
illegal hit
on fellow Tampa Bay Lightning teammate and Team Canada forward Jonathan Drouin. The 2013 early second-round pick is known to play a hard-nosed game, but possesses much more than a tenacious attitude.
The Québec Remparts forward is quick on his feet as well as has a strong shot and soft hands. Erne is not afraid to go to the tough areas and drive to the net. Like Matteau, he can excel in a number of roles, giving Team USA some flexibility with player assignments.
Other players to keep an eye on: forward Riley Barber, forward Ryan Hartman, forward J.T. Compher, forward Henrik Samuelsson.
As we inch closer to the World Junior Championships, stayed tuned here and follow me on Twitter to stay up to date. I'll be on the ground in Malmö for the duration of the tournament providing all of the latest news and analysis.
As an American based in Amsterdam, Joe provides a unique hockey insight, bringing a global perspective to the game. Joe has several years of experience covering the game on both a domestic and international level, including being credentialed for multiple World and World Junior Championships.