The St. Louis Blues have been off to a banner start so far this season.  One that has seen their players top the NHL scoring ranks, and one that has seen a team come together and find a way to win night-in and night-out.  What has happened over the last 5 games that has led the team into this shallow slump, and will the Blues rebound quickly, or are fans in for a long winter?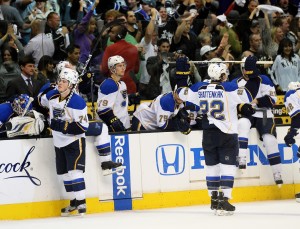 Analyzing the "Slump"
Over their last 5 games the Blues are 2-3 which isn't too bad for a first true hurdle this season, especially since it's almost mid-December.  However, some fans are getting a bit antsy as the Blues lackadaisical play in the first half of games as of late has caused some untimely losses.  What other factors contribute to the team's rocky road these past 5 games, and what can be done to fix it?  Here are 5 key statistics that will shed some light onto this touchy subject.
Face-offs:
While the Blues are one of the top 10 teams in face-off win percentage in 2013-2014, they are losing big ones at the wrong times.  This has led to many scoring chances for the opposition, who have been capitalizing on them more frequently as of late.  The Blues need to find the right face-off combinations for each draw, especially those in their own zone.  They also need to make crisp clean break out passes (preferably not through the middle of the ice) to ramp up their transitional play, which will give the team more scoring chances.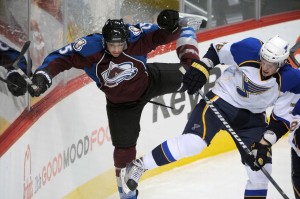 Hits/Physical Play:
The St. Louis Blues have always been a hard hitting, physical force on the ice.  Even when they are struggling they are still among the league's top physical teams, but when they let off the gas pedal for even just one game, the opposition takes full advantage.  Over the 2-3 span of the last 5 games the Blues have been out-hit 140 to 125, a very rare occurrence for the team.  In order to demand respect from the opposition and to gain more scoring chances the Blues need to hit anything and everything that moves.  It's a tough style of play but it is the Blues style, and they can't afford to take a night off from that style in the playoffs, which makes this great practice for their upcoming playoff run.
Giveaways:
The Blues have been blessed so far this season when it comes to finding open teammates cross-ice (or anywhere on the ice for that matter) for a pass.  Unfortunately as of late, their feet aren't moving quite as much and teams are reading their passes well, translating into more opposition scoring chances from giveaways.  Below is an example of just that, an out-of-character errant pass from David Backes that leads to a great play and scoring tally by Ryan Getzlaf, which chases Blues' goaltender Jaroslav Halak.

In order to stop these types of plays the Blues need to keep their feet moving and make sure they are finding open ice without the puck.  The puck carrier also needs to be more aware of his on-ice surroundings so that he can make the best play in each situation.  In other words, they've got to know what they're going to do with the puck before they get it.
Takeaways:
This is an area of the Blues' game that seems to be a hidden factor contributing to the undesirable results of 3 of the last 5 games (losses).  In the 2 wins the Blues have over that span they have taken the puck from their opponents much more than their opponents have taken the puck from them (5-2 and 12-4 respectively).  In the 3 losses over those 5 games however, the Blues have decidedly lost the takeaway race (although the Anaheim game takeaways were tied 7-7).  This shows that when the Blues let off the gas, don't keep their feet moving away from the play, and don't keep active sticks in passing lanes their scoring suffers (imagine that).
To solve this problem the Blues need to be sure to play relentlessly (as they have most games this season), and they need to read the play effectively.  This allows the team to find where the puck will go before it does, so they may intercept more passes.  This is a very similar concept to what a defensive back in football does when he reads and reacts to the play of a quarterback to intercept a ball.
First Period Goals Allowed:
Possibly the biggest problem in the play of the Blues over the last 5 games has been their slow starts.  In their 3 losses, the Blues have allowed 9 goals in the first period alone, an almost insurmountable mountain to climb for any team.  In their 2 wins however, they were able to hold the opposition to 1 overall first period goal, a statistic that shows the difference in the team's wins and losses in recent past.
(12-10-13) Blues Notebook — #stlblues practice has common theme; leaders respond to recent 1st period struggles: http://t.co/GWQlHosaIY

— Lou Korac (@lkorac10) December 9, 2013

As the above tweet illustrates, the team is focusing on getting off to a better start, something that will be great to see over the next several games.  If they can find a way to bring that fire and world-class compete level back for a full 60 minute game, this slump should be all but over.
What Does All Of This Amount To?
Well for starters, it amounts to the first real struggles for the Blues in 2013-2014, which is pretty awesome considering they have already played over 34 percent of the season.  What these stats also tell fans is that the Blues have some work to do, but don't worry, this little "slump" is not a cause for concern…yet at least.
This Blues team seems to have its head on straight, so as long as they continue to stay focused and work on their short comings as they arise, they will stay atop the NHL ranks and push for a long successful playoff run.  A 2-3 record over the last 5 games is not a cause for concern in itself, and the Blues seem to be working on the pieces of their game they need to, which is a great sign.  Let's hope their conditioning can stay top notch and this little slump should be a distant memory in just a few short weeks.
Like what you've just read?  Follow me on Twitter: @pep30
Mike has covered the St. Louis Blues and Tampa Bay Lightning in depth for The Hockey Writers since 2013. He is also a contributing writer for KSDK News Channel 5, the St. Louis area NBC affiliate, and has been a credentialed media member of the Blues since 2014. Follow him on Twitter @pep30.