Marc Staal has a concussion.
This is not the news that the Rangers' coaching staff, players, or fans wanted to hear.
AV on Marc Staal: "diagnosed with a concussion…doctors feel it isn't as serious as in the past." #NYR

— New York Rangers (@NYRangers) December 10, 2013
Everyone feared the worst after Staal was hit by Devils rookie Reid Boucher on Saturday night. Boucher's shoulder appeared to make contact with the defenseman's jaw. Staal remained down for a few moments before leaving the ice on his own.  He was visibly upset, throwing his helmet down the tunnel in disgust.
After the game, head coach Vigneault had little to report, saying only, "He took a shoulder to the chin and didn't feel quite right. [Team doctors are] evaluating him. There's concern with any player when a situation like that happens."
Today, the coach has confirmed that the hit did cause a concussion.
Marc Staal's Injury Log
Staal has had his share of injuries, missing significant time in each of the past two seasons.
The Thunder Bay native missed nearly half of the 2011-12 season with a concussion.  That one was caused by his brother, Eric.
Just nine months ago, he was hit in the face with the puck, causing him to miss the remainder of the regular season and playoffs.  (That play and its career-threatening implications also fueled the move to mandate visors, something the NHL and NHLPA finally agreed to do starting this season.)
It was great to see Staal return from sich a significant injury.  That's what makes it worse to see him once again on Injured Reserve with no timetable for his return.
Concern for the Rangers
The Rangers are in a tough spot without Staal in the lineup. Outside of their top three – McDonagh, Staal, and Girardi – the Rangers' defense corps has struggled this season.
Even Girardi and Staal haven't exactly been having career years. The Rangers' blueliners are a combined -31 on the season, with only Ryan McDonagh not in the negatives  — he's even. Anton Stralman has played well in the top four, but can't be a long-term solution.  None of Michael Del Zotto, John Moore, or Justin Falk have shown the ability or consistency to really lay claim to a top-two-pairing role.   With the injury to Staal – and no timetable on his return – the team will need at least one of those three blueliners to step up his game.
How Bad Is It?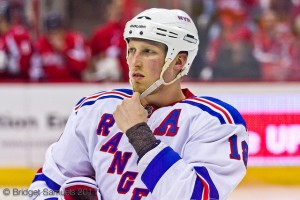 Vigneault said that, while it has been confirmed as a concussion, it's not as bad as the one that shelved him for 36 games in 2011-12.
"They don't feel it's a serious as the one he had in the past and he's feeling better," said Vigneault. "He's been in contact with [neurologist Dr. Jeffrey Scott Kutcher] who we've used in the past, but he doesn't feel the need to see him at this point."
It may not be as bad, but, with head injuries, the damage is cumulative.  His recovery could take longer.   At this point, there's no way to know for sure.
One needs to only look a few hours down the New Jersey Turnpike to see just how uncertain recovery can be from multiple concussions.  When Flyers defenseman Chris Pronger was injured in late 2011, no one thought that his injury was career-ending.  Instead, there were setbacks.  The nausea didn't pass.  His symptoms never seemed to go away.  They still haven't.  From USA Today:
"Some days are a little erratic. You have highs and lows. […]  Moving in a straight line slowly was okay," Pronger said. "You start turning and spinning and things like that and you get lightheaded and dizzy and you start having some of those symptoms and you get brought back down to the real world, real quick."
There's no telling how bad it really is. Staal, the Rangers, and even Team Canada will just have to wait.  Wait, and hope for a full and speedy recovery.
---
Follow Josh on Twitter – @joshsmith29
---