After the lockout deprived hockey fans of the Emmy-award winning series last season, HBO's 24/7 series is back, premièring this Saturday. THW looks at why this season's series will be required viewing.
1. The Leafs are struggling – and that makes for good TV. One of the most fascinating elements of the first series between the Capitals and Penguins was the contrasting fortune of both teams. As the Penguins rode a 12-game winning streak, the Capitals were in a brutal tailspin, culminating in a blowout loss to the New York Rangers which produced this memorable rant from then-assistant coach Dean Evason. As the Leafs struggle through injuries and defeats, expect drama from the very start.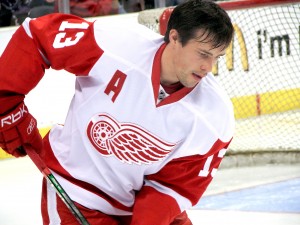 2. It creates internet heroes. The shining star of the Flyers/Rangers edition was indisputably Ilya Bryzgalov, whose musings on the universe, ("the universe is so humongous big, right? And we think we have some problems here? Just be happy!") his unsettling relationship with his dogs ("a husky basically she's a hot girl, man") and his knowledge of animal welfare ("you kill a tiger in Russia? Death penalty!") became a viral sensation, even producing dedicated Star Wars mashups.  Whilst noone is suggesting that quote-bot Dion Phaneuf is likely to become a TV star, Pavel Datsyuk for the Wings is likely to provide some laughs.
3. Randy Carlyle didn't want any part of it. "I'm just dying for this to happen," said Carlyle this last week, with so much sarcasm you'd think he was channelling his predecessor. The previous two series haven't held back on showing coaches tear strips off their players – John Tortorella's foul-mouthed blast at Marian Gaborik behind the bench was in keeping with the rumours that the two did not get on. Candidates to get the screaming treatment this time round could well be the turnover-prone Nazem Kadri in Toronto and it will be interesting if there is any more insight as to when Carlyle and Joffrey Lupul were once not on the best of terms. 
4. "You've got to have a MONTAGE!" The series' musical montages are pulse-pounding pieces of television. HBO's musical choices are bang on the money and any Spotify playlists that emerge should be the first thing on any team's dressing room stereo. Non-mainstream bands often find themselves featured, with Aussie rockers Expatriate featuring on this particularly brilliant sequence during the conversion of Citizens Bank Park into a rink and Sigur Ros providing this spine-tingling backdrop.
5. It digs up personalities that have so far been hidden away. The Red Wings' Tomas Tatar, described affectionately as a "clown" by Todd Bertuzzi, could well be the breakout star for the Red Wings when it comes to TV stardom. For the Leafs, rumours are that early footage will focus on Phil Kessel, a player so notoriously media-shy he's often out of the dressing room before reporters can even turn on their microphones after games. Add that to the rather wooden Dion Phaneuf and the hope is we'll get to see a little more of these guys true colours.
6. It's sports film-making of the very highest order. The intrusive access isn't the only thing that makes this series so incredibly watchable. Liev Schreiber's narration has the clear, crisp tone of the finest quality NFL Film productions of the 80s. The spectacle of players taking pucks and fists to the face, walking off, getting stitched up and returning after barely missing a shift never loses its impact. How players juggle their family life through punishing road schedules is something that often isn't considered by fans and is looked at very closely. It's fast becoming the a key event in the hockey calendar, even, it could be argued, eclipsing the Winter Classic itself.   
Chris is a contributing writer on the Toronto Maple Leafs for THW. From Oxford, England, he writes mainly about hockey and soccer, where he is looking to turn his hobby of sportswriting into a career.