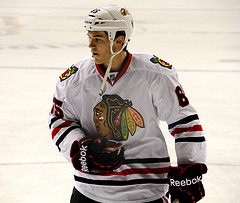 Willingness to go to the dirty areas and play a physical game to help your team is a trait many teammates love to have, for the Blackhawks they have gotten just that from Andrew Shaw over the last two years. We have seen Shaw grow into more than just a bottom 6 agitator over the course of his young career, he has proven game after game that he is committed to doing whatever it takes for the Blackhawks to come out victorious.
If you forgot what life without Shaw was like we were reminded of it last week, as he missed two games after his upper body injury suffered against the Dallas Stars. Chicago sorely missed the physicality and net front presence losing both games, with Bryan Bickell out it makes Shaw's physical contributions that much more vital. Seeing Shaw develop from an interchangeable bottom 6 role player to a staple in the top 9 with his unique blend of agitating, net front presence and timely offense has made him a fan favourite with the Blackhawks faithful, so popular that someone actually paid for this.
After Shaw completed last season with 9 goals 15 points in 48 games he helped the Blackhawks to their 2nd championship since 2010 with his 5 goal 9 point performance in 23 playoff games. It was this season where Andrew Shaw has taken the next step in his development.
Shaw has received 45.7% offensive zone starts at even strength which is up 10.6% from last season. With more favourable starts Shaw has already tied his goal total from last season with 9 in 30 games and is on pace for his first 40+ point season. Shaw has also seen an increased role on the penalty kill with the departure of Micheal Frolik this off season.
Despite playing in more offensive situations this season Shaw has not altered his game from the one that got him to the NHL in the first place. Shaw is 3rd on the team with 76 hits and with Bollig and Seabrook is one of the only consistent hitters in Chicago's lineup.
Chicago won't be a team that physically dominates you anytime soon but having players like Shaw provides a spark for the bench and his net front presence allows the Blackhawks more skilled puck possession players work their magic. Shaw earns his space in front of the net engaging in physical battles with opposing defenceman trying to clear the crease.
With the Blackhawks and Dallas Stars playing each other multiple times over a short period a bit of a rivalry has developed, and Shaw has contributed with a memorable fight against the Stars Antoine Roussel, who had been a thorn in Jonathan Toews side the previous meeting between the clubs.
It's been said a million times, these are the guys you hate to play against but love playing with. Andrew Shaw has become an effective agitator and other teams take notice when he is on the ice. Playing with his heart on his sleeve has worked well for Shaw in the past and don't expect that to change anytime soon.
Creator of the Bettman Stand Up hockey blog. I cover the Chicago Blackhawks for The Hockey Writers, In Hossa we trust! I also write for publications such as Arbitrage Magazine and Elite Sports Blog. You can follow me on Twitter @RickEmrith