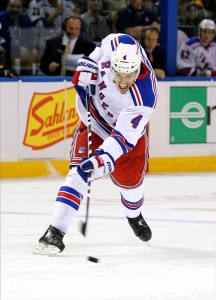 Michael Del Zotto was once the future of the Rangers' blueline.  Now, it's unclear how much more of a future he has with the team at all.
The 23-year-old blueliner has tons of offensive potential. Translating that into on-ice performance has been his greatest challenge.  He struggled with it under Tortorella, and he's struggling under the club's new head coach.
"I have been told [Del Zotto] is a much better player," Alain Vigneault told the media. "I have not seen that on a consistent enough basis."
The Rangers' top guys – McDonagh, Staal, and Girardi – are clear-cut.  Anton Stralman has turned into a solid-if-unspectacular second-pair guy. While Stralman's efforts are decent, nobody expects much more from him.  He's a stopgap, a player who should be outplayed by the guys below him on the depth chart — especially by Michael Del Zotto.  That's not happening.
"None of [Del Zotto, John Moore, or Justin Falk] have proven that they can be in those top two pairs," Vigneault said. "The one that has proven it that he's the closest is John Moore. John had maybe a little patch of more difficulties the last few games there but he's going to be back in the lineup tonight and a very young player, tremendous amount of upside in our minds.

Both Michael and Falker, it depends more on the team, if you think you need a little more bit or if you think you need a little more puck movement. If anybody would show us that they deserve to play ahead of, whether it be Dan or McDonagh or Stralman or Staal, I'd give them the ice time but nobody's really come up and played better than those guys."
Hear that, Del Zotto?  Consider that an arrow fired your way.
Del Zotto led all Rangers defensemen in scoring in three of the past four seasons. He finished the shortened 2012-13 season with three goals and 21 points in 46 games, averaging 23:07 in ice time, third highest on the club.  The previous year, he posted career highs in goals (10), assists (31) and points (41), good enough for 18th in the league among all defensemen.
This season, though, Del Zotto's offense is missing.  As a result, so is his ice time.
He's averaging just 17:53 per game – a career low.  He's been a healthy scratch for five games this season.  His last appearance, on December 5 in a 3-1 win over the Sabres, saw him on the ice for just 12:58, his lowest amount of regular season playing time since February 2011. He was held scoreless.
How does he feel about watching from the pressbox?   "Not happy.  The game's all about confidence, and any time your minutes are going down, it's tough to really get that confidence where you want it to be," said Del Zotto.
Del Zotto's only made his way on to the scoresheet once in his past seven games.  He netted a power play goal – his first since April of 2012 – in a blowout victory over the Canucks.  Of course, this came as trade rumors swirled, blowing strongest in the direction of the Ottawa Senators and, according to Arthur Staple, the New York Islanders. Nothing has come of them, at least not yet.
The power play was once Del Zotto's specialty.  At one point, he was the lead candidate to quarterback the club's efforts with the man advantage.  That, too, is long gone.  Not that he doesn't have the opportunity. Del Zotto is averaging 2:26 of power play time per game, most among Rangers defensemen.  In that time, he's posted just two points.
In comparison, Ryan McDonagh, currently the Rangers' highest-scoring defenseman, has four power play points while averaging 2:24 per game.  John Moore, in just 1:17 of power play time per game, has matched Del Zotto in scoring with the man advantage.
Competition on the Blueline
Not only does Del Zotto have to battle to crack the top four, he's barely holding on to his #5 spot.
John Moore
Where Michael Del Zotto is a top-four defenseman who's fallen out of favor, John Moore is a player still fighting his way up.  He's shown potential since coming to New York. Like Del Zotto, Moore has struggled with consistency. So far this season, though, he's scored as much in less ice time, averaging just 15:39 per game.
The expectations are different for Moore. Most important is that he's shown more consistency under Vigneault.
"I think John is a real smooth skater. For me he's got – like Michael, two skilled players. I just feel right now that John has shown that he's a little bit better skater, can jump up in the play, can beat the forecheck. He's shown me he can beat the forecheck on a more consistent basis than Michael has shown me so far." – Alain Vigneault told the Daily News
It sure sounds like the coach has more confidence in Moore as Del Zotto slips further down the depth chart.
Justin Falk
Nobody's expecting Falk to be a top-four guy. He was brought in for blueline depth. The biggest surprise is that he's become interchangeable with Del Zotto and that he's certainly cutting into his ice time.
"[Whether to play] Michael and Falker, it depends more on the [opponent]," Vigneault said. "If you think you need a little more bite [it's Falk] or you think you need a little more puck movement [it's Del Zotto]."
No offense to Falk, but that comment is an indication of just how far Michael Del Zotto has fallen in New York.  Remember, this is a defenseman who's led the Rangers' blueline in scoring three times.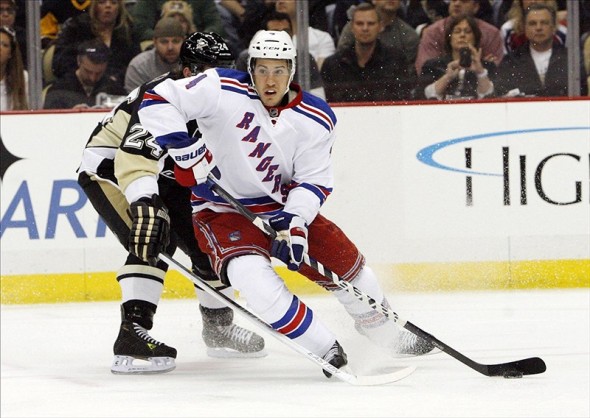 Opportunity Lost
Making it worse for Del Zotto is the fact that Marc Staal has struggled as of late. There's an opportunity to pick up more minutes, but based on his play, Del Zotto isn't deserving of any additional ice time.  If anyone, Moore will be getting those minutes.
Someone needs to step up. If that doesn't happen, it's likely that someone – Del Zotto – will step out.
With the Rangers kicking off nine-straight games at home, will this be Del Zotto's last stand at MSG?  Is this Michael Del Zotto's Little Big Horn?  Now would be the time for him to make a stand…  assuming, that is, he gets a chance on the ice to do it.
Josh is a life-long hockey fan. He grew up as a fan of the New York Rangers, but thanks to their general mismanagement and years of mediocrity, has developed a great appreciation for every team across the league.
He's been writing about hockey on various sites since 1995. In addition to his work at The Hockey Writers, he also keeps tabs on the referees over at ScoutingTheRefs.com.