Things are slowly starting to change in Ottawa. On July 31st, the Senators agreed to terms with Robin Lehner, keeping the 23-year old goaltender for another 3 years. Though the team is trying to sign Anderson to an extension, as the upcoming season is the final season on his contract, Lehner is already locked up for the next few years.
The new contract for #Sens Lehner has an AAV of $2.225M ($1.5M, $2.025M, $3.15M) #TheLehner

— Ottawa Senators (@Senators) July 31, 2014
The Senators seem to feel comfortable with having Anderson and Lehner as their goalie tandem for the future, but it's becoming more and more difficult to establish either of them as the No. 1 goalie. Anderson had a great run in the 2012-13 shortened season, setting modern day NHL records, but followed it up with a horrendous 2013-14 campaign. On the other hand, though Lehner is definitely Ottawa's goalie of the future, he has yet to prove that he is capable of being their go-to-guy right now. Poor consistency and less than stellar numbers were the downfall of both goalies last season.
Trust in the Backup
If there's any sign that Robin Lehner's time is coming, it's in Paul MacLean's trust in his backup. MacLean's use of Lehner was nothing short of respectable. In fact, the only backups in the entire league that played more games than Lehner last season were Eddie Lack (behind Roberto Luongo) and Martin Brodeur (behind Cory Schneider).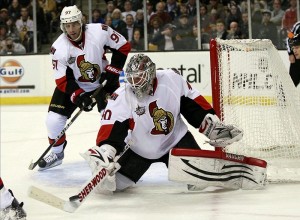 Not only did Lehner play often, he played against the tough teams. 36 percent of Lehner's opponents were Western Conference teams, while Anderson wasn't too far ahead, playing 37 percent of his games against the West. Lehner also played 67 percent of his games against playoff teams, while Anderson only played 49 percent of his games against playoff teams.
As a No. 2 goalie, it's strange that Lehner gets played so often. But the quality of teams he starts against is even more strange. If Paul MacLean has this much trust in Lehner, why label Anderson as the clear-cut starting goalie?
By the Numbers
Last season, Anderson and Lehner couldn't have been closer on the stat sheet. They both posted similar GAA, Lehner with a 3.06 and Anderson with a 3.00. The two also managed to keep their SV% close with Lehner earning a .913 and Anderson with a .911. This was a shock to everyone, seeing as Lehner and Anderson had just put up outstanding numbers in the previous season. The team went from 1st in the league for SV% (.933) and 2nd for GAA (2.08) in the 2012-13 season, to 20th in SV% (9.09) and 26th in GAA (3.15) in the 2013-14 season.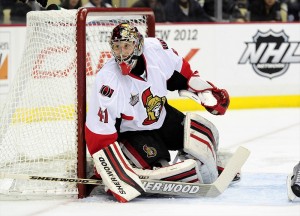 Lehner and Anderson have also had similar numbers over the past few seasons. In the last 3 years, Lehner has posted a 2.56 GAA while Anderson is just a tad better with a 2.54. It's Lehner taking over in the SV% department though, with a .921 over Anderson's .916.
The only big difference between the two may be the fact that while Anderson has sustained multiple minor, yet time consuming, injuries, Lehner has stayed healthy throughout the course of his young career. Maybe it will be the age factor that finally separates the two. At the age of 33, Anderson can be a bit more delicate than Lehner. While Lehner's career is just starting, Anderson's could be slowing down.
How Long Until Lehner Takes Over?
When asked about Robin Lehner, the Senators' management has only great things to say.
 "He has accomplished a lot in our organization, winning the Calder Cup at 19-years-old, being a playoff MVP. Having ups and downs here with our team I think he has shown great maturity, the fact he is spending most of the summer in Ottawa shows he is ready to take on a bigger role." – Pierre Dorion. Ottawa Sun. Published: Jul. 31, 2014.
Well, it's a good thing Dorion thinks that, because Robin Lehner wants the No.1 starting job and he wants it now.
Lehner says he just wants a "fair opportunity" to be the No. 1 goalie. #Sens

— Bruce Garrioch (@SunGarrioch) July 31, 2014
The upcoming season is looking like a possible coming-out party for Robin Lehner. He has more than earned a shot at the No.1 spot and I'm pretty sure Paul MacLean will give him the opportunity.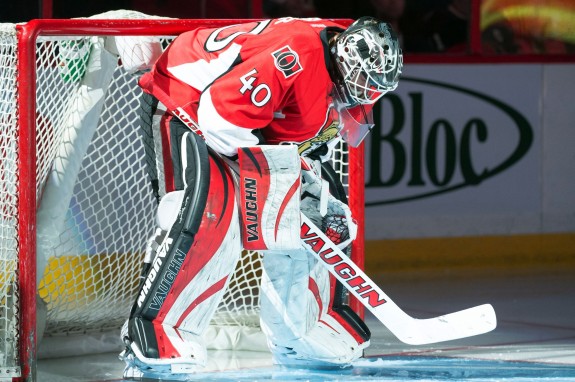 A changing of the guard could come as soon as next season if Anderson doesn't show any improvement from last year, but that seems a bit too quick. Another possibility comes with the current contract talks with Dorion and Anderson. If Ottawa can't sign the 33-year old to an extension, maybe Lehner's chance is just around the corner.
There's no doubt that Robin Lehner is the goalie of the future in Ottawa. The only thing left to be determined is how long it will take for Anderson to pass the torch.