"The debate isn't a raging one in the coaches' locker room. We feel equally comfortable going either way" commented Sharks head coach Todd McLellan prior to the 2014 playoffs when asked whether Pavelski would play center on the third line or right wing on the top line. Comments like this make one wonder how much weight McLellan puts into Pavelski scoring goals. Sure enough he scored 31 goals in 2011-12 and 41 this past season while on Thornton's wing but in reality the Sharks have consistently been much more successful when Pavelski centers the third line. Consider the following:
Standings and Streaks Since 2010-11
2010-11: With Pavelski at third line center the Sharks closed the year: 26-4-4 to finish 2nd in West. (Were just 22-21-5 in first 48 games)
2011-12: With Pavelski primarily on the top line with Joe Thornton and Patrick Marleau, the Sharks finished 7th in the conference with a record of 43-29-10 and suffered the quickest playoff exit (just five games) in team history.
2012-13: The Sharks were floundering in danger of missing the playoffs, but immediately after getting rid of the struggling Douglas Murray, the Sharks went on a seven game winning streak. A 12-3-1 run from the day Murray was traded on March 25th through April 23rd cemented their spot in the postseason. During this hot stretch , Pavelski was not surprisingly back at third line center as Burns had moved up to top line right wing. The Big Pavelski remained at center in the first round of the playoffs as the Sharks swept out the higher seeded Vancover Canucks in four straight.
2013-14: The Sharks opened the season hot out of the gates with Pavelski in the middle, getting off to a 10-1-2 start. They also went 2-1 in the playoffs with Pavelski at center while losing three out of four with him on the wing during that epic collapse vs the Kings.
Correlation = Causation
We know correlation doesn't always mean causation, particularly in short sample sizes. But this is a large enough sample size that it shouldn't be ignored. We're talking about a four year sample where the Sharks have done significantly more winning with Pavelski on the third line then when in the top-six.
Now a logical argument could be made that the Sharks wouldn't of fared any better had Pavelski remained at center when McLellan had him at the wing due to injuries. However, that contention doesn't have much merit when one realizes that forward pairs like Logan Couture/Marleau and Thornton/Brent Burns don't need anything close to a third superstar on their line. They will drive possession with someone like T.J. Galiardi rounding out the unit. Subsequently, using Pavelski at top line right wing doesn't maximize his value. As a center, Pavelski maintains his own consistent level but dramatically increases the production of lesser skilled wingers.
Pavelski Can Make Anyone Look Good
During the second half of that 2010-11 season, Pavelski centered two forwards who are currently hard to find. Kyle Wellwood, despite being a solid player is out of the league at just 31 years old, and Torrey Mitchell has since found himself traded from Minnesota to Buffalo. Ouch.
Now Wellwood was acquired midseason in 2011, previously playing in the KHL, but Mitchell clearly benefited playing with Pavelski. From February onward, Mitchell scored 15 points in his final 27 games. Prior to joining Pavelski, he scored just eight points in 39 games. That is a whopping PPG increase of .2 to .55.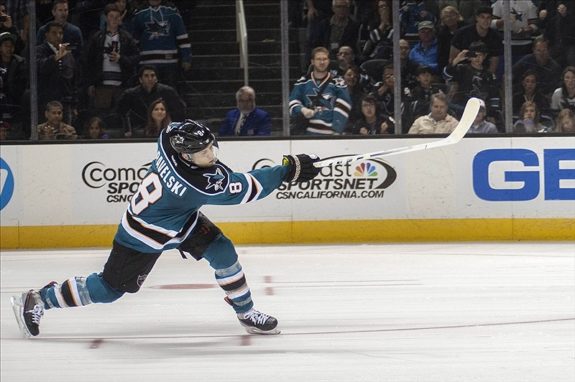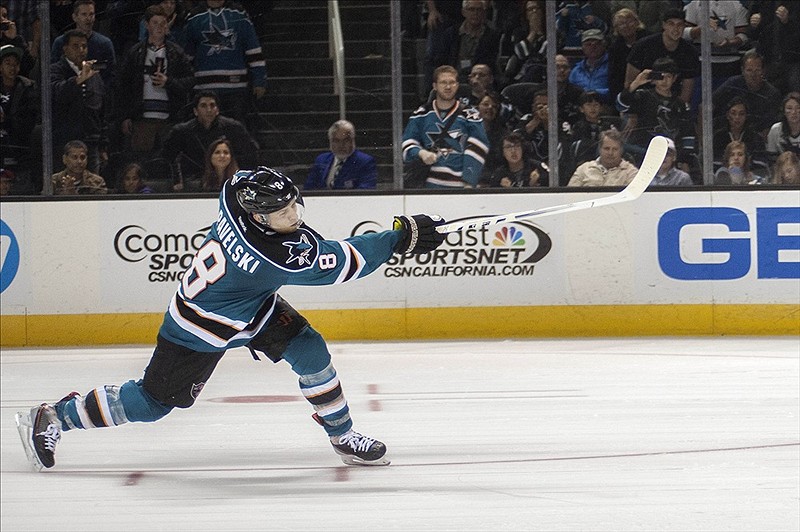 Captain America Doesn't Need Super Hero Help
Pavelski finished 2010-11 with 66 points, at the time it was a career high. During that those final 34 games Pavelski scored 32 points. Comparatively speaking, in his hottest 34 game stretch this past season playing primarily with Thornton and Burns, he scored 35 points. Nearly identical point totals.
Pavelski will score at a high level no matter who he plays with. Believe it or not his 66 points with Wellwood and Mitchell were actually more than he had the following season primarily alongside Thornton and Marleau. He finished with 61 that season.
When you take Pavelski away from the top six, not only will he still get his normal point totals, but so will guys like Marleau and Thornton. And with Pavelski centering his own line the Sharks can roll out three lethal lines instead of two, thereby creating scoring depth that is much more critical come the playoffs.
Playoffs? Talking About Playoffs?
Since the 2011 postseason, the Sharks have won three of four series and own a 15-11 overall record with Pavelski at center. When he plays wing, they have lost all three series and are a ghastly 5-10 overall.
During the 2011-12 regular season and playoffs, and these past 2014 playoffs, injuries were not a factor in Pavelski playing the wing. The Sharks chose to play him there with a healthy lineup. They did so despite the fact in both the regular seasons and playoffs prior to 2012 and 2014, the Sharks absolutely kicked butt with Pavelski at third line center. They chose to play him at wing in the following year's playoffs and they went a paltry 2-7.
I've said this before with the Sharks personnel decisions, if it ain't broke, don't fix it. This team has been scary good with Thornton, Couture, and Pavelski each centering separate lines. When Pavelski has played top six right wing, they have been nothing more than average.