On Monday, the Minnesota Wild activated Josh Harding off of the injured reserve and placed him directly on waivers. He had 24 hours to be claimed by another team, but no one knocked on his door, or his phone for that matter. So, at 11am on Tuesday, Harding was assigned to Minnesota's AHL affiliate, the Iowa Wild. GM Chuck Fletcher added that it was not for conditional purposes because that would only allow Harding to stay in Iowa for two weeks, a timeframe Fletcher believes is far too short. Chuck Fletcher gave comment on Harding's situation, stating,
"The reality is Josh hasn't played a game since Dec. 31 of last season," Fletcher said. "He missed training camp and the first month and a half of season. The most important thing for our organization, and Josh, is to give him the opportunity to regain the form of last season when he played so well for us. He can play as many games as he can, and get his game back as quickly if possible," Fletcher said. "There's no sense on having an artificial timetable. Two weeks isn't a long time for a guy who hasn't played in 11 months. If it takes 2 weeks great, if it takes 5 months… whatever it takes. "

Josh Harding hasn't appeared in a game since December of 2013, that's 11 months without playing.
So, Josh Harding's future with the Minnesota Wild is definitely about as clear as pea soup, or peanut butter, depending on what you like to eat. Right now, the Wild are rolling with the duo of Darcy Kuemper and Niklas Backstrom. While Kuemper has looked unbeatable at times, he has been shaky at others. Meanwhile, Backstrom hasn't improved much from his woes of last season. So, Josh Harding's return could mean great things, but the question is whose spot he would steal. Mike Yeo also added his take on the three goalie situation.
"It's been a year since he's played, no training camp this year, it's tough when you've got a couple goalies here to get him enough of a workload in practice," Head Coach Mike Yeo added. "Carrying three goalies is difficult."
So, while no one really knows the future of Josh Harding, we do know that for now, Darcy Kuemper is the Minnesota Wild starting goalie with Nicklas Backstrom as the backup. Also, we could expect to see Josh Harding makes his 2014 debut on Friday night for the Iowa Wild.
For Harding's future, his contract is up after this season, so he will become an unrestricted free agent come July 1st. The Minnesota Wild may need Josh Harding for next season, especially if Niklas Backstrom may decide to retire. But, if the Wild are content with their current duo, (which they probably shouldn't be) then Harding may have a new home in 2015-16. There are multiple teams who would be wise to take a chance on Josh Harding.
Future Possibilities:
New Jersey Devils: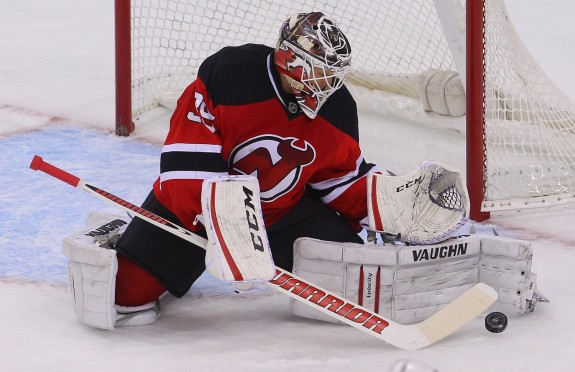 The Devils came into 2014-15 with a very different look. Not only did they sign multiple free agents during the summer, but Martin Brodeur was no longer around. They planned to put Cory Schneider into his desired starter role with Clemmensen as his backup. So far, Schneider has got his wish, starting all 19 games this season. He hasn't been great though, sporting a 2.72 GAA and a .910 SV%. Those numbers aren't amazing, and apparently they don't trust Clemmensen enough to play him. The Devils had playoff hopes entering the season, but if this continues, they won't be there. New Jersey could insert Harding into a backup role for next year and give him around 25 starts, enough to keep Schneider rested and still happy.
Colorado Avalanche:
The Avalanche had high hopes for this season, but thus far they have not been able to find their level of play from 2013-14. They are 24th in the league in points and 26th in goals against. Varlamov has been decent, but no where near his Vezina Trophy finalist level of last season. He sports a 2.95 GAA and a .918 SV%. Although their scoring abilities have performed a vanishing act, they also cannot continue to let in that many goals and expect to do well. Josh Harding could push Varlamov back to his desired level of play, while also playing 20-30 games himself. Harding would give the Avalanche assurance in the crease, something they need a lot of if they have any playoff hopes for this year.
Columbus Blue Jackets: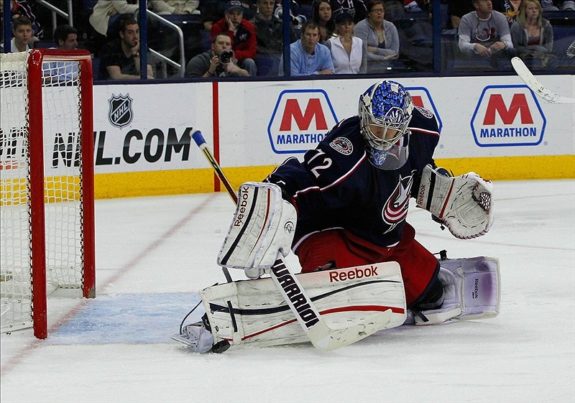 The Blue Jackets were supposed to be a team on the rise this year. A team that would compete for the Metropolitan Division title. Instead, the Penguins have blown everyone away, while Columbus continues to amaze everyone with their extremely slow start. It's not that their team is bad, it's that they are suffering detrimentally from injuries. One major injury was Sergei Bobrovsky breaking his finger, he is now on the IR. So, Curtis McElhinney has gotten most of the starts. If Bobrovsky is going to be out a while, then Columbus needs a guy like Josh Harding. I believe the only reason they didn't claim him is because he hasn't play in 11 months. If Harding plays well in AHL, Columbus should make a trade for him and make him their starter. They could still turn this season around, but being 27th in goals against is usually bad news.
Edmonton Oilers:
The Oilers thought they finally had solved their crease issues when they made Ben Scrivens and Viktor Fasth their starting duo. Although neither had ever played 40 games in a season, for some odd reason, Oilers management believed it would work. But, like usual with the Oilers, it didn't. Scrivens has a terrible 3.09 GAA and a .895 SV%, while Fasth sports an even uglier 3.63 GAA and a .885 SV%. The Oilers are now in at least their sixth season of rebuilding, and they still aren't even close. Most people know that when rebuilding, you need to start with a sturdy goaltender, everyone but GM Craig MacTavish, I suppose. Just look at how the Calgary Flames have skyrocketed since acquiring Jonas Hiller this past summer. Edmonton must acquire a real starting goaltender this offseason, and if Harding comes back well, perhaps it should be him.
Where do you think Josh Harding will be playing next in the NHL? Discuss in the comments!