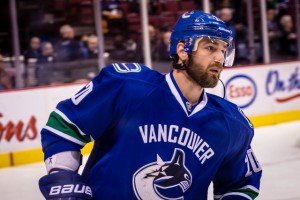 The Canucks just won 5-4 against the Edmonton Oilers after coming out of a five game break, it certainly doesn't seem like a time to complain. Sure, there were a few soft goals let in and defence looked weak at times, but a point is a point, right?
Well, the thing to complain about has little to do with the team itself, rather, it lies in the fact that they're coming off a four game break — in their schedule.
And when's their next game? Tonight. At home against the Anaheim Ducks, one of — if not the — toughest teams in the league less than 24 hours after facing the Oilers in Edmonton.
Why have a four game break and then have a back-to-back in two different arenas? Why not space out the games more evenly?
So far, in these back-to-backs (four so far), the Canucks have won only one. This scheduling could have playoff implications. Last year, even though much of the blame for the late season collapse is put on former coach John Tortorella, a lot of it was to do with the Olympic schedule which meant a gruelling schedule.
A lot of that wear likely came from the fact they had to play so many games in so few nights. That year though, the games had to be spaced like that to fit the Olympics in.
This season, I'm sure there is a lot of scheduling things that I don't know the reasoning for and other behind the scenes things, but it just doesn't make sense to schedule it this way. There is probably a need for some games to be back-to-back, but there should be less of them.
The four game break is actually not that bad, but it should be noted that there are two five-game breaks, and one six-game break — all in January or before.
The first of these five-game breaks comes in October. Why have a break like that right at the beginning of the season? Injuries are probably low, and the 82 game grind has really just begun.
Even this four-game break, it's in November. Certainly rest is probably good for the team, but it's still pretty early in the season.
Then from February until the season ends in April, the schedule is jam packed. It's nearly a game every second night, with the a few back-to-backers thrown in, and at max, a two-game break thrown in.
This is the time when the team could best use a four or five or six game break. This is when the Canucks will need to find that energy to keep going and make the playoffs.
Instead, they get their breaks only in the first half of the season when the team in all likelihood is still relatively refreshed. In December — in addition to the five-game break — there is two three-game breaks — a fairly light month.
But at the least, so far, the Canucks have been making the most of a fairly light schedule, going 13-6-0, putting themselves in a good spot for when that schedule does become a lot tougher. Let's just hope they can keep it up when the grind truly begins.