Author Hunter S. Thompson once said about gambling, "There are many harsh lessons to be learned from the gambling experience, but the harshest one of all is the difference between having fun and being smart."
Well, the Boston Bruins gambled when they traded Johnny Boychuk to the New York Islanders and decided to keep Adam McQuaid instead. With that trade, the Boston Bruins learned the difference between having fun and being smart.
The Bruins defensive corps, once very deep, has been cursed by the Injury Ninja this season as Zdeno Chara, Torey Krug, David Warsofsky, and now Adam McQuaid have all been stricken with injuries this season. The Boston Bruins needed to trade at least one defenseman before the season began and it was apparent that the odd man out would either be Johnny Boychuk or Adam McQuaid. Boston opted to keep the less expensive, but injury prone, McQuaid, and, so far, it looked like a bad decision on Peter Chiarelli's part.
First of all, I was against keeping McQuaid over Boychuk to begin with. Adam McQuaid is a talented player… when healthy. Here is a list of all the injuries that McQuaid has suffered since 2010,
Leg injury (2010)
Concussion (2011)
Neck Sprain (2011)
Another concussion (2012)
Eye Injury (2012)
Upper body injury (2012)
Sprained shoulder (2013)
Injured his other shoulder (2013)
Blood clot (2013)
Core injury (2014)
Ankle surgery (2014)
Torn quad (2014)
Broken thumb (2014)
Not including a minor illness and an undisclosed injury, McQuaid has suffered thirteen injuries since 2010. THIRTEEN! I know hockey players get banged up a lot during a long and grueling season, but missing time due to thirteen separate injuries is excessive. McQuaid is a tough kid with a lot of talent, but he can't stay off the injured list and that is hurting the Bruins. Granted, Boychuk has been hurt of couple times this season for the Islanders, but it was nothing too major and he is not on the current Islanders injured list.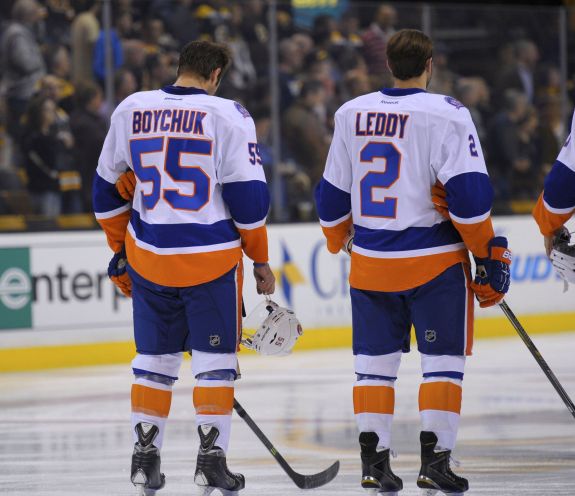 Johnny Boychuk has been outplaying Adam McQuaid on the ice to make matters even worse. In 17 games with the Islanders this season, Boychuk has recorded 12 points and has been a big part on the Islanders' early season success. On the other hand, McQuaid, in 20 games, has only recorded two points as the Bruins continue to struggle with their patchwork defense. With the Bruins relying on defensemen like Joe Morrow and the inconsistent Matt Bartkowski, the Bruins could really use Boychuk right now.
Perhaps the trade would have been good if the Bruins received a good haul in return. Maybe a prospect or an NHL ready player, but, instead the Bruins dealt Johnny Boychuk to the Islanders for a second and a conditional third round pick in the 2015 NHL Draft and a second round pick in the 2016 NHL Draft. Kind of ho hum. I know the Bruins needed to shed salary and free up a roster slot, but it seems as if the Islanders won this trade. The picks could indeed turn into star players of the future for the Bruins, after all Milan Lucic and Brad Marchand were second and third round picks respectively.
The Bruins gambled and lost by keeping Adam McQuaid in the Hub. While Johnny Boychuk is thriving on Long Island, Adam McQuaid is nursing his broken thumb that will keep him out for up to eight weeks and yet another trip on the injured list.
The Bruins are piecing together their blue line while the Islanders have theirs intact and it's all because of one little trade in early October.