After going on a 9-2 stretch from mid-November to early December, the Detroit Red Wings have lost their past three games without scoring more than two goals in each game.
They still find themselves leading the Atlantic Division with Tampa Bay at 41 points and are one point behind Eastern Conference-leading Pittsburgh.
The Red Wings could get some key guys back in the lineup, but a tough road schedule awaits them in the coming future.
Solving Goal-Scoring Woes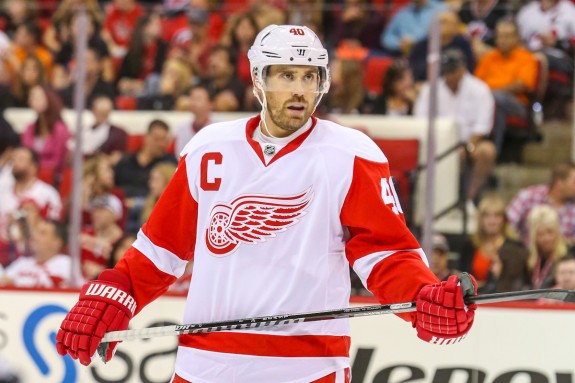 The Red Wings scored just four goals in their past three games, two of which were against Toronto. It's not for lack of trying either. In the first game against the Maple Leafs, the Red Wings had 42 shots on goal but could only sneak one past James Reimer.
They followed that game up with 31 shots on goal against Florida two nights later but settled for a shootout loss to the Panthers.
On Saturday against the Maple Leafs — their fifth game in eight nights — they managed 28 shots, but gave up an astounding 41 shots on Petr Mrazek. Mrazek did quite a good job keeping his team in the game, but turnover ultimately doomed Detroit.
Coming up, the Red Wings have Columbus on Tuesday, the New York Islanders on Friday and Colorado on Sunday, all of which are at home.
Columbus, which is 28th in the league in goals allowed per game, will be a key game to get past the goal-scoring woes that have plagued the Red Wings for the past three games. Despite the high number of goals allowed, the Blue Jackets are on a six-game winning streak, with big wins against Tampa Bay and Pittsburgh. This is a confident group right now, and the Red Wings can't let Columbus' spot in the standings overshadow how great it has played as of late.
Preventing Mumps Outbreak
More than a dozen NHL players and referees have been diagnosed with the mumps this season, including Sidney Crosby and Corey Perry.
According to MLive.com's Ansar Khan, the Red Wings are taking every precaution in order to prevent the outbreak in their locker room.
The team is offering players booster shots to everyone, especially European players who may not have received vaccinations when they were children.
Detroit did face one player who had the mumps in the New York Rangers' Derick Brassard but have been lucky to not be playing teams with multiple players diagnosed with the illness.
Abdelkader, DeKeyser Might Return
Justin Abdelkader has missed the past seven games with a separated shoulder, Danny DeKeyser has missed the past two games with another upper-body injury.
The Red Wings may be getting both of them for their Tuesday night game against Columbus.
Abdelkader, while generally not a scoring threat, adds a lot of energy and grit to the team. Whether he is on the top line or the third line, his net-front presence is something the team has sorely been missing for the past seven games.
DeKeyser, despite being in just his second full season, already has established himself as one of the top four defensemen on Detroit.
Xavier Ouellet was called up from Grand Rapids to replace DeKeyser and has filled in nicely, but it will be nice to have DeKeyser back on the blue line.
Tough Schedule Looming
The Red Wings' next four games will be at Joe Louis Arena. After that, they will be living in hotel rooms for the better part of two months.
Detroit will be on the road for 17 of their 23 games in the months of January and February, as they take their western Canada road trip and the West Coast road trip.
That's why the three games at home this week are vitally important. They need to defend home ice and keep pace with Tampa Bay and Montreal before they start on their two separate road trips.
Franzen's, Zetterberg's Droughts
During their 9-2 stretch, the Red Wings were getting goals from primary sources and secondary sources, which is generally what happens when a team goes on a winning streak.
However, Johan Franzen was noticeably absent during that stretch. Franzen hasn't scored since Nov. 20 and has just four assists in seven games in December.
He had 10 points in 14 games in November, but December has not been as good for The Mule. Franzen's inconsistencies come up every season, but he needs to be on the scoresheet on a more consistent basis.
Henrik Zetterberg also has struggled after the first month of the season. He posted 14 points in 10 games during October but posted only nine in 14 games in November and has just three assists in December.
As captain of the team, it's imperative Zetterberg leads by example. I'm not saying he can't be a successful captain if he doesn't score. We know how much of a veteran presence and winning attitude he brings to the club, but he also needs to lead his team by putting pucks in the net.
Zetterberg still leads the team in scoring with 26 points in 31 games, but Pavel Datsyuk slowly is making a charge and could overtake him if things don't change soon.
Subscribe to our Red Wings stories to get email updates every time a new story is published.
Tom Mitsos is a Detroit Red Wings and Grand Rapids Griffins staff writer for The Hockey Writers. You can follow him on Twitter @tom_mitsos.
Tom Mitsos is a writer from Michigan who covers the Red Wings and the Red Wings' AHL affiliate, the Grand Rapids Griffins, for The Hockey Writers.