Welcome to my first-ever NHL Draft rankings here at The Hockey Writers. I took over for the prospects guru Josh Bell a few months ago and it's been fun attempting to fill his massive shoes. Before we get started, I want to thank him for believing in me to take on this role and for all the help and support over the years.
Related: THW Prospects Coverage
What a year to take over as the lead writer for prospects and the NHL Draft. The COVID-19 pandemic threw everyone for a loop when it shut down most of the junior leagues, so regular viewings have been hard to come by. Many scouts and draft pundits that rely on physically being at the games have had to turn to video scouting to evaluate the players or use old footage from last season, which isn't ideal. Throw in the fact that this draft could be pushed to 2022 and uncertainty abounds as everyone attempts to scout this year's crop of eligible prospects.
This draft also does not have a clear-cut, consensus first-overall pick as we had with Alexis Lafreniere in 2020. Right now there are upwards of five players that have a chance at the crown, and there are legitimate arguments to be made for each and every one of them.
Jumping into the rankings, there are two elite centermen and a franchise defenceman at the top of my draft board. Matt Beniers, Kent Johnson, and Brandt Clarke all could be cornerstone players for whichever team selects them, and they will all be taking up residence on NHL top-ten lists in the near future. Two other defencemen in Owen Power and Luke Hughes could also creep into the top-five, so if you're a team with a top-10 pick this year, you will have a chance to draft a top-pairing defenceman.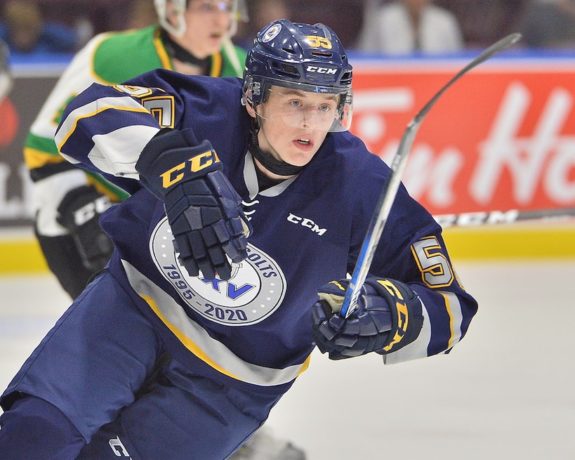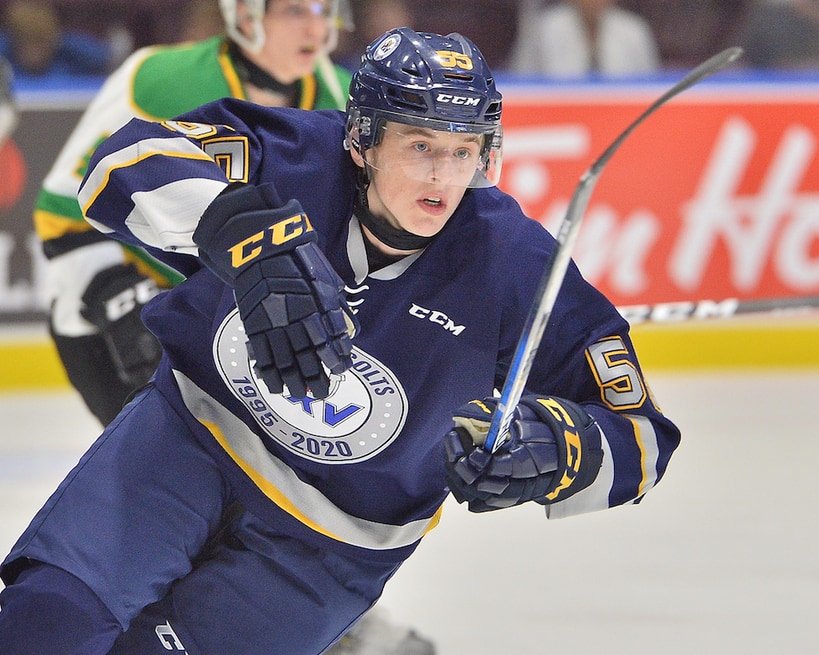 As for the elite two-way pivot leading my rankings, all Beniers has done since joining the Michigan Wolverines is put up points and impress everyone with his cerebral two-way game. He was one of Team USA's best players at the 2021 World Junior Championship (WJC) at 18-years-old and ever since he's returned to the NCAA, he's just continued his strong start to the 2020-21 season. As of this writing, he has five points in his last four games and does not look like he's slowing down any time soon.
Clarke has been at or near the top of the 2021 draft class for quite some time now. He's a potential franchise defenceman in the vein of Dougie Hamilton, who is extremely solid in all aspects of the game. He's both a rock in the defensive zone and a wizard in the offensive zone as he uses his smarts and elite mobility to start and stop the attack. In essence, he's a coach's dream for a number one defenceman. I wouldn't be surprised to see him go first-overall ahead of Beniers, even though I ended up ranking him second.
Johnson is another center to keep an eye on for first-overall. He's a strong, creative, and versatile pivot with a goal scorer's touch who could become a dominant top-line center in the NHL one day. If all goes to plan, he could join Beniers in the top-three and add to Michigan's dominance at the top of this draft.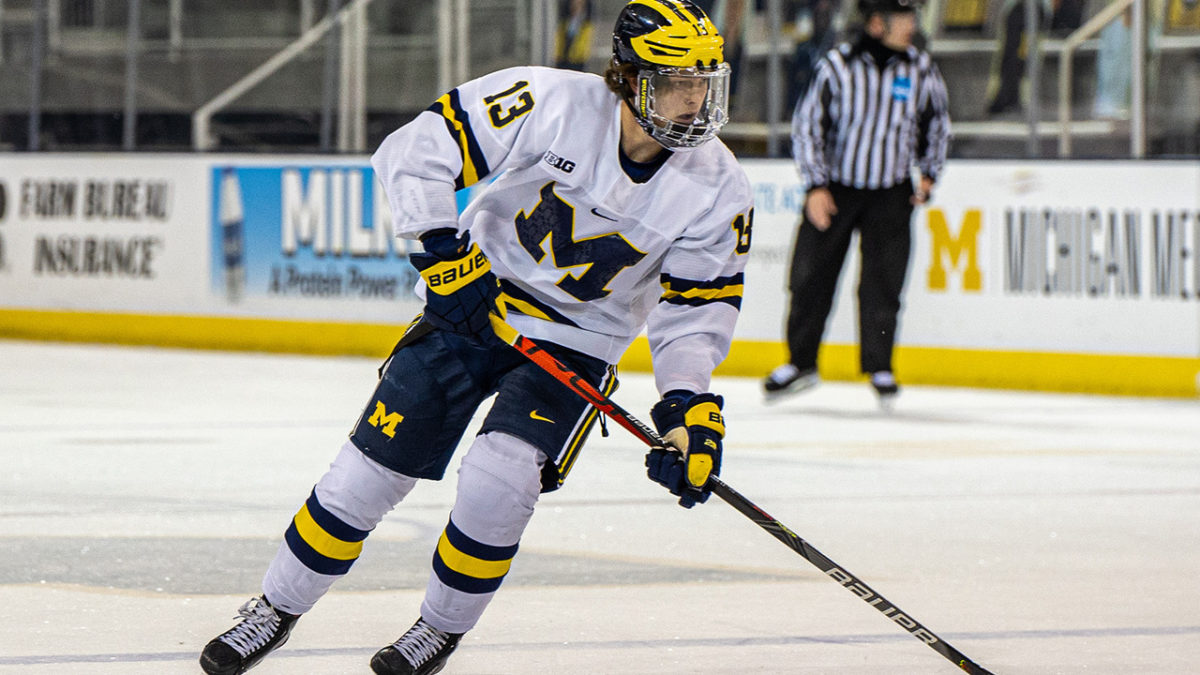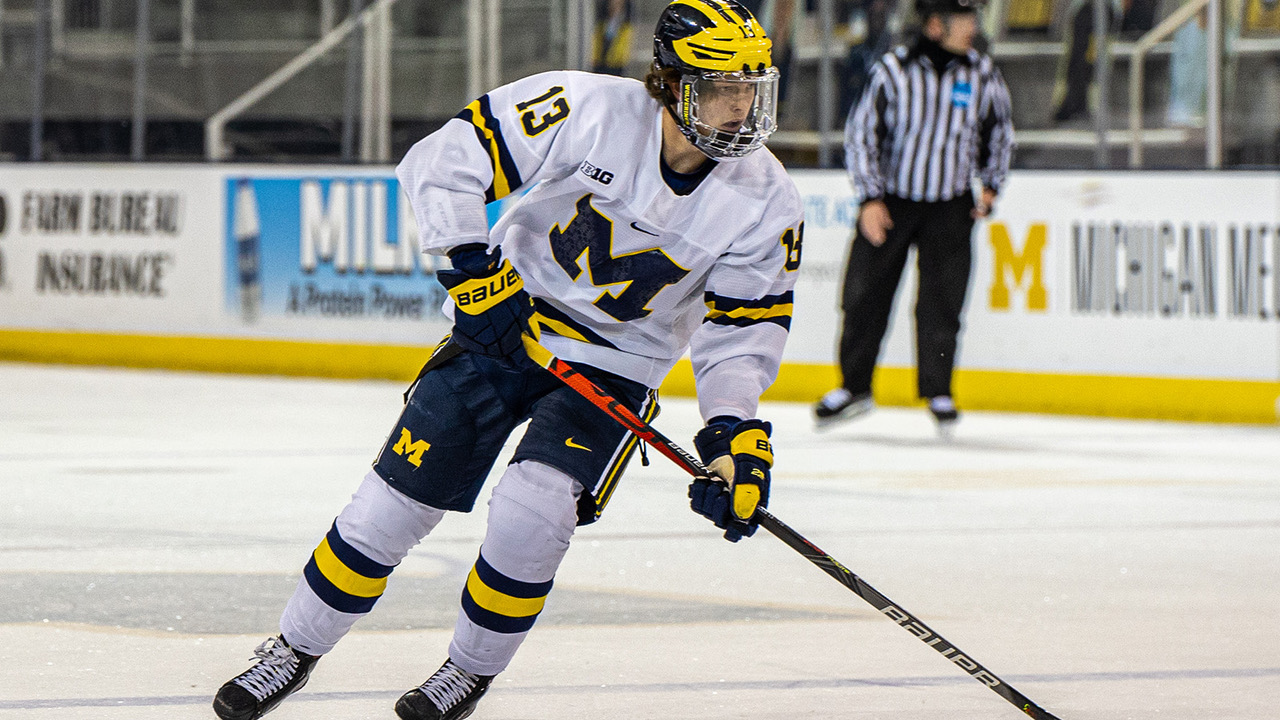 Like Jaroslav Askarov before him, goaltender Jesper Wallstedt is slated to go high in the first round of this year's draft. He showed well in the two games he played at the 2021 WJC and is absolutely dominating the Swedish Hockey League right now where he is sporting a minuscule 1.97 goals-against average (GAA) and .918 save percentage (SV%) to go along with two shutouts. He is big, athletic, and quick in the crease which will make him a hot commodity for any team looking to shore up their goaltending in the future.
Now more than ever, rankings will remain very fluid throughout the season, especially as the various junior leagues get back up and running. So look for a lot of movement in the coming months. But for now, here are my top-64 prospects for the 2021 NHL Draft.
2021 NHL Entry Draft Rankings
First Round
1. Matt Beniers, C, Michigan Wolverines (NCAA)
2. Brandt Clarke, D, HC Nove Zamky (Slovakia) On Loan
3. Kent Johnson, C, Michigan Wolverines (NCAA)
4. Jesper Wallstedt, G, Lulea HF (SHL)
5. William Eklund, C/LW, Djurgårdens IF (SHL)
6. Owen Power, D, Michigan Wolverines (NCAA)
7. Luke Hughes, D, USNTDP Juniors (USHL)
8. Fabian Lysell, RW, Lulea HF (SHL)
9. Simon Edvinsson, D, Frolunda HC (SHL)
10. Matthew Coronato, LW, Chicago Steel (USHL)
11. Carson Lambos, D, JYP U20 (U20 SM-sarja) On Loan
12. Aatu Raty, C, Karpat (Liiga)
13. Dylan Guenther, LW, Sherwood Park Crusaders (AJHL) On Loan
14. Corson Ceulemans, D, Brooks Bandits (AJHL)
15. Prokhor Poltapov, RW, Krasnaya Armiya Moskva (MHL)
16. Chaz Lucius, C, US National U18 Team (USDP)
17. Cole Sillinger, C, Sioux Falls Stampede (USHL)
18. Brennan Othmann, LW, EHC Olten (SL) On Loan
19. Oskar Olausson, LW/RW, HV71 (SHL)
20. Francesco Pinelli, C, HDD Jesenice (Slovenia) On Loan
21. Zach Dean, C, Gatineau Olympiques (QMJHL)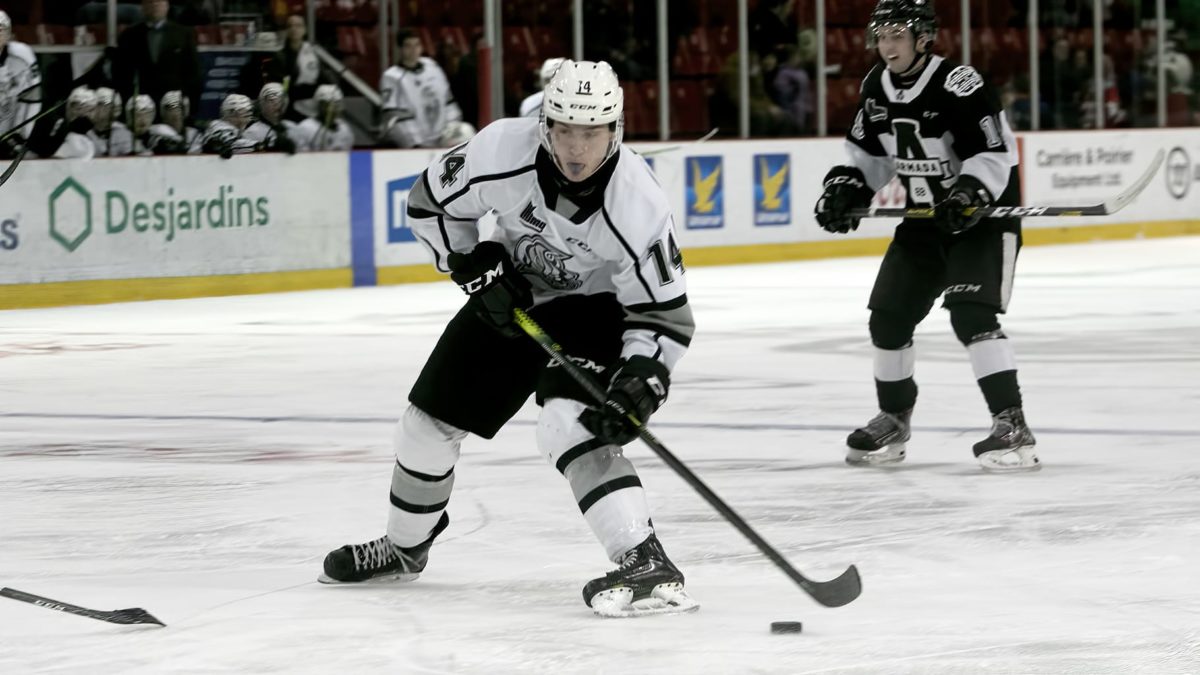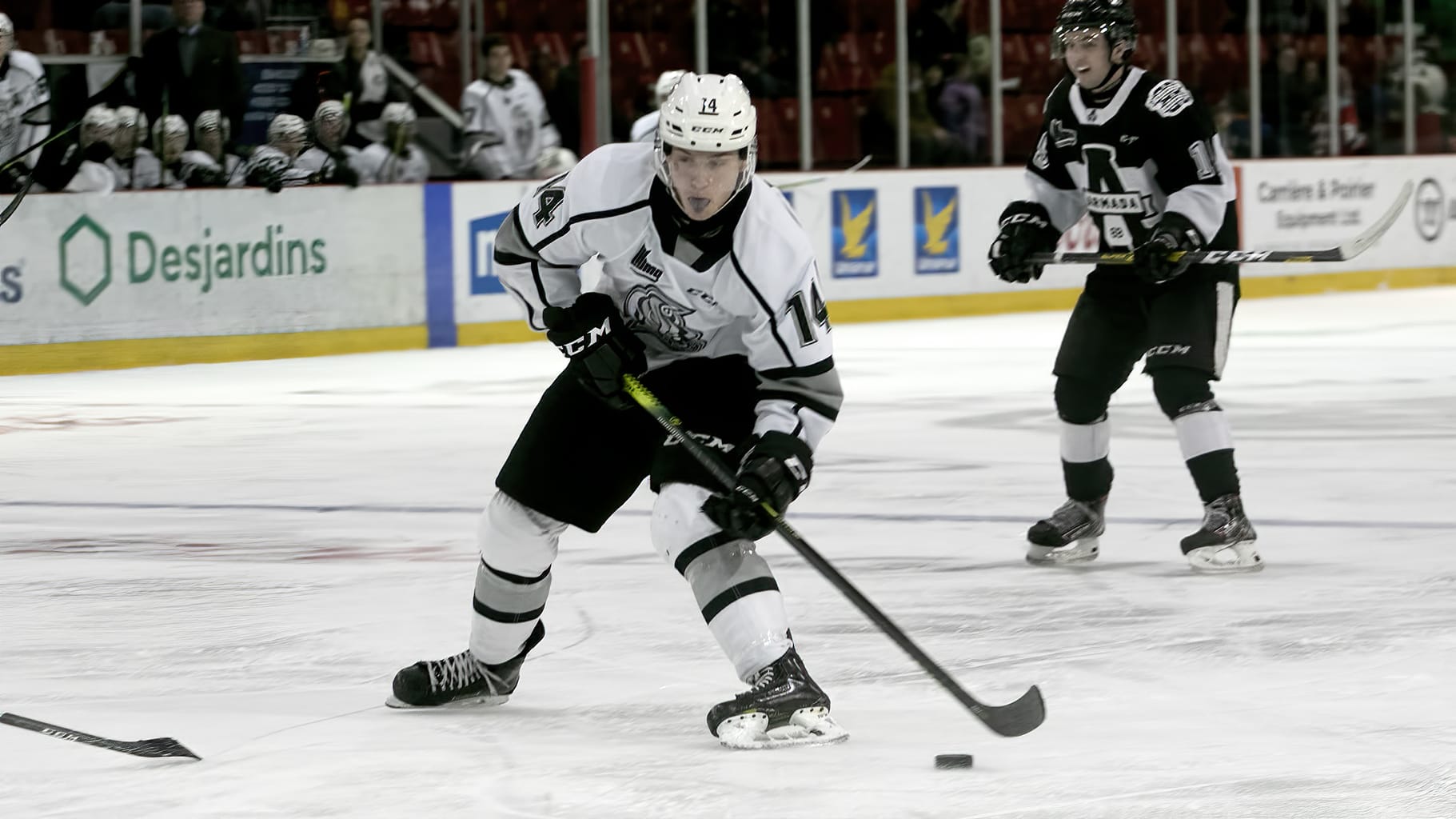 22. Dylan Duke, C, US National U18 Team (USDP)
23. Scott Morrow, D, Shattuck St. Mary's 18U Prep (USHS-Prep)
24. Aidan Hreschuk, D, USNTDP Juniors (USHL)
25. Nikita Chibrikov, RW, SKA-1946 St. Petersburg (MHL)
26. Stanislav Svozil, D, HC Kometa Brno (Czech)
27. Daniil Chayka, D, Krasnaya Armiya Moskva (MHL)
28. Simon Robertsson, RW, Skelleftea AIK (SHL)
29. Mason McTavish, C, EHC Olten (SL) On Loan
30. Zachary L'Heureux, C, Halifax Mooseheads (QMJHL)
31. Sasha Pastujov, LW, USNTDP Juniors (USHL)
32. Alexander Kisakov, F, MHK Dynamo Moskva (MHL)
Second Round
33. Xavier Bourgault, C, Shawinigan Cataractes (QMJHL)
34. Zachary Bolduc, C, Rimouski Oceanic (QMJHL)
35. Manix Landry, C, Gatineau Olympiques (QMJHL)
36. Anton Olsson, D, Malmo Redhawks (SHL)
37. Samu Tuomaala, F, Karpat (Liiga)
38. Brett Harrison, C, KOOVEE (Mestis)
39. Ryder Korczak, C, Moosejaw Warriors (WHL)
40. Joshua Roy, C, Sherbrooke Phoenix (QMJHL)
41. Vladislav Lukashevich, D, Loko Yaroslavi (MHL)
42. Samu Salminen, C/LW, Jokerit U20 (U20 SM-sarja)
43. Logan Stankoven, F, Kamloops Blazers (WHL)
44. Mackie Samoskevich, C, Chicago Steel (USHL)
45. Isak Rosen, LW/RW, Leksands IF (SHL)
46. Sebastien Cossa, G, Edmonton Oil Kings (WHL)
47. Sean Behrens, D, USNTDP Juniors (USHL)
48. Justin Robidas, C, Val-d'Or Foreurs (QMJHL)
49. Cole Huckins, C, Acadie-Bathurst Titan (QMJHL)
50. Matvei Petrov, LW, MHK Krylia Sovetov Moskva (MHL)
51. James Malatesta, C, Quebec Remparts (QMJHL)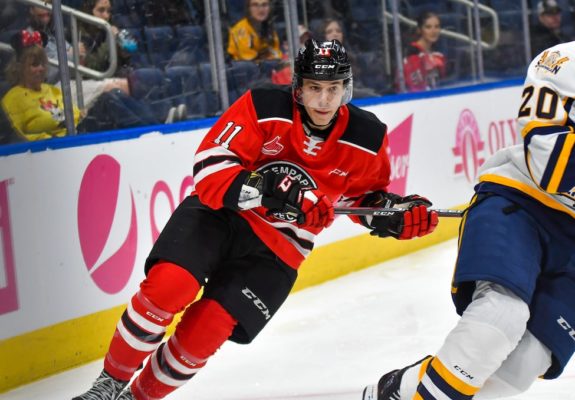 52. Kirill Kirsanov, D, SKA-1946 St. Petersburg (MHL)
53. Cameron Whynot, D, Halifax Mooseheads (QMJHL)
54. Vincent Iorio, D, Brandon Wheat Kings (WHL)
55. Fyodor Svechkov, LW/C, Ladia Togliatti (MHL)
56. Conner Roulette, LW, Seattle Thunderbirds (WHL)
57. Jackson Blake, F, Chicago Steel (USHL)
58. Jimi Suomi, D, Jokerit U20 (U20 SM-sarja)
59. Hugo Gabrielsson, D, Frolunda HC J20 (J20 Nationell)
60. Jeremy Wilmer, C, USNTDP Juniors (USHL)
61. William Stromgren, LW, MODO Hockey (HockeyAllsvenskan)
62. Tyler Boucher, F, US National U18 Team (USNDP)
63. Marcus Almquist, C/RW, HV71 J20 (J20 Nationell)
64. Roman Schmidt, D, USNTDP Juniors (USHL)
Honorable Mentions
Chase Stillman, RW, Esbjerg II (Denmark2), Matthew Knies, F, Tri-City Storm (USHL), Eetu Liukas, RW, TPS (Liiga), Jake Martin, D, USNTDP Juniors (USHL), Lorenzo Canonica, C/LW, Shawinigan Cataractes (QMJHL)
2021 Draft Will Be Full of Surprises
More so than ever before, this draft will be chock full of surprises. Some big names will inevitably fall because of their lack of playing time, and others will rise drastically because they are privileged enough to be playing in a league that hasn't be shut down due to COVID-19. Carson Lambos (11th) is a perfect example of this as he has struggled to gain a foothold in the Finnish Liiga and is now being ranked towards the end of the first round by some outlets. To put that in perspective, he was in the conversation for first overall before the pandemic hit.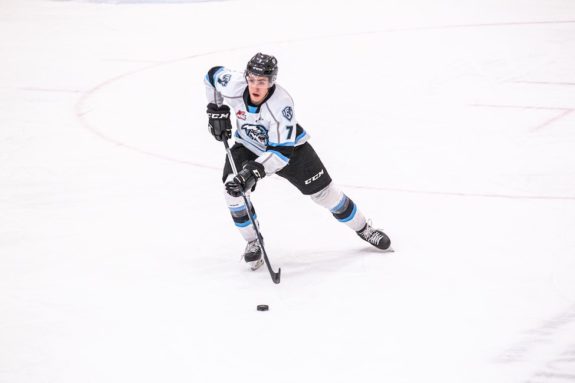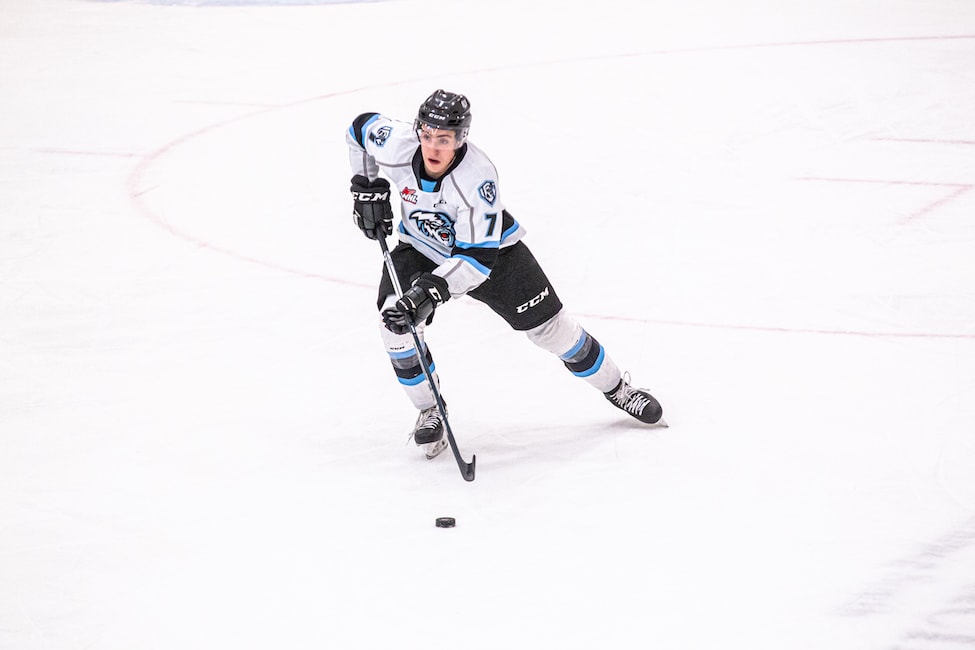 As for the early risers, Chicago Steel forward Matthew Coronato (10th) has been ripping up the USHL lately, recording 19 goals and 43 points in 24 games. He also just had a 19-game point streak snapped, which saw him score 18 goals and record 14 multi-point games over that span. I think it goes without saying that he's probably the biggest surprise of this draft class right now. He seemingly has it all, from his speed and shot to his playmaking and natural scoring talent, so don't be surprised to see him get selected before the draft is ten picks old. If you can't tell already, he's one of my favourites so far, and no, it's not just because he has the same first name as me.
The second round also has some notable names to keep a close eye on. First is the forechecking menace known as Manix Landry (35th). He may be small, but he's fast and feisty. He's also one of the most annoying players to generate offence against. Boasting a package of smarts, two-way acumen, and a relentless motor, he could turn into one of those players that helps win you a Stanley Cup one day. He is currently plying his trade in the QMJHL as the captain of the Gatineau Olympiques and has recorded four goals and seven points in 13 games so far.
Also rising quickly is Swedish defenceman Hugo Gabrielsson (59th). He's not the most notable draft-eligible player skating with Frolunda (that being Simon Edvinsson), but he's gaining ground by the day as a possible late second-round pick. His mobility and acceleration stood out the most to me in the clips I've seen and judging from Josh Bell's comments in a recent scouting report, he's also very good at adapting his style to suit the player he's partnered with. He's basically a transformer, capable of playing any type of game when needed.
Related: 2021 NHL Draft Rankings: Baracchini's Top 75 Rankings
Five years from now, we will look back at the 2021 draft and marvel at the amount of steals that came from it. The pandemic has made it impossible to accurately evaluate any prospect, as scouts are restricted to video and a limited amount of live viewings. As a result, scouting reports and future projections will inevitably be incomplete. So buckle in, folks, and expect the unexpected as we march closer and closer to July 23 and the hopeful start of the first round of the 2021 NHL Draft.
Do you agree with my rankings? Which prospects do you have an eye on? Have your say in the comments below!