The University of Michigan has always been a factory for NHL talent and high-end prospects. In the last few years, they have churned out all-star talent in Quinn Hughes, Zach Werenski, Kyle Connor, Jacob Trouba, and Dylan Larkin, just to name a few. The 2021 NHL Draft promises to be more of the same as they are set to have at least four players chosen in the top-15 and potentially two before it is three picks old.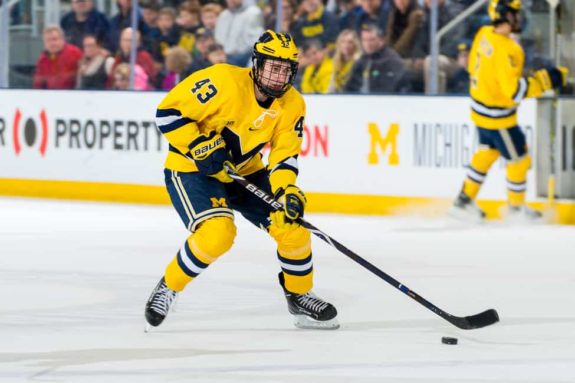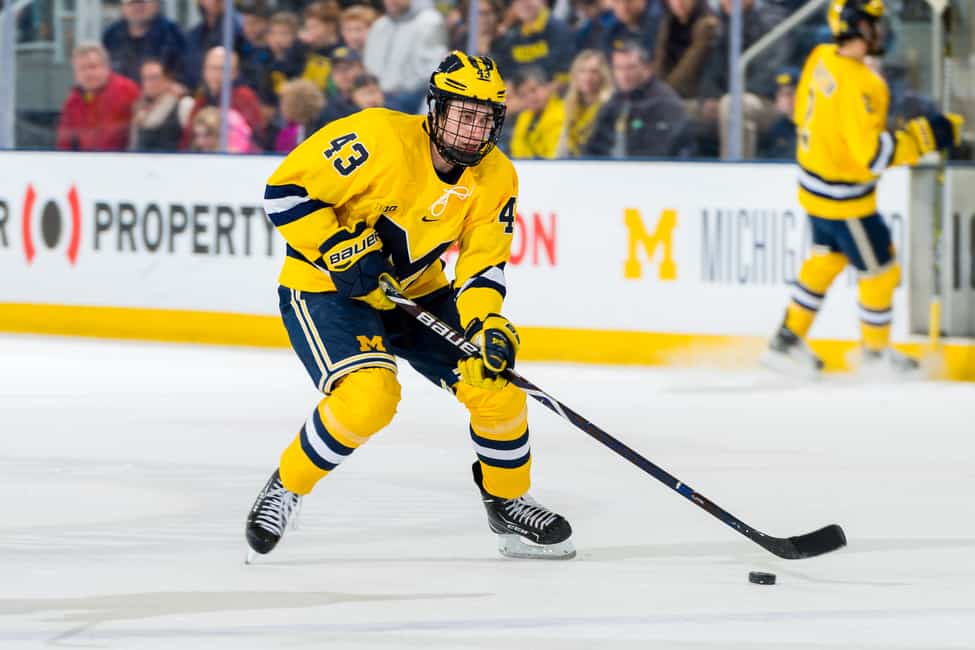 The Michigan Wolverines just began their 2020-21 season after a long layoff, and these players are already making a name for themselves early on. They are also a big reason why their team is undefeated at 2-0 so far. So, in a sneak preview of the 2021 first round, let's take a closer look at Owen Power, Kent Johnson, and Matthew Beniers.
Owen Power
2020-21 Season: 2 games, 1 goal, 2 assists, 3 points
Power is one of the highest-ranked defencemen going into the 2021 NHL Draft, for good reason. All he did was dominate the United States Hockey League (USHL) by putting up 12 goals and 40 points in 45 games with the Chicago Steel and win the USHL's defenceman of the year award as well. No big deal right? Oh yes, he paced all blueliners in points too.
Related: 2021 NHL Draft Could See These Defensemen Go 1-2-3
The Wolverines just graduated a generational defenceman to the NHL in Hughes, and they are poised to do the same with Power. Just two games into his NCAA career, the 17-year-old is showing everyone why the hype is justified. He is already playing over 20 minutes a night for head coach Mel Pearson and he got his first three points of his college career in one game during Michigan's 8-1 shellacking of Arizona State. He also led all blueliners in ice-time and spent time on both the power play and penalty kill.
Power is everything you want in a defenceman, massive size at 6-foot-5, 211 pounds, insane mobility, physicality and an intelligent two-way game reminiscent of a young Nicklas Lidstrom. He's basically the complete package with very few flaws to his game.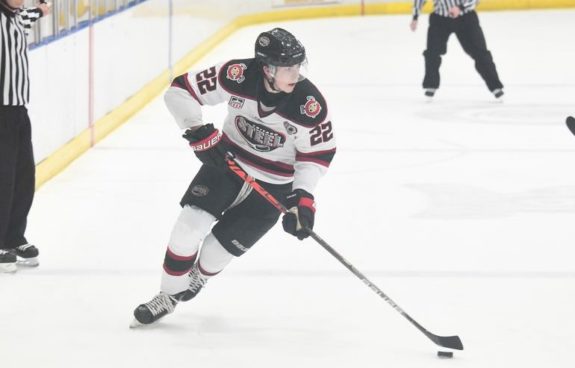 Like Lidstrom, it's his intelligence that sets him apart from his peers. He rarely makes a mistake with the puck, and he knows where and when to place it in order to give his teammates the best possible chance to score. If you want evidence of it at a higher level, look no further than his last game where he set up fellow defenceman Cam York with one of those smart precision passes.
Kent Johnson
2020-21 Season: 2 games, 1 goal, 4 assists, 5 points
Johnson has seen a quick start to his NCAA career as well, posting five points in his first two games, including a four-assist effort in the same 8-1 game that saw Power get his first three points as a freshman. Clearly they are aware of all the press projecting them as the top two picks of the draft, because both of them are setting a early precedent for greatness. If they continue the pace they are on, they will be battling it out all season to see who will be the first overall pick in 2021.
Related: 2021 First Overall Pick is Wide Open For the Taking
The 6-foot-1, North Vancouver native who absolutely dominated the BCHL with 41 goals and 101 points in 52 games playing for the Trail Smoke Eaters is quickly making a name for himself in the NCAA too. Often compared to Toronto Maple Leafs' star forward Mitch Marner, Johnson is a creative, multi-dimensional offensive threat in the middle of the ice. He's not afraid to try anything, including attempting (and executing, I might add) the vaunted Michigan or Svechnikov as its called in the NHL right now or just making defenders look silly with his ultra-soft hands.
Johnson still needs to grow into his frame, but when he does, he should become a dominant number one center that racks up the points on both the power play and penalty kill. If he can continue the insane pace he's on to start his NCAA career, he should see his draft stock rise significantly in the coming months.
Matthew Beniers
2020-21 Season: 2 games, 2 goals, 1 assist, 3 points
Beniers wasn't originally scheduled to play for Michigan in 2020-21, but with Harvard and the Ivy League schools cancelling all Winter sports, he decided that the Wolverines were a better fit for his future. Right now, that's looking like the right decision as he's come out of the gate on fire, just like the rest of his 2021 draft eligible cohorts. As of this writing he has three points in two games, which include his first two goals in the NCAA.
Related: 2021 NHL Draft: OHL & Wolverines Dominate Players To Watch List
Similar to Johnson, Beniers is a highly skilled centerman who thrives at both ends of the ice. His work ethic and determination are second-to-none and he rarely backs down from the dirty work of blocking shots and killing penalties. In two games already, he is a prominent figure on both special teams averaging over a minute of short handed time and 2:30 of power play time. He's also won 55 percent of his puck battles and has not seen a game with a negative in the Corsi column.
His competitiveness on the puck, his willingness to win puck battles, to block shots, to do the dirty things that help you win hockey games really is what makes him special.

Seth Appert, former USNDP coach (from 'Film Breakdown: Matthew Beniers adds more elite playmaking' Michigan Daily News, 8/31/20)
In addition to his two-way aptitude, Beniers also is a premier playmaker, capable of finding teammates at a moments' notice. He's especially good at the one-touch pass, which he used a lot last season in the USHL. He hasn't shown that side of his game too much in the NCAA yet, but it's only a couple of games in. As he gets more comfortable, we should see that more often especially with all the elite goal scorers currently playing on the Wolverines.
Could Powers & Johnson Get Selected 1st & 2nd Overall?
It is conceivable that the University of Michigan could see two of their students get selected as the top two picks in the 2021 draft. Many outlets are projecting that outcome already, and they are doing nothing to slow the hype train down. Together they have eight points between them, and they are only going to get better as they adjust to the college game. With the package of skills they possess, it's not a matter of if, it's a matter of when they will become two of the most elite players in the NCAA.
Don't Forget About the Youngest of the Hughes Brothers
Luke Hughes is not playing for the Wolverines right now, but he's just a year away from joining his cohorts in Michigan. Hughes is lighting it up in the USNTDP with five assists in his first nine games, and could be drafted higher than his brother Quinn who was selected ninth-overall by the Vancouver Canucks in 2018.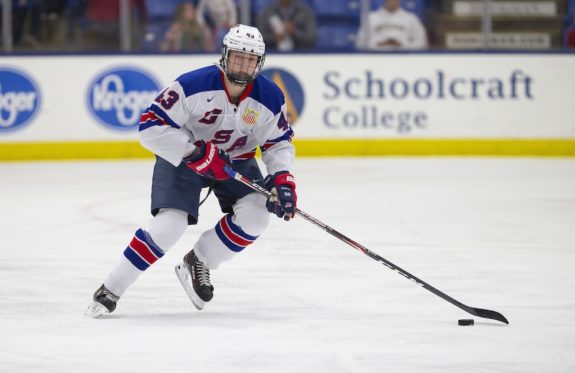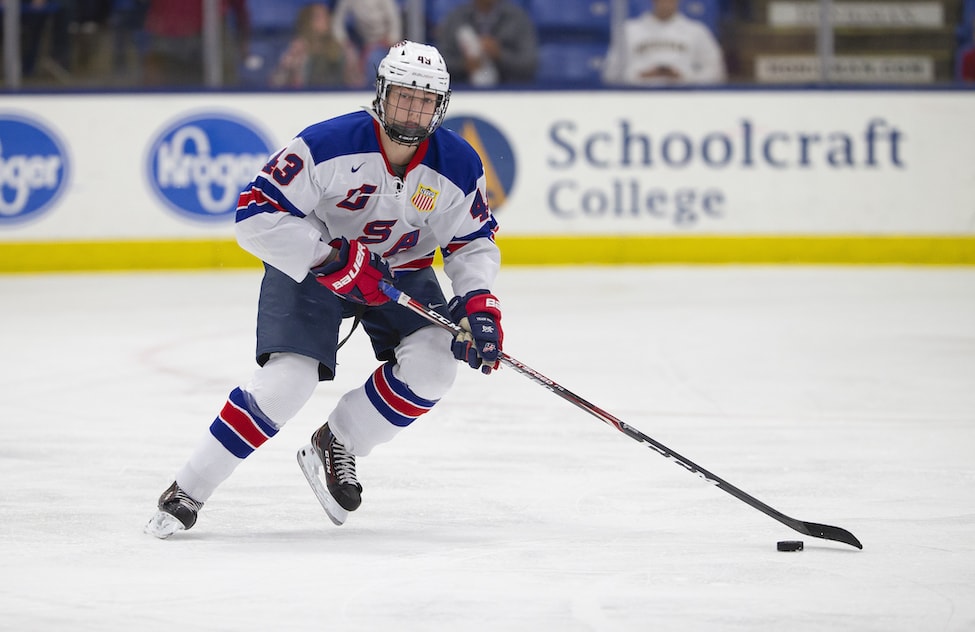 Luke is just as skilled as his older brother and he has the size to match. Instead of Quinn's 5-foot-10 stature, he's 6-foot-2. That alone will give him an extra advantage. Throw in his smooth edges, elite puck moving abilities and razor sharp hockey IQ, he will be a force to be reckoned with when he reaches the NHL.
So, when all is said and done, the University of Michigan could see four of their players get selected in the top-ten and three of them go in the top-five. If that's not domination, I don't know what is.
All stats provided by InStat Hockey