With the 2020 NHL Draft over and the focus shifting to the next wave of draft-eligible prospects, I thought it would be a good idea to take a look at the top of the class for next year.
While most agree that the 2021 NHL Draft class is not as deep as the one we just had, it still has some serious talent. With the likes of players such as Brandt Clarke, Aatu Raty, Carson Lambos, and Owen Power all making their own mark this past season, it is still widely undecided as to who will be selected first overall come next year. While it is still wide-open for the taking, let us take a look at what the next crop of top young talent brings to the stage.
Aatu Raty
Currently my first overall pick in the 2021 NHL Draft, Aatu Raty makes the game look easy. With his 2020-21 season having already started, he has managed to score one goal in two games with Karpat U20 of the Jr. A SM-liiga and has been held pointless in two games with Karpat of the Liiga.
Related: 2011 NHL Draft Top 10 – Where Are They Now?
What impresses me the most about Raty is the fact that he sees the game well beyond his years. With the puck on his stick, he is able to create passing lanes for his teammates and is able to find a teammate even with a defender draped all over his back. Raty is not afraid to drive the net and is always battling for positioning in the front of the net.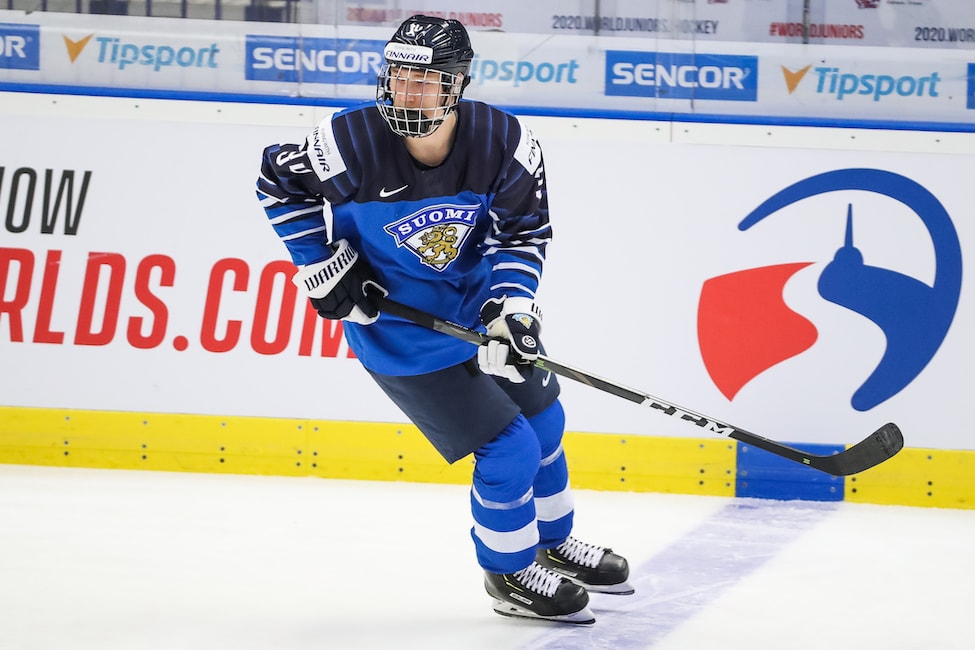 A strong and agile skater, Raty is able to separate himself from his opponents within seconds and can unleash a heavy, accurate shot that often fools goaltenders. Raty is also a very solid defensive player. When the puck is in the defensive zone, he uses an active stick to disrupt passing lanes. He is a very effective penalty killer and will certainly be able to be relied upon as a penalty killer in the NHL.
While Raty is penciled in as my first overall pick at the moment, all of that could change. With some very solid players right at his heels, Raty will need to prove that he can play against some tougher competition in the Liiga to show that he deserves to be considered the best player in his draft class. All in all, he is going to be a special player and when the time comes, the team that selects him will be getting a great player.
Brandt Clarke
Currently my second-ranked prospect in the 2021 NHL Draft, Brandt Clarke brings a rare blend of speed and skill from the backend. In his rookie season with the Barrie Colts of the Ontario Hockey League, he scored six goals and added 32 assists for 38 points in 57 games.
Clarke can change the game at any time. His elite skating ability allows him to create time and space with the puck on his stick and he can dish it off to his teammates in the slot without any hesitation. He loves to jump into the rush and is more than capable of getting back if the puck transitions the other way.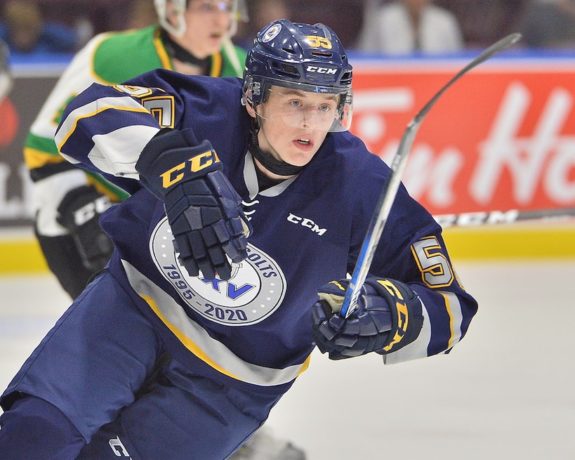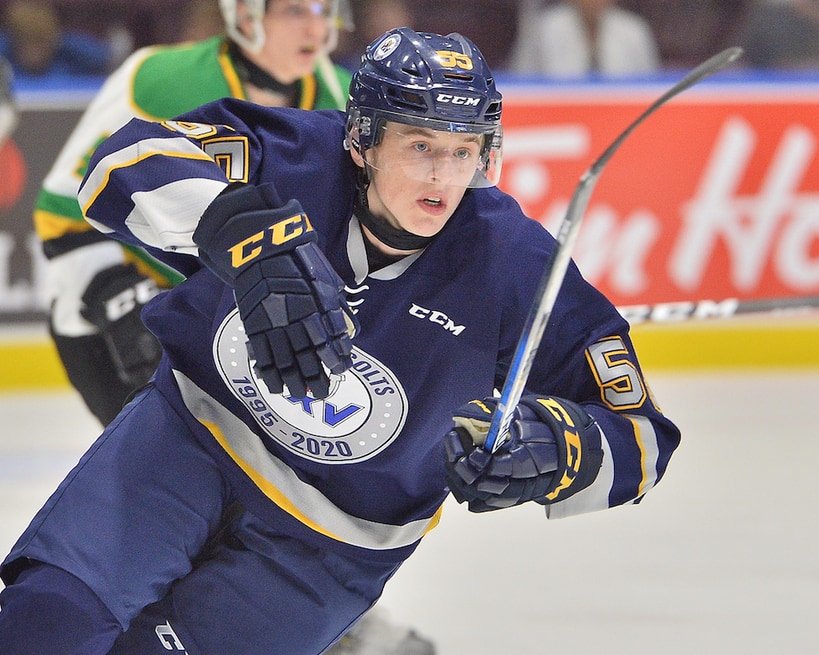 Clarke is also no slouch in the defensive end either. Standing at 6-foot-1, he is great at using his size to clear the front of his net of any danger. He is not afraid to go into the corners to get the puck back and makes a great first pass to his forwards breaking through the neutral zone.
With the unknown status of the 2020-21 OHL season due to the pandemic, Clarke is one of the unluckier draft prospects as he is missing a crucial time in his development. At the end of the day, no one doubts Clarke is a special talent and he will almost surely make an NHL impact down the line. He is that good.
Owen Power
Currently my third-ranked prospect in the 2021 NHL Draft, Owen Power has been on scouts' radar for a long time. Standing at 6-foot-5, his hulking frame allows him to play a physical game that will attract many teams. Having played for the Chicago Steel of the United States Hockey League, he scored 12 goals and added 28 assists for 40 points in 45 games.
Power knows how to use his size to his advantage. When the puck goes into the corner, he battles hard for the puck and is rarely outmuscled. Goaltenders love him as he is always there to clear the front of the net of any danger. With the puck on his stick, he makes smart, heads-up plays and is not afraid to take a chance on a long outlet pass to his forwards.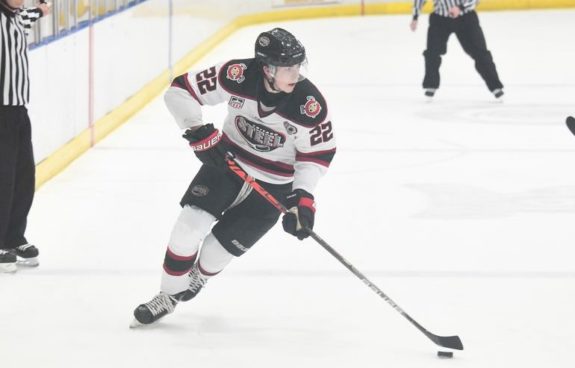 Power makes his presence felt in the offensive zone as well. With the puck on his stick, he is able to get a quick, accurate shot off in an instant. He is more than capable of being a power-play quarterback for his team and I think he will only get better as time goes on. With the University of Michigan having several commitments from high-end players in this draft, they are going to be a very scary team over the next few years and Power will be one of the players leading the way.
Carson Lambos
Currently my fourth-ranked prospect, Carson Lambos is another defenseman who could make some serious noise this upcoming season. Having spent last season playing for the Winnipeg Ice of the Western Hockey League, he managed to score eight goals and added 24 assists for 32 points in 57 games.
What impresses me the most about Lambos' game is the fact that he is always giving it his all whenever he steps out on the ice. When the puck is on his stick, he is able to dart in and out of traffic to find teammates along the half-wall or in front of the net. He has a hard shot that he knows how to use and can pick and choose where he wants to put it.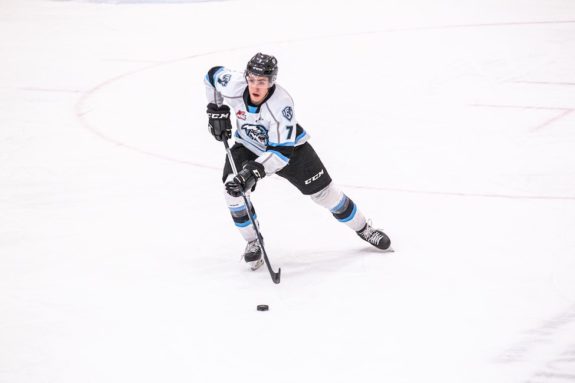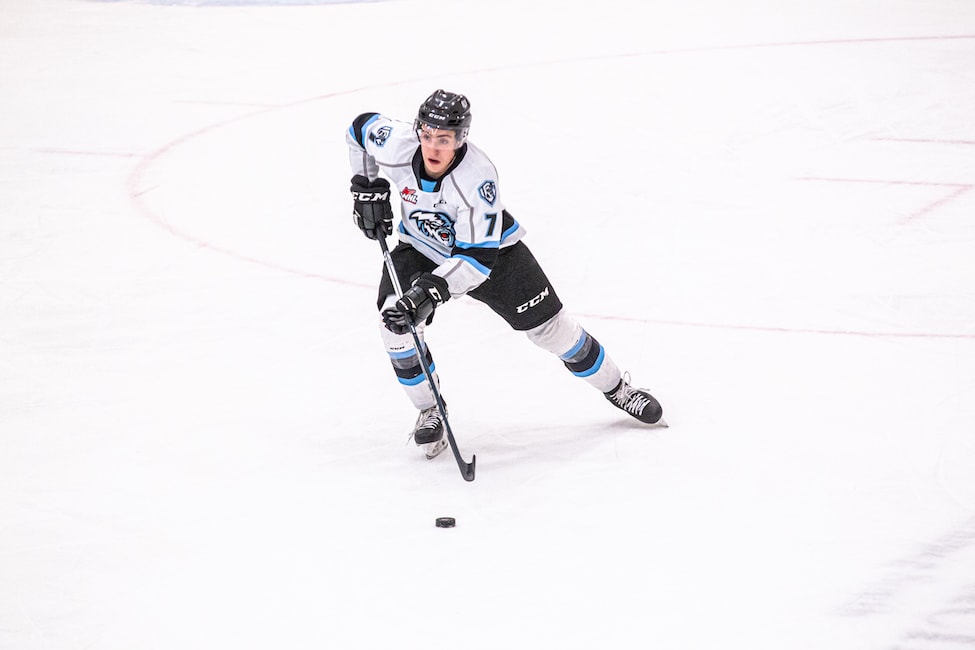 Standing at 6-foot-1 and weighing 201 pounds, Lambos is not afraid to throw his body around and can play a physical game when needed. He constantly goes up against bigger players and is rarely knocked off the puck. If there is a post-whistle scrum, he is not afraid to stick up for his teammates and displays great leadership tendencies for such a young player.
Related: Blackhawks' 2014 Draft – The One That Sent Them Awry
Over the next few years, Lambos will have a chance to play a big role for the Ice alongside 2023 top prospect Matthew Savoie. No one knows how the draft will play out come next year but Lambos has a serious chance to solidify his place amongst the top players in this draft and I wouldn't be surprised to see him being considered for the top spot in a few months time.
The Future is Bright
At the end of the day, I could not be more excited for the future of hockey. All of these players have serious skill and will no doubt be a part of the next generation of superstars in the NHL. It is impossible to predict the future but there will be moments when all of these players show why they deserve consideration for the top ranking. As fans of the game alike, we should all appreciate the show that they put on, and find comfort knowing that the game is in good hands.
---
---