When you think of a three-headed being, what's the first thing that comes to mind? The Blue Eyes Ultimate Dragon from Yu-Gi-Oh? Fluffy from Harry Potter? King Ghidorah from the Godzilla franchise? The House of Targaryen crest from Game of Thrones? Or the three-headed shark from the awful movie "3-Headed Shark Attack"?
As I digress with my nerdy side, the 2021 NHL Draft has it's own three-headed beast of top defensive prospects in the form of Brandt Clarke, Carson Lambos and Owen Power. With no clear-cut, first-overall pick compared to previous years, the battle is wide open this year. All three have elite-level potential and all are worthy of being considered for the first-overall pick. The scouts at Dobber Prospects feel that they can be top-three selections in their latest draft rankings.
It's not outlandish to assume that they could potentially be in the top three. With this being considered the draft of the defensemen, these three are potentially game-changing prospects that can help any team on defense. similar to what Cale Makar (Colorado Avalanche), Rasmus Dahlin (Buffalo Sabres), Quinn Hughes (Vancouver Canucks) and Miro Heiskanen (Dallas Stars) have shown. As Clarke, Lambos and Power continue to garner a lot of attention, even in difficult circumstances, they're poised to continue to make a name for themselves as high-end defensive prospects. Let's take a look at what makes these players so special that they can go 1-2-3 in the 2021 Draft.
Brandt Clarke, Barrie Colts, OHL
Barrie Colts defenseman Clarke possesses all the qualities of a strong, offensive defenseman. He already has excellent speed and a strong offensive mindset that allows him to play at an extremely fast pace. He has no problem joining in the rush and making his presence felt in the offensive zone.
Clarke's rookie season started slow with limited ice time and opportunities. When a coaching change was made and veteran players were moved, Clarke saw that as his chance to shine and he didn't look back. Clarke's game picked up significantly and managed to put up six goals and 32 assists in 57 games, averaging under 21 minutes a game. 
Before being drafted fourth overall in the OHL Draft, he was a dominant player in the Greater Toronto Hockey League (GTHL) recording 113 points with the powerhouse Don Mills Flyers U16 AAA team that featured Brennan Othmann and Shane Wright.
While that team demolished the competition at that level, you can't exclude the fact that Clarke was one of the reasons why that team was successful. He was a catalyst, as he could start a play and help finish it off. That is a perfect depiction of his ability to be an excellent puck-mover and playmaker. 
Note: The stats and numbers for this article that are being represented reflect games that were tracked during the 2019-20 season.
| | | | |
| --- | --- | --- | --- |
| Entry/ Breakout Type Per Game | Brandt Clarke | Carson Lambos | Owen Power |
| Entries | 2.2 | 1.18 | 1.5 |
| Entries by Passes | 0.65 | 0.38 | 0.7 |
| Entries by Stick Handling | 1.22 | 0.52 | 0.76 |
| Breakouts | 3.5 | 1.71 | 2 |
| Breakouts by Passes | 2.3 | 0.86 | 1.04 |
| Breakouts by Stick Handling | 1.08 | 0.79 | 0.96 |
Numbers provided by Instat Hockey.
As the numbers suggest among the big three, Clarke has the better numbers in terms of controlled entries and breakouts. He has great hands and control of the puck. As a result of his high-end vision to read the play and skating ability, he has the skillset to carry the puck in the offensive zone efficiently, pushing his opponents back and allowing his team to set up an attack. When the puck is on his stick, he automatically shifts into high gear and always goes on the attack.
Making plays when breaking out of his own zone is where Clarke is successful, as he averages 2.3 breakout passes per game. He has great power and is able to make strong outlet passes connecting with his teammates, as he averages 86 percent accurate passing rate per game. That is a significant completion rate. 
While his offensive game stands out, Clarke is pretty effective on the defensive side of things as he can bring a steady game. He's successful at tying up opponents in the slot and has good body position when tying up the opposition in one-on-one coverage. He can engage physically in puck battles along the boards and in the corners. He also has a great stick and is able to be in great position to block lanes and give little space for the puck carrier to make a play. 
Carson Lambos, Winnipeg Ice/ JYP U20, WHL/ U20 SM- Sarja
As Tony Ferrari, Head of North American Scouting at Dobber Prospects notes, Winnipeg Ice defenseman Lambos is definitely the most well-rounded defenseman in this draft. While Clarke is currently being slated as the top defenseman in the draft, Lambos definitely could take that spot away from him. 
As a result of the Western Hockey League being delayed, Lambos is on loan playing with JYP U20 in the U20 SM-Sarja. He doesn't look out of place recording two assists in three games this season. Already an intimidating player at 6-foot-1, 201 pounds, his competitive nature and aggressive style makes him a prospect that you would love to have as he punishes anyone who gets in his way. 
Lambos is also able to be a strong offensive contributor, as he a recorded 32 points in 57 games played with the Ice in 2019-20. He has great speed, as he's able to carry the puck effortlessly and can setup an attack quickly, knowing what his options are well in advance. When you give him time to curl back, that's when he makes his move and goes on the attack. He has a great shot and accuracy, and likes to utilize all areas on the ice to get to get a shot off. He always knows when to jump in and pinch to keep the play alive while not putting his team in danger with an odd-man rush going the other way. 
While he possesses a strong offensive game, Lambos' defensive game is what stands out the most. He has great positioning. Whether it's defending against rush or battle in front of the net, Lambos is always aware of what do.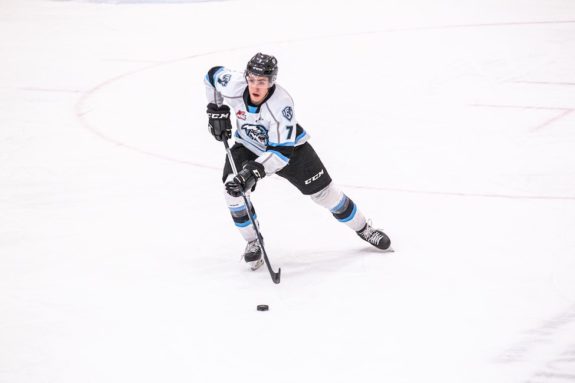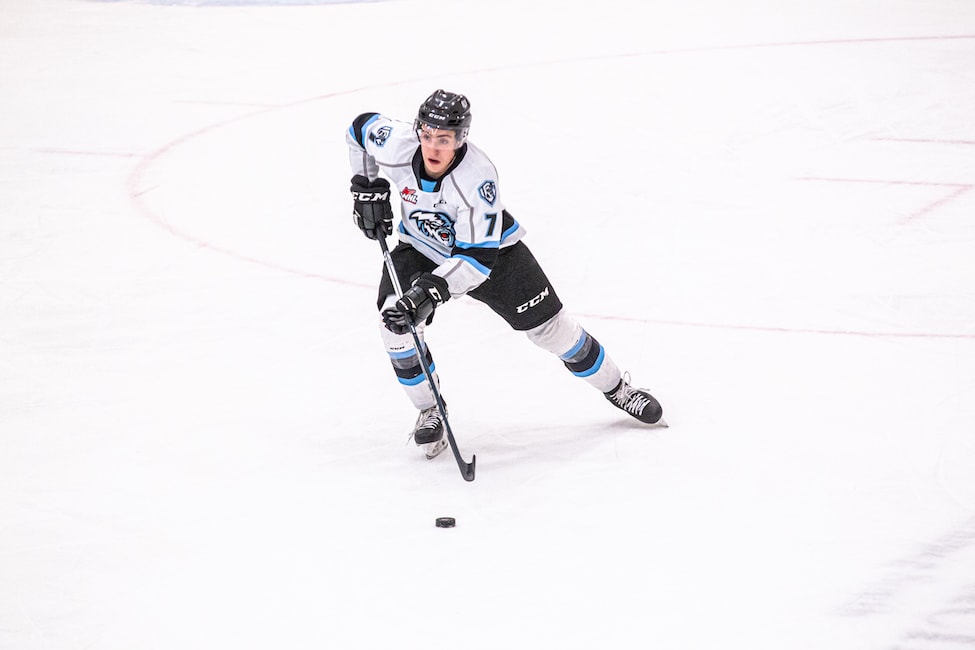 He isn't shy at challenging the opposition and he tends to be persistent whenever he closes the gap to pressure the puck carrier. He's extremely patient with the puck and never rushes to make a play. Given his size, Lambos uses that to his advantage very well as he's able to shield and protect the puck very well when exiting the zone or trying to gain some space to find his teammates. He has a calm demeanor even when being challenged and doesn't falter under pressure. 
He has an active stick, which allows him to take away passing lanes, poke-check his opponents or pick the puck off after creating a turnover and gain possession and transitioning to offense. Knowing his value as a complete package defenseman, he is always challenging his opposition. Among this group of defenseman, Lambos has the highest puck battles won percentage per game of 60%, having an advantage over Clarke (55%) and Power (53%). 
If a team wants a complete defender that can make an impact in all situations, then Lambos is that player.
Owen Power, Univ. of Michigan, NCAA
After recording 25 points in his first season in the United States Hockey League, Power's offensive production saw a big increase where he tallied 40 points in 45 games playing on a dominant Chicago Steel team in the 2019-20 season. He is committed to the University of Michigan for his draft year. He was invited to join Team Canada's World Junior Selection Camp, but the school would not release him. 
Despite not attending one of the biggest junior hockey tournaments, Power still has a chance to showcase his talents and why he can potentially be a top-three pick. 
Power is a towering defender, coming in at 6-foot-5, 214 pounds, but don't let his Zdeno Chara stature fool you. He is an excellent, mobile skater with great speed and a smooth stride that allows him to move easily on the ice. He has great control of the puck that allows him to stick handle his way into the offensive zone. He has a knack for finding the middle of the ice as 47.5 percent of his shots get through at the top part of the home plate area and 47.8 percent comes from the top, middle blue line area.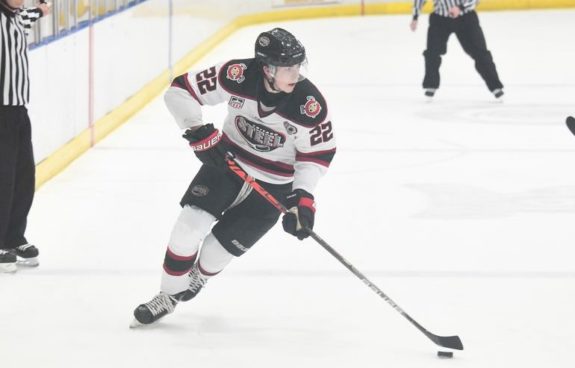 Clare McManus from Dobber Prospects describes that he "has strong mobility and lateral movements, which is helpful when he walks the blue line to see his options in the offensive zone." The ability to have strong east and west movements is essential for a defenseman and Power is excelling in that regard. 
While he has the speed and mobility to carry the puck and move the play forward, he has the capacity to be an excellent playmaker and passer. Power is excellent at stretching the play, making crisp and clean passes from his own end. With that he had a 91 percent passing rate per game playing for the Steel, which is higher than both Clarke (86 percent) and Lambos (82 percent). He has a higher pass to the slot average of 0.57 over the other two and averages 12 accurate passes per game. 
In all three zones, he has no problem knocking opponents off the puck. Like Lambos, he uses his intimidating size to his advantage to get into position and separate the opposition from the puck. Whether it's in the corners or in front of the net, Power provides excellent coverage and reads the play perfectly in order to break it up.
There are a lot of great players in this year's draft. But there's no doubt that most of the attention is going to be focused on Clarke, Lambos and Power. There are other names on the blue line that can make a significant impact, but the big three are leading the way. They are game-changing defenders that will be a part of the growing list of elite defensemen to come out from the NHL draft.
Stats from InStat Hockey and Elite Prospects
---
---