While it might seem strange to start discussing the 2021 NHL Draft before the 2020 NHL Draft has even been held, this is a strange year. Heading into the 2020-21 hockey season and looking towards the next draft, it looks like it's not going to get normal any time soon.
Let's start with the upcoming (in some cases, already started) season. The typical start dates are out the window. While some European and Russia hockey have kicked off already (KHL, MHL, SHL), but North American teams are still waiting (although the QMJHL has started camps). The NCAA has delayed until the new year, the USHL is aiming for November, and the OHL and WHL are aiming for December start dates.
On top of this, it's looking like most of the international competitions have been cancelled. We've already lost the Hlinka Gretzky Cup, World Summer Showcase, the World Junior A Challenge, and the World Junior Championship is looking like it will be delayed, if not cancelled altogether. Perhaps an NHL Playoffs-like bubble could still make it work, but it's up in the air still.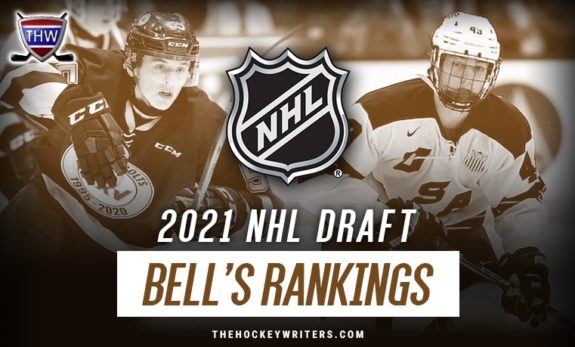 What this does, is complicate the scouting season. First, with limited or, in some cases, no fans and limited travel, scouts will be hard-pressed to get live viewings. This will result in a ton of video scouting for this draft, more than ever before. Video scouting has pros and cons when it's not combined with some live views, but overall it provides scouts with manipulation of video that can provide some deep insight.
On to the draft itself. The 2021 NHL Draft is the first edition with the brand new Seattle Kraken team, meaning that there should be another seven additional players taken this year. However, due to the Arizona Coyotes penalty for combine testing players, they've lost their first-round pick. That means that everyone below them moves up one selection and the first round will still only have 31 players taken.
Bell's 2021 NHL Draft Rankings Outlook
Before I dive into the rankings, I'll go over my rankings plan for the 2020-21 season. In 2020, I ranked 155 prospects in my final rankings. I won't be doing that many in 2021. 2020 was my first full season covering the draft and prospects, so it definitely had a learning curve and I'll likely adjust next year as that learning curve continues. Here's how this year should look:
September: Top-31 ranking, descriptions on tiers
January: Top-31 ranking, descriptions on each player
March/April: Top-63 ranking, descriptions on each player
June: Top-100 ranking, descriptions on each player
Of course, this is subject to change based on the league's starting on time (or at all), which does make planning this season a bit difficult. The January edition may be cut completely if there's not enough to go on, but we'll have to wait and see.
2021 NHL Draft Overview
Alright, now it's time for what you're all here for: the players. Overall, this draft isn't looking as stacked as the 2020 NHL Draft, but what it lacks in potential high-end stars and depth, it makes up for in the defensive talent. This could very well be the year of the defender, with some very strong, top-two potentials coming out of this class. The first round is going to be littered with defenders.
While the rearguards are going to get a lot of attention this year, the forward group at the top is nothing to scoff at. There's some very good talent at the top of the draft, and some players that teams are going to drool over. Aatu Räty, Dylan Guenther, and Kent Johnson lead that charge in my eyes, with Chaz Lucius and Fabian Lysell right behind them. We're going to be talking about these guys a lot this season.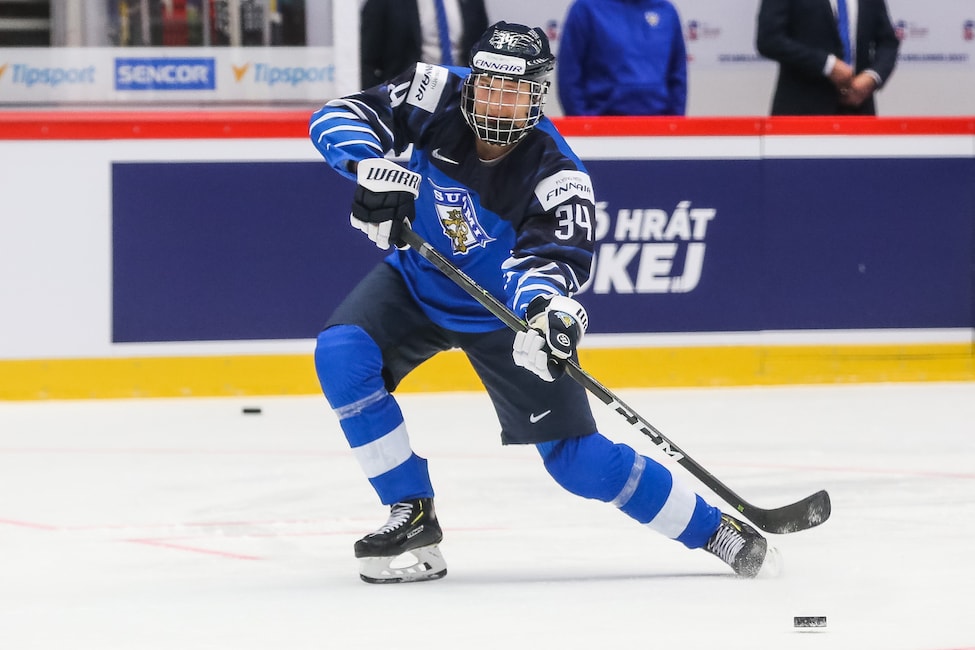 What might be as exciting as the defenders in this draft though, are the goaltenders. This draft will have a much better goaltender crop than 2020 (after the elite Yaroslav Askarov), headlined by Swedish netminder Jesper Wallstedt. He's very much in a tier with 2019 first-rounder Spencer Knight and Askarov right now. Behind him though, there are two or three netminders that could challenge for top-50 selections. Some people I've talked to even believe that another goalie or two could creep into the first round.
All of this being said, it's a long way to draft day, and a lot is going to change. However, this list should provide a glimpse of players to watch for the season and how they stack up entering the most important hockey season of their lives.
Related: 2020 NHL Draft Guide
In this first edition of the of my 2021 rankings, my top-31 has four tiers. I'll dive into each tier and the players as we go, but here's an overview:
In the first tier, there are currently four players – all of whom I think will challenge for the No. 1 overall pick in this year's draft. The second tier is No. 5 to No. 9. These are all players that could be top-five selections right now, and a big season could push them into the first-overall discussion. This tier really isn't that far behind the first.
On to the third tier, I do think there's a slightly bigger gap between tiers here, but not overly at this point. These are all players that wouldn't shock me to push for top-10 consideration, although most of them will need big years to do so. Finally, the fourth tier drops a little more again, but these are players I believe have earned first-round consideration.
Again, it's a long season and these tiers will likely change significantly by the time I publish my final rankings. At this point, I would feel pretty good about moving players around freely within each tier. I considered not putting the rankings even and just leaving the tiers in – perhaps next year.
2021 NHL Draft Rankings
Tier One
| | | | | |
| --- | --- | --- | --- | --- |
| Rank | Player | Position | Team | League |
| 1 | Aatu Räty | C | Kärpät U20/Kärpät | U20 SM-sarja/Liiga |
| 2 | Brandt Clarke | D | Barrie Colts | OHL |
| 3 | Owen Power | D | University of Michigan | NCAA |
| 4 | Carson Lambos | D | Winnipeg Ice | WHL |
As mentioned, this first tier consists of players that I think are all in the running for first overall this season. Aatu Räty is on the top right now, but I don't think he'll be there by the end of the season. It's nothing against him but I think the three defenders nipping at his heels could all overtake him. There are even a couple of forwards in the next tier that I think could jump him by the time we're calling names at the 2021 NHL Draft.
I do believe that Räty deserves the top spot heading into 2020-21. He's just 17 years old, but just last season, he had 12 Liiga games and played on Team Finland at the World Juniors and in the Hlinka Gretzky Cup. The year before, he played at both the World Under-17 Hockey Challenge and the World Under-18s. He's earned the No. 1 spot – for now.
Related: 2021 NHL Draft: 9 European Players to Watch
As for the three defenders nipping at his heels, Brandt Clarke looks closest to Räty. I did consider Clarke in the No. 1 spot to start, but Räty's resume can't be ignored. If the draft were to happen today, Räty should be the guy. But Clarke brings an incredible skating ability and offensive prowess that could see him in that top spot very soon. The young Barrie Colts star already has an elite hockey sense that general managers will be drooling over.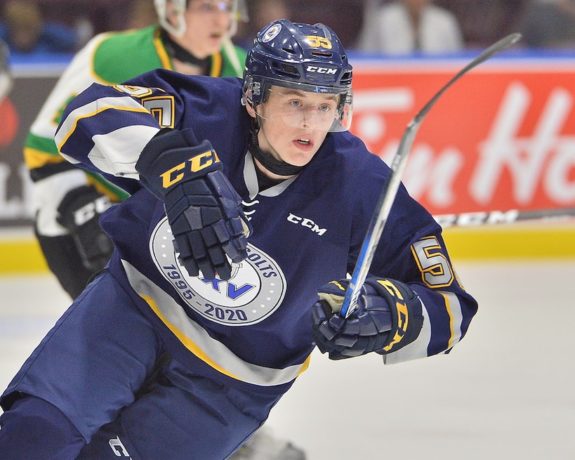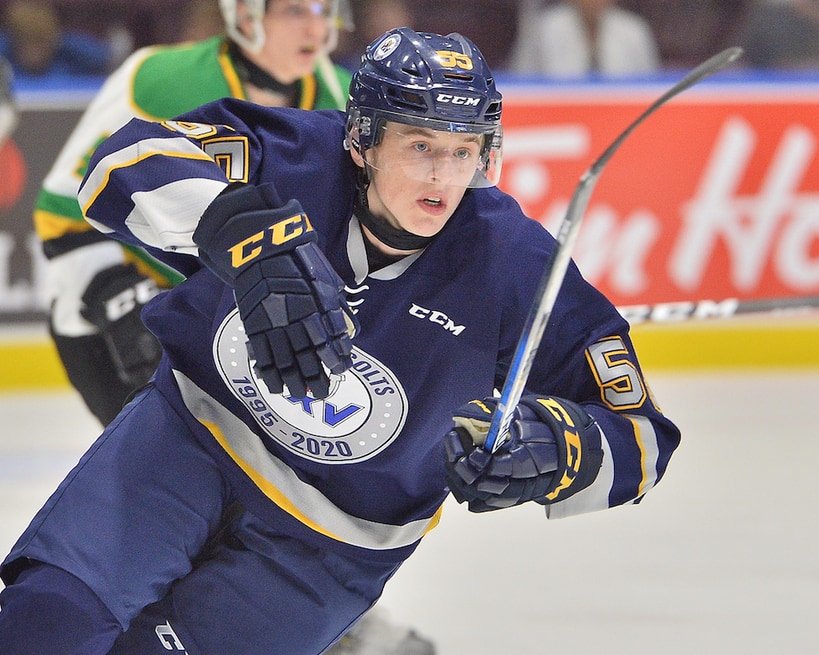 Power comes in next, a hulking 6-foot-5 defender that is a four-directional player. I'm always surprised watching him because he's so agile for his frame. He throws big hits, his defensive awareness is excellent, and his playmaking is wonderful. He's coming off a USHL Defender of the Year award and entering a stacked University of Michigan program. He could be poised for a big season.
Related: 2021 NHL Draft: 3 NCAA Players to Watch
The last player in this tier is Carson Lambos. Another excellent skater thanks to his acceleration and mobility, the defender is also arguably the best playmaker of this draft. He's extremely intelligent with the puck and can make a big breakout pass or a cross-ice setup in the offensive zone. I would feel good about my rankings putting any of these three defenders in the No. 1 spot. This wide-open draft looks to be a very exciting ride to the finish.
Tier Two
| | | | | |
| --- | --- | --- | --- | --- |
| Rank | Player | Position | Team | League |
| 5 | Dylan Guenther | RW | Edmonton Oil Kings | WHL |
| 6 | Kent Johnson | C | University of Michigan | NCAA |
| 7 | Chaz Lucius | C | U.S National U18 Team | NTDP |
| 8 | Fabian Lysell | LW | Frölunda HC J20 | SuperElit |
| 9 | Luke Hughes | D | U.S. National U18 Team | NTDP |
This tier was tough for me, to be honest. I strongly considered bumping up Dylan Guenther and Kent Johnson to the Tier 1 and Chaz Lucius, Fabian Lysell, and Luke Hughes into a larger Tier 2/3. However, I think Guenther and Johnson have a little bit more to prove to be in that top tier and I think Lucius, Lysell and Hughes are deserving of being separated from Tier 3.
Related: 2021 NHL Draft: 5 WHL Players to Watch
I could see any of these five players jumping up into that top tier this season. As mentioned, I'd like to see them prove that they belong there though. They've looked very good to date, but a big season and step forward for them would go a long way.
Guenther leads this pack for now, but I went back and forth between him and Johnson. Guenther has an elite hockey sense that helped him win WHL Rookie of the Year in 2019-20. He has a high compete level and is an overall well-rounded player.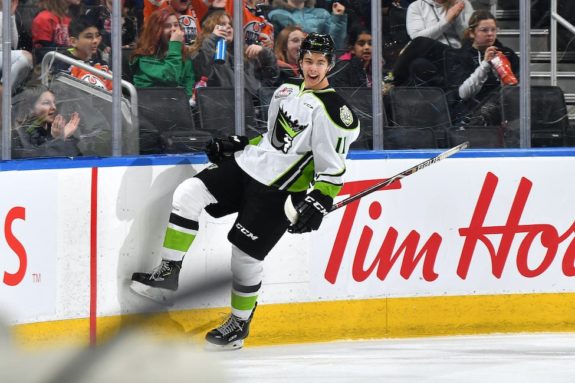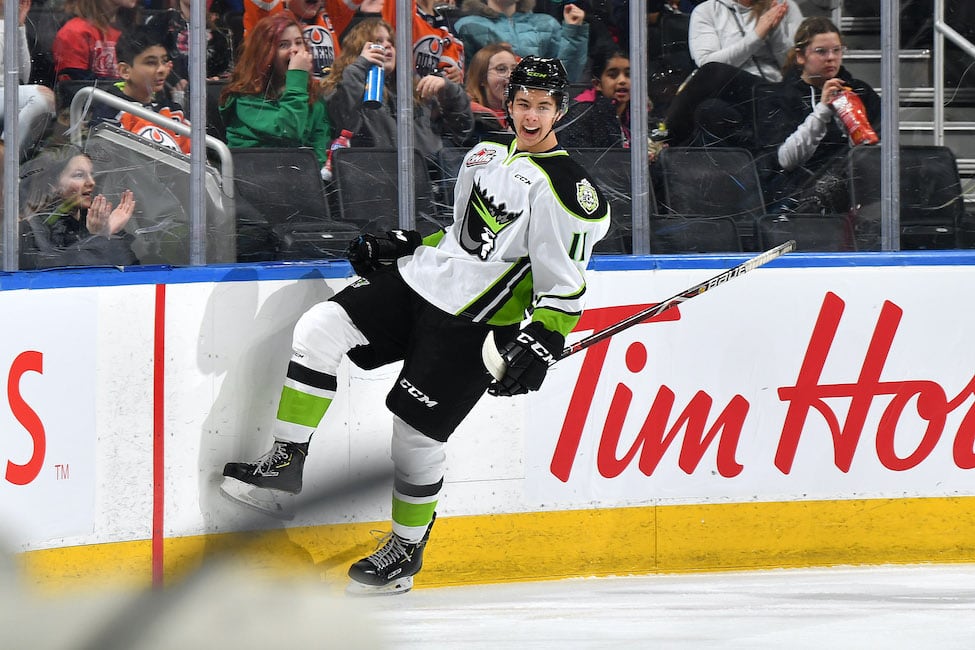 Johnson is coming out of the BCHL where he put up a ridiculous 101 points in 52 games. Obviously, he was too good for the league but I will be interested to see how he does in the NCAA, a much more difficult league, this season before I bump him up a tier. His creativity and offensive prowess will be fun to watch if he can adjust well to his new environment.
Chaz Lucius has a nose for the back of the net and his shot has the speed and strength to force its way through. Not that it needs to, as he can pick corners with relative ease. Fabian Lysell is dynamic in the offensive zone, often whipping out highlight-reel plays. He's extremely elusive, giving him the ability to create space from nothing. He's also an excellent playmaker. He's exciting to watch.
The lone defender of the group, Luke Hughes is an excellent skater, he sees the ice very well, and his defensive awareness and physicality make him a very intriguing option in this draft.
Tier Three
| | | | | |
| --- | --- | --- | --- | --- |
| Rank | Player | Position | Team | League |
| 10 | Simon Edvinsson | D | Frölunda HC J20/Frölunda HC | SuperElit/SHL |
| 11 | Zachary L'Heureux | C | Halifax Mooseheads | QMJHL |
| 12 | Samu Tuomaala | RW | Kärpät U20/Kärpät | U20 SM-sarja/Liiga |
| 13 | Matthew Beniers | C | University of Michigan | NCAA |
| 14 | Mason McTavish | C | Peterborough Petes | OHL |
| 15 | Daniil Chayka | D | Guelph Storm | OHL |
| 16 | Jesper Wallstedt | G | Luleå HF | SHL |
| 17 | Cole Sillinger | C | Medicine Hat Tigers | WHL |
| 18 | Zachary Bolduc | C | Rimouski Océanic | QMJHL |
| 19 | Xavier Bourgault | C | Shawinigan Cataractes | QMJHL |
| 20 | Daniil Lazutin | C | SKA-1946 St. Petersburg | MHL |
This 10-20 tier is filled with players that I considered borderline top-10 prospects in this draft. By the end of the year, it won't surprise me to see some of these names jump up my board into the to-10 by June 2021. This is my ranking as of right now – not how I think it will look by the draft.
Related: 2021 NHL Draft: 5 QMJHL Players to Watch
This tier has seven centremen in it. While they might not all be centres at the next level, that's how they should play this season. Three come from the QMJHL in Zachary L'Heureux, Zachary Bolduc, and Xavier Bourgault. Along with Zach Dean in the next tier, the race for the top-QMJHL prospect for this draft is wide-open and should be an intriguing storyline to follow this season.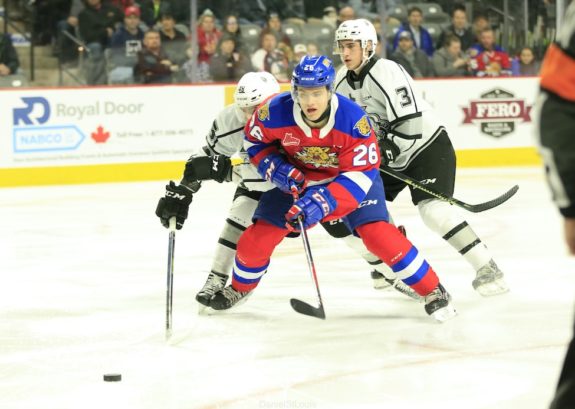 Matthew Beniers sort of feels a bit low at 13 for me, but I couldn't justify putting him above some of the others – yet. He's the third and final NCAA product on this list and should be in line for a big season if the NCAA plays. The last three centres, Mason McTavish, Cole Sillinger, and Daniil Lazutin, are three of my early favourites in this class, and with some bigger roles this season could be poised to shoot up rankings.
Related: 2021 NHL Draft: 5 OHL Players to Watch
The two defenders on this list add to the impressive defensive depth in this draft. Simon Edvinsson and Daniil Chayka play very different games but are fairly close in their respective skill sets. Edvinsson is basically a fourth forward on the ice, where Chayka looks like he could be that shutdown defender that NHL teams covet.
The lone winger of the group, Samu Tuolmaala the second and final Finnish player on this list. They'll have quite a few mid-round picks this year, but the top-end talent looks to drop off after these two. Tuolmaala is a foot-on-the-gas player, who's just so well-rounded. I think he's going to be a draft-enthusiast favourite this year.
Tier Four
| | | | | |
| --- | --- | --- | --- | --- |
| Rank | Player | Position | Team | League |
| 21 | Simon Robertsson | RW | Skellefteå AIK J20 | SuperElit |
| 22 | Prokhor Polpatov | RW | Krasnaya Armiya Moskva | MHL |
| 23 | Stanislav Svozil | D | HC Kometa Brno | Czech |
| 24 | Zach Dean | C | Gatineau Olympiques | QMJHL |
| 25 | William Eklund | C | Djurgårdens IF J20/Djurgårdens IF | SuperElit/SHL |
| 26 | Isak Rosén | LW | Leksands IF J20 | SuperElit |
| 27 | Sean Behrens | D | U.S. National U18 Team | NTDP |
| 28 | Brennan Othmann | LW | Flint Firebirds | OHL |
| 29 | Nikita Chibrikov | W | SKA-1946 St. Petersburg | MHL |
| 30 | Anton Olsson | D | Malmö Redhawks J20/Malmö Redhawks | SuperElit/SHL |
| 31 | Logan Stankoven | C/W | Kamloops Blazers | WHL |
Honourable Mentions (In Tier Four as well): Isaac Belliveau, Corson Ceulemans, Sebastian Cossa, Artyom Grushnikov, Brett Harrison, Aiden Hreschuk, Kirill Kirasov, Ryder Korczak, James Malatesta, Jack O'Brien, Francesco Pinelli, Sasha Pastujov, Joshua Roy
This final tier (that includes the honourable mentions) are all guys that I think should be considered for the first round right now. There's bound to be some players raise their draft stock through the season, but I feel good about those that I have here now. However, those players that I have actually ranked I do believe have the edge right now.
I'll say it again, this is very early and these tiers are set in stone at all. I expect players to rise and others to drop throughout the year. Entering the 2020-21 hockey season though, these players have an upper hand in my opinion.
On to the players here. The Swedes lead this group with four, including forwards Simon Robertsson, Isak Rosén, William Eklund, and defender Anton Olsson. Despite their young ages, all of these players have tasted SHL action already in their young careers and should get some more in this season. This year's Swedish crop is going to be very interesting to keep an eye on.
The two Russians in this tier, Prokhor Polpatov and Nikita Chibrikov have already hit the ice in the MHL and have both been extremely exciting to watch. They are going to be players to watch for shooting up draft boards this season.
Related: 2021 NHL Draft: 5 Russian Players to Watch
Finally, there's one more European to touch on: Stanislav Svozil. The young defender is arguably one of the most intelligent players in this draft class. He's patient, he makes good decisions to make plays at both ends, and he is fearless. He's an early favourite for me.
Moving to North America, I've already quickly hit on Dean, one of the three Zach's from the QMJHL that will be battling for the top position out of that league, but two more CHL players are included. Brendan Othmann and Logan Stankoven both put together stellar seasons in their respective leagues and are very much in the first-round race for this draft.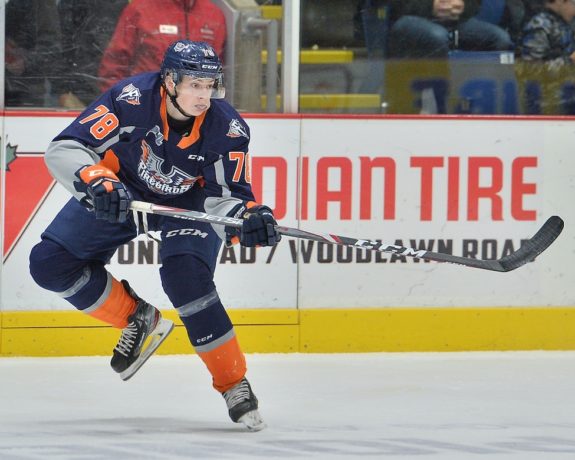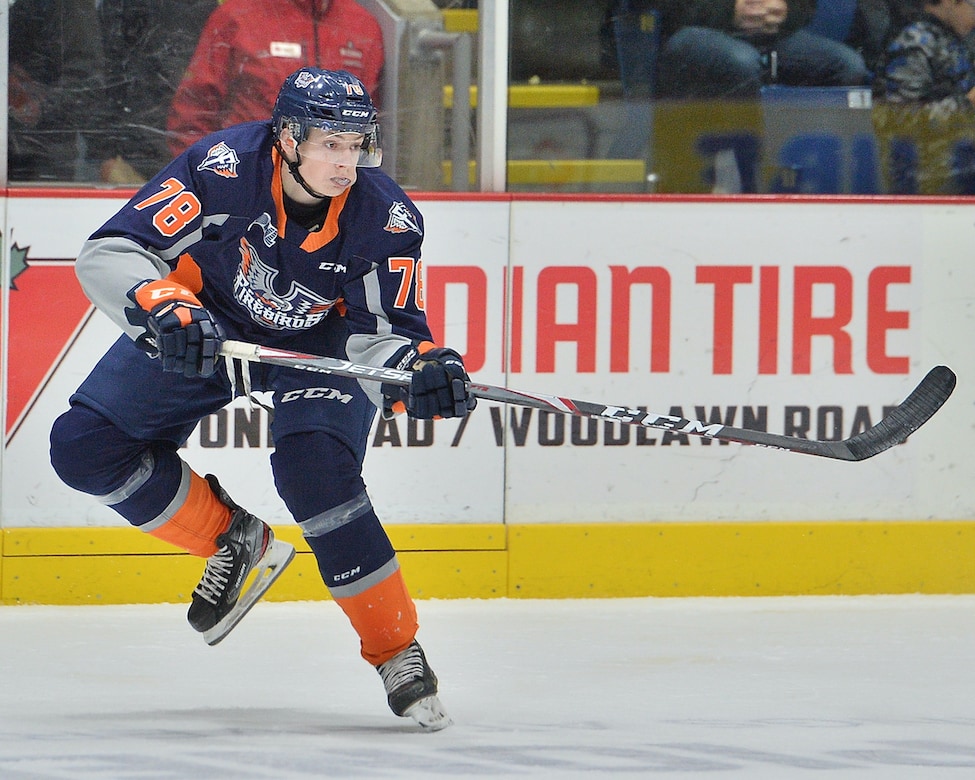 There's one more defender here in USNTDP's Sean Behrens, who I really considered putting higher on this list. Often overlooked to Hughes and honourable mention Aidan Hreschuk, Behrens has an excellent transition game thanks to his stellar skating, shiftiness, and vision, which could lead to him being a top-20 pick in this draft.
Related: 2021 NHL Draft: 5 USNTDP Players to Watch
I won't go too in depth on the honourable mentions, but the hardest two for me to keep out of the top-31 were Corson Ceulemans and Francesco Pinelli. If it wasn't for the Coyotes, one of them would have been in my top-32.
---
Thanks for taking a look at my preseason rankings. As I mentioned, these rankings are in no way set in stone and they will likely be changing a lot throughout the season as I watch and scout as much as I can. As always, feel free to leave a comment with your questions or thoughts, or reach out on Twitter at @JoshuaBell31.
---
---
---
Get the latest NHL Draft & Prospect rankings, news and analysis