Tyler Yaremchuk said something that struck a chord with me a few days ago on TSN 1260's Low Down With Low Tide radio show. What he reminded all of us was that the main difference between the Edmonton Oilers and Vancouver Canucks in the playoffs wasn't player talent, coaching, or the Connor McDavid/Leon Draisatl duo playing below par (They scored 15 points in 4 games between them! Sheesh!). It was goaltending. Add in a lacking sense of urgency outside of a few elite Oilers players and I'd agree with that. While the duo of Thatcher Demko and Jacob Markstrom stole multiple games for the Canucks, Mike Smith and Mikko Koskinen barely tread water for the Oilers.
Oilers Goalie History
Fifty-eight goalies have suited up between the pipes in the Oilers' 40-year NHL history. Some have been great (Grant Fuhr, Billy Ranford), some very good (Tommy Salo, Curtis Joseph), some have had great short-term runs (Dwayne Roloson, Cam Talbot), some had teams that could never quite put it together in front of them (Devan Dubnyk), some were dogs (Marco Baron, Steve Valiquette) and at least one (Ilya Bryzgalov) was certifiably crazy.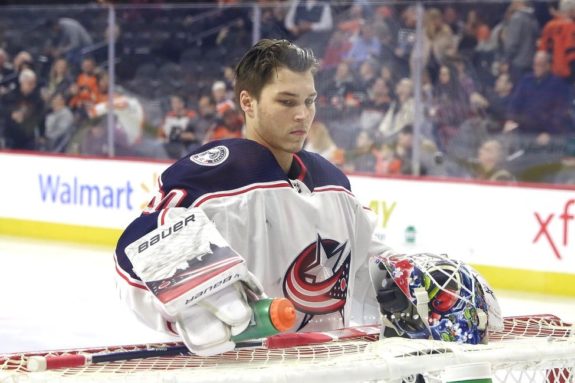 The others can be personified by Koskinen and Smith. Smith had a .783 save percentage (SV%) in his one playoff game this year and Koskinen had an .889 in his three games. In a year when the top-five goalie playoff SV% were .985 (Demko), .946 (Elvis Merzlikins), .941 (Joonas Korpisalo) and .936 (Carey Price and Frederik Andersen) at the time of this writing, that is just not good enough. With free cap space being the league MVP this year , not Draisatl, how can Oilers general manager (GM) Ken Holland, a former NHL goalie himself, snag a goalie good enough to help the team's goaltending problems?
Complications, or How to Never Waste a Good Crisis
TSN's Frank Seravalli recently told Allen Mitchell on Low Down With Low Tide that GMs around the league are "incredibly busy and active," and that some have told him "you can't believe how much chatter is out there." He's also stated elsewhere that at least 17 NHL teams have reduced non-player salaries or the number of positions they will carry forward into next year. You can bet they're looking to do the same with player salaries.
Related: 5 Tips to Be Your Beer League Best
Besides the unexpected salary cap freeze resulting from COVID-19, promising a large amount of movement in all positions this offseason, we have the added complication of teams with two or more top goalies not wanting to lose one for nothing to the Seattle Kraken in the upcoming expansion draft.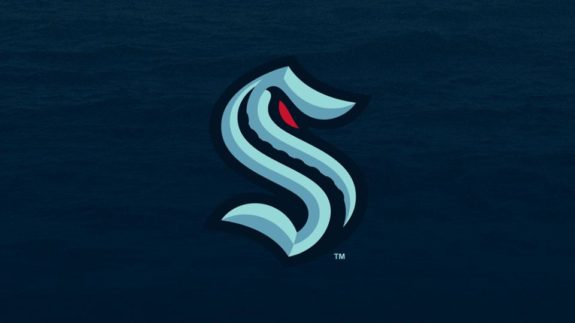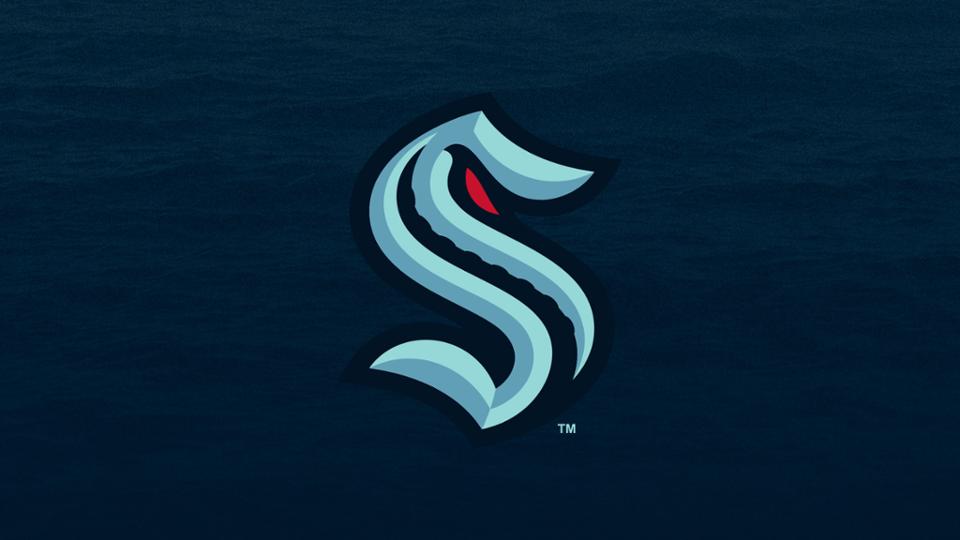 With such a large goalie market to choose from this year, put on your goalie mask, I'll start the music, and it'll be a game of musical chairs. The first player, Jake Allen, previously of the St. Louis Blues, has already filled the chair with the Montreal Canadiens logo on it.
Available Goalies
At least 23 different goalies have been identified as being on the market or possibly moving this offseason.
" … 23 different goalies… could have new homes before the beginning of next season. Not all of them are going to move and some of them likely won't even have NHL jobs next season. Goalie talk is making the League go crazy…"

Sean Maloughney, Hockey Buzz
I count a few more than 23.
Unrestricted Free Agents:
| | | | | | | |
| --- | --- | --- | --- | --- | --- | --- |
| Braden Holtby | Corey Crawford | Robin Lehner | Craig Anderson | Jimmy Howard | Jacob Markstrom | Thomas Greiss |
| Cam Talbot | Anton Khudobin | Brian Elliott | Aaron Dell | Ryan Miller | Philipp Grubauer | Devan Dubnyk |
| Alex Stalock | James Reimer | Peter Mrazek | Anders Nilsson | Keith Kinkaid | | |
UFA Goalies
Restricted Free Agents:
| | | | |
| --- | --- | --- | --- |
| Matt Murray | Tristan Jarry | Alexandar Georgiev | Linus Ullmark |
RFA Goalies
Under Contract but Rumoured to be on the Trade Block:
| | | | | | | |
| --- | --- | --- | --- | --- | --- | --- |
| Marc-Andre Fleury | Frederik Andersen | Joonas Korpisalo | Antti Raanta | Darcy Kuemper | Elvis Merzlikins | Martin Jones |
Goalies that might be on the trade block
Current Rumours Connected to the Oilers
The Oilers have reportedly asked the Pittsburgh Penguins about Matt Murray, rightly balking when the Penguins supposedly asked for a first-round pick in return. Not only is the price too high, the Oilers are already without second or third-round picks this year and would be loathe to go into the draft without their first pick, especially for a goalie with frequent injury issues. Besides this, Murray is eligible for restricted free agent arbitration, and with multiple Stanley Cups under his belt, will very likely win his argument for a hefty raise on his current $3.75 million salary.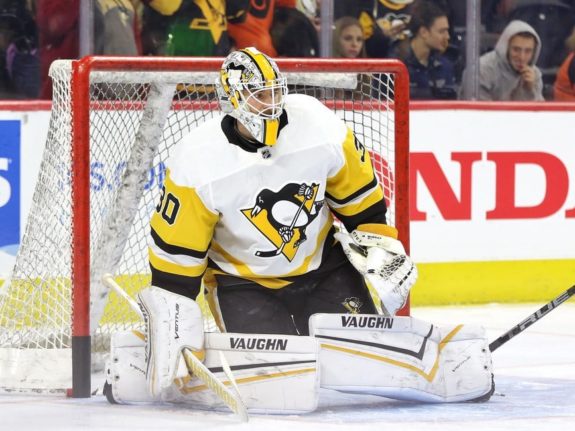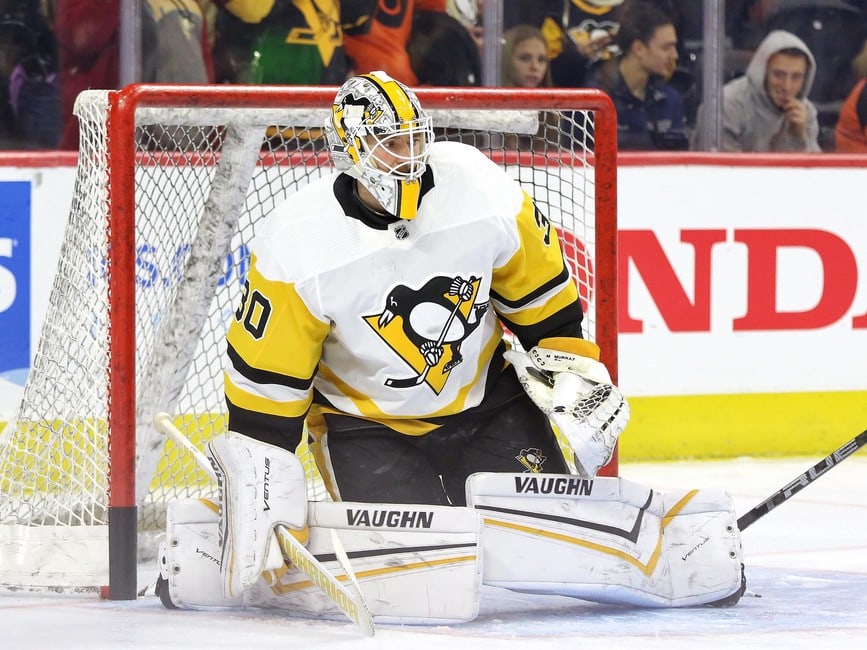 According to Elliott Friedman, the other goalie the Oilers are reportedly kicking tires on is Darcy Kuemper of the Arizona Coyotes. The Coyotes have the same problem with lack of first-round draft picks (none this year or next) as the Oilers, and are reportedly trying to trim $10 million off their current cap hit. Therefore, they might be thinking of trading one of the top NHL goalies over the past two years. This makes much more sense. Under contract for two more years at $4.5 million, Kuemper has salary certainty.
Again, the Coyotes will probably be demanding the Oilers first-round pick for Kuemper, but Holland has shown in the past that he is not averse to trading down in the draft. Holland could flip the Oilers' current 14th-overall pick to another team for a lower first-round pick and a high second-round one, making the trade possible. Kuemper would be worth it. Holland would probably like to send the Oilers' Kris Russell back the other way, as well. While Russell has a high salary cap hit, his actual 2020-21 salary is only $1 million.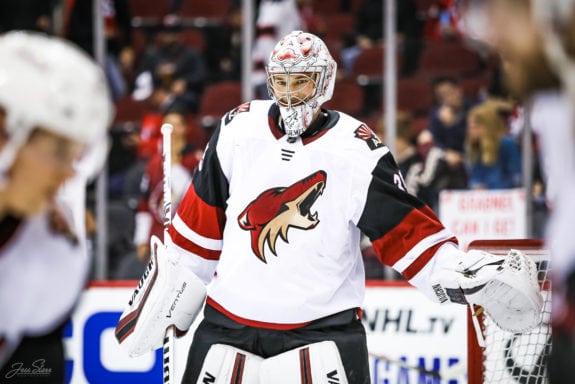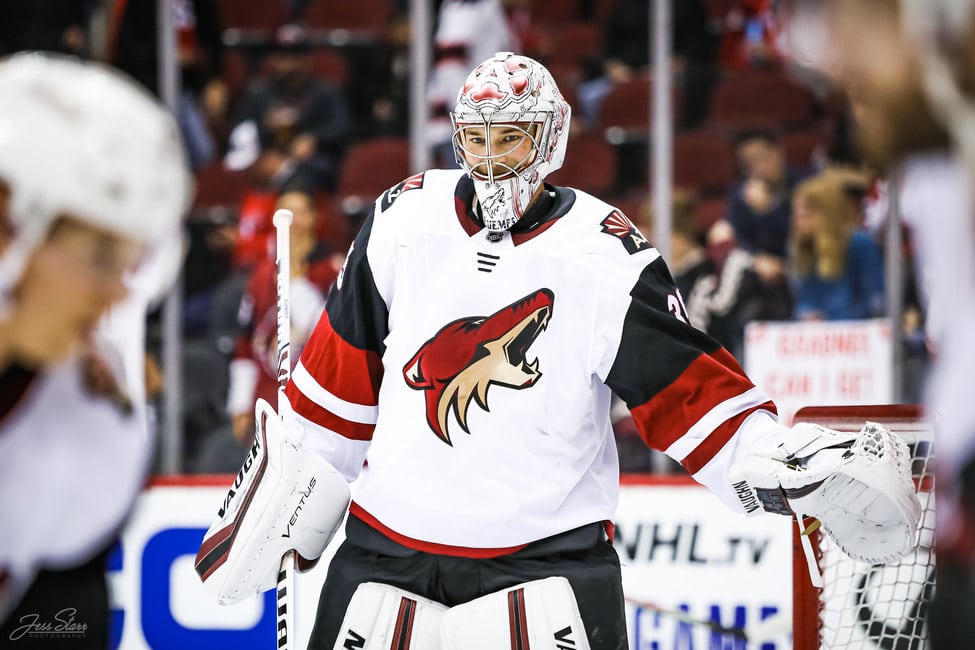 Rumours also have the Toronto Maple Leafs making goalie Frederik Andersen available in trade. The Oilers and Maple Leafs have long been thought to be courting each other in trades. The Oilers have defencemen, which the Maple Leafs need, and the Maple Leafs have a few attractive bottom-six forwards the Oilers would love. Throwing Andersen into the mix could make this work. Andersen has just one year left on his contract at $5 million, but only $1 million in actual salary.
Relying on the Draft
One other option Holland could choose to make is drafting Russian goalie Yaroslav Askarov at No. 14 in the draft if he is still available. The Oilers did just that with Dubnyk in 2004 and he turned out pretty well. Complicating this is the fact that the team drafted Russian keeper Ilya Konovalov last year. Konovalov has already won a Rookie of the Year award in the KHL and is currently sporting a lofty .950 SV% after four games with Lokomotiv Yaroslavl this year. Would the Oilers be wise to make the same bet on Russian goaltenders twice? Besides, as this year's playoffs starkly showed, they need help now.
The Decision
The high-end goalies available (Robin Lehner, Marc-Andre Fleury, Braden Holtby, and Murray) are too rich for the Oilers in a cap-strapped world. Taking Keumper or Andersen in a scenario outlined above might work well. If the Columbus Blue Jackets move one of Merzlikins or Korpisalo to avoid losing one to the Seattle Kraken in the expansion draft, the Oilers should put a bid on either one.
Related: Every NHL Team's All-Time Leader in Points
Failing this, the Oilers would be wise to keep their powder dry and let the goalie gold rush take its course, avoiding overpaying for a mid-tier goalie. After the dust is settled, there is sure to be more than one very serviceable goalie on the list above available for decent prices who hasn't found a team to hook up with. Khudobin, Greiss, Georgiev, Raanta or Mrazek would be fine finds. Failing all else, Holland could settle for Smith again next year.
The Oilers current giant goaltender, Koskinen, is not a bad goalie, just not a very good one. Nor can he play large numbers of games without tiring and his game breaking down. The Oilers need 1A and 1B goalies if Koskinen remains on the team. It shouldn't be too hard for Holland to find one this offseason.
---
---