Rumors abound concerning the start of the 2021 NHL season. Currently, the most talked about start date is still Jan. 1, 2021. That's less than two months away, which means there's going to be a lot of movement in the coming weeks involving COVID-19 protocols, training camps, preseason, and regular season scheduling. 
A lot of that information hinges on the NHL Players Association and the Canadian government and not so much on team organizations. However, ESPN has reported that some team owners are suggesting it is more financially feasible to skip the season than play in empty arenas.
Team responsibilities are still focused on the usual: who's playing? For the Dallas Stars, this question is compounded by the recent news that Tyler Seguin and Ben Bishop will be out for five months. When your starting goalie is out and your second-line center is out, your lineup becomes a big question.
Let's take a look at what the Stars lineup might look like on opening night.
Forwards: Can I Get a Winger?
For the most part, the Stars are intact after their Stanley Cup Final run in September. They lost second-line right-winger Corey Perry and left-winger Mattias Janmark to free agency, and Seguin to injury for the time being. The team hasn't made any big moves during free agency, only signing restricted free agents Denis Gurianov to a two-year deal, Radek Faksa for five years, and Roope Hintz (finally!) to a three-year deal. But those signings do shore-up a good amount of depth for the team going forward.
On paper, the biggest weakness the Stars have is at right wing. With Perry out of the picture the only listed right-wingers on the Stars roster, according to their official website, are Gurianov and Alexander Radulov. That's… not good. Of course, both players are very solid and this is only the "on paper" discussion. 
Overall, the Stars didn't lose a lot after reaching the Stanley Cup Final. One thing that became apparent during the 2020 Playoffs is that their roster is versatile and deep. Stars fans should feel good even with the Seguin injury and the small supply of "official" right-wingers.
However, line combinations will be the key to success. Rick Bowness, after taking over midseason and during the playoffs, showed no fear in juggling lines and trying new combos.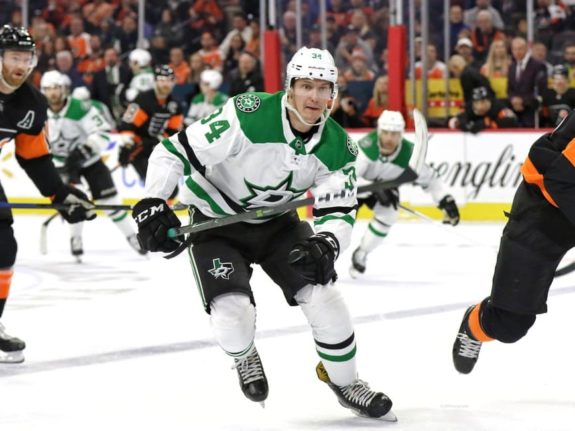 This bodes well for Dallas in the 2020-21 season because it'll take some time for players to adapt to new roles on the team. Seguin and Perry ate up a lot of power-play time and Janmark was a top penalty killer. Players who had lighter loads before will now be given the opportunity to prove they can take on more. With Bowness' willingness to change things up, and players taking new roles, it may take some time for the Stars to find their footing next season, but even on paper they look good to compete for the Cup once more.
Jamie Benn – Joe Pavelski – Alexander Radulov
Joel Kiviranta – Roope Hintz – Denis Gurianov
Andrew Cogliano – Radek Faksa – Blake Comeau
Jason Robertson – Justin Dowling – Jason Dickinson
There's two reasons this seems the most likely lineup for the Stars moving forward — it keeps some of the lines intact from the playoffs, and where there are less experienced players, there are veterans around to balance them out. 
However, there is still some uncertainty within the lineup, most notably regarding prospect Jason Robertson. There's been talk recently about if he is ready for the move from the AHL to the NHL. In the last training camp for the Stars he was on the cusp. He showed strong numbers in the AHL last season, posting 25 goals and 47 points, and did well in a three-game stint with Dallas in 2019-20. 
Robertson is listed as a left-winger, so the ideal would be to put him on the fourth line in that spot with Dickinson and Dowling, two players who play well with just about anyone and are solid, reliable guys.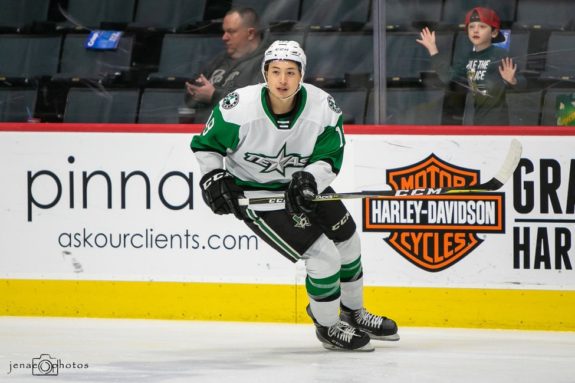 Robertson isn't a bad choice, it's just a matter of how he handles the NHL and Bowness' system. It might be best to give him another year in the minors to develop and not rush his progress. If that is the way the team goes, they could possibly shift the fourth line; put Dowling at left wing, Dickinson at center, and bring in prospect Nick Caamano at right wing. 
Caamano has more NHL experience than Robertson. However, right now it looks as though Robertson is the one ready to break through. Additionally, there is a model where they both make it, and Dowling is the odd-man out.
The other three lines are more certain. With his playoff performance, Joel Kiviranta is almost a sure bet to make the squad and he played well with Hintz and Gurianov during the run. The top line stays intact from the Stanley Cup Final, as does the line of Cogliano, Faksa, and Comeau from the regular season.
Defense: Three Men Out
The defense is the opposite of the forward situation — they aren't lacking for anything. In fact, they have an overabundance of defensemen, both left and right. One move the Stars made during free agency was to sign Mark Pysyk to a one-year contract. They also signed restricted free agent Julius Honka to a new deal after he played last year in Finland.
The Stars also didn't lose any defensemen, so they now have nine players for six regular spots. Of course, this isn't necessarily a bad problem; it gives them a lot of options in case of injury or, in the new normal, COVID-19 protocols if that becomes an issue.
It's almost certain that the top-four defensemen won't change. Esa Lindell and John Klingberg will continue to be Dallas' top pair as the stay-at-home Lindell and offensively gifted Klingberg are one of the best defensive pairs in the league right now. Throughout the playoffs, young-gun and speedy Miro Heiskanen paired well with the 6-foot-7 Jamie Oleksiak.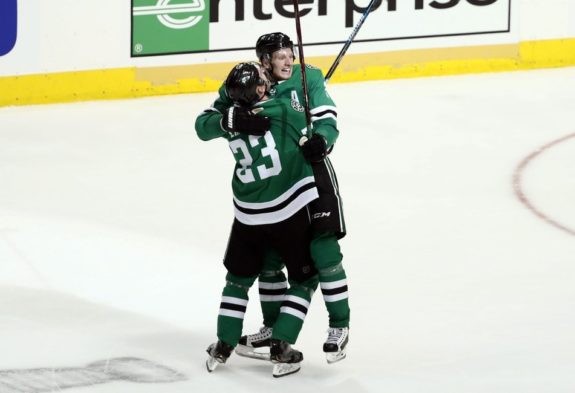 Because of the balance of left-defense versus right-defense players, it makes the most sense that left defensemen Andrej Sekera will be the fifth defensemen. The wildcard is who his partner will be. During the playoffs, he spent most of the time playing with Taylor Fedun and they were a good pair. However, with the offseason acquisitions of Pysyk and Honka, there is going to be a battle for the spot.
Safe bet is probably on Fedun making the starting lineup based solely on past performance.
Esa Lindell – John Klingberg
Jamie Oleksiak – Miro Heiskanen
Andrej Sekera – Taylor Fedun
There is one caveat to the Stars defensive lineup though — Stephen Johns. The Pennsylvania-native was a regular fixture for the team's back end in the 2016-17 and 2017-18 seasons. However, after suffering a concussion in 2018, Johns missed 22 months with post-concussion syndrome and post-traumatic headaches. 
He has been medically cleared to play and appeared in 17 regular season and four playoff games in 2019-20 before pulling himself out of a game and the rest of playoffs in August. If Johns is comfortable playing, he will be the sixth defenseman in the lineup without a doubt.
Goaltending: Dobby is a Starting Elf
The Stars have pretty much made their bed in the goaltending department. Presumptive starter Ben Bishop is out for at least five months, which means with a Jan. 1 start in play, Bishop could miss upwards of three months of the season. However, the Stars made the right move in the offseason, signing Anton Khudobin to a new three-year contract and setting him up to be the starter in 2020-21.
Khudobin was backed up by AHL goalie Jake Oettinger throughout the playoffs. Additionally, Dallas re-signed their other AHL goalie, Landon Bow, to a one-year deal. On paper, Bow is the more experienced netminder, having played more seasons at a pro level.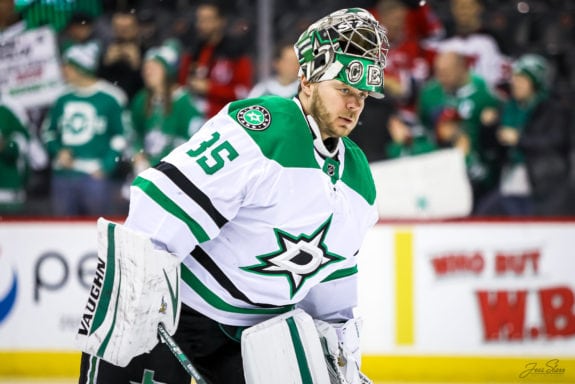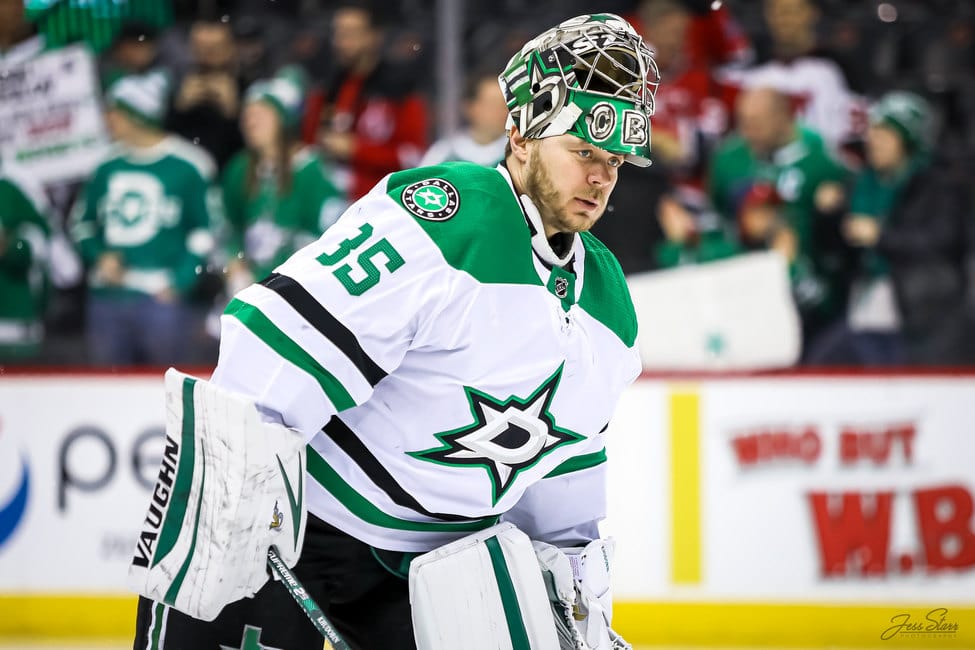 It's a close toss-up between the two and the deciding factor might come down to if the AHL has a season of their own and what the Stars' organization, who share the same ownership as the AHL's Texas Stars, want to do with their system as a whole.
Anton Khdobin
Jake Oettinger
The edge goes to Oettinger as of now because of Bowness' choice to use him in the playoffs, but this decision will probably be heavily influenced by training camp.
Back to the Final They Go?
The biggest losses for the Stars came at forward with the loss of Perry and Janmark officially and Seguin temporarily. However, with the surge of confidence and effectiveness from young players like Hintz and Gurianov, and the veteran presence of Benn and Pavelski, the Stars aren't far off from the team that made the Cup Final in 2019-20. 
Dallas has depth at a lot of positions up front and are stacked on defense now. The one weakness might be the absence of a true NHL-quality backup goaltender. Of course, with Khudobin proving so good in the playoffs, the starting position is rock solid.
If new faces, like Kiviranta, can keep pace with their playoff performances, this team is still built to go deep.
---
---
Despite being born and raised in Texas, Kori became a hockey fan at a young age. She now resides in Massachusetts where there is a bit more hockey around. However, Kori plans on bringing more hockey coverage to Texas with her writings here at The Hockey Writers.