The Dallas Stars revealed that two of their key players could miss some time whenever the 2020-21 season begins. This could open the door for two of their top prospects who are looking to continue the success from their first professional seasons. Also, a recent Detroit Red Wings draft pick is off to a great start in Sweden, while a Vegas Golden Knights' prospect was honored for his opening month in the Quebec Major Junior Hockey League (QMJHL).
A Big Chance for Oettinger & Robertson
The Stars announced on Tuesday that two of their big contributors have undergone offseason surgery. Goaltender Ben Bishop had knee surgery to repair a torn meniscus and forward Tyler Seguin had an operation on his right hip. Both players will need about five months to fully recover.
This means the reigning Western Conference champions will be without these two until sometime in March. Granted, there is no starting date for the 2020-21 season just yet, but if play begins in early February, they will miss about a month of action. This could open the door for top prospects Jake Oettinger and Jason Robertson.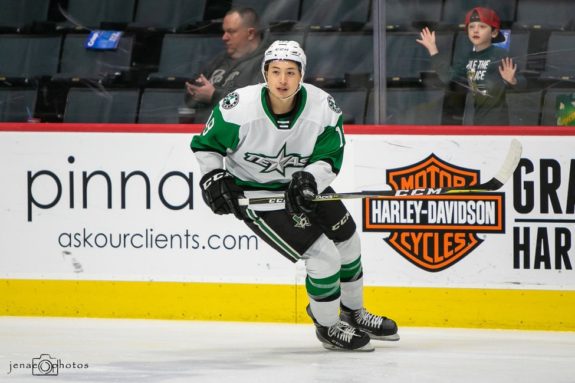 With Bishop out, Anton Khudobin will be the starting goaltender if the season begins before he fully recovers. Oettinger will be the first choice to back him up, just like he did during a portion of the Stanley Cup Playoffs.
Dallas drafted Oettinger in the first round (26th overall) of the 2017 NHL Entry Draft. His first full season in the American Hockey League (AHL), with the Texas Stars, got off to a rough start. He struggled early in the season, giving up four or more goals in five of his first 11 starts.
After getting two weeks off at the end of November, he found his game and took over the starting job. In his final 27 games after his break, he gave up more than three goals in a game just three times and allowed two or fewer goals in 17 of those starts. He finished the season with a .917 save percentage and 2.57 goals-against average.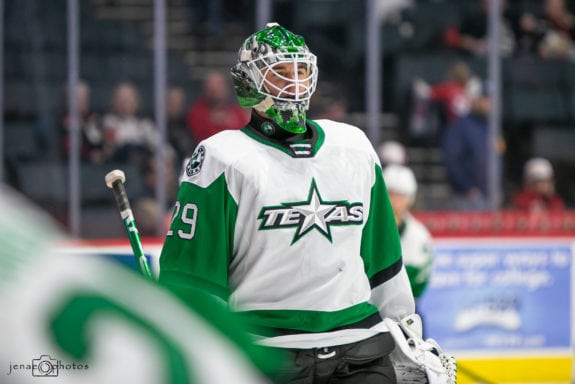 Robertson, the older brother of Toronto Maple Leafs' prospect Nick Robertson, was better than advertised during his first professional season. Drafted just 13 picks after Oettinger in 2017, the 21-year-old left wing led Texas with 47 points and tied for the team lead with 25 goals. He made his NHL debut this past season and recorded an assist in his three games with Dallas. He was likely going to get a long look at training camp before today's news, but with Seguin out, he has a really good shot at making the team.
Berggren Lighting It Up
The Red Wings have quite a few of their recent draft picks playing over in Europe right now and Jonatan Berggren is having the best season, so far, out of all of them. Originally drafted in the second round (33rd overall) of the 2018 NHL Entry Draft, he is currently playing for Skelleftea AIK of the Swedish Hockey League (SHL).
Heading into this season, Berggren played in 50 SHL games and scored two goals and 15 points. In 2019-20, he had just two goals and 12 points in 24 games, but he is off to a great start for Skelleftea this season. In his first 13 games, he has a pair of goals and 16 points.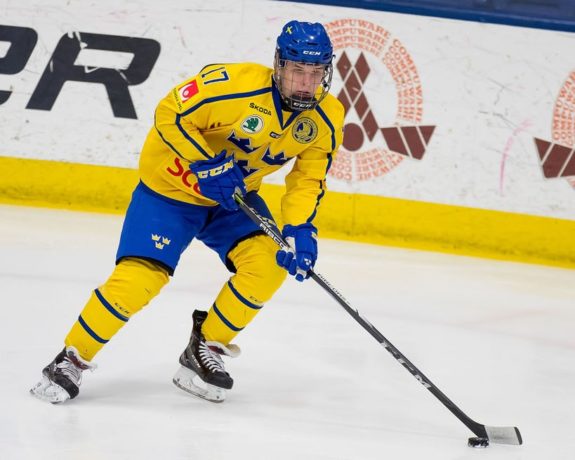 The 20-year-old winger has always had a pass-first mentality and has been dishing to his teammates all season long. He is currently tied with veteran Marek Hrivik for the SHL's lead in assists. He has dealt with back and shoulder injuries over the past two seasons, but appears to be healthy right now. He still needs to add some physicality to his game and shoot more, but he has started to climb up the Red Wings' prospect depth chart.  
Cormier Honored for Big Month
Lukas Cormier's season in the QMJHL has gotten off to a very good start. The young defender for the Charlottetown Islanders was named the league's Defenseman of the Month earlier this week. This was the cherry on top of a great month of October which started with him getting drafted in the third round (68th overall) of the NHL Entry Draft by the Golden Knights.
In 13 games for the Islanders, Cormier has five goals and 19 points while averaging 22:46 of ice time per game. He is a key factor on special teams with 3:43 of power-play time per game, with two goals, nine points and 17 shots on goal.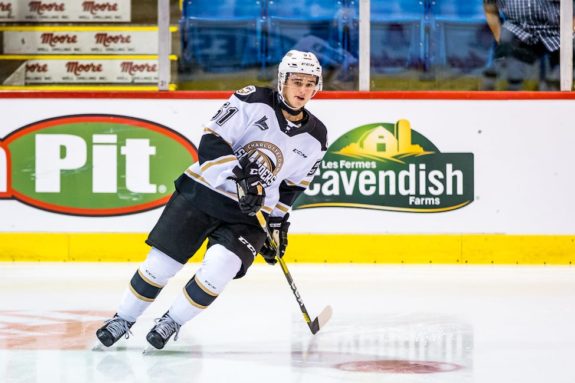 While his offensive numbers jump off the page, Cormier does very well defensively too. He averages nearly three minutes on the penalty kill per game and roughly 53% of his total time on ice is spent in the defensive zone. He is a plus-40 Corsi with 104 takeaways while starting 62 successful breakouts from the defensive zone. The 18-year-old is developing into a well-rounded defenseman worth keeping an eye on.
All stats provided by InStat Hockey.
---