When it's been almost a decade since you've made the playoffs, there's more than one thing you need to improve on. Over the last 10 years the Buffalo Sabres have tried to plug up specific holes only to find that two more have sprung up elsewhere.
That was the case once again heading into the extra-long 2020 offseason after another disappointing playoff-less campaign. To new general manager Kevyn Adams' credit, the Sabres were aggressive this offseason, bringing in high-profile names like Taylor Hall and Eric Staal in addition to some solid depth options to give the team a new look.
But if Buffalo has any chance of playing playoff hockey again, certain areas need substantial improvement.
Secondary Scoring
This category has been on the Sabres' to-do list forever. Season after season, they have not seen enough from their second, third, and fourth-line forwards to compete with the better teams in the NHL, and 2019-20 was no exception.
Buffalo's three highest-scoring forwards last season — Jack Eichel, Sam Reinhart, and Victor Olofsson — combined for 170 points. The other 10 forwards who played at least 30 games — Marcus Johansson, Jeff Skinner, Jimmy Vesey, Zemgus Girgensons, Conor Sheary, Kyle Okposo, Johan Larsson, Curtis Lazar, Evan Rodrigues, and Casey Mittelstadt — combined for just 176 points. All but Johansson scored fewer than 30 points.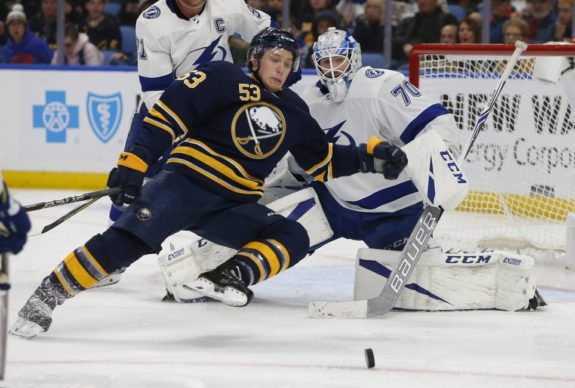 The team's scoring should increase almost by default thanks to the additions of Hall (a former Hart Trophy-winner) and Staal (a consistent 50-point scorer even into his mid-30s). But the Sabres will need much more from the likes of Skinner, Girgensons, and Okposo if they want an offense that has more than one line that can score consistently.
Reliable Goaltending
Like the previous category, Buffalo's goaltending issues stretch back multiple seasons. The team finished 24th in save percentage in 2019-20 (.906%) after placing 22nd in 2018-19 and 29th in 2017-18. The decision was made to bring back both Linus Ullmark and Carter Hutton with the hope that they can improve their numbers in 2020-21. Ullmark wasn't terrible last season, posting a .915 save percentage and a 2.69 goals-against average in 34 appearances.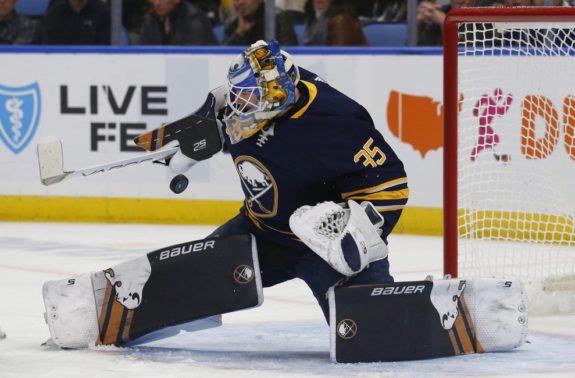 Hutton, on the other hand, was one of the worst goalies in the NHL. After a strong start, he finished with an unsightly .898 save percentage and a 3.18 goals-against average.
The pair are on their last chance in Buffalo, as both players will be unrestricted free agents after the upcoming season. In an era when most teams are going with a 1A-1B goalie rotation, the Sabres need more from Ullmark and Hutton.
Penalty Killing
Buffalo's penalty killing wasn't just bad in 2019-20; the team's shorthanded success rate of 74.6% ranks 1,039th of 1,091 teams since penalty-killing started being tracked in 1977. Conventional wisdom would say that the Sabres' penalty-killing can't possibly be worse than it was a season ago. But to be a legitimate playoff team, their special teams can't merely be "not historically bad," it needs to be at least respectable.
There is a reason for optimism. Adams brought in bottom-six forwards Cody Eakin and Tobias Rieder and depth defenseman Matt Irwin to help improve the team's 4-on-5 game.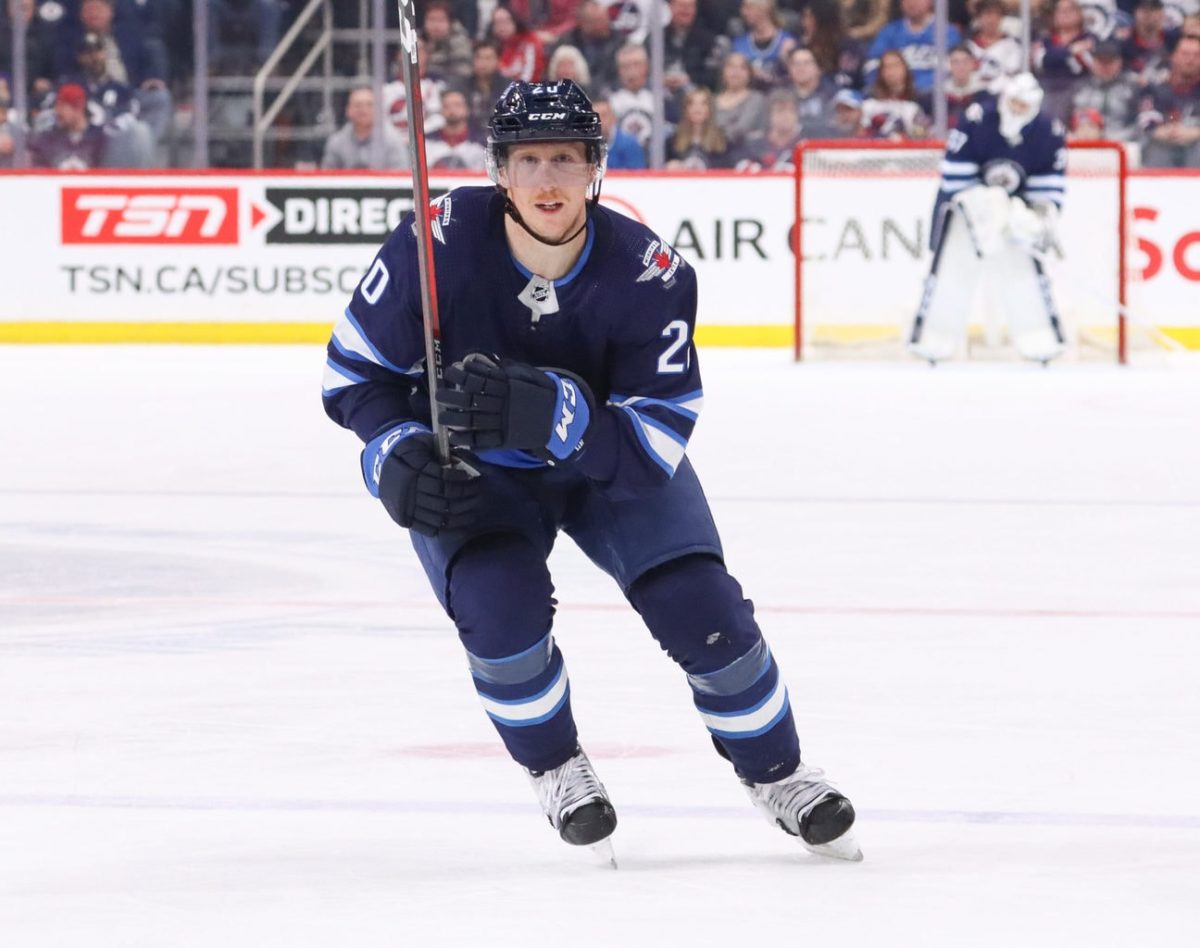 With a reputation for being a reliable defensive forward, Eakin brings an air of credibility to an area that's sorely needed it in recent seasons:
"The structure has to be in place and you have to make reads," Eakin said. "You have to have that chemistry with the guys you are playing (with). You're going to need big saves regardless of when it happens. You just have to have that willingness as a unit to do what it takes, getting in those lanes,"

– from 'Sabres' less-heralded signings look to bring noticeable upgrade to penalty kill', The Athletic, 10/24/2020.
Of course, it will take more than just better play from the forwards to improve the penalty kill. Defensemen Rasmus Ristolainen, Jake McCabe, Henri Jokiharju, and Brandon Montour need to perform better on the PK, as do Ullmark and Hutton, who routinely failed to bail the Sabres out of shorthanded situations with the occasional great save.
Possession Game
Scoring goals and preventing goals are the two most important things a team has to do. The best, most sustainable way to do both is to possess the puck as much as possible as analytics have told us. We now have a better idea of which teams excel at keeping the puck away from their opponents and how often. Unsurprisingly, the Sabres have trended towards in a number of advanced statistics.
In 2019-20, the Sabres ranked 20th in the NHL in Corsi for percentage at 49.1% and ranked 22nd in expected even-strength goal percentage at 48.0%. Both numbers tell you that, more often than not, the Sabres weren't in control of the game. But beyond the numbers, the good old eye test reveals the same thing: against playoff-caliber teams, the Sabres routinely looked like they were playing on their heels.
Entertainment Value
This is a far more subjective category than the previous ones mentioned, but it's arguably just as important. The Sabres have lived in the NHL's basement for the better part of a decade as the fanbase continues to lose faith in ownership. Beyond simply being competitive, this year's team needs to be enjoyable to watch.
Stats revealed the boring nature of Sabres hockey last season: they were 21st in goals scored (193), 20th in total goals per game (5.91), and 30th in expected goals at 5-on-5 per 60 minutes (2.08), meaning that the offense was lucky it wasn't worse. Giving a hope-starved fanbase a reason to be excited — especially in a season when they'll likely be playing in near-empty arenas — is paramount to reinvigorating the franchise.
If the Sabres manage notable improvements in just a few of the aforementioned areas, it would go a long way toward leading them back to the postseason.
---
---