Jake and Jamie, Jamie and Jake – two names that are bound to be linked together, hopefully for years, as they march toward and through the NHL. Jake Sanderson (drafted #5 overall by the Ottawa Senators) and Jamie Drysdale (#6, Anaheim Ducks) were the top defensemen taken in the 2020 NHL Entry Draft. Their performance in the upcoming World Junior Championship will be the first major head-to-head comparison. The tournament will take place in Edmonton and Red Deer in late December/early January.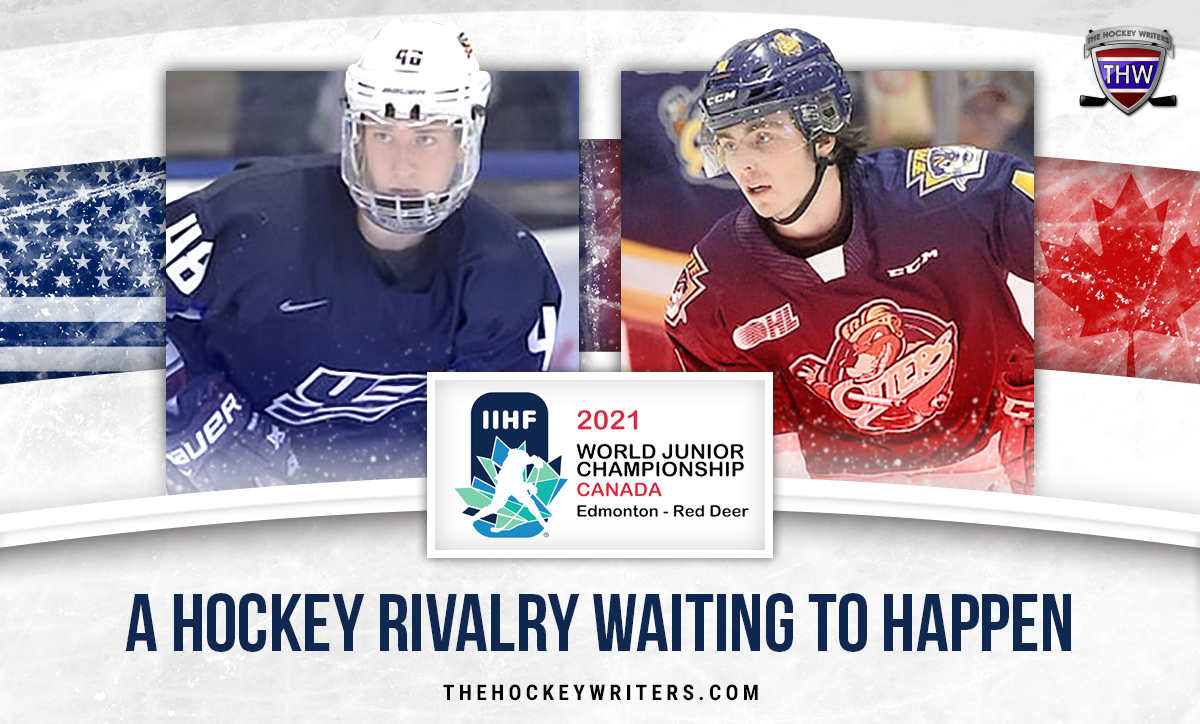 Team Canada and Team USA won't face each other in the preliminary round of the tournament but may meet in the medal round. The only previous meeting of note between the two young men was at the 2018 World Under-17 Hockey Challenge when Drysdale assisted on the game-winning goal for Canada Black over Team USA. (Sanderson did not record a point in that game.)
Pre-Draft Rankings
While Drysdale was considered a top-10 draft pick more than a year prior to the 2020 Draft, Sanderson steadily climbed from a fringe pick to one of the top-ranked defensemen available.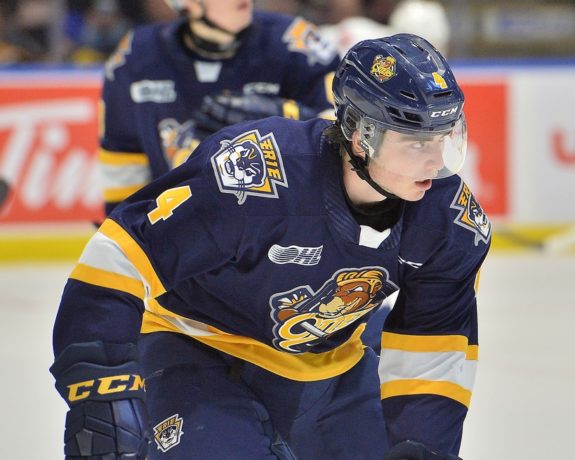 Draft rankings and mock drafts from a variety of sources were rather consistent with regard to Drysdale but varied widely for Sanderson – both between analysts and for the individual analysts as the draft drew nearer.
Related: THW World Juniors Coverage
The NHL's Central Scouting Bureau listed Drysdale as the #3 North American Skater in both the midterm and final rankings. Sanderson, on the other hand, rose from a midterm rank of #11 to #4 in the final North American Skater list.
At ESPN, Chris Peters started Drysdale at #8 preseason, bumped him to #5 in February, then back down to #8 in his final ranking. Way back in June 2019, Peters didn't have Sanderson among his top 29. That list had five defensemen ahead of Sanderson, including his then-UTDP teammate Tyler Kleven, who the Ottawa Senators drafted at #44. Interestingly, Kleven and Sanderson were both selected by the Senators and are currently teammates at the University of North Dakota.
In his final ranking, Peters hit close to the bullseye, placing Sanderson at #6, two spots ahead of Drysdale. (Source: ESPN.com, "2020 NHL draft rankings: Final top 100 prospects in the class from Chris Peters, plus position rankings," Oct. 1, 2020.)
Ryan Kennedy from Sports Illustrated/The Hockey News, was another analyst whose late September mock draft ranked Sanderson ahead of Drysdale, placing them at # 7 and #8 respectively.
Craig Button of The Sporting News, using intel gathered from NHL scouts, put Drysdale at #4 and Sanderson at #11.
USA Today's Vincent Z. Mercogliano slotted Drysdale at #5, and Sanderson close behind at #7.
Ryan Dittrick, writing for NHL.com, also had Drysdale at #5 but dropped Sanderson to #10.
Corey Pronman, writing for The Athletic in early October, must have used a crystal ball – he ranked Sanderson and Drysdale in the exact slots where the Senators and Ducks drafted them just days later. He projected Sanderson at #5 and Drysdale at #6. Kudos to Corey! (Source: The Athletic, "NHL Mock Draft 2020: Corey Pronman projects all seven rounds," Oct. 1, 2020.)
In July 2019, The Sporting News thought highly of Drysdale but considered him to be the only defenseman likely to be picked in the top 10:
"On defense, there are at least a half dozen elite neophytes who have done enough to be considered first-round candidates, with slick-skating playmaker Jamie Drysdale of the OHL's Erie Otters the best of the bunch. (. . .)  Keep in mind that every draft since 2007 has had at least two defensemen picked in the top 10, but as of today, it looks like only Drysdale has the upside to leapfrog several of the talented forwards. " 
The World Junior Projections
Most early predictions for Team Canada's 2021 World Junior Championship roster list Drysdale as a top-pair defenseman. Sanderson, on the other hand, is generally thought to be a second-pair D used in a more defensive role.
Related: Hits & Misses: Revisiting the 2020 NHL Draft Rankings
THW's Josh Kim, who's covering the Team Canada selection process, told me this about Drysdale: "I can definitely see Drysdale being called upon in key situations for Team Canada. With a year of World Junior experience already under his belt, he's poised to grow into a critical role with the team this time around. His calm presence and elite skating ability should earn himself plenty of ice time, and with Bowen Byram likely quarterbacking the first power play unit, Drysdale could certainly find himself having a similar role on the second line."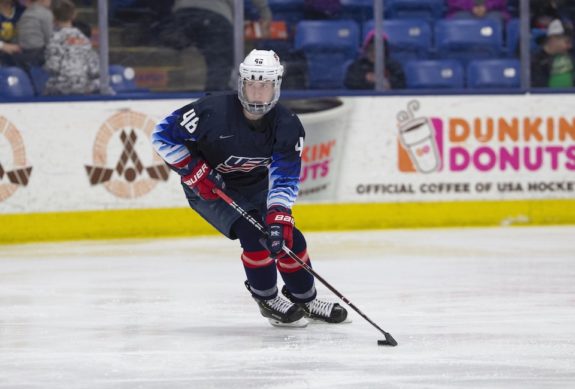 Covering Team USA for THW is Dayton Reimer. When I asked about Sanderson, he replied "Right now, I'm guessing they use him as a middle pair guy, based mostly on his skill. He's a great skater, but more of a defensive player and thus probably will find lots of usage on the penalty kill. I also think they'll favour more experienced guys like (Jackson) LaCombe, (Cam) York, (Ryan) Johnson, or (Drew) Helleson."
Writing for The Athletic, Scott Wheeler sees Drysdale as a top-pair defenseman for Canada, while he slots Sanderson on the second pair for Team USA. He calls Sanderson one of "three locks" to make the team on defense (along with York and Henry Thrun). He sees Sanderson playing with LaCombe "on a shutdown pairing of sorts." (Source: "World junior 2021 roster projections. Scott Wheeler picks the teams and medals," Nov. 2, 2020.)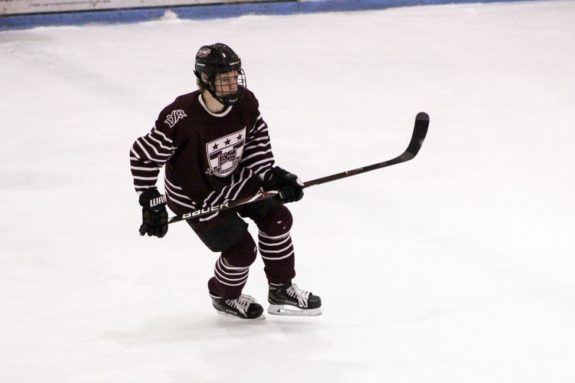 Sportsnet's Sam Cosentino, writing about a possible Team Canada roster, says "Drysdale [and Bowen Byram] should anchor each of the top-two pairings, with both of them likely to see significant time on the power play."
Way back in April, Jokke Nevalainen of DobberProspects.com wrote this about Sanderson: "One player who could surprise here is Jake Sanderson (2020) who has been developing rapidly this season. Despite being younger than the other defenders, he could end up being USA's top option at even strength while (Cam) York handles the top power play duties."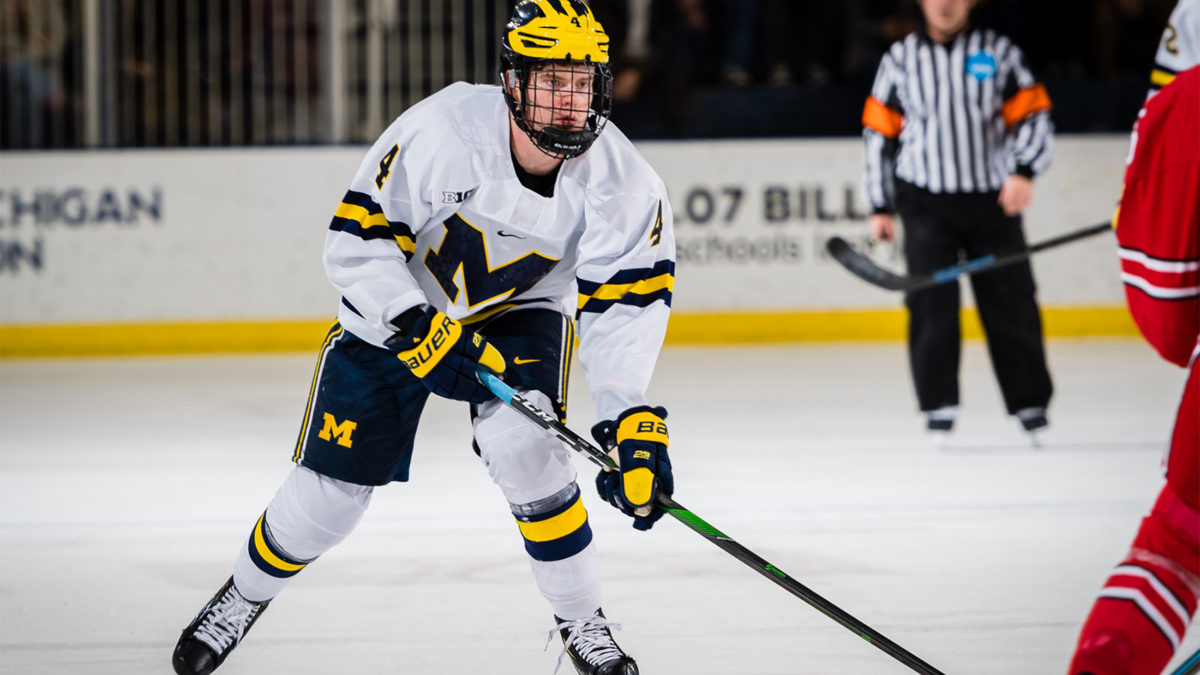 For Team Canada's defense, Nevalainen said: "On defense, Bowen Byram (COL) and Jamie Drysdale (2020) are the two returning players and they would form the best pair in the tournament. Both are ready to dominate at this level and both would be early favorites to win the best defenseman award in the tournament – but it also wouldn't be shocking if both of them were playing in the NHL."
Speculating on the Future of Jake and Jamie
The way Sanderson's stock shot up prior to the NHL Entry Draft, I would not be surprised to see him playing a much larger role than projected above for Team USA at the upcoming WJC. Potential Team USA teammate Landon Slaggert says Sanderson is one of the players whom he was most impressed during the Evaluation Camp. Drysdale, I believe, will indeed live up to expectations.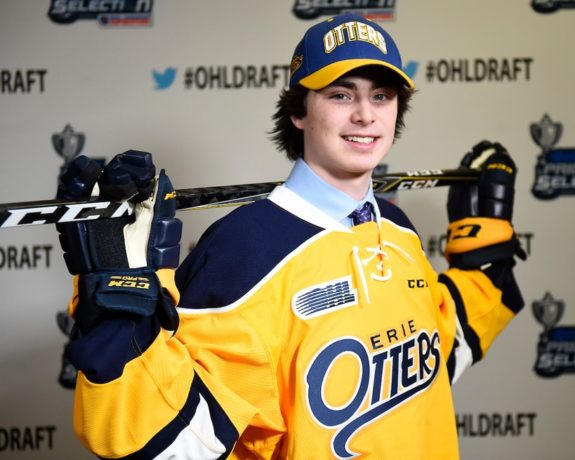 But long after the 2021 WJC, I think the two young defensemen will be compared and contrasted throughout their NHL careers. Sanderson's surprise selection before Drysdale in the Entry Draft sets up a rivalry, even if the pair don't discuss it themselves. Drysdale is finishing his junior career with the OHL's Erie Otters. Expect to see him in Anaheim in 2021-22, if not sooner. Mark Scheig, who covers the Otters for THW, told me, "Ducks fans are going to love this kid." Sanderson, on the other hand, is likely to stay with the University of North Dakota for a couple of seasons before joining the Senators. Once they're both in the NHL, let the fireworks begin!
---
---
Pete Bauer is both a hockey fan and player. As a columnist for The Hockey Writers.com, he covers the Columbus Blue Jackets, NCAA hockey, and NHL trends, statistics, and history. He's considered the go-to guy for info on the NHL's Collective Bargaining Agreement with the NHL Players' Association and other hockey-related legal mumbo-jumbo. He's a frequent guest on a variety of podcasts.  You'll find all of his THW columns here. Pete is also the author of over a dozen books on photography, digital imaging, and graphics, including "Photoshop CC for Dummies."