The New Jersey Devils needed to give their offense a boost this offseason, and they did when they acquired Andreas Johnsson from the Toronto Maple Leafs in early October. Johnsson missed a good chunk of 2019-20 because of a knee injury, but he still produced at a 40-point pace. The season before, he finished with 20 goals and 43 points as a rookie and was one of the Maple Leafs' most efficient five-on-five point producers. 
The Devils are hoping they'll be getting that Johnsson whenever the 2020-21 season gets underway. If they are, he should be able to play anywhere in the team's top nine. So where could the best fit be for him in the Devils' forward combinations? Let's take a look at some potential scenarios. 
Lineup 1: A Chance on the First Line
Johnsson – Nico Hischier – Nikita Gusev
Jesper Bratt – Jack Hughes – Kyle Palmieri
Jesper Boqvist- Pavel Zacha – Nick Merkley
In this lineup, new Devils' head coach Lindy Ruff gives Johnsson a shot on the first line with Hischier and Gusev. Hischier has yet to break out in his first three NHL seasons, but he's been remarkably consistent, averaging 53 points per 82 games. With more talent around him, he could be a 60-70 point scorer consistently. And Johnsson has the offensive ability to mesh with him. 
Gusev was one of the Devils' best players last season, especially down the stretch. He finished 2019-20 with 44 points in 66 games and averaged 2.29 points per 60 minutes (points/60) at five-on-five. He may not be the best defensively, but he may arguably be the team's most skilled playmaker.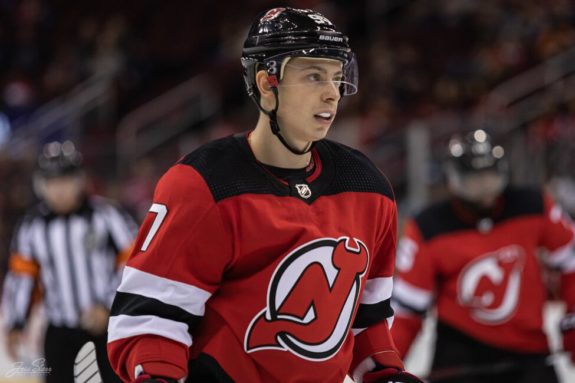 Since Johnsson is more of a shoot-first winger, placing him on a line with a playmaker like Gusev could work out pretty well. The only question with having these two as Hischier's wingers is if they can handle the tougher defensive minutes that come with playing on the first line. But there's no doubt it'd have offensive firepower with Johnsson on it. 
Lineup 2: Johnsson, Palmieri and Hischier
Johnsson – Hischier – Palmieri
Boqvist – Zacha – Merkley
In scenario 2, Johnsson remains on the first line but with Palmieri on his opposite wing instead of Gusev. There's more reason to believe this combination could work better than lineup 1 because Palmieri is an underrated two-way forward. It wouldn't even be a stretch to say he's one of the Devils' two or three best defensive forwards. 
Related: Devils Should Take a Chance on Granlund
Palmieri's two-way game should help lift any defensive struggles Johnsson has. While he's not a defensive liability, it's certainly not his strong suit. It's also worth noting Hischier is a relatively decent defender himself. So pairing those two with Johnsson should make for a trio that can hold their own in the defensive zone. 
Offensively, it's not much different than lineup 1. Johnsson should be able to keep up with Palmieri and Hischier. Palmieri and Johnsson are both shoot-first players, while Hischier can do a bit of everything offensively. And that should make for a top line that can find different ways to score. 
Lineup 3: Johnsson Moves to His Off Hand
Bratt – Hischier – Johnsson
Gusev – Hughes – Palmieri
Boqvist – Zacha – Merkley
There's a bit of a shift here in the Devils' top six. While Johnsson is a left-handed shot, he's played plenty of right-wing in the NHL. Bratt had an odd 2019-20, but he went on a tear after the Devils fired John Hynes on Dec. 3. He totaled 25 points in 39 games — a 52-point pace over 82 games. And his 200-foot game also improved dramatically, making him one of the team's best two-way forwards by season's end.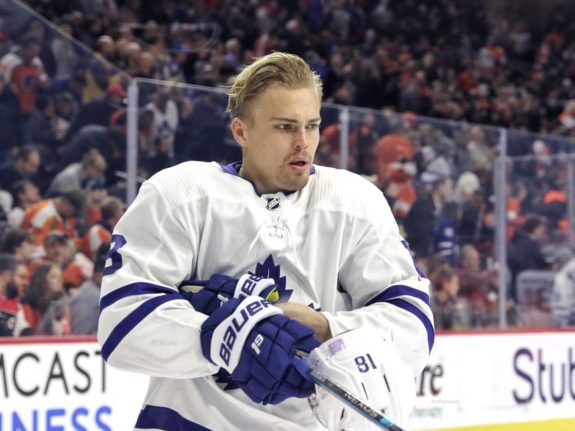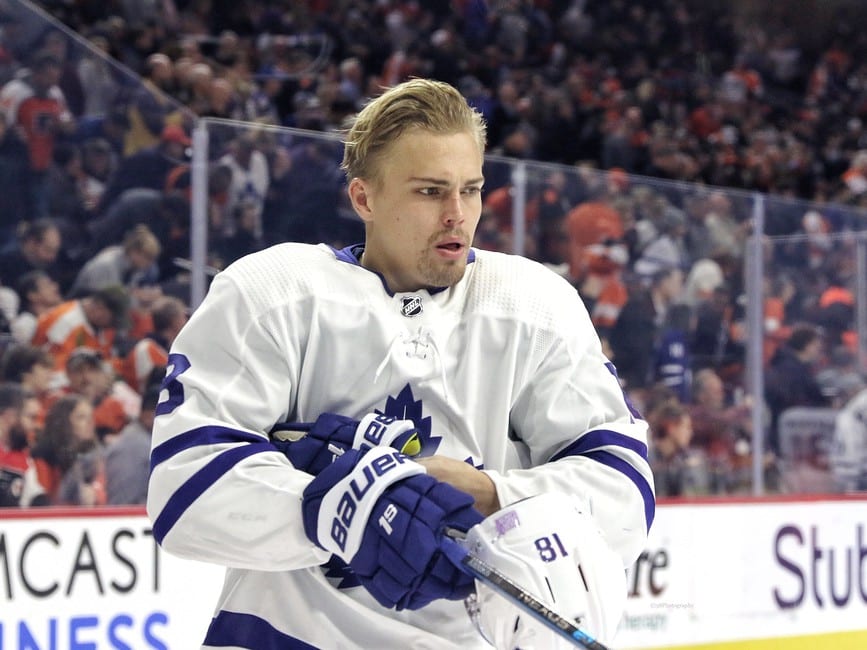 If Bratt's defensive improvement isn't a flash in the pan, pairing him with Johnsson could make a lot of sense. Hischier will anchor the line defensively, but Bratt could be an even bigger defensive upgrade than Palmieri. 
Offensively, Bratt is a creative playmaker who showed an improved shot last season. Johnsson has the scoring knack to capitalize on the chances Bratt creates. But he also has enough playmaking ability that should lead to Bratt finding the back of the net too. Along with Hischier, this trio could make for an interesting combo that you may not think of as your first or even second choice as a top line but one that can get the job done.  
Lineup 4: Johnsson to the Second Line
Johnsson – Hughes – Palmieri
Boqvist – Zacha – Merkley
There's not much of a difference than lineup 1. The only change is Bratt and Johnsson flipping spots, with Johnsson moving to the second line with Hughes, the 2019 first overall pick, and Palmieri. 
Moving Johnsson to the second line might be the wiser move of the lineups mentioned so far. The first line usually gets tougher defensive assignments, meaning Johnsson should get more favorable minutes that'd put him in better positions to succeed on line 2. 
Related: Predicting the Devils 2020-21 Opening Night Roster
And playing on a line with Hughes and Palmieri should suit him well. Palmieri is the best shooting talent on the team. Hughes did not have the rookie season many thought he would, but he showed flashes of what made him the first overall pick. His strength is playmaking, so pairing him with two shooters like Johnsson and Palmieri could give the Devils a formidable second line with scoring punch. 
Lineup 5: Johnsson and Gusev Together Again
Bratt – Hischier – Palmieri
Johnsson – Hughes – Gusev
Boqvist – Zacha – Merkley
This lineup came about with a bit more than Johnsson in mind. Bratt, Hischier, and Palmieri played together quite a bit after Alain Nasreddine took over as head coach, and their results were impressive. At five-on-five, the Devils controlled over 57% of the expected goals with them on the ice. And they outscored their opponents 10-2 at that game state.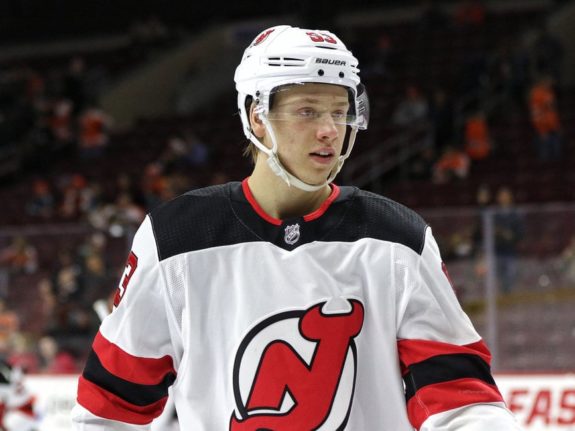 Lines change, and chemistry doesn't always carry over from one season to the next. With that said, if Bratt, Hischier, and Palmieri show the same type of chemistry, it'll be difficult not to pair them together. That means Johnsson, Hughes, and Gusev would most likely get a shot as the second line. 
For Johnsson, the idea of playing with Gusev and Hughes looks really appealing on paper. Gusev is an elite playmaker, while Hughes has that kind of potential. With a shooter like Johnsson on their wing, it could make for a pretty strong scoring line. If Hughes and Gusev show enough defensive improvement from a season ago, Ruff should give this trio a chance to get minutes together. The offensive upside is there, and Johnsson could return to being a 20-goal scorer with them too.  
Lineup 6: Johnsson Rounds Out Line 3
Boqvist – Hughes – Palmieri
Kuokkanen – Zacha – Johnsson
You may have noticed the third line in the previous lineups, and there was a reason I put them there. There's a chance Johnsson starts the season on the third line. Is it the most likely scenario? Probably not, which is why this is the only scenario where he shows up on it. But it could happen, so it's worth examining. 
Johnsson ending up on the third line depends a lot on where Jesper Boqvist is in his development. He got 34 games of NHL action last season but only managed to total four goals. He just spent the last couple of months on loan with Timrå IK in the HockeyAllsvenskan and had 10 points in 13 games. He has a similar skill set to Johnsson and could end up producing at a similar rate down the road. 
But that's the thing with Boqvist; we don't know how far along he is. The only way to get an idea is to see where he is when NHL training camps hopefully begin in the next few weeks. If he gets top-six minutes during the preseason and shows well, then he could start the regular season there.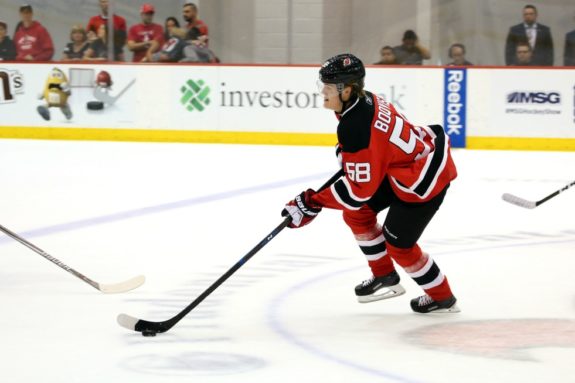 That means Johnsson would move to the third line, where he could play with several different players. For the sake of this exercise, we'll go with Zacha at center and Janne Kuokkanen at left-wing, while Johnsson shifts back to the right side. 
Zacha seems like the Devils' best option as a third-line center over a declining Travis Zajac. The Devils acquired Kuokkanen in the deal that sent Sami Vatanen to the Carolina Hurricanes at the trade deadline. He hasn't played much in the NHL, but he has shown playmaking creativity in the AHL. If that translates to the next level, it should mesh well with a shooter like Johnsson on his opposite wing. Combine those two with Zacha, and the Devils' top nine should have enough scoring ability on all three lines. 
Devils Have Multiple Options for Johnsson
The Devils have plenty of places where they can play Johnsson in their lineup. He could get top-line minutes if there's a strong enough two-way presence with his linemates, which he'd get with some combination of Hischier, Bratt, and Palmieri. 
If Johnsson is not on the first line, the second unit seems like the best fit for him. He'll get more favorable minutes and will be playing with skilled players that'll bring out his offensive abilities one way or another. That's what they acquired him for, and if Ruff places him in the right role that gives him the best chance to succeed, the Devils' offense will see noticeable improvement in 2020-21. 
* * *
Advanced stats from Natural Stat Trick
---
---