The New Jersey Devils have already done the bulk of their offseason work. They acquired Ryan Murray to upgrade their defense and traded for Andreas Johnsson to give them scoring depth. Johnsson has averaged 45 points per 82 games over the last two seasons and is sure to provide the Devils' top six with another complementary scorer for Jack Hughes or Nico Hischier. 
But while Johnsson will help, he alone won't be enough to get the Devils' offense to where it needs to be. The team has some prospects who'll play bottom-six roles, but they could still use another established scorer. That's why Mikael Granlund, who's still an unrestricted free agent, could be of interest to general manager Tom Fitzgerald. 
Granlund spent last the season-plus with the Nashville Predators, but it was a struggle for him. He totaled 35 points in 78 games, a significant dropoff from how he produced with the Minnesota Wild. That's likely why he's still a UFA, but some team will take a chance on him eventually, and the Devils shouldn't be afraid to be the one. Let's take a look at why. 
Granlund Was a Completely Different Player With the Predators
Before the Wild traded Granlund to the Predators, he was one of the more underrated forwards in the league. He averaged almost 68 points per 82 games from 2016 until the time of his trade at the 2019 Trade Deadline. He was an efficient five-on-five scorer, averaging 1.94 points per 60 minutes (points/60), the same rate as Joe Pavelski and T.J. Oshie. And not only could Granlund score, but he was also a steady two-way forward.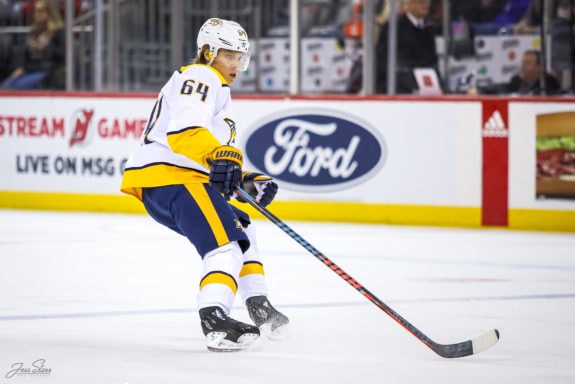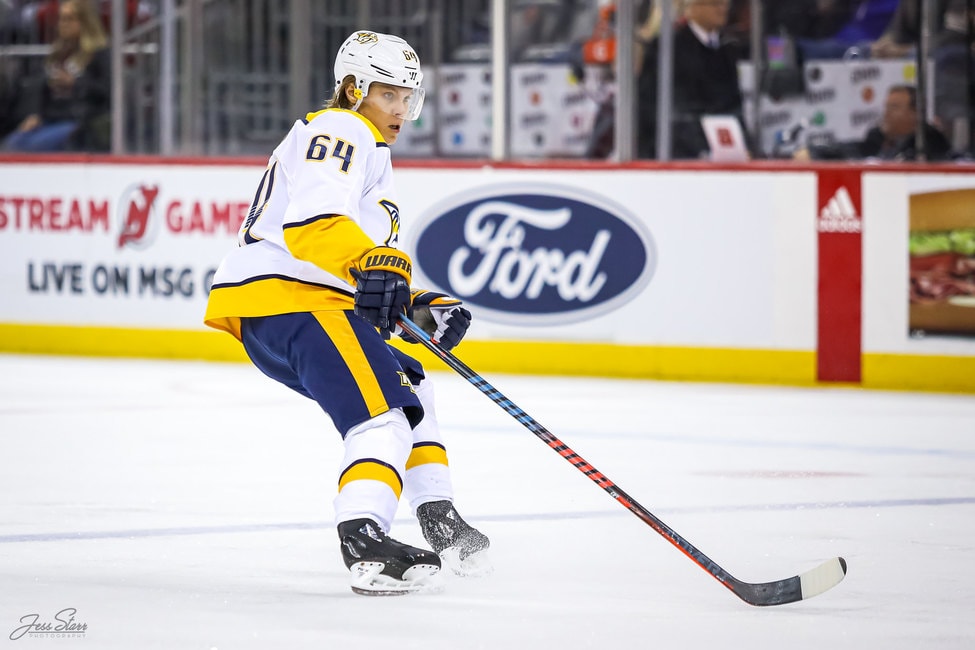 Things changed after the trade, however. The Predators acquired Granlund with the hopes he could be the top-six forward he was with the Wild, but that never materialized. His production plummeted, as he averaged 1.15 points/60, which is about what'd you expect of someone in a bottom-six or fourth-line role. And his two-way play wasn't the same either. 
The change in Granlund's output was quite stark, and there was no reason to believe he'd fall off a cliff based on how he performed with the Wild. The difference becomes quite noticeable when looking at his goals above replacement (GAR) before and after the trade. 
| | | | |
| --- | --- | --- | --- |
| Season | Team | Games Played | GAR |
| 2016-17 | MIN | 81 | 18.8 |
| 2017-18 | MIN | 77 | 14.3 |
| 2018-19 | MIN | 63 | 6.3 |
| 2018-19 | NSH | 16 | -2.3 |
| 2019-20 | NSH | 63 | 3.1 |
Data via Evolving Hockey
It's hard to say what happened with Granlund after the move. One thing that's probably worth noting is the Predators have had a lot of talented forwards who have underachieved in recent years. Kyle Turris' play fell off a cliff after the Ottawa Senators traded him to the Predators. Matt Duchene just finished his first season in Nashville and had 42 points in 66 games, his lowest point per game average since 2016-17 when he was with the Colorado Avalanche. 
Even some of the Predators' homegrown talent has regressed over the last few seasons. Viktor Arvidsson had 29 goals and 61 points in 2017-18 but finished with only 15 goals and 28 points this past season. And it probably doesn't look great that Kevin Fiala, who the Wild acquired for Granlund, finished with 54 points in 64 games in his first full season in Minnesota. 
Related: Devils' Top 20 Prospects: Preseason 2020-21
It's hard to say for certain what's going on with the Predators and some of their forwards. But the fact is more than a few they've either acquired in trades or signed in free agency have played much worse for them than in previous stops. Perhaps it's something they're doing systemically, and maybe that's why Granlund could benefit from a change of scenery. 
Devils Have a Lot to Offer Granlund
It's obvious Granlund's stint in Nashville did not work out, but that doesn't mean he can't bounce back. He's 28 years old, and there weren't any glaring signs of decline when he was with the Wild. He needs to find the right situation, and the Devils have a couple of things going for them that could appeal to him. 
Granlund is a versatile forward who can either play center or right-wing. The Devils are pretty set down the middle, but they could still use another right-winger in their middle or top six. Hischier and Hughes will anchor the first two lines as centers. They're both gifted offensively and should be able to help Granlund re-find his scoring touch if he's a winger to either one.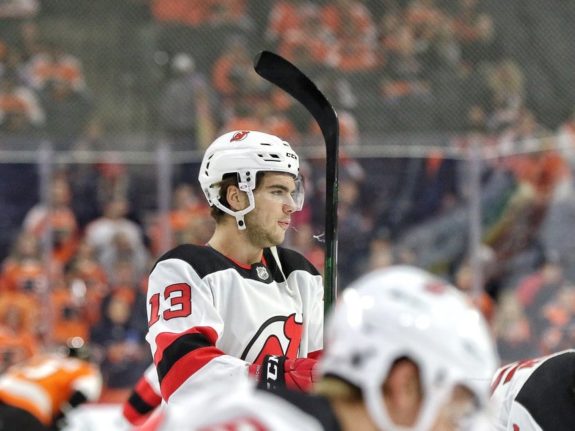 Another person that should benefit Granlund is Lindy Ruff. The Devils hired him as their new head coach earlier this offseason, and he's going to bring a much different style of hockey to New Jersey. His Stars' teams were among the fastest-paced, most offensive teams in the league from 2013-17. It's likely the Devils end up playing a similar style, given the makeup of their roster. And that's something that could help Granlund too. 
The last thing that's also worth mentioning is the Devils can pay Granlund. Evolving Hockey projected him to land a seven-year deal with a cap hit of $6.525 million. But given how teams are in a financial bind due to revenue loss from COVID-19, it's highly unlikely he gets that, especially the longer he goes as a UFA. 
Related: Devils Still Have Details to Address This Offseason
The most likely scenario is Granlund ends up taking a one-year, prove-it deal then tries to cash out next offseason when, hopefully, revenues are looking up. If he agrees to a one-year contract, he projects to earn a cap hit just above $3.7 million. Most contenders still can't afford that because of the flat salary cap. But it wouldn't be a problem for the Devils, as they have $17 million in cap space. 
Overall, Granlund and the Devils seem to be a pretty ideal match. They have a need for him, can afford to pay him, and he should benefit from playing in Ruff's system and alongside either Hughes or Hischier. There's not a ton of risk in signing him to a one-year deal. And if a change of scenery is all he needs, both sides could reap the rewards of such a signing. 
* * *
Advanced stats from Natural Stat Trick, Evolving Hockey
---
---