It was a whole new experience for the first round of this year's NHL Draft. There was no big arena filled with fans, players and their families. Instead, teams made picks over a Zoom call from their respective locations followed by reaction from players at their respective locations.
Sill, the first round didn't seize to amaze us with a couple of trades made to move down in the draft by the Calgary Flames along with players climbing and sliding from pre-draft rankings. With that in mind, let's take a look back at our pre-draft rankings at The Hockey Writers and how we matched up to the actual selections in the first round of the 2020 NHL Draft.
1. Alexis Lafrenière, New York Rangers
Rankings:
Let's face it, this was an easy call to make. Had the Rangers gone any other direction with the first overall selection, I think they would've shocked the world. To be honest, the Rangers' red, white and blue, suit Lafrenière and fans of the team should be extremely excited as to what they have in this young man.
2. Quinton Byfield, Los Angeles Kings
Rankings:
Larry Fisher: 4th
Josh Bell: 2nd
Andrew Forbes: 2nd
Final Rank: 2nd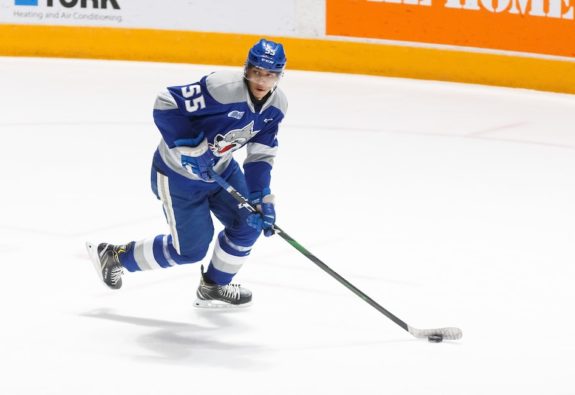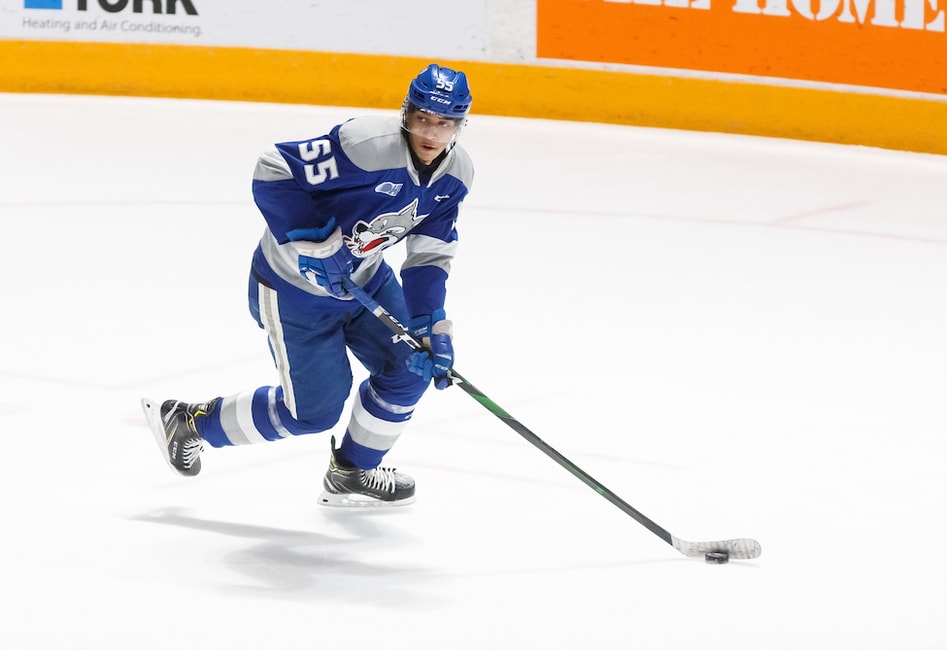 He was the highest drafted black player in NHL history after the Kings selected Byfield with the number two selection on Tuesday night and there's no question that this kid can become a legitimate NHL center. He's led a suspect Sudbury Wolves team at times and his play at the World Juniors could justify why he fell out of the number two spot for some analysts pre-draft. That said, he has the offensive ability of a number two and the Kings should be stoked to see what he can do with NHL-calibre linemates.
3. Tim Stüetzle, Ottawa Senators
Rankings:
Larry Fisher: 3rd
Josh Bell: 4th
Andrew Forbes: 3rd
Final Rank: 3rd
The fact that he has the ability to play center likely helped the Senators in making the decision to take Stüetzle with the third overall pick. There was no question he would be a top-five pick and with the Sens owning two of the top-five picks is it really any surprise that they took a talented center who has the ability to play the wing with one of those picks?
4. Lucas Raymond, Detroit Red Wings
Rankings:
Larry Fisher: 2nd
Josh Bell: 3rd
Andrew Forbes: 4th
Final Rank: 4th
Steve Yzerman and the Red Wings got their guy with the fourth overall pick when they took right winger Lucas Raymond. Like Stüetzle, Raymond was a consensus top-five pick and the Red Wings clearly had him on their radar. Add him to a list of well-stocked prospects for a Detroit team looking to continue a full-blown rebuild.
5. Jake Sanderson, Ottawa Senators
Rankings:
Larry Fisher: 9th
Josh Bell: 16th
Andrew Forbes: 15th
Final Rank: 5th
Simply put, we missed on Sanderson. Larry was the closest, having him ranked ninth overall, while Josh and I had him outside our top-10. Still, as the first defenceman off the board, Sanderson blew by Jamie Drysdale to land with the Ottawa Senators who quickly built a strong prospect pool with their first two picks of the 2020 NHL Draft. Consider Sanderson my first miss of this year's draft – and far from the last.
6. Jamie Drysdale, Anaheim Ducks
Rankings:
Larry Fisher: 5th
Josh Bell: 6th
Andrew Forbes: 5th
Final Rank: 6th
The Ducks followed suit and took a defenceman of their own at six – with Jamie Drysdale. While Larry and I had him one spot higher at fifth overall, Josh nailed it with Drysdale sitting at sixth on his final rankings. Either way, it was just the start of the defensive train in the 2020 NHL Draft.
7. Alexander Holtz, New Jersey Devils
Rankings:
Larry Fisher: 6th
Josh Bell: 9th
Andrew Forbes: 7th
Final Rank: 7th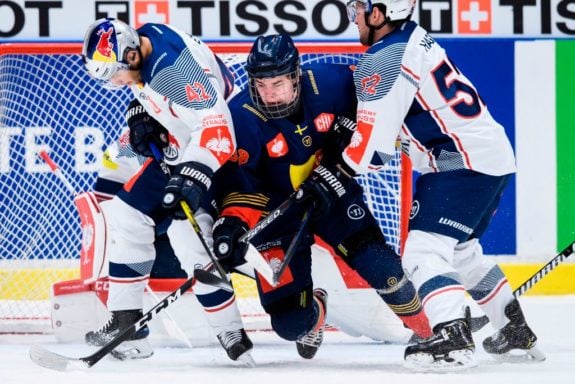 He went right in the range that we had him at, but with the seventh overall pick the Devils took winger Alexander Holtz. He dropped one spot from Larry's rankings, jumped two from Josh's and I got back at it with an accurate number seven pick – a solid addition to a very young Devils club.
8. Jack Quinn, Buffalo Sabres
Rankings:
Larry Fisher: 15th
Josh Bell: 21st
Andrew Forbes: 18th
Final Rank: 8th
Now, was this a case of all of us being way off on our predictions or was it more a case of the Buffalo Sabres doing a Buffalo Sabres kind of thing by taking Jack Quinn higher than he should've gone? Truth is, we'll have to wait and see, but it's safe to assume that with all of us having him ranked 15th overall and lower that this might now turn out to be the greatest pick of the 2020 NHL Draft.
9. Marco Rossi, Minnesota Wild
Rankings:
Larry Fisher: 8th
Josh Bell: 5th
Andrew Forbes: 6th
Final Rank: 9th
Once again, he was well within range of what was expected, but Larry was almost spot on having him ranked eighth overall. The Sabres taking Quinn eighth definitely shocked some, especially with Rossi still on the board. That said, this should work out well for the Wild who have added some key talent in this year's draft.
10. Cole Perfetti, Winnipeg Jets
Rankings:
Larry Fisher: 7th
Josh Bell: 8th
Andrew Forbes: 8th
Final Rank: 10th
Another great pick-up for a team that was at the tail end of the top-10 in this year's draft, the Winnipeg Jets scored big with Cole Perfetti who fell right into their lap. As you can see, we all had him ranked eighth or higher in the draft and it's a dream for the Jets that they were able to steal him with the 10th overall selection.
11. Yaroslav Askarov, Nashville Predators
Rankings:
Larry Fisher: 10th
Josh Bell: 11th
Andrew Forbes: 10th
Final Rank: 11th
Josh was on the ball again with Askarov falling just outside the top-10 to the Nashville Predators. Easily a future franchise goaltender by most analysts' standards, what does this say about the future of the team's goaltending in Pekka Rinne and Juuse Saros?
12. Anton Lundell, Florida Panthers
Rankings:
Larry Fisher: 11th
Josh Bell: 7th
Andrew Forbes: 9th
Final Rank: 12th
The three of us missed on this pick again, but the fact that Lundell fell to 12 is pretty impressive and a big grab for the Florida Panthers. Some hoped he'd fall even further, but the center should help with the team's depth as they could lose some key forwards to free agency this offseason.
13. Seth Jarvis, Carolina Hurricanes
Rankings:
Larry Fisher: 18th
Josh Bell: 14th
Andrew Forbes: 17th
Final Rank: 13th
Well within range again, we all just missed on Seth Jarvis going 13th overall to the Carolina Hurricanes who picked up the selection from the Maple Leafs in the Patrick Marleau deal. While Josh almost hit on Jarvis, it's another good pick-up for the Hurricanes as they add a talented winger out of the Portland Winterhawks' system.
14. Dylan Holloway, Edmonton Oilers
Rankings:
Larry Fisher: 16th
Josh Bell: 15th
Andrew Forbes: 13th
Final Rank: 14th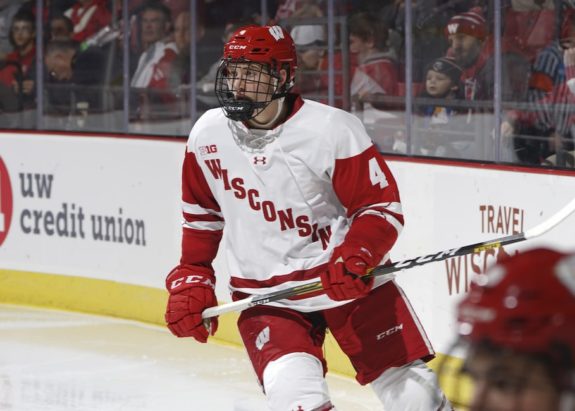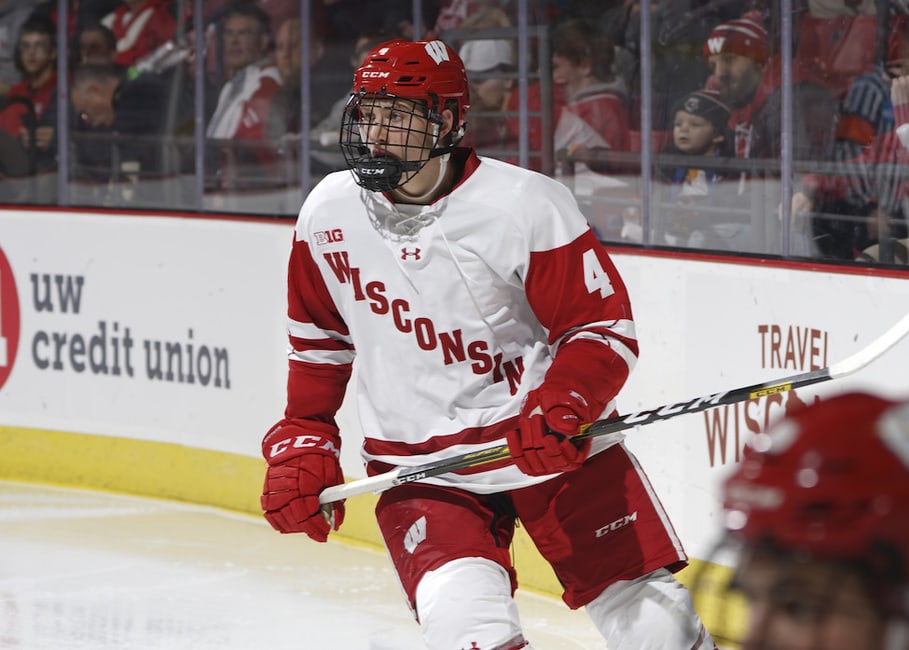 It almost seems perfect that Holloway went 14th overall to the Edmonton Oilers, especially with where we had him ranked. Still, what a thrill for the kid who has the potential to skate on the same ice as Connor McDavid at some point during his career when he makes the jump to the NHL.
15. Rodion Amirov, Toronto Maple Leafs
Rankings:
Larry Fisher: 12th
Josh Bell: 10th
Andrew Forbes: 11th
Final Rank: 15th
Maybe not the expected pick, the Maple Leafs took Rodion Amirov with the 15th overall selection that they received in the Kasperi Kapanen deal with the Penguins. Another solid winger from Russia, Amirov adds to the growing Russian presence in the team's prospect pool. Oh, also we all missed on this pick too as we had him ranked 12th and higher.
16. Kaiden Guhle, Montreal Canadiens
Rankings:
Larry Fisher: 22nd
Josh Bell: 34th
Andrew Forbes: 24th
Final Rank: 16th
Again, maybe a guy that wasn't expected to go this high in the draft, Guhle was ranked 22nd and lower by all three of us at The Hockey Writers. In fact, the closest any of us got was six spots lower than where the Montreal Canadiens took him. Guhle is just another player that will have to impress with him going higher than expected.
17. Lukas Reichel, Chicago Blackhawks
Rankings:
Larry Fisher: 43rd
Josh Bell: 31st
Andrew Forbes: 35th
Final Rank: 17th
The Blackhawks must see something they like in Lukas Reichel to take him in the top-20. While Josh had him ranked right at the end of the first round, he was mostly considered to be a second-round talent. Either way, Reichel could get a good opportunity in the Blackhawks system to develop.
18. Dawson Mercer, New Jersey Devils
Rankings:
Larry Fisher: 20th
Josh Bell: 18th
Andrew Forbes: 19th
Final Rank: 18th
Right in range of where he was expected to go, the Devils used the pick they got in the Taylor Hall deal to grab Dawson Mercer with the 18th overall selection. Arguably nearing the tail end of the top-20 talent, Mercer fell right into the Devils' lap at 18.
19. Braden Schneider, New York Rangers
Rankings:
Larry Fisher: 25th
Josh Bell: 36th
Andrew Forbes: 27th
Final Rank: 19th
As many thought Braden Schneider didn't go 15th overall to the Maple Leafs, but still became a top-20 pick when the Rangers moved up in the draft to take the right-shot defenceman. While none of us had him ranked higher the 25th, the Rangers moved two picks to Calgary to get the 19th overall selection and landing the big blue liner.
20. Shakir Mukhamadullin, New Jersey Devils
Rankings:
Larry Fisher: 48th
Josh Bell: 132nd
Andrew Forbes: 73rd
Final Rank: 20th
With a pick that moved hands twice, from Vancouver to Tampa Bay and into the hands of the Devils, New Jersey went off the board in taking defensive prospect Shakir Mukhamadullin with the 20th overall pick. While none of us were even remotely close on this pick, this pick could be a result of recency bias with what Mukhamadullin has done to start the new season.
21. Yegor Chinakhov, Columbus Blue Jackets
Rankings:
Larry Fisher: 179th
Josh Bell: Unranked
Andrew Forbes: Unranked
Final Rank: 21st
The fact that Larry was the only one of us that had Chinakhov ranked shows you what a surprise this pick really was. An overage player who has shown some more offensive development, Chinakhov jumped from an undrafted player last season to a top-25 pick in the 2020 NHL Draft. Simply put, let's revisit this pick in four or five years.
22. Hendrix Lapierre, Washington Capitals
Rankings:
Larry Fisher: 19th
Josh Bell: 29th
Andrew Forbes: 21st
Final Rank: 22nd
While he sat a little longer than some expected, Hendrix Lapierre went to Washington with the 22nd overall pick. Josh had him going a little bit later, but he still fell well within range of what was expected in the draft. He was still a first-round pick and still headed to a great organization.
23. Tyson Foerster, Philadelphia Flyers
Rankings:
Larry Fisher: 29th
Josh Bell: 19th
Andrew Forbes: 33rd
Final Rank: 23rd
Call it a miss on me, but I didn't even have Foerster in the first round. Credit where it's due, Josh had him as a mid first-round pick and Larry had him later in the opening round. That said, a solid pick by the Flyers, Foerster has the ceiling to be a first-round talent moving forward.
24. Connor Zary, Calgary Flames
Rankings:
Larry Fisher: 17th
Josh Bell: 17th
Andrew Forbes: 16th
Final Rank: 24th
Is this more of us missing, or Connor Zary falling right into the Flames' lap? It's hard to believe that we all had him ranked within the top-20 just for him to fall to 24th overall. Regardless, the Flames grabbed what should be a top-20 talent in Zary with their first-round pick, one they were able to get by moving down and accumulating more picks in the 2020 NHL Draft.
25. Justin Barron, Colorado Avalanche
Rankings:
Larry Fisher: 21st
Josh Bell: 41st
Andrew Forbes: 30th
Final Rank: 25th
His injuries might've played against his being ranked in the lower part of the first round for me and into the second round for Josh, but Larry had faith in Justin Barron and stuck with it – ranking him four spots higher than where he went. Regardless, Barron joins an incredible defensive staff in Colorado that already features a number of high-end talented players.
26. Jake Neighbours, St. Louis Blues
Rankings:
Larry Fisher: 50th
Josh Bell: 46th
Andrew Forbes: 42nd
Final Rank: 26th
First-round pick, Jake Neighbours? You got it. Not one of us had him going higher than 42nd in the draft, but the St. Louis Blues thought otherwise. This one can go down as a complete miss on our part for now. That said, he'll be someone we look back at intently when we talk about this draft in a couple of years.
27. Jacob Perreault, Anaheim Ducks
Rankings:
Larry Fisher: 34th
Josh Bell: 28th
Andrew Forbes: 26th
Final Rank: 27th
One of the purest shooters in the draft, it makes sense that he went in the first round. If his consistency can climb and his overall effort can develop, this pick will make so much sense looking back. That said, for the most part, we all had him in that range in our final rankings.
28. Ridly Greig, Ottawa Senators
Rankings:
Larry Fisher: 51st
Josh Bell: 48th
Andrew Forbes: 48th
Final Rank: 28th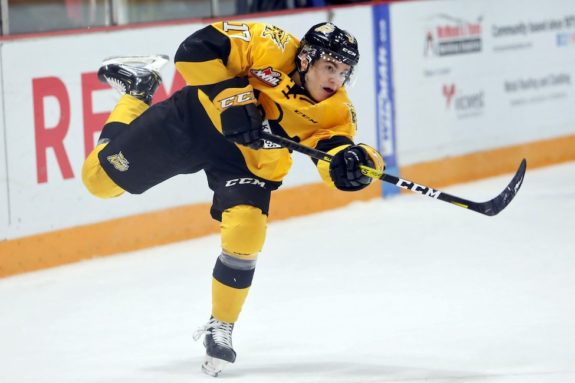 Okay. So maybe it's another miss on our part, but we all had Ridly Greig going in the middle of the second round. That said, the Senators had three first-round picks and maybe the intensity that this kid plays with just fit what they felt they needed making him a legitimate candidate to move into the first round. Either way, we had him ranked no higher than 48th in this draft – 20 spots shy of where he actually went.
29. Brendan Brisson, Vegas Golden Knights
Rankings:
Larry Fisher: 28th
Josh Bell: 43rd
Andrew Forbes: 40th
Final Rank: 29th
Well, Larry almost nailed it as he had Brisson as a first-round pick. Say what you will, but Josh and I missed on Brisson jumping into the first round. Given what he's able to do, this could be a good late-round pick up for the Vegas Golden Knights. But, like others in this first round, he'll be a player we look back on in a couple of years.
30. Mavrik Bourque, Dallas Stars
Rankings:
Larry Fisher: 33rd
Josh Bell: 20th
Andrew Forbes: 20th
Final Rank: 30th
Another case of missing on this player or did he just fall too far? To be honest, I think it's a case of a few players jumping ahead of him that were unexpected. The Chinakhov pick. The Barron pick. Heck, the Mukhamadullin pick even threw us for a whirl. Either way, Bourque fell to 30th overall and should be a great pick for the Stars in that spot.
31. Ozzy Wiesblatt, San Jose Sharks
Rankings:
Larry Fisher: 60th
Josh Bell: 53rd
Andrew Forbes: 55th
Final Rank: 31st
One of the best moments in this draft, the Sharks took Wiesblatt with the 31st overall pick using sign language for his mother. I can't even be upset that this was a total miss on our part in terms of where he went in the draft. Just their guy? Or maybe a panic pick by the Sharks, this one will be interesting to revisit down the road.
In Closing…
While it's like the lottery sometimes and you're never going to hit them all, there were a number of misses for the three of us in this first round. I hit on the first four picks in my final rankings as well as one more later in the round, while Josh and Larry hit four and two respectively.
We all had a number of picks that were well within range – including being within one pick of where players went on number of occasions. Larry had six within one pick of their final selection spot, I had six of my own and Josh had four.
Finally, when it comes to misses, I considered a miss a player that we were 10 spots different than where they went. Josh had 13, I had 11 and Larry had 6. For me, that's more of team's going off the board than us having it wrong, but only time will tel..
All in all, if you consider being within one pick a hit in this case, we didn't do too bad. Josh finished the 2020 first round with a hit rate of 25.8 percent, I hit at a rate of 35.5 percent and Larry hit at a 25.8 percent rate as well. While we missed on a combined 32.3 percent of our picks, meaning that the other 38.7 percent were within range.
That's it for the 2020 NHL Draft, be sure to stay tuned all year long as the three of us continue to push out 2021 NHL Draft rankings throughout the year.
---
---