The Toronto Maple Leafs are 9-1-1 since their 9-2 shelling to the Nashville Predators and the team seems to be firing on all cylinders.
However, during the team's current hot streak it has become apparent that two of the Maple Leafs most promising young stars are trending in two different directions. Nazem Kadri is quickly becoming one of the team's most reliable forwards, while Jake Gardiner is starting to be looked upon as a liability on the back-end.
Jake Gardiner
The first round pick of the Anaheim Ducks in 2008, 17th overall, in the past has been seen as a hot commodity that the Leafs have been lucky to have, an offensively gifted defenseman who can skate and move the puck with the best of them. However, this season as the 24-year-old continues to mature, his defensive flaws don't seem to be going away and in fact, are becoming ever more glaring.
This season Gardiner is a team-worst minus 10 and during the team's hot streak through the latter part of November and December, Gardiner is minus two and has contributed just four points. The Minnetonka, Minn. native is on pace to have by far his worst plus-minus of his career at minus 28.
Gardiner in the past was given a bit of a smaller leash for his defensive short-comings because his potential seemed high and his offensive skill at times overshadowed his flaws, but this season the 6-foot-2 defender has just two goals and eight points in 28 games. He is On pace for just 22 points, which would be a drop of nine points from last season.
Nazem Kadri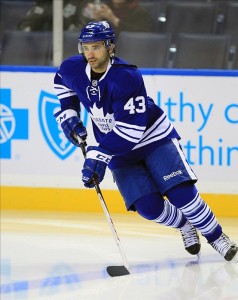 Meanwhile upfront fellow 24-year-old Kadri, is quickly becoming a go-to-guy for the Leafs and head coach Randy Carlyle has taken notice, as in the past two games Kadri has seen the ice more than any other of the Leafs' forwards. This season he is averaging 16:52 of ice-time, but in the team's last five games he has averaged 18:33, including his second highest mark of 20:20 Sunday against the Los Angeles Kings.
The Leafs 2009 first-round pick is currently a plus nine on the season and is on pace for his best season in that category at plus 24. This season he has just 19 points in 30 games, which is still on pace to be a point better than last season's total of 50. However, these numbers could rise as Kadri has racked up 10 of those points during his last 11 games.
In fact the line of Kadri, Mike Santorelli, and Daniel Winnik has been arguably the Leafs' most reliable line as of late, which would explain why Carlyle has used them to shutdown the oppositions top-lines.
Past Trade Speculation
Rumours surrounding the Maple Leafs and the need for upgrades either on the blueline or down the middle have always been hot-topics in the Toronto media landscape. And in the past the Leafs biggest trade commodities seemed to be Kadri and Gardiner with both of them, most of the time, included as a package deal. Recently they've been rumoured in a potential deal to try and lure Carolina Hurricanes captain Eric Staal to Toronto.
Fans had voiced their push or displeasure for these types of moves, but with each of these players seemingly trending in the opposite directions it might seem that Gardiner is becoming a no-brainer to include in a trade, while Kadri's spot in the lineup might be becoming much more solidified.
Holzer and Polak Don't Help Gardiner
What doesn't help Gardiner's spot in the lineup is the solid play of Korbinian Holzer since Roman Polak was sidelined with a leg injury. The 26-year-old Holzer has been solid on the back-end with a plus-six rating, averaging 18:50 of ice-time while seeing a season high 21-plus minutes Sunday.
He has been trusted to kill penalties with the team, averaging 2:35 per-game on the PK. He has also been averaging two blocked shots per game. He is becoming a much more defensive reliability on the Leafs back-end.
What should also be in the back of Gardiner's mind is that Polak has been skating with the team over the last couple weeks and is expected to return to the lineup soon. And when he does the Leafs will have to make a decision on whom to take out of the lineup. Of course the first thought is you take out the less-experienced Holzer in favour of Gardiner. However, given Holzer's solid defensive play, you would think that Toronto would rather have a more solid defensive blueliner especially given that Gardiner hasn't been showing off much of his offensive prowess as of late.
The one thing that might work in Gardiner's favour is the fact that all year Carlyle has done his best to keep a left-handed and a right-handed shot on each 'D' pairing. So with Polak and Holzer each being right-handed shooters, it wouldn't come as a surprise if they are swapped.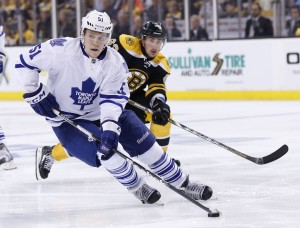 In Conclusion
Kadri was delayed a permanent spot on the Maple Leafs roster following being drafted by the Leafs seventh overall in 2008, as the organization wanted him to become a more well-rounded player. Kadri has started to meet those expectations and though he isn't scoring at will, he is certainly becoming one of the Buds' most dependable players. While Gardiner on the other hand has yet to fully show the Leafs that he can be that dynamic offensive defenseman that he's been categorized as. Gardiner is still young, but at what point do you stop giving a young player the benefit of the doubt?
Craig is an intern at The Hockey News where he has written for both the website and the magazine. He is also a featured-blogger at http://www.hockeyforums.net/index.php/blog/46-its-a-canadian-game/. Craig has an Honours in Journalism from Wilfird Laurier University and is currently completing the Sports Journalism Program at Centennial College. Follow him on Twitter @Craig_Hagerman.