It really is a draft like no other. Among the differences are the unknowns surrounding when the 2021 NHL Draft will actually take place and who will be the first overall selection. There really is no consensus around who will go with the first pick in this year's draft and while scouts and draft experts around the game are slowly bending towards a Matthew Beniers as the potential top pick, there is still a lot of speculation as names are flip-flopped in and out of that spot.
Related: THW Prospects Coverage
At one point there was a lot of talk around the idea that there could be three defensemen taken with the first three picks. Names like Carson Lambos, Brandt Clarke and Owen Power were circulated. For some, the very early suggestion for first overall was Finnish forward Aatu Räty. But that quickly changed. And it seems that with hockey – at least for a number of leagues around the world – hanging in the balance, more questions have come from this draft class than anything.
How has it affected some of the players involved? Have players' stock risen based on their opportunity to play, or dropped because they haven't played a meaningful game this season? How do scouts judge these players? Will it be off of last season's play?
Regardless of how many questions we can come up with to describe just how curious this year's draft will be, the real point is that there is no clear-cut number one. That, in itself, can make it all the more exciting and nerve-racking for NHL front offices as well as their respective fanbases. Simply put, any one of the top five could have what it takes to be the first overall pick.
That said, there are a number of rankings already up. Those include all kinds of perspectives and all kinds of names cracking top-10s from around the scouting world. Even mine will differ (likely) from my colleagues' picks – Peter Baracchini and Matthew Zator – who, along with myself make up this the new prospect team at The Hockey Writers.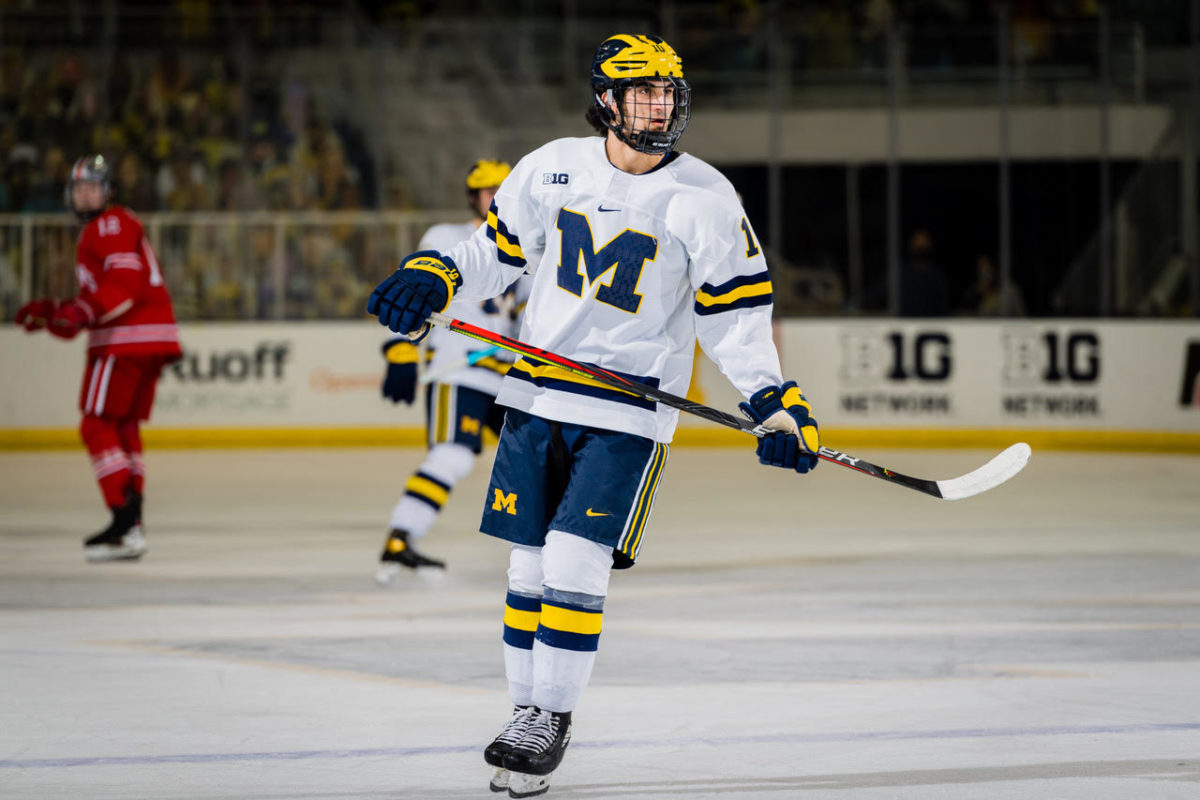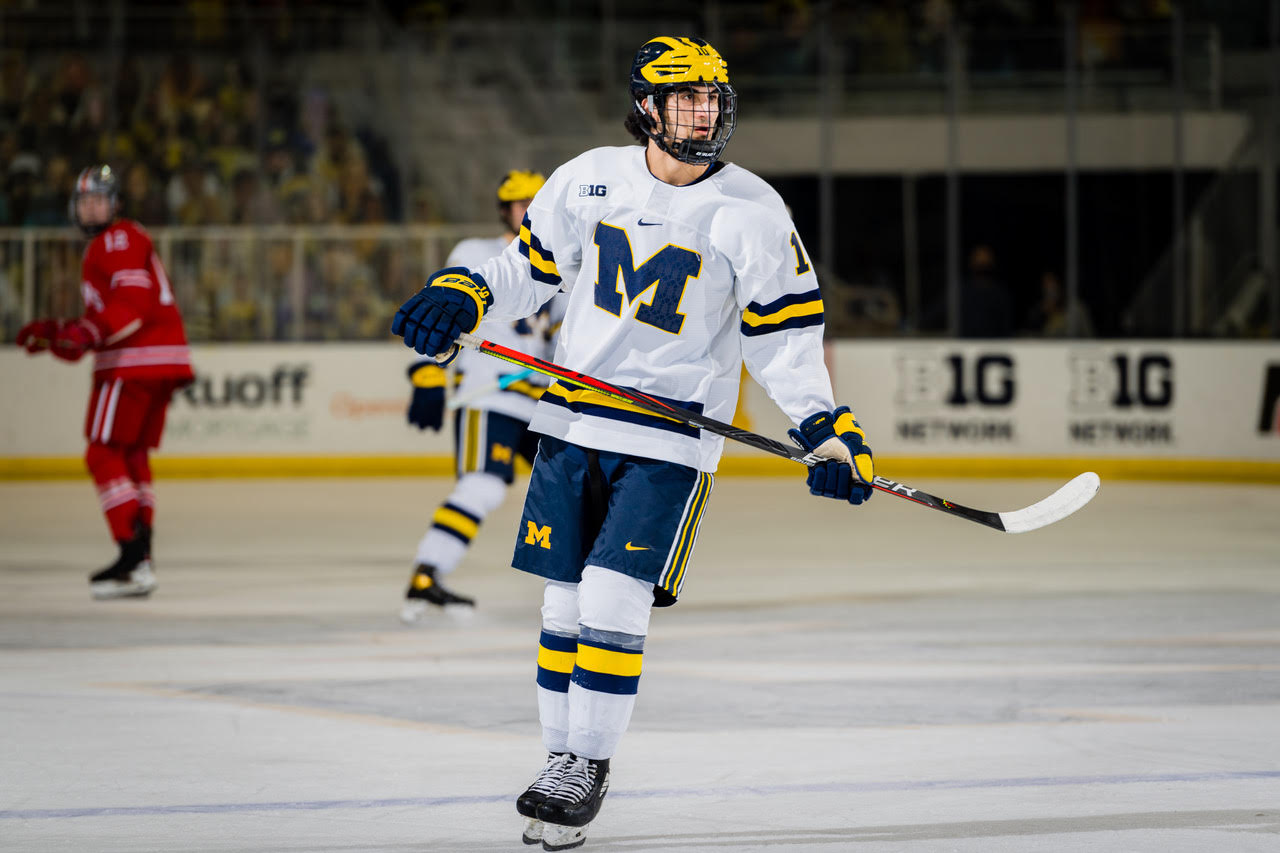 But that's the beauty of prospect writing. We can give our takes, with our thoughts on each and every player, but we're not in the heads of NHL GM's. And because of that, it's always great to check out a number of draft rankings and try to understand why each scout or expert puts a player where they do.
While this could be one of the tougher drafts to predict in recent memory, I've decided to kick off my rankings with what I see as the top two rounds – or the first 64 picks of the 2021 NHL Draft. Without further adieu, here are my top 64 prospects for the 2021 Draft.
2021 NHL Entry Draft Rankings
First Round
1. Matthew Beniers, C/W, Michigan Wolverines (NCAA)
2. William Eklund, C/LW, Djurgårdens IF (SHL)
3. Simon Edvinsson, LD, Frölunda HC (SHL)
4. Owen Power, LD, Michigan Wolverines (NCAA)
5. Luke Hughes, LD, U.S. U18 (USNTDP)
6. Jesper Wallstedt, G, Luleå HF (SHL)
7. Kent Johnson, C, Michigan Wolverines (NCAA)
8. Brandt Clarke, RHD, HC Nove Zamky (Slovakia) – on loan from Barrie Colts (OHL)
9. Fabian Lysell, RW, Luleå HF (SHL)
10. Aatu Räty, C, Kärpät (Liiga)
11. Dylan Guenther, LW, Sherwood Park Crusaders (AJHL) – on loan from Edmonton Oil Kings (WHL)
12. Carson Lambos, LD, JYP U20 (U20 SM-sarja) – on loan from Winnipeg Ice (WHL)
13. Simon Robertsson, RW, Skelleftea AIK (SHL)
14. Chaz Lucius, C/W, U.S. U18 (USNTDP)
15. Oskar Olausson, LW, HV71 (SHL)
16. Zachary L'Heureux, C, Halifax Mooseheads (QMJHL)
17. Zachary Bolduc, C, Rimouski Océanic (QMJHL)
18. Cole Sillinger, C, Sioux Falls Stampede (USHL)
19. Xavier Bourgault, C/W, Shawinigan Cataractes (QMJHL)
20. Mason McTavish, C, EHC Olten (SL) – on loan from Peterborough Petes (OHL)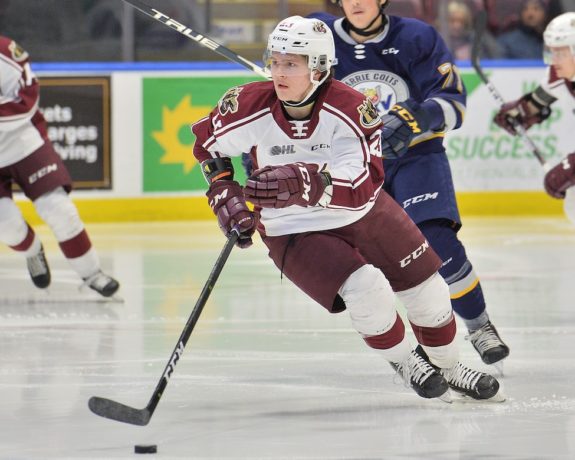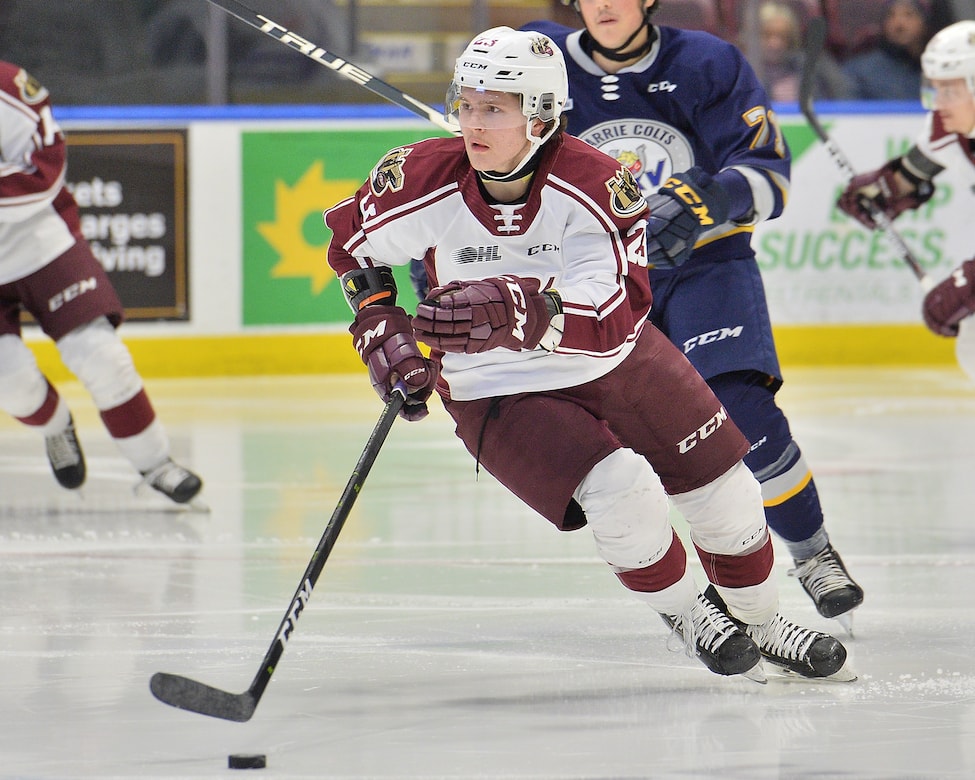 21. Daniil Chayka, LD, Krasnaya Armiya Moskva (MHL)
22. Corson Ceulemans, RD, Brooks Bandits (AJHL)
23. Samu Tuomaala, W, Kärpät (Liiga)
24. Francesco Pinelli, C/W, HDD Jesenice (Slovenia) – on loan from Kitchener Rangers (OHL)
25. Brennan Othmann, LW, EHC Olten (SL) – on loan from Flint Firebirds (OHL)
26. Sasha Pastujov, LW, U.S. U18 (USNTDP)
27. Nikita Chibrikov, RW, SKA-1946 St. Petersburg (MHL)
28. Stanislav Svozil, LD, Kometa Brno (Czech)
29. Zach Dean, C, Gatineau Olympiques (QMJHL)
30. Roman Schmidt, RD, U.S. U18 (USNTDP)
31. Ryder Korczak, C, Moose Jaw Warriors (WHL)
32. Aidan Hreschuk, LD, U.S. U18 (USNTDP)
Second Round
33. Anton Olsson, LD, Malmö Redhawks (SHL)
34. Jack O'Brien, C, Lincoln Stars (USHL)
35. Isak Rosén, LW/RW, Leksands IF (SHL)
36. Logan Stankoven, C/W, Kamloops Blazers (WHL)
37. Brett Harrison, C, KOOVEE (Mestis)
38. Sean Behrens, LD, U.S. U18 (USNTDP)
39. Conner Roulette, LW, Seattle Thunderbirds (WHL)
40. Matthew Coronato, LW, Chicago Steel (USHL)
41. Connor Lockhart, C, Erie Otters (OHL)
42. Joshua Roy, C, Sherbrooke Phoenix (QMJHL)
43. Vincent Iorio, LD, Brandon Wheat Kings (WHL)
44. Artyom Grushnikov, LD, Hamilton Bulldogs (OHL)
45. Cole Huckins, C, Acadie-Bathurst Titan (QMJHL)
46. Vladislav Lukashevich, LD, Loko Yaroslavl (MHL)
47. Verner Miettinen, C, Kiekko-Espoo U20 (U20 SM-sarja)
48. Scott Morrow, RD, Shattuck St. Mary's 18U Prep (USHS-Prep)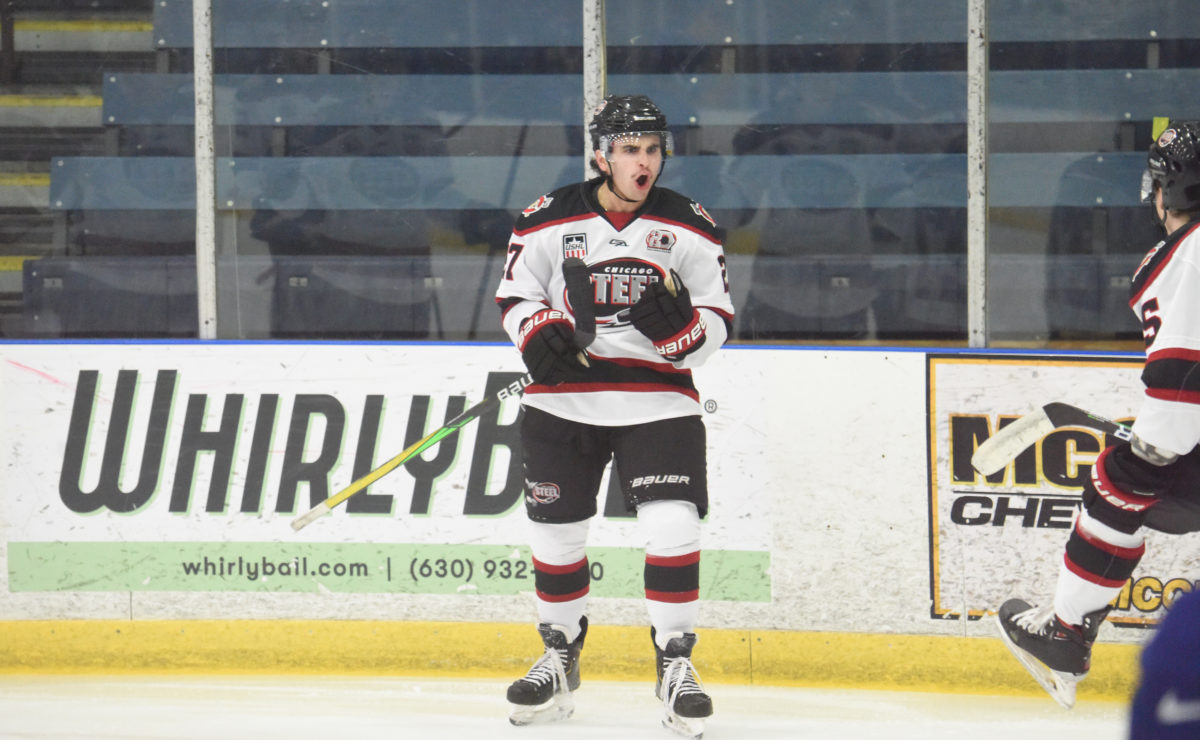 49. Daniil Lazutin, C, SKA-Varyagi im. Morozova (MHL)
50. Sebastian Cossa, G, Edmonton Oil Kings (WHL)
51. Samu Salminen, C/LW, Jokerit U20 (U20 SM-sarja)
52. Cameron Whynot, LD, Halifax Mooseheads (QMJHL)
53. Stuart Roofs, LW, London Knights (OHL)
54. Prokhor Poltapov, W, Krasnaya Armiya Moskva (MHL)
55. Evan Nause, LD, Québec Remparts (QMJHL)
56. Benjamin Gaudreau, G, Sarnia Sting (OHL)
57. Fyodor Svechkov, C/LW, Ladia Togliatti (MHL)
58. Tristan Lennox, G, Saginaw Spirit (OHL)
59. Oscar Plandowski, RD, Charlottetown Islanders (QMJHL)
60. Justin Robidas, C, Val-d'Or Foreurs (QMJHL)
61. Liam Dower-Nilsson, C, Hanhals IF (HockeyEttan) – on loan from Frölunda HC (SHL)
62. Tyler Boucher, RW, U.S. U18 (USNTDP)
63. James Malatesta, C, Québec Remparts (QMJHL)
64. Peter Reynolds, C, Saint John Sea Dogs (QMJHL)
2021 Draft Still Up for Grabs
As I mentioned earlier, Beniers is quickly becoming a favourite to go number one in the draft. So far, he has four goals and 13 points in 14 games for the Wolverines – who have some of the top names included in this year's draft. But there's still a lot of speculation that this could be a defensively heavily draft – with names like Edvinsson, Power and Hughes among the top 10 selections.
Wallstedt could go slightly higher than Yaroslav Askarov did in 2020. While he dropped just outside the top 10 to the Nashville Predators, Wallstedt could benefit from a slightly weaker top 10 this year and see himself go somewhere in the six to ten range. While his 11-8-0 record might not be as good as his numbers suggest, his 1.97 goals against average (GAA) and .918 save percentage (SV%) are solid numbers by the 18-year-old through 19 games of his SHL season.
While Räty has simply been a victim of inconsistent play – which has seen him drop outside the top 10 on a number of rankings – players like Clarke and Lambos could be suffering the effects of the COVID-19 affected season. Both started their years shortly after leagues picked up in Europe and because of that both got off to slower starts. Now, with speculation that the WHL and OHL seasons should be getting underway for a shortened year, both could see themselves climb back up the rankings if they can get back to last season's form.
Regardless, this will be one of the most interesting and, possibly, controversial drafts in the modern era of the NHL. At the end we will question and analyze each and every pick and it won't be until later that we can truly see who will come out as the winners of the 2021 NHL Draft.
Do you agree with these rankings? Who would be in your Top 64? Who would you swap out? To have your say, be sure to check out the comment section below.