Welcome everyone, to my first ever NHL Draft rankings. I'm really excited to not only be a part of the 2021 NHL Draft coverage at The Hockey Writers, but to provide my take on the prospects for this year's draft.
I previously made a personal draft rankings on the prospects in this year's upcoming draft. Since then, a lot has changed in terms of draft stock and positioning as well as the number of prospects I have seen and researched.
In a year like no other, making draft rankings and scouting is different than ever. Many junior leagues are still shut and have been postponed due to the on-going COVID-19 pandemic, while leagues overseas have seen considerable game time. Even though many prospects aren't playing, we still have information on them based on past viewings from last year. In addition, it's also unpredictable considering there isn't a number one set in stone like Alexis Lafreniere in 2020. A lot of players could be ranked higher or lower this time around.
Jumping into the prospects, there is a three- headed defensive behemoth at the top of my draft board. Brandt Clarke, Carson Lambos and Owen Power possess the ability to be top pairing, game-changing defensemen, each bringing a unique style. Clarke has the skating and offensive playmaking abilities that teams would love to have. Lambos plays with some sandpaper to his game while still being an offensive contributor and Power has great mobility for his size and always makes the right play.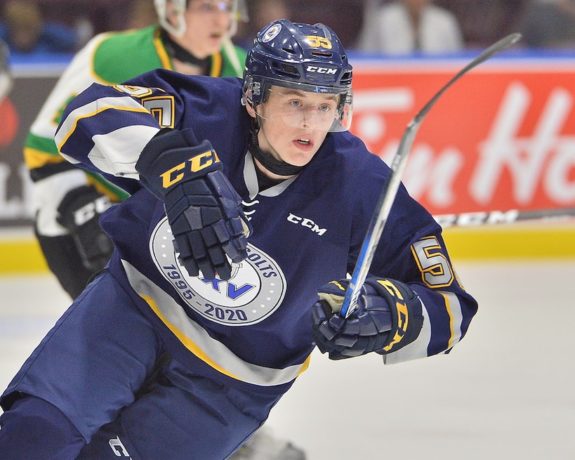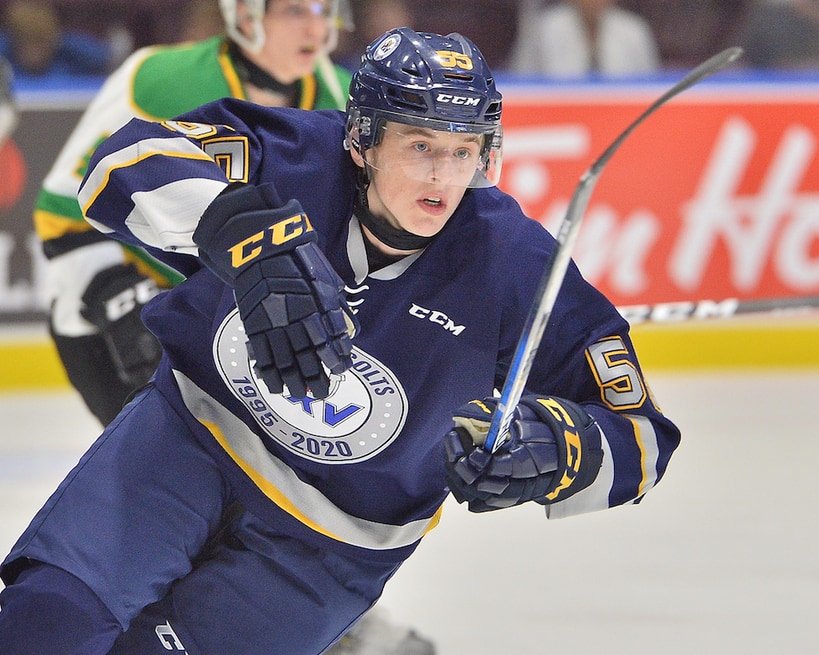 After a strong start to his collegiate career with the University of Michigan (11 points in 12 games) and an impressive showing with Team USA, winning gold at the World Juniors, centreman Matthew Beniers has easily pushed himself into the top-five. If things continue to go well, he could even get into the conversation for first overall.
Projected to go first overall before the 2020-21 season began, Kärpät centre Aatu Räty's stock has fallen quite considerably. He has the skillset of being a strong two-way centre. After failing to find any consistency in the Liiga early on and failing to make Finland's World Junior team, his stock dropped. However, he seems to have picked up his level of play as he can still push to be a top-10 pick.
Like Spencer Knight (13th overall, 2019) and Yaroslav Askarov (11th overall, 2020) being the top goaltenders in the last two drafts, Luleå's Jesper Wallstedt is the undisputed top goalie prospect in 2021. He has the vision, movement and poise in the crease to definitely make him a top-10 pick in the draft. His numbers playing at the senior level are absolutely spectacular which is why he's garnering all of this attention. 
While there are many talented forward prospects, this is the year of the defensemen. There are five in my top-10, but there are many defensive prospects later in the first round going into the second; such as Daniil Chayka, Stanislav Svozil and Corson Ceulemans. 
Much like last year's draft, the players in the second round and on could either move up or down significantly. Second round talent could easily be viewed and selected as first round selections, making those in the first drop as potential strong pick ups afterwards.
As many players are on loan, I'm citing their original team at the junior level in this ranking. Without further ado, here are my top-75 prospects for the draft.
Prospects 1- 32
1. Brandt Clarke, D, Barrie Colts (OHL) 
2. Carson Lambos, D, Winnipeg Ice (WHL)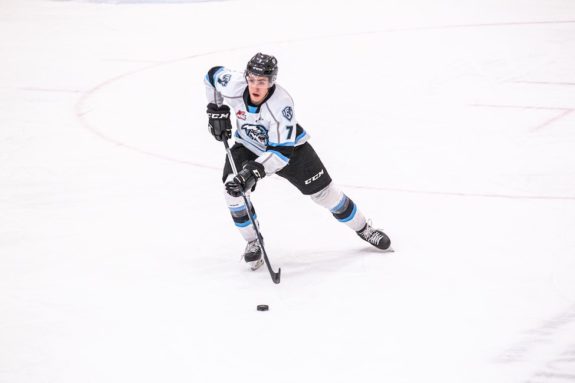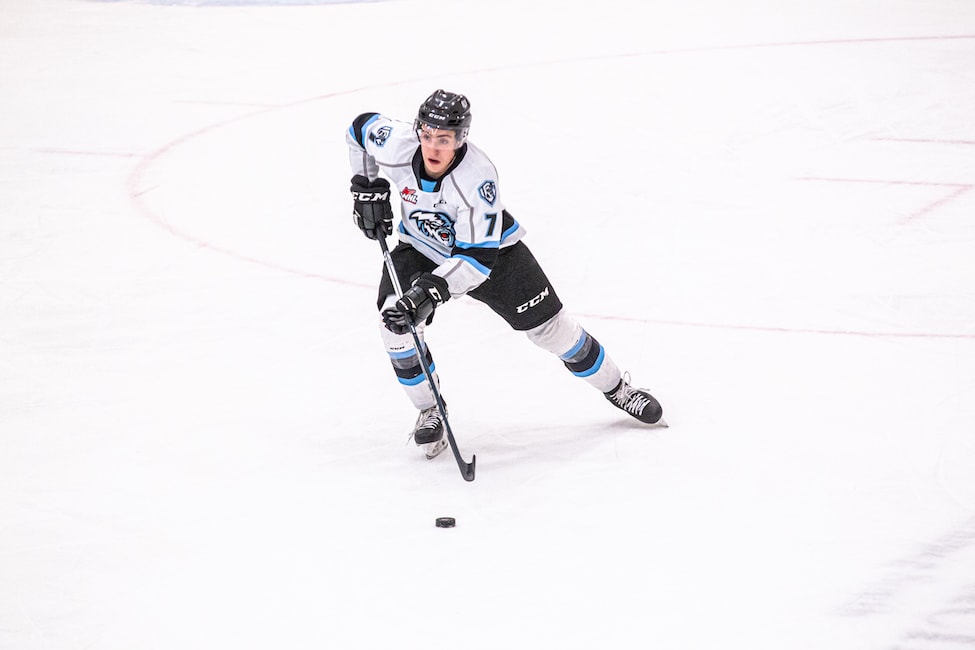 3. Owen Power, D, University of Michigan (NCAA)
4. Matthew Beniers, C, University of Michigan (NCAA)
5. Simon Edvinsson, D, Frölunda J20 (Nationell)
6. Luke Hughes, D, USNTDP (USHL)
7. Dylan Guenther, RW, Edmonton Oil Kings (WHL)
8. Jesper Wallstedt, G, Luleå (SHL)
9. William Eklund, C, Djurgårdens IF (SHL)
10. Fabian Lysell, RW, Luleå (SHL)
11. Aatu Räty, C, Kärpät (Liiga)
12. Zachary L'Heureux, LW, Halifax Mooseheads (QMJHL)
13. Kent Johnson, C, University of Michigan (NCAA)
14. Chaz Lucius, C, USNTDP (USHL)
15. Cole Sillinger, C, Medicine Hat Tigers (WHL)
16. Zachary Bolduc, C, Rimouski Oceanic (QMJHL)
17. Mason McTavish, C, Peterborough Petes (OHL)
18. Brennan Othmann, LW, Flint Firebirds (OHL)
19. Xavier Bourgault, C, Shawinigan Cataractes (QMJHL)
20. Daniil Chayka, D, CSKA Moskva (KHL) 
21. Samu Tuomaala, RW, Kärpät (Liiga)
22. Oskar Olausson, LW/RW, HV71 (SHL)
23. Stanislav Svozil, D, Kometa (Czech)
24. Nikita Chibrikov, RW, SKA St. Petersburg (KHL)
25. Simon Robertsson, RW, Skellefteå AIK (SHL)
26. Zach Dean, C, Gatineau Olympiques (QMJHL)
27. Corson Ceulemans, D, Brooks (AJHL)
28. Francesco Pinelli, C, Kitchener Rangers (OHL)
29. Aidan Hreschuk, D, USNTDP (USHL)
30. Anton Olsson, D, Malmö Redhawks (SHL)
31. Logan Stankoven, C, Kamloops Blazers (WHL)
32. Brett Harrison, C, Oshawa Generals (OHL)
Picks 33-64
33. Sasha Pastujov, LW, USNTDP (USHL)
34. Isak Rosen, LW, Leksands IF (Sweden)
35. Sean Behrens, D, USNTDP (USHL)
36. Matthew Coronato, LW, Chicago Steel (USHL)
37. Connor Lockhart, C, Erie Otters (OHL)
38. Joshua Roy, C, Saint John Sea Dogs (QMJHL)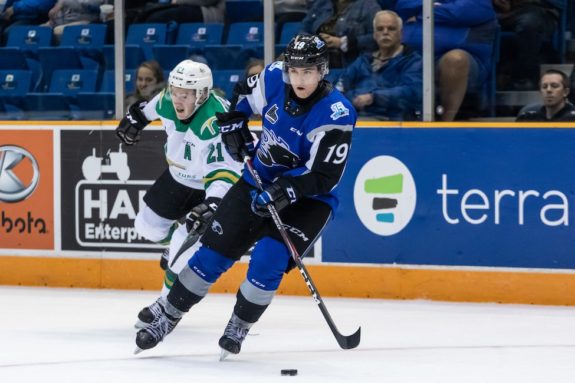 39. Ryder Korczak, C, Moose Jaw Warriors (WHL) 
40. Vincent Iorio, D, Brandon Wheat Kings (WHL)
41. Vladislav Lukashevich, D, Yaroslavl (MHL) 
42. Verner Miettinen, C, Kiekko-Espoo U20 (SM-Sarja)
43. Roman Schmidt, D, USNTDP (USHL)
44. Jack O'Brien, C, Portland Winterhawks (WHL)
45. Daniil Lazutin, C, SKA St. Petersburg (MHL)
46. Sebastian Cossa, G, Edmonton Oil Kings (WHL)
47. Samu Salminen, C/LW, Jokerit U20 (SM-Liiga)
48. Scott Morrow, D, Shattuck St. Mary's (USHS- Prep)
49. Conner Roulette, LW, Seattle Thunderbirds (WHL)
50. Cameron Whynot, D, Halifax Mooseheads (QMJHL)
51. Stuart Rolofs, LW, London Knights (OHL)
52. Prokhor Poltapov, RW, Krasnaya Moskva (MHL)
53. Evan Nause, D, Quebec Remparts (QMJHL)
54. Benjamin Gaudreau, G, Sarnia Sting (OHL)
55. Cole Huckins, C, Acadie Bathurst Titan (QMJHL)
56. Fyodor Svechkov, LW, Ladia Togliatti (MHL)
57. Tristan Lennox, G, Saginaw Spirit (OHL)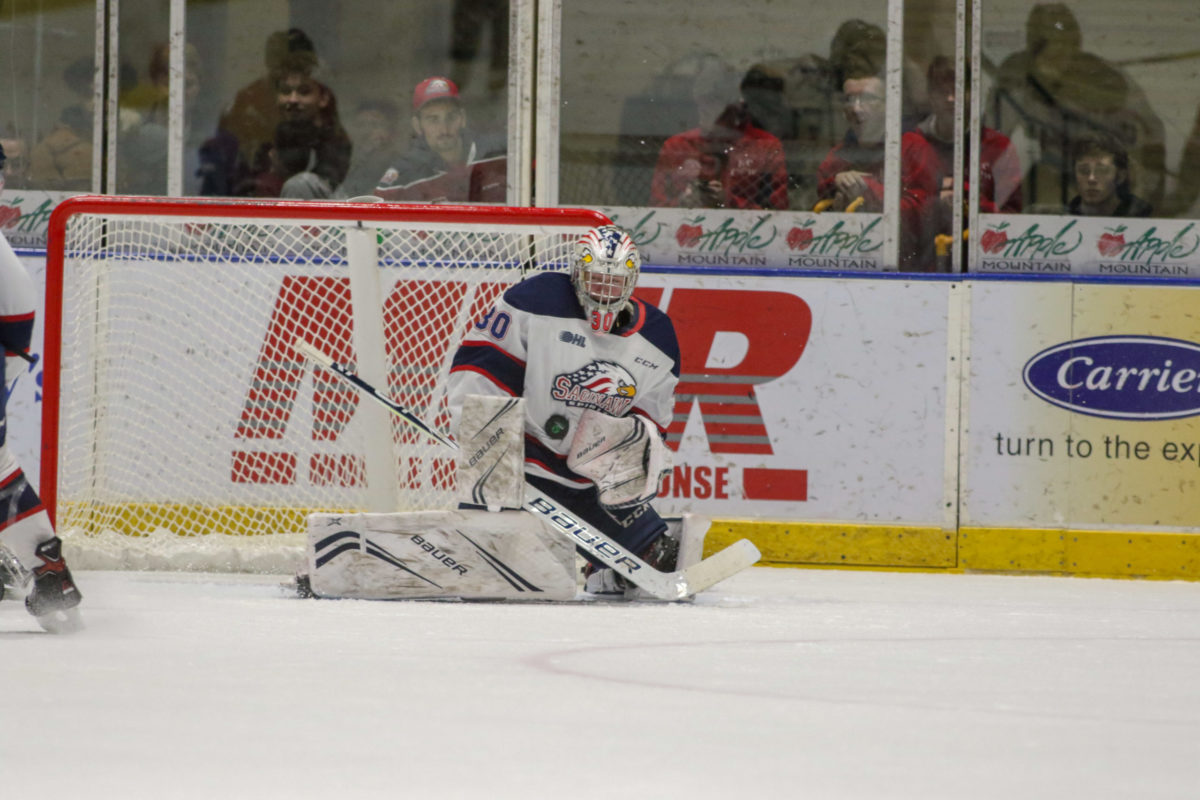 58. Artyom Grushnikov, D, Hamilton Bulldgos (OHL)
59. Oscar Plandowski, D, Charlottetown Islanders (QMJHL)
60. Justin Robidas, C, Val-d'Or Foreurs (QMJHL)
61. Liam Dower-Nilsson, C, Frölunda (SHL)
62. Tyler Boucher, F, USNTDP (USHL)
63. James Malatesta, C, Quebec Remparts (QMJHL)
64. Peter Reynolds, C, Saint John Sea Dogs (QMJHL)
Prospects 65-75
65. Kirill Kirsanov, D, SKA, St. Petersburg (KHL)
66. Atte Lehikoinen, D, KalPa (Liiga)
67. William Strömgren, LW, MODO (Allsvenskan)
68. Samuel Helenius, C, JYP (Liiga)
69. Robert Orr, C, Halifax Mooseheads (QMJHL)
70. Dylan Duke, C, USNTDP (USHL)
71. Matthew Samoskevich, C, Chicago Steel (USHL)
72. Isaac Enright, D, Niagara Ice Dogs (OHL)
73. Matvei Petrov, LW, MHK Krylia Sovetov Moskva (MHL)
74. Francesco Arcuri, C, Kingston Frontenacs (OHL)
75. Hobie Hedquist, G, Dubuque Fighting Saints (USHL)
Honourable Mentions
Noah Allan, D, Prince Albert Raiders (WHL), Matthew Knies, LW, Tri-City Storm (USHL), Martin Rysavy, LW, Vitkovice (Czech), Eetu Liukas, RW, TPS (Liiga), Talyn Boyko, G, Tri-City Americans (WHL), Alex Christopolous, RW, North Bay Battalion (OHL), Dmitri Kostenko, D, Ladia Togliatti (VHL), Alexei Prokopenko, C, Gatineau Olympiques (QMJHL).
Final Thoughts
While the talent in the first round is always going to get the recognition, the prospects that are listed as the second-round prospects could easily provide just as much of an impact.
There are a few names that really stand out. First is Shattuck St. Mary's defenseman Scott Morrow (48th). He has a very strong offensive arsenal as he's above a point per game average with 21 points in 15 games. He's a great skater and is very mobile as he uses the whole ice surface when having control of the puck.
At the World Juniors, I thought that Daniil Chayka would be one of Russia's top performers. Kirill Kirsanov (65th) had a good showing for Russia at the tournament with a scout saying that he stole Chayka's thunder as the go-to defenseman. Though he may not have high offensive upside, he's very sound defensively with great positioning in his own zone. He could be really great as a third-round pick or even as a second-round pick. 
The Chicgao Steel have done a fantastic job in developing it's players for the NHL draft. Matthew Coronato (36th) has been nothing but outstanding for the Steel this season, recording 40 points in 19 games. Coronato can do it all. He has great vision to create plays and locate his teammates, while also possessing great speed to charge his way into the offensive zone. Last season, the attention was on names like Brendan Brisson, Sam Colangelo and Sean Farrell. This time around, all eyes are on Coronato.
Who are you keeping an eye on for the 2021 NHL Entry draft? Have your say in the comment section.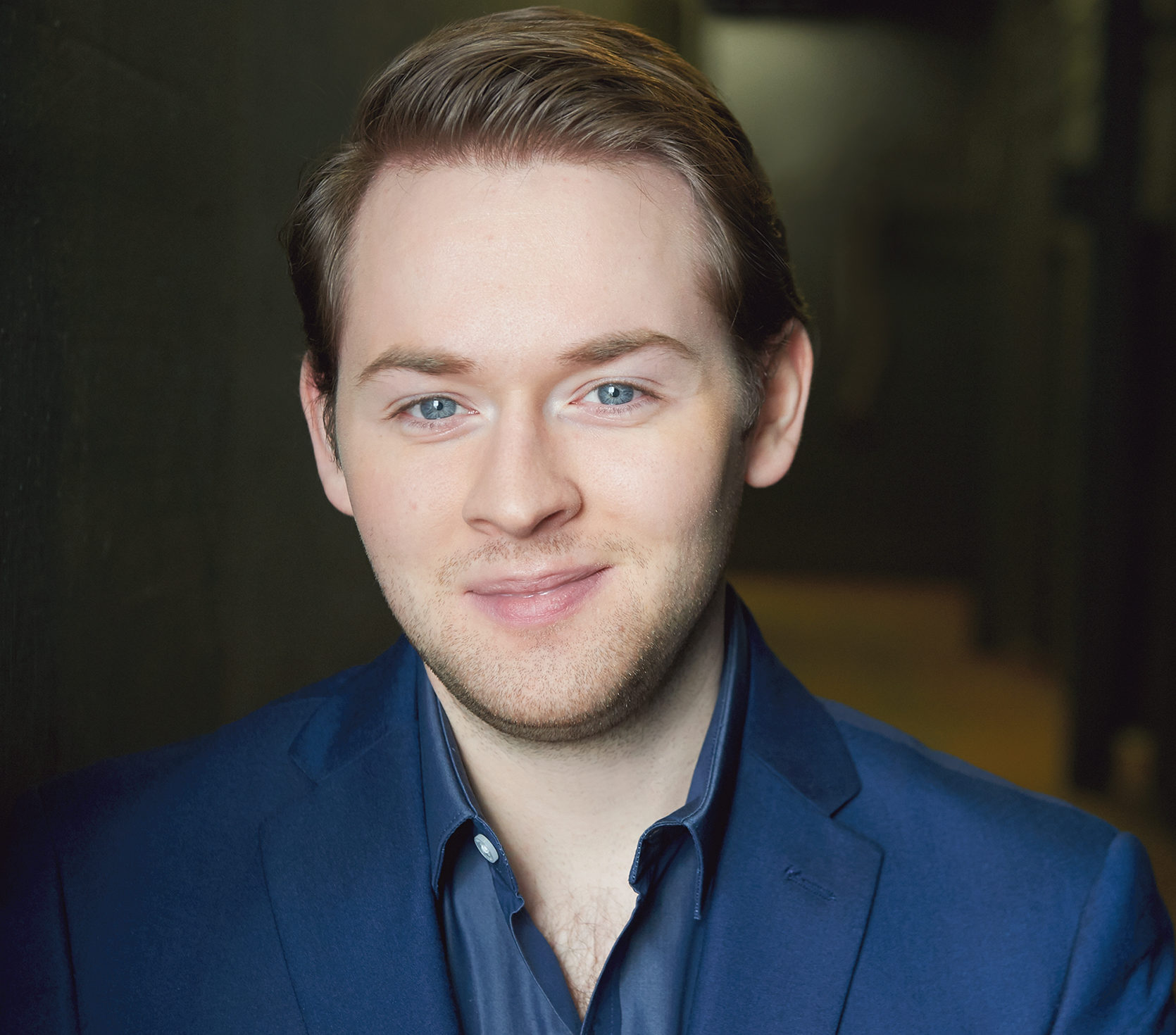 Peter is in his third year with The Hockey Writers, covering the Toronto Maple Leafs and heading the Draft and Prospects section. He has previously interned at The Hockey News and worked on Toronto Marlies broadcasts for Rogers TV. He currently is the co-host of the podcast Sticks in the 6ix and a frequent guest on Maple Leafs Lounge. Aside from hockey, he also enjoys drumming, animation and impressions/ voices.