So let's really stretch and assume the St. Louis Blues will make another premature exit in this year's playoffs. Crazy thought, right? Well, the Blues have three fully capable goalies in tow right now in Brian Elliott, Martin Brodeur and Jake Allen — all three of whom are competent NHL starters. But the elephant in the room is as pink as it gets; who starts come Spring and whomever it is, if they can't get it done, is it time to start looking at alternate solutions for starters? With the glut of plausible options both now and after this season, management needs to come to grips with the idea that whichever duo emerges is what they've got — and to start moving parts of a core that clearly has issues getting it done.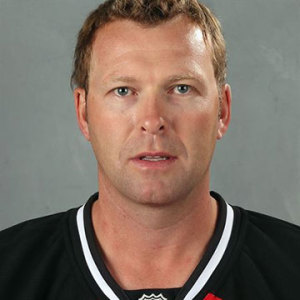 This Blues team is in an unusual position
The Blues are in win-now mode, whether or not that's officially been declared. The Ryan Miller trade made that obvious, but the team also has a young goalie of the future in Jake Allen. One could make a reasonable assumption that the primary reason Brian Elliott is still in St. Louis is to guide this iteration of the team to a Cup, then gradually hand it all over to Jake. That's a solid game plan, but it seems the franchise is hell-bent on playing Allen or Brodeur, regardless of whether Elliott is "healthy" enough (the Blues were tired of unsure health issues with Halak, a primary reason he was shipped out over Elliott other than salary) to play. By all rights, Elliott should retain the starter's role, Brodeur gets traded and the world spins on its axis as God intended. However, the team finds itself in a quandary — does it develop Allen with its sights set on developing the kid long-term, potentially at the expense of short-term success? The window to win for most teams outside of Detroit is usually small, hence the addition of Brodeur as opposed to another stopgap option with far less experience and fan appeal. Should Elliott get dealt, Allen play like a rookie and Brodeur get shipped out or fail, does the team do what it's traditionally done and look, yet again, for another savior?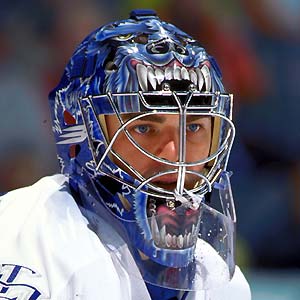 Who could help the Blues if this trio can't?
The scuttlebutt is already swirling around San Jose and Arizona regarding their scapegoat/underachieving starters, in that order. Obviously both Antti Niemi and Mike Smith are (or will be) available for the right price, whether a second round pick or a water bottle caddy, depending on how the season ends up. Moving outside those obvious options, the Blues could look to Josh Harding, the Wild cast-off that has struggled with MS and temper issues. The kid has amazing potential, but again the team potentially walks into a situation where health is yet again a factor. Niemi has won a Cup on a stacked team, so a compelling argument could be made that he can get the job done on another loaded squad in St. Louis. Smith, ironically like his current partner Devan Dubnyk was in Edmonton, is on the outs because he's played just poorly enough to look like most of the problem in Arizona. The fact names like this come up as "solutions" illustrates the sad truth is the goaltending market is pretty thin, short of overpaying for a proven starter. Allen and Elliott, if both hit free agency at the same time, would be targeted immediately and aggressively. These non-options make it clear the Blues will have to address coaching or moving core elements they've allowed to stay, instead of their usual tactic of pinning things on goaltending.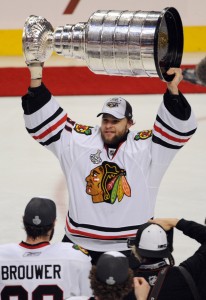 True power teams win regardless of who's in net
Look no further than Chicago if you need proof. Niemi and current incumbent Corey Crawford are not exactly Jon Quick and Henrik Lundqvist, yet both have Cups, primarily because they didn't need to do anything beyond their job. Some teams need a hero to maintain their Cup dreams. The Blues are not, at least on paper, one of those. The Kings won at times due to and in spite of Quick, but that's the way it should be. Fans in St. Louis should expect a deep run with any of the Blues current goalies. Sure, Allen is young but he's very good, the winner of the AHL's Vezina Trophy equivalent. There are questions about his ability to perform under pressure, given the Chicago Wolves' early playoff and getting pulled in game seven of the World Juniors. Those are growing pains, but also have numerous factors external to his raw talent. Brodeur is a proven winner, with his desire and competitiveness overcoming his age. Elliott has put up numbers in the regular season that are Vezina-caliber, and playoff digits that are Cup-worthy if a few recent winners are any indication. Enough's enough — the team, barring catastrophic injuries, is ready for success this year. Anything else and hard decisions regarding coaching and management might be in order.
Freelance writer and public relations practitioner. 20+ years in goal and long-time Blues fan.