In an ongoing series of articles, the Jack Eichel Tracker will monitor Eichel's performance and development in his freshman season at Boston University. As a BU student, I will have the unique opportunity to watch him in person frequently throughout the year. Posts will be done weekly or bi-weekly, depending upon BU's schedule.
Jack Eichel Tracker: Finishing Out the First Half
After going 1-0-1 in a home-and-home with Merrimack, the BU Terriers moved up to #2 in the polls behind Noth Dakota. Before their winter break, they had one more regular season game to play against the Engineers of RPI. RPI is a tight checking team that has given BU trouble in the past, including last season when they defeated the Terriers 3-1.
However, this year RPI had been a team that struggled mightily to score, putting in a paltry 1.53 goals per game. You wouldn't know that watching the first period of the game. RPI peppered the BU net with 18 shots in the first frame as the Terriers came out flat once again, a very troubling trend this season. Thankfully for the Terriers, junior goalie Matt O'Connor was sensational again and turned away every shot.
The Terriers were able to get on the board after a scoreless first half of the game on a shot from the point by John MacLeod. Three minutes later, BU found themselves on the power play. Eichel corralled the puck at the point, and surveyed the ice. The penalty kill played him very softly, giving him time and room to operate. Seeing that, Danny O'Regan was able to slip behind the RPI defensemen to the back-door uncovered. Eichel saw him, and delivered a shot-pass right on O'Regan's tape for an easy tap-in.
Eichel's second point of the night came on a very bizarre play. He dished the puck to defenseman Brandon Hickey in the neutral zone, who dumped it into the corner and chased after it. In the corner, he blindly threw the puck backhanded towards the net. It somehow squeaked through RPI goaltender Scott Diebold, and Eichel got the primary assist.
RPI's offense was able to muster one more goal, but the Terriers added two more themselves to give BU the 5-1 victory. Eichel finished the game with 2 primary assists. He currently leads the nation in points with 27, and in points-per-game with 1.69.
With #1 North Dakota going 1-1 in a series against the Denver Pioneers, the Terriers moved up to #1 in the polls for the second time this season.
Up on the Jack Eichel Tracker is the World Junior Championships, where he will play for the US for the second year in a row. Final selection camp will be held at none other than Boston University from December 16th-19th, culminating in a game between the US and the BU Terriers, with Eichel suiting up for the US. I will be in attendance at practice on Tuesday and Wednesday. Follow me on Twitter for camp updates, lines, and impressions.
A First Half Reflection & Talent Analysis
Looking back at Eichel's first 18 games in a BU uniform, the impact he has made on this team is remarkable. He is the biggest reason that BU went from winning 11 games all of last year to winning 11 in their first 16 games this year. His line has scored 28 goals this season, which is 52% of BU's total offense. Eichel's line has been the team, and Eichel makes his line tick.
Senior Evan Rodrigues is having a strong season, but is the only forward that isn't on Eichel's line that has been great this season. Cason Hohmann has been solid in some games, but hasn't come close to equaling his production from his sophomore year. Robbie Baillargeon, the team's leading scorer last year, has been out with mononucleosis for most of the season. Thankfully for BU, Eichel will miss just one game due to the World Juniors, a matchup against defending national champion Union on January 3rd.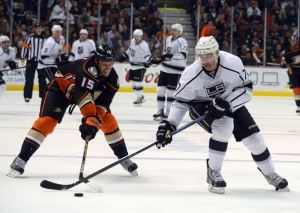 I am often asked what player in the NHL Eichel compares the most to. Eichel himself said he compares most to Jeff Carter, but I don't entirely see it. In truth, there is no current player in the NHL that's a great comparison to Eichel. The comparison to Carter comes from their long, powerful strides that result in exceptionally fast acceleration despite looking like they aren't even trying. Where Eichel differs from Carter is that while Carter looks to shoot first, Eichel often looks pass-first.
When the puck is on Eichel's stick, I think he looks a bit like Ryan Getzlaf. He has exceptional vision, and uses his size and strength to protect the puck from defenders. But right now, Eichel doesn't play with the same mean streak that Getzlaf has. He uses his size effectively, but isn't outright physical.
So, the best comparison I can give is that Eichel looks like Jeff Carter skating, and Getzlaf when he has the puck on his stick.
Previous Editions of the Jack Eichel Tracker
Part I: A Dazzling Debut (5 Assists vs. St. Thomas)
Part II: Matching McDavid (2 Goals, 2 Assists vs. UMass Amherst)
Part III: Torching His Former Team (2 Goals, 1 Assist vs. USNTDP)
Part IV: Going Streaking (2 Goals, 3 Assists vs. Michigan State, Michigan, and Providence [2 games])
Part V: Head to Head with Hanifin (1 Goal, 3 Assists vs. BC & UConn)
Part VI: Manhandling Maine (2 Goals, 4 Assists vs. UConn & Maine [2 games])
Part VII: Peaks & Valleys (1 Goal, 5 Assists vs. Harvard, Colgate, Dartmouth & Merrimack [2 games])
Bill Schoeninger is a Philadelphia Flyers writer and current Boston University student studying business. Coming to THW from Hometown Hockey, Bill follows and writes about the Flyers, Boston University Terriers, and NHL Draft prospects. Follow him on twitter @BSchoeninger17