In an ongoing series of articles, the Jack Eichel Tracker will monitor Eichel's performance and development in his freshman season at Boston University. As a BU student, I will have the unique opportunity to watch him in person frequently throughout the year. Posts will be done weekly or bi-weekly, depending upon BU's schedule.
Jack Eichel Tracker: Domination of UMass Amherst
Just as Connor McDavid and Jack Eichel played at the same time last Saturday, the two suited up for the Otters and Terriers on Friday night. Last week, McDavid managed 2 goals and 2 assists in a 7-3 win, and Eichel notched five primary assists in a 12-1 throttling of the St. Thomas Tommies.
Eichel's debut was impressive, but it came against a Canadian university that was nowhere near the competition that Eichel will be facing in Hockey East. Eichel got his first shot at Hockey East on Friday night against UMass Amherst. UMass is not a powerhouse team (they went 4-13-3 in Hockey East last year), but represented a good test for Eichel.
Perhaps Eichel has a sixth sense of what Connor McDavid is doing in his game, and elevates his even further accordingly. Friday night, McDavid notched another 2 goal, 2 assist game against the Kitchener Rangers. The ball was in Eichel's court to respond.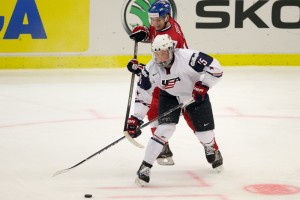 On Friday, Eichel skated on a line with center-turned-wing Dan O'Regan, and defenseman-turned-wing Ahti Oksanen. The line has been dubbed the OREO line, after the first letters in the last name of each member of the line (O'Regan-Eichel-Oksanen). Eichel previously skated with Oksanen and Evan Rodrigues, so it took a bit of time for the line to gel and adjust.
The Terriers took a 2-1 lead heading into the third period. They had played well, outshooting UMass by 7, but weren't dominating as they had last week. However, all of that changed in the final stanza.
Less than two minutes in, Eichel forced a turnover in his defensive zone, and dished the puck to fellow USNTDP product Brandon Fortunato. Fortunato rushed the puck up ice to the neutral zone, and hit a cutting Eichel with a nice pass as Eichel entered the offensive zone. When he reached the top of the dots, he unleashed a laser that beat UMass goalie Steve Mastalerz on the stick side.
Later that shift, Eichel corralled a loose puck along the boards in the offensive zone. As he cut towards the net, both UMass defensemen cheated towards him, as defenders are wont to do against Eichel. Eichel drew them towards him, then dished a pass to a wide open O'Regan who made it 4-1 Terriers. The onslaught was on.
This goal in particular was a great example of Eichel's all-around offensive skillset. He could have taken a shot here, but instead baited the defenders towards him. As soon as they had over-committed, he dished the puck to his wide open teammate. There is no way to defend him at the college level. You have to either hope your goaltender can save his shot, or double-team him and pray he doesn't find an uncovered teammate. The below came right before he made the pass to O'Regan. Notice how both defensemen are paying full attention to Eichel.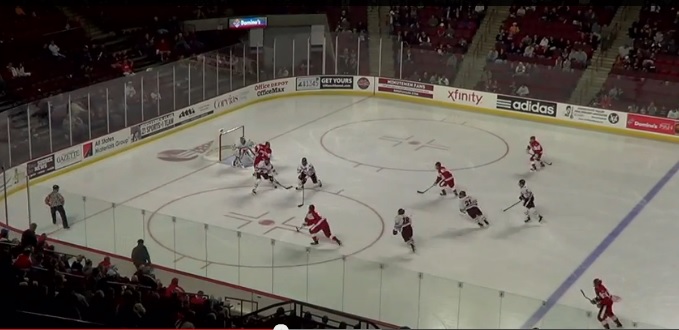 Four minutes later, the OREO line went in on a 3-on-2 against the UMass goaltender. Eichel held the puck along the far boards as he surveyed the ice and allowed his teammates to get open. Mastalerz was reading pass the whole time, as Eichel was staring at his linemates as they both moved towards the slot. Eichel then released a quick shot from the dot that beat Mastalerz on the short side. Eichel had 2 goals and an assist in just over six minutes of play in the third period.
Eichel strikes again! 3 points (2g, 1a) in 4:08 pushes the lead to 5-1. #GoBU pic.twitter.com/BmRoRJYWfK

— BU Men's Hockey (@TerrierHockey) October 11, 2014
With less than 8 minutes left in the game, Eichel was able to force a turnover in the neutral zone as UMass was attempting to break the puck out. A nice stick check jarred the puck loose, and he dished it to Evan Rodrigues. Rodrigues went streaking down the wing, and made a pass to Cason Hohmann, who put it in for BU's 6th goal, the one that sent Mastalerz to the bench. BU would go on to win the game 8-1.
All four of Eichel's points can be found below, occurring on four consecutive goals.
Eichel finished the game with the same stat line as McDavid, 2 goals and 2 assists. That gives him 2 goals and 7 assists in 2 games on the year. The scary part is that coach David Quinn didn't think the line played very well in the first two periods. Yet, they had a combined 9 points between them when all was said and done. Eichel then offered his thoughts on the game, and how it felt to score his first goal.
Up Next on the Jack Eichel Tracker: Eichel will face his former teammates at the USNTDP in an exhibition game next Saturday. Expect another Jack Eichel Tracker update after that game.