With the National Hockey League taking a couple of days off, and yesterday's report covering the Russia – Canada exhibition game, today we'll go over Sunday's NHL games and report on a potpourri of other news around the hockey world.
In Sunday's three NHL games, Montreal staged a great third period comeback to edge Boston 5-4, Toronto scored with one second left in the game to tie New York 3-3, and Denis DeJordy's stellar goaltending powered Chicago to a 5-0 win over Detroit.
Bruins led 4-1
In Boston, after a scoreless first period, the Bruins scored four times in the second  to grab a 4-1 lead over the Habs.  Reg Fleming, Tommy Williams, Ted Green and Dean Prentice counted for the Bruins, with Gilles Tremblay getting Montreal on the board.  This set the stage for the Canadiens' dramatic third-period resurgence.
Dave Balon started things off at the 9:54 mark with his first of two goals on a nice pass by Claude Provost.  Provost set up three of the four Montreal final frame goals and was their best performer on the night.  At 15:15 Ralph Backstrom brought Montreal to within one goal before Henri Richard tied the score with a minute and 54 seconds left on the clock.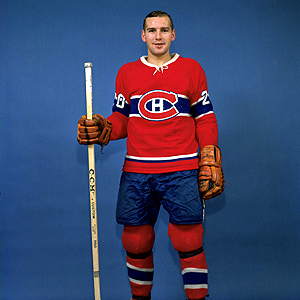 With 51 seconds left to play, Balon netted his second of the game, thanks to  brilliant work by Provost.  Provost's play this year has been something special to watch, and the veteran right winger is certainly in line for a mid-season  all-star berth.
Habs coach Toe Blake compared this comeback win with one several years ago in Chicago.
"Balon's first goal brought us back to life.  We went to sleep in the second period and they did a little sleeping at the finish."
Clock snafu lets Leafs tie Rangers
In New York, Ron Ellis scored with one second left on the clock to give Toronto its tie with the Rangers.  But that one second was the real story of the game.
During a frantic scramble around the Ranger goal as the Leafs pushed to tie the game, the Rangers desperately iced the puck.  The play was whistled dead but the Madison Square Garden clock, operated by a substitute timekeeper, kept on running and time expired, giving the packed house of 15,092 the idea that the Rangers had hung on for the win.
Referee Friday, however,  was having none of that, and ruled that  six seconds had elapsed after the whistle had been blown, and ordered that final time be put back on the clock.
Red Kelly won the crucial draw and fired a quick shot at Rangers goalie  Jacques Plante, who batted the puck away.  Dave Keon recovered it and drove the puck back at the net.  Plante stopped that attempt but Ellis won the race to the rebound and slipped it into the goal for the tie.
Ranger prez Jennings furious
Ranger president William Jennings, the most vocal NHL governor on the subject of league officiating, declared that the minor officials at the Rangers' home rink were going to be out of jobs.
"This is another example of National Hockey League officials and the minor officials in this building giving Rangers the works.  We can't do anything about the NHL officials – but we are going to get new minor officials for this building."
New York general manager Emile Francis was no less disappointed than his owner.
"Time had run out but Williams (substitute timekeeper Dave Williams)  was slow reaching for the switch to sound the buzzer and end play.  It was a tragic mistake by our own officials.  We couldn't have gotten any more out of our guys if we'd held a gun to their heads.  They gave us a big game and deserved to win.  Our own timekeeper messed things up at the finish, but it was an NHL official – linesman Walt Atanas – who missed an offside call on the second Leaf goal (by Keon)."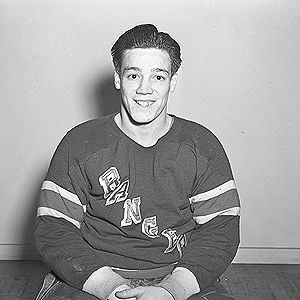 Ranger coach Red Sullivan got into the spirit of things and blamed Atanas and Friday for the loss.
"That Atanas is the world's worst linesman.  Ellis was 10 feet offside on Keon's goal.  And Friday let the game get away from him and then failed to call a number of penalties against both teams.  The officiating matched our timekeeper."
"What a way to blow a victory.  And, our timekeeper said time had run out before the tying goal but Williams took at least two seconds to hit the switch to sound the buzzer.  What a mess."
In the final Sunday evening contest, Denis Dejordy was spectacular in earning his first NHL shut out in the Hawks' win over Detroit.  DeJordy stopped at 29 Detroit shots directed his way in a wild game that saw referee Frank Udvari call 29 penalties.  Former Red Wing Johnny McKenzie led the way for the Hawks with a pair of goals.
Kelly's wild weekend
Toronto forward Red Kelly had a whirlwind weekend that he won't soon forget.  After fulfilling his duties as the Liberal Member of Parliament for York West on Friday, he left by train for Toronto at 4 pm that afternoon.  However, a  derailment near Kingston delayed Kelly's train and he didn't arrive in Toronto until 4 am Saturday.
Kelly played against the Bruins Saturday night, after which the Leafs were to fly to New York for Sunday's game against the Rangers.  All flights out of Toronto were grounded so the Leafs bussed it to Buffalo, where they caught a train to New York.  Unfortunately, the train had only 10 sleeping berths available for the overnight jaunt, so the players drew lots.  Kelly, as luck would have it, didn't win a berth and was forced to sleep in a seat, until railway staff located an empty bed.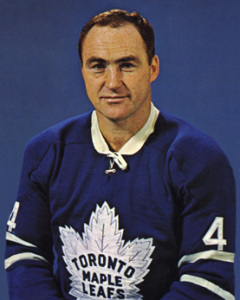 Immediately after the game, Kelly boarded a bus to head back to Ottawa overnight.  He managed to get to his parliamentary seat just in time to vote for closure yesterday in the House of Commons flag debate.  It's likely Mr. Kelly slept very soundly last night.
Brown back, Dornhoefer down
The New York Rangers announced yesterday that rookie defenceman Arnie Brown will return to action Wednesday night against the Detroit Red Wings.  Brown has been out of the New York lineup since he suffered a broken rib on November 17.
The Boston Bruins yesterday sent last year's rookie of the year runner-up Gary Dornhoefer, to the San Francisco Seals of the Western Hockey League.  After scoring 12 goals in 32 games last season, Dornhoefer has not been able to get untracked and has only one goal so far this time around.
Howe's slump is career-worst
The great Gordie Howe is in a slump and the Detroit Red Wings are worried about it.
The Red Wing great has not scored since November 14, a total of 12 games.  That is the longest stretch of games Howe has had to endure without putting a puck past an NHL netminder. His last goal gave him 627 for his career and vaulted him past Rocket Richard to the top of the NHL's all-time scoring list.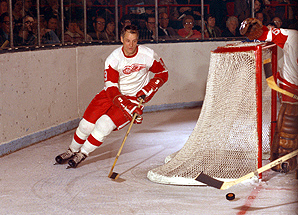 Detroit coach Sid Abel is determined to get his star right winger back on track as soon as possible.
"We've got to get Gordie out of this thing and started somehow.  We are going to sit down before Wednesday's game in New York and see if we can't figure some lineup shift that might help him get going."
Abel is considering moving Howe to a line with Pit Martin and Ted Lindsay.
"I don't know what to do, maybe change his stick.  But we can't keep going without Gordie.  He's the number one man on our team and he has to get going."
Retired police detective, involved in hockey at all levels for over 50 years. Member of Society for International Hockey Research and presently a video analyst for the leader in advanced hockey analytics (we work exclusively for 2 NHL clubs, and provide advice on an ad hoc basis to many other clients). Currently the Assistant General Manager for the Pelham Pirates of the Greater Ontario Junior Hockey League. Previously owned the Faceoff computer hockey simulation and also provided all player ratings for the EA Sports series of NHL computer games from the late 90's into the mid 2000's.