On Saturday morning, New Jersey Devils President and General Manger Lou Lamoriello announced the hiring of former Devil associate coaches Adam Oates and Scott Stevens. Lamoriello also announced that he would be going back behind the bench for the third time in his career with brief stints back in the 2005, and 2007 seasons.
The news comes a day after the firing of ex-head coach Pete DeBoer, and the morning of a game against top rival, the New York Rangers. Associate coach, Dave Barr has also been released from the organization.
There was rampant discussion late last night pointing to Paul Maclean taking over as Devils head coach. However a number of things would have needed to happen seemingly overnight; Lou would have needed to gain permission from the Ottawa Senators to speak with Maclean because he's still on the Senators payroll. Consequently, getting the permission, and then conducting a formal interview would have been very time-consuming, which made bringing in Adam Oates and Scott Steven a much easier choice for Lamoriello.
The Devils need permission to speak with Paul MacLean because he is still on Ottawa's payroll. No that wouldn't be a problem. #Sens

— Bruce Garrioch (@SunGarrioch) December 27, 2014
The MacT Look
The initial reaction I received to the move was it was underwhelming.
Technically there still isn't an official head coach as Lou didn't feel it was fair for someone to take over with the team playing like it is. Lou felt that there needed to be a combine effort from the now six, count them, six coaches consisting of the latter Oates, Stevens, and Lou, to go along with Tommy Albelin, Mike Foligno, and goaltending coach Chris Terreri.
If anything, it almost looks like a football coaching staff. Lou stated that Adam Oates would be running the forwards kind of like an offensive coordinator, and Scott Steven will handle the defense like a defensive coordinator. Then there's all the special teams work in which Mike Foligno should get a bigger hand in along with Tommy Albelin.
Lou has said in the past that he has absolutely no interest in coaching full-time, and this is no different. The move to the bench feels a lot like what Craig MacTavish is doing with the even worse off Edmonton Oilers; as after MacTavish fired ex-head coach Dallas Eakins, MacTavish took to the bench alongside new official interim head coach Todd Nelson. MacTavish said almost identical wording to what Lou said in which they will be behind the bench for as long as needed to grasp the situation from a closer standpoint.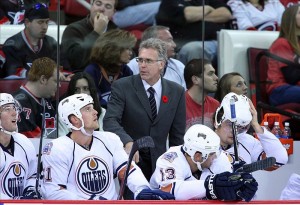 Adam Oates's Impact and Forward Development
In a sense we know what Adam Oates can bring to a lineup from a coaching standpoint, and nobody should be happier about the change than Adam Henrique. Henrique is in the mist of a solid season for New Jersey, as in 29 games, Henrique has posted nine goals and 20 points. The reason I'm referring to Henrique is because he blossomed under Adam Oates' tutelage during his rookie season where he was a finalist for the Calder Trophy. Henrique was forced to move to a number one center spot between, then, Ilya Kovalchuk and Zach Parise. Oates helped Henrique drastically adjust to his new role, and help turn him into the player we see today.
One of DeBoer's criticisms which I will whole-heartedly agree with is his inability to develop young forwards. Now obviously a part of that comes from poor drafting over the past several years coming from chief head scout David Conte and Lou himself. However, the fact that the only first round pick to have any significant impact with the team is Travis Zajac (20th overall in 2004) isn't good of the overall health of the organization.
Strictly in the DeBoer era; aside from Adam Henrique, who went through the pipe-line and succeeded, Jacob Josefson, Mattias Tedenby, Reid Boucher, and Stefan Matteau are all closing in on 'bust' territory, with Tedenby hitting that status last season. One of DeBoer's sayings is that there was a lot of opportunity given, but anyone who watched with a closer eye saw these players glued to the bench for the majority of games, and rolling with fourth-line minutes, even sometimes less.
Scott Stevens Philosophical Ideals
What's more interesting is the addition of Scott Stevens back on the coaching staff. There were multiple reports which surfaced after Stevens resigned from his associate position at the end of last season that there were many philosophical differences between himself, and that of Pete DeBoer. There was also an apparent concern with hard travel schedule, but considering Stevens willingness to retake his position with a DeBoer-less bench, I doubt that was a main reason.
With DeBoer officially out of the picture, Stevens can come back in and truly teach the Devils plethora of young defensemen his style of how to play hockey. Naturally there have been some growing pains; Damon Severson has had the burden of filling a vast amount of ice-time averaging over 23 minutes per-game, and simply learning by playing. Now while he's played very well, don't get me wrong, however, there's are also natural deficiencies to his game in which Stevens can help him hammer out.
There are also the other young defensemen such as Eric Gelinas, Adam Larsson, Jon Merrill, and Seth Helgeson who will benefit greatly from having only Steven's influence instead of what he's trying to say being downplayed by DeBoer. Specifically Helgeson because he looks and plays so similarly to Stevens himself apart from the superstar skill Stevens obviously possessed.
Overall, when put this way, everything may seem hunky-dory, but for the here and now, New Jersey still has a squad averaging 31 years old. Players are underachieving, and the team is grasping at any loose straws for a chance at a wild-card spot. Hockey's Future ranks New Jersey with the 27th position of all teams in the NHL in terms of prospects, and you can bet that if New Jersey can grab either Jack Eichel, or Connor McDavid in the 2015 Entry Draft, they move up at least 10-15 spots on that list.
Like/Dislike? Leave a comment on what you think of New Jersey's three-pronged attack!