On Friday afternoon, the New Jersey Devils announced that Pete DeBoer, who had been the Devils head coach since the start of the 2011-2012 season, has been relived of his duties with the team.
New Jersey currently sits tied for seventh in the metropolitan division with the Columbus Blue Jackets at 31 points (12-17-7). They are also nine points out of a playoff spot, with the New York Rangers and Washington Capitals tied for third in the division with 40 points.
Devils Awkward Situation
The move doesn't come as much of a surprise as the team had been in a real rut as of late with the numerous amount of injuries which has ravaged the team. Along with that, the Devils have been seemingly inept at scoring goals for the entire season barring their three-game win streak they opened the season with.
There's also the shootout… enough said on that topic…
Throughout his time with New Jersey, DeBoer has compiled a 114-93-41 record. His 114 wins are second in Devils history with their leader being Jacques Lemaire at 276 victories.
Pete DeBoer has only taken a team of the playoffs once in his coaching career. The 2011-2012 Devils made it all the way to the Stanley Cup Final while defeating rival Philadelphia in five-games in the Eastern Conference Semi-Finals, and the New York Rangers in six-games in the Eastern Conference Finals, before bowing out in six-games to the Los Angels Kings.
After that epic playoff run, everything had gone down-hill for New Jersey. Devils one-time captain Zach Parise left via free-agency before the lock-out shortened season. Ilya Kovalchuk and David Clarkson followed in his footsteps, with Kovy returning home to Russia, and Clarkson also going home to the Toronto Maple Leafs.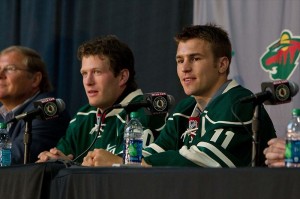 New Jersey has tried to replace them by signing a plethora of player like Ryane Clowe, Michael Ryder, Damian Brunner, Jaromir Jagr, Marty Havlat and Mike Cammalleri. However only Jagr and Cammalleri have proven their worth as Clowe has been plagued by concussions, and at this point should consider retirement. Ryder has been as inconsistent as anyone on the team, Marty Havlat has been average at best, and Brunner had his contract terminated two-weeks ago. The Devils also traded for Tuomo Ruutu but he hasn't produced much.
I like Peter DeBoer. I like Lou Lamoriello. But I don't know who could coach that roster and succeed. This is Lou's team and it's a mess.

— steve simmons (@simmonssteve) December 26, 2014
To make everything worse, General Manger Lou Lamoriello recently confirmed that Patrik Elias is confirmed with the dreaded Mumps, while Marty Havlat is ill with a virus. Both are out for Saturdays division showdown at Madison Square Garden, against the New York Rangers.
Was It DeBoer's fault?
The question is, did DeBoer deserve to be fired?
Ever since the Devils slowly began progressing to this stage, I have always been in Pete DeBoer's corner. It's plainly obvious that New Jersey simply doesn't have the core talent to succeed in this league. Unfortunately in these kinds of situations, the coach is usually the first domino to fall and that's what happened in this case. DeBoer found himself in seemingly the same situation when he was released from the Florida Panthers. Florida had even less talent on their squad at the time then the Devils do now, and DeBoer was shipped out because of poor results.
Pete DeBoer is probably the unluckiest coach in the NHL. When he got to New Jersey, the Devils were set up to succeed not only that season, but in the season's ahead as well. However, even after a trip to the Stanley Cup Finals, in his only playoff appearance, DeBoer still found himself on the short end of the stick two years later.
I will continue to defend Pete Deboer because when he had the talent, when he had Zach Parise, Ilya Kovalchuk, David Clarkson, and everyone else playing at their best, he had a surprisingly feared team in the NHL, that could seemingly overcome almost any deficit late in games. Parise was the perfect captain for DeBoer, he and Kovy had a great relationship, but those things didn't last, and in the long-term, it cost him his job.
Hopefully wherever DeBoer goes next, he has the talent to succeed because God knows this guy deserves it.
Who Will Follow In His Footsteps?
So with DeBoer officially out as head coach, and with Lou already stating that there will be no official announcement until tomorrow's matchup against New York, who will be the new head coach of the Devils?
I hope, as many Devils fans should, that Paul Maclean will get a shot as Devils head coach.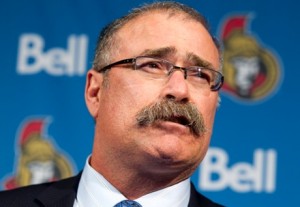 What makes Maclean an interesting choice is that he's been around the block. He's coached along-side Mike Babcock in Detroit for several years, and even though his exit in Ottawa wasn't the smoothest, he still brought them to the playoffs twice, and won the Jack Adams award for coach of the year in 2013.
New Jersey hasn't had a Jack Adams winner since Pat Burns, and we all know how that ended with the Devils winning their third Stanley Cup in nine years. Now Paul Maclean isn't Pat Burns, however he's a coach that is known for his ability to bring the best out of his players. During the lockout-shortened season, Ottawa had many injuries, specifically to Jason Spezza, Erik Karlsson, and Craig Anderson who was playing like a Vezina caliber goaltender before his injury. The team quickly embraced a motto known as the 'Pesky Sens' which worked out great for them as they not only made the playoffs, but knocked off Montreal in the first round before losing in five-games to the Penguins.
There are so many players on the Devils that aren't playing up to their potential, and although perhaps the talent isn't there like it used to be, the players that are there, aren't producing like they should. A new voice like Maclean could definitely help New Jersey at least somewhat get back in the playoff race.
Other possible names to look-out for are; Dan Bylsma, Guy Boucher, and former Devils head coach Brent Sutter.
Like/Dislike? Leave a comment on what you think about New Jersey firing DeBoer!
Corey Spina lives in Wayne, New Jersey. He is a senior at Centenary College, and is majoring in Communications/Journalism. Corey is in his second season covering the New Jersey Devils for The Hockey Writers, he completed a sports journalism internship with TAPinto, and he is the Host/Producer of the Sports Buzz on WNTI.org.