by Eldon MacDonald (edited by @ChrisRalphTHW)
Let's face it, most of the big-name big forwards over 6'2 not named Dylan Strome are having a hard time living up to lofty preseason expectations. The hockey scouting world is always enamoured with the tantalizing combination of size and skill. With a ton of hockey yet to be played, there remains ample time and opportunities for these young guns to match their on-ice performance to their immense potential. All five of the following forwards are ranked in the first round in the 2015 NHL Draft War Room Top 100 Rankings.
From THW's NHL Draft War Room, here are the top five big man forwards over 6'2":
(Overall December War Room ranking in brackets from NHL Draft Ultimate Prospect Tracker; stats through Dec. 20th)
1. Dylan Strome (4th overall from 19th pre-season)
Erie, OHL – C, L, 6'3, 187 (34-21-43-64)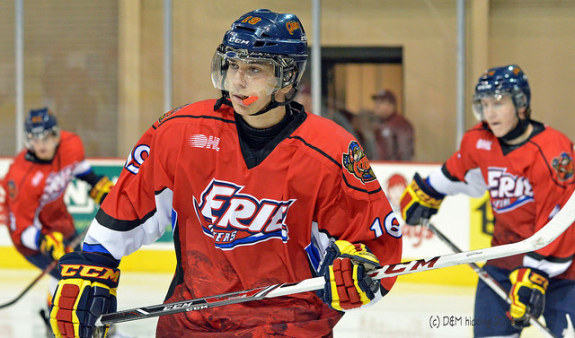 I had Dylan Strome at 19th for pre-season rankings because of uncertainty if he would produce big time offense. His pre-draft season was just ordinary at 29 points in 60 games and he seemed to be always hurting from one injury or another. This season, however, Dylan Strome elevated his game to a totally different stratosphere just like his older brother, Ryan Strome of the New York Islanders, did in his draft year. Not only did he elevate his game, he is now the leading scorer in the CHL and will push Noah Hanifin hard for 3rd overall.
Watch him score two goals against Ottawa on November 1st, 2014.
Dylan Strome plays such a cerebral game. Slows things down, waits for things to develop. Such a poised player, no panic

— Sean Lafortune (@SeanLafortune) December 7, 2014
2. Pavel Zacha (6 from 7 pre-season)
Sarnia, OHL, C/LW, L, 6'3, 210 (21-9-10-19)
Pavel Zacha still may not know how good he really is. Two parts of his game are already world-class: his Milan Lucic style body crunches which have already netted him three suspensions and his wrister – velocity, release, accuracy – all top-notch. The rest of his game is still in the developmental stage. However, I have no doubt it will present itself as NHL class as the season wears on – a big-bodied center with separation speed, good hockey sense and passing ability is something that team's drool over. He's a key forward on Czech Republic's entry at this year's World Juniors.
Watch one his wristers and one of his hits to see why NHL teams are so high on this guy.
Pavel Zacha (@Pavel_Zacha) of @StingHockey has made a smooth transition to North America. Feature: http://t.co/x9FlJFrVQG #NHLDraft

— NHL Public Relations (@PR_NHL) December 11, 2014
3. Evgeny Svechnikov (11 from 16 pre-season)
Cape Breton, QMJHL, LW, L, 6'3, 205 (24-11-20-31)
Evgeny Svechnikov is that Russian enigma; He started out very well – his big body, excellent skating and passing suggested he might even be a grade up on the last big Russian star-winger, Valeri Nichushkin (Dallas – 2013 – 10th overall). Then, he and his team (the Cape Breton Screaming Eagles) cooled off considerably and his performance wasn't impressive playing for Team Russia in the Subway Super Series. Where he goes from here is a mystery. He will have to bring back that early season success and more consistency to his game to maintain his lofty ranking; however, the talent is there.
http://t.co/NpWH0tZaAn
#20 Evgeny Svechnikov
Dangerous offensive threat with a heavy, accurate shot & smooth hands. Potential gamebreaker.

— ISS Hockey (@ISShockey) December 23, 2014
4. Lawson Crouse (13 from 21 pre-season)
Kingston, OHL, LW, L, 6'3, 200 (24-12-4-16)
Everybody loves Lawson.
Bob MacKenzie's pre-season poll of ten NHL scouts had him fifth overall; Hockey Canada invited him to their 2014 WJC U20 selection camp, the only first year draft eligible other than Connor McDavid and many other of the latest rankings him in their top ten (and he proceeded to make the final cut). Just for the record, I love Lawson Crouse as well. The issue with Lawson Crouse is what do you pay for him come draft day? He is that power forward with good skills, a good work ethic and a willingness to do what it takes to win – the type of player all teams covet. However, OHL blogger, Brock Otten said it best when he said "he (Lawson Crouse) does remain primarily a complimentary offensive player, who'll need to learn how to create his own chances more consistently". For me that means Lawson is more likely to be drafted in the teens rather than the top ten. However, just a little more scoring and the sky is the limit. Here is a sample of that scoring ability.
Lawson Crouse will and should be on this team. Excellent first from the big man. Effort is off the charts. Outplaying his peers.

— Brendan Ross 🇨🇦 (@RossyYoungblood) December 20, 2014
5. Jordan Greenway (22 from 12 pre-season)
US U18 NTDP, C, L, 6'5, 222 (19-2-12-14)
The NHL's Direct of Central Scouting, Dan Marr says, "He's (Jordan Greenway) been pegged as an A candidate, and as I've told him he can't be playing any B-rated games. The knock on him is that he has the A-rated talent but at times plays like a B player, and he can't do that. He needs to consistently bring that A game to the table and he's done that this year." I think Dan Marr is being a bit kind to Jordan in his statement because if he was bringing his A-game all the time his results would be vastly better as Jordan can be that good. Jordan can be that big power forward, huge at 6'5 and 222 lb. with a high degree of athleticism and the ability to go hard to the net and punish you on the boards. If Jordan can display his A-game on a consistent basis, you are looking at a top 10 pick.
Jordan Greenway (B.U. commit) is like The Hulk – Pedrie caught him with his head down and Greenway just bowled right over him #2015draft

— Ryan Kennedy (@THNRyanKennedy) November 15, 2014
More from the 2015 NHL Draft War Room "Top Five" Series
Chris is THW's senior draft/prospect analyst and a Managing Editor. Watch for "The Next Ones" Prospect Profile series, exclusive rankings, mock drafts, as well as the annual THW NHL Entry Draft Guide. Follow @ChrisRalphYQ on Twitter as he infiltrates, dissects and analyzes all happenings of hockey prospects and the NHL entry draft. Email: cralph[at]thehockeywriters[dot]com