It's the same old, same old for the Carolina Hurricanes. The organization is once again near the bottom of the standings come Christmas time. The powerplay, which was Top 10 in the league a month ago, has hit a bad stretch that's seen the ranking drop to 19th and falling fast. And the defensive group, while mostly composed of different players from years past, has that good old Hurricanes ineptitude that seems to strike at the most inopportune times. It's re-arranging deck chairs on the Titanic, same house with a different coat of paint, same stuff, different day.
There's one position that Carolina has seen a tremendous improvement, and it comes mostly from the one player that was essentially written off just last year. Cam Ward and Anton Khudobin have been playing outstanding hockey, giving the Hurricanes a chance to win every night. Yet, the team has lost 13 of the past 17 games. How can this happen?
Goals Are Hard to Come By
Last night's 2-1 defeat against Tampa was the 20th time that the Hurricanes have allowed two or less goals. It was also the 11th time this year that the Hurricanes have lost the game despite allowing two or less goals. After a 1-0 loss to the Rangers last week, head coach Bill Peters summed up the frustration that the coaches, players, and fans are going through.
"We struggle to score, period. When you get a good goaltending performance, you'd like to get a point, if not two, out of it," Peters said. "Dobby [Anton Khudobin] has done that for us a few times this year, but unfortunately we haven't scored enough for him. It's frustrating, for sure."
Cam Ward has also been the victim of the lack of goal support. Since the first of November, Ward has posted a 2.05 GAA and a .927 SV%, a statline that should produce much more wins than losses. Yet his record during that time is 9-10-1, thanks in large part to the team scoring only 47 goals in those 20 games. Khudobin has even worse support, getting only 16 goals of support in his 11 games, leading to a 1-8-2 record on the year.
This leaves a very small margin of error for the goaltenders if the team wants to leave the game with two points. The margin becomes even smaller when the team in front of the two goalies seems to attempt everything possible to allow a goal against.
Redemption at the Worst Possible Time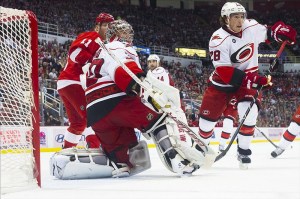 Cam Ward, in particular, must be feeling the frustration this year. For the past few seasons, he's struggled with injuries, consistency, and confidence issues. His save percentage hovered around .900, his goals against around 3.00, and the losses piled up. He lost his starting job to Khudobin, and trade rumors surrounded the goaltender. During a game broadcast this year, Ward admitted that he received a call from general manager Ron Francis telling him not to expect to be in a Carolina uniform come October.
Things didn't work out as planned. Ward's value had dipped so low over the past few years that the only way that he appeared to be movable was for the Hurricanes to package their first round pick with him.
Flames made a trade offer for Cam Ward in exchange for Carolina's 7th pick. Obvious salary dump opportunity. Hurricanes declined.

— Darren Dreger (@DarrenDreger) June 30, 2014
Ward has returned to form this year, and he is, once again, carrying the team on most nights. Yet the redemption must be bittersweet, as it simply means he's returned to being the lone man on an island, watching as opportunity for victory after victory (and possible playoff appearances) slip through his fingers, despite his solid play.
Set Him Free
Though Ward has never given any indication that he wants to leave Carolina, and has stated the opposite on multiple occasions, for his sake, the organization should consider trading him. His value must have risen with his play this year, and with only a year left on his current contract, the team that acquires him won't have to worry about an albatross contract if he doesn't work out.
There are obvious reasons why the organization should trade Ward. The Hurricanes are not a playoff team this year (barring a stretch of 35 wins in 45 games), and the organization has just enough bad contracts to ensure that next year will not be much better. At some point, the Hurricanes will have to move on from Ward and focus on Khudobin or Alex Nedeljkovic for the future of their goaltending position. There's no better time to do that than when they're rebuilding and expected to lose games anyway.
Mostly, Ward should be traded for the good of Ward. Canes fans know how often his career has been overlooked, deemed a "one-year wonder" due to his performance in the 2006 playoffs. Any discussion about his career will inevitably include how "overrated" he is due to the Cup run. Moving him to a bigger market, one with a better defensive group and more offensive support, will allow a larger audience to realize that those that believe Ward's hype comes solely from 2006 are the ones that are stuck in the past.
Jonathan Gardner currently lives in Raleigh, NC and covers the Carolina Hurricanes.