The stats may not show it, but Cam Ward has had a much improved November. After an October that the whole team would like to forget, goaltenders included, it seemed the Carolina Hurricanes were in trouble. Ward was not playing well, and Anton Khudobin, who was one of the few bright spots for the team last year, wasn't performing much better. That all changed on November 1, when Ward stopped 25 shots in a 3-0 victory over the Phoenix Coyotes. The following day, he stopped 30 in a win over the Los Angeles Kings. After that, it was clear that Ward had taken the starting job, and it came as a result of finding a level of play that was missing the past three years.
Throwing Him Into the Deep End
After his Conn Smythe-winning performance in the 05-06 playoff run, the Hurricanes threw all their eggs into the Cam Ward basket. The previous starter, Martin Gerber, left the team after finding out that Ward was going to be the team's new starting goaltender, and journeyman John Grahame took his place. Grahame wasn't the poorest of choices, being only a few years removed from a Cup win of his own, and it was believed that he was still a veteran backup capable of giving Ward some rest, should he struggle in his first year as a starter.
It didn't work out that way. Ward did struggle in his first year, but Grahame did not fare much better. Both hovered around the .900 save percentage (SV%) and the 2.9 goals-against-average (GAA), with Ward playing in 60 games that year. The following year was more of the same. Ward played in 69 games in his sophomore year as a starter, mostly because Grahame posted a .875 SV% and a 3.75 GAA in the games he did play in.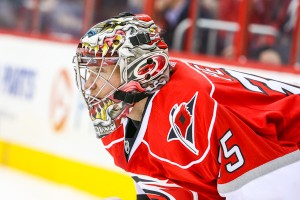 The pattern would continue as Carolina went through backup goalies like wildfire over the course of Ward's career. Grahame, Michael Leighton, Brian Boucher, Manny Legace, Dan Ellis, and Justin Peters have all been the backup goaltender for Carolina before Khudobin. In almost every year, they failed to take any significant amount of starts away from Ward. Outside of seasons cut short by injury or lockout-shortened seasons, Ward has never played in less than 60 games in his career.
Last year, general manager Jim Rutherford discussed Ward amidst yet another injury to the goaltender. Rutherford admitted that they overplayed Ward early in his career, which may have caused some of the injury troubles that he was going through.
By The Numbers
The number of starts shouldn't come as any surprise, given the average performance of Ward compare to the average performance of his backup on any given year.
Ward suffered the first major injury of his career in the 09-10 season, which caused him to play only 47 games that year. In the three seasons prior, Ward had played in 197 out of the 246 games the Hurricanes played, or 80% of the games. A little high, but not an unreasonable amount of starts. His stat line for those three seasons combined was a 106-69-16 record, with a .906 SV% and a 2.57 GAA. His backup goaltenders in 06-07, 07-08, and 08-09 were a combination of John Grahame and Michael Leighton. Their record for the three seasons was a combined 21-27-5, with a .892 SV% and a 3.07 GAA.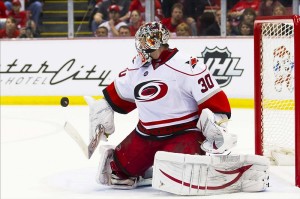 Ward recovered from the injury to play probably his best stretch in his career in the 10-11 and 11-12 seasons. He played in 74 games and 68 games respectfully, or 86% of the games in those two years. This number would be high for any starter, let alone one coming off a major injury the year prior. However, he showed no ill effects from the number of games, posting a 67-49-23 record, with a .918 SV% and a 2.57 GAA. His backup goaltenders for those two years were Justin Peters and Brian Boucher. They posted a combined record of 6-14-4, with a .892 SV% and a 3.10 GAA.
Given the noticeable difference in play between Ward and his backups over these years, the organization had no real option other than to run Ward into the ground, which unfortunately led to the wear-and-tear injuries that seemed to have derailed an otherwise promising career.
Under Heavy Fire
Ward has had a unique career, not only due the extremely high number of games he typically plays, but also because the defense in front of him has generally been reluctant or unable to block many shots from reaching him. The 10-11 and 11-12 seasons tell the story.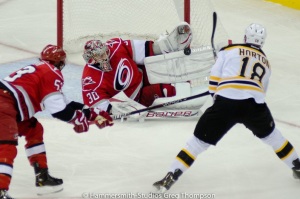 Over the course of those two seasons, Ward faced just over 4500 shots, by far the top of the league in that regard. The next closest goaltender to face that kind of rubber in those two seasons was Carey Price, who faced just over 4000. Ward actually had more saves that season (4152) than all other goaltenders faced in shots. One would have to go back to Roberto Luongo's years in Florida (the first time around) in order to see a goaltender facing those kind of numbers.
To put it in another perspective, over the course of the 10-11 and 11-12 seasons, Cam Ward played in 28 games where he faced 40 or more shots. That is, far and away, the most in the league during that time span. More than Luongo (14), Price (10), Lundqvist (8), Miller (8), Quick (5), Rask (4) and Fleury (3). Even more impressive is that Ward's record in those 28 games was 17-4-7.
It was not just the number of shots against either. The Hurricanes have overworked Ward to the bone. In 08-09, in an effort to make a playoff push, Ward started 28 straight games, from February 7 till April 9. The organization gave him a rest on the final game of the season, then had him start every game in the playoffs. Essentially, 46 games started, with only a one-game break in between. In 10-11, Carolina had 21 sets of back-to-back situations. Ward started both games in those back-to-back sets 18 out of 21 times.
How Ward Got His Groove Back
Though it's early, Ward is looking like he's returned a bit to form. Though he hasn't played as well as his 10-12 form, he's shown flashes of that in the early season. Recovery from the almost constant barrage of injuries he has suffered over the past few seasons could do a lot to explain that, but there is another factor that may be overlooked.
When Ward first entered the league, his goaltender coach was Greg Stefan. Under Stefan, from 2005 to 2007, Ward posted a .892 SV% in 88 games. Tom Barrasso took over as Ward's coach in 2007 and became a scout for the organization in 2012. In the 326 games Ward played under Barrasso, he posted a .915 SV%. Stefan took over again in 2013, where Ward once again posted a sub-.900 SV%.
This year, the team hired David Marcoux, who Ward played under while with the Lowell Lock Monsters in 2004-2005. Though his save percentage has taken a big hit due to a poor October, Ward looks far more comfortable under Marcoux than he did under Stefan. Could the goaltending coach have been a reason for Ward's recent struggles? Ward, ever the professional, put the blame on himself.
"First and foremost this summer I needed to refresh my mental state," Ward told NHL.com. "A lot of my problems last year were trying to think about how I used to play, trying to find that instead of just going out there and playing. Part of me playing on top of my game is when I am not thinking at all, trusting my instincts, trusting my confidence and trusting my ability and reading the play as it goes along. Last year it got to a point where I was worried about everything: Is my glove in the right position? Is my stick? I had to quiet my mind."
Canes Must Be Careful
Since Ward took over as starter this month, he has played in 10 out of the 12 games. It's expected that he will get the start Wednesday night against Florida and at least one of the two games in the home-and-home series against Pittsburgh to end the month.
With Khudobin still struggling to find his form from last year, it will be tempting for Bill Peters to simply start Ward in every game, giving Khudobin the starts in back-to-back situations. He must resist this temptation. It is that kind of thinking that caused the organization to overplay Ward in the first place, and the team cannot afford to have Ward suffer yet another injury. December has only two back-to-back situations, so for the good of Ward, Khudobin, and the future of the franchise, Peters should be giving a few more starts to the backup role next month.