by Eldon MacDonald (edited by @ChrisRalphTHW)
The mid-sized forwards (6'0 to 6'2) have been okay as a group but most have issues of some sort – injury, offensive game or defensive game that has limited their elevation in the prospect's rankings. All five of the following forwards are still ranked in the first round in the 2015 NHL Draft War Room Top 100 Rankings. The two future franchise forwards named McDavid and Eichel were not included in the top five given they are both in another stratosphere in this draft class.
2015 NHL Draft War Room:
Top 5 Average-Sized Forwards (6'0 to 6'2, Not Including Connor McDavid or Jack Eichel)
(Overall December War Room ranking in brackets from NHL Draft Ultimate Prospect Tracker; stats through Dec. 20th)
1. Mathew Barzal (12th from 4th pre-season ranking)
Seattle, WHL, C, R, 6'0, 177 (16-7-11-18)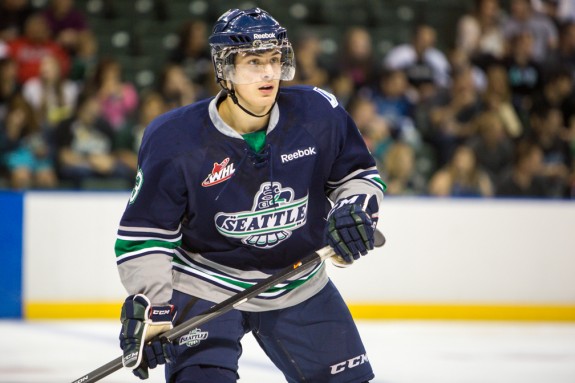 Mathew, I had 4th overall coming out of the gate. I expected him to be this year's Sam Reinhart (Buffalo – 2014 – 2nd overall), a player who out-thinks his opposition as well as having high-end passing and stickhandling skills. However, this year has been just OK for Mathew with just over a point a game, not enough for a modest-sized forward to rate top 10 for me. Why the difference versus expectations? Was it a minor injury or is he just not as good as I thought. Whatever the answer, it will have to await Mathew's return to hockey in early January from a knee injury .
Here is an example of why a lot of scouts like Mathew Barzal.
[Editor's Note: For the record, I am still enamoured with Barzal's potential. As I noted on Twitter in November: "Through 15 @TheWHL GP, contributing on a#WHL best 45.95% of @SeattleTbirds goals for. #THW"]
For your second intermission reading, here is my feature with Mathew Barzal: http://t.co/AIZYwosB7w

— Andy Eide (@AndyEide) October 18, 2014
2. Kyle Connor (17th from 9th pre-season)
Youngstown, USHL, C, L, 6'1, 182 (21-11-15-27)
After a great 2013-14 season and a great U18 tournament last spring, I thought Kyle Connor would start the season on fire. However, Kyle had a rather mundane start to the season with just 18 points in his first 16 games. He has been picking it up of late though as he has put up 9 points in his last 5 games. I think Kyle has turned the corner and you will continue to see the high-end results expected of a player with excellent skating, stickhandling, drive and creativity not to mention a decent defensive game. If Kyle continues on his recent pace, he will be hard-pressed to keep out of the top 10.
Here are a couple of back-to-back goals against the Dubuque Fighting Saints for your viewing pleasure.
Awesome profile from @neatebuzzthenet on #Phantoms fwd @KyleConnor18 and his development in Youngstown & in the @USHL http://t.co/sBENM2GZVC

— Youngstown Phantoms (@YtownPhantoms) October 23, 2014
3. Colin White (18th from 5th pre-season)
US U18 NTDP, C, 6'0, 183 (19-10-10-20)
Colin was 5th in my pre-season rankings as I thought he was poised to produce some high-end offense. While that high-end offense didn't materialize, an all-around player who does all the little things right did. Colin is this year's version of Curtis Lazar (Ottawa – 2013 – 17th overall) or Dylan Larkin (Detroit – 2014 – 15th overall). I expect Colin will end up selected somewhere in the teens like Colin and Dylan did before him.
http://t.co/NpWH0tZaAn
#15 Colin White @colinwhite37
Versatile center who exudes character & leadership through play. Developing skill-set.

— ISS Hockey (@ISShockey) December 18, 2014
4. Daniel Sprong (20th from 15th pre-season)
Charlottetown, QMJHL, RW, R, 6'0, 192 (36-20-20-40)
Daniel Sprong was a player I had high expectations for coming into his draft year. He had an excellent playoff last spring against the Halifax Mooseheads and then when he appeared in camp with an almost NHL sized body (6'0, 192 lb.) I thought top ten was a real possibility. Such has not been the case so far as Daniel has continued the tendency (but to a lesser extent) to be one man show and has not improved as much as I thought he would in spite of playing with much better centres this year (Filip Chlapik or Kameron Kielly). Part of the problem I think is that Daniel Sprong is wound up tighter than a two-dollar watch. You get some sense of this in Sportsnet's interview with his General Manager, Grant Sonier. If he can get this mental issue to his game under control, I think you will see more of that Patrick Kane or Phil Kessel type game that his style has been compared to.
Here are a couple of goals from Daniel against the Moncton Wildcats to give you some idea of his skill level.
[Editor's Note: Sprong is heating up with 9 points in his last 6 games and 4 goals in his last 3 games.]
#ICYMI Daniel Sprong (@sprong97 ) @Sportsnet "Possibilities" clip from @DraftYear https://t.co/PPcd8eWHEJ @IslandersHKY #NHLDraft2014

— 🇨🇦 Jonathan Dunphy 🇨🇦 (@Jonathan_Dunphy) December 12, 2014
5. Brock Boeser (24th from 50th pre-season)
Waterloo, USHL, RW, R, 6'1, 192 (21-12-14-26)
I was admittedly not very familiar with Brock coming into the season. I knew that he had a shot that made him a potential big-time goal scorer but that was about it. A big-time goal scorer he turned out to be. He tied for the goal scoring lead in the summer Ivan Hlinka tournament and continued that success in the regular USHL season with 12 goals in just 21 games. He has that big time shot, quick release and the ability to get into position to utilize it. Normally, I would rate Brock higher than 24 due to his goal-scoring ability but his play without the puck has been disappointing. He plays smaller than his decent size frame (6'1, 192 lb.) would suggest. His team, the Waterloo Black Hawks, has been like the Montreal Canadiens this year – they don't have wins and losses; they have wins and catastrophes and I witnessed some of the latter. I believe that Brock could use some work in the gym on his physical strength so that he could get comfortable playing a more physical style of game on the ice. It will be interesting to see how Brock and the rest of the Black Hawks powerplay do now that their power play quarterback Brandon Montour has joined the University of Massachusetts Minutemen hockey team. He recently won gold with Team USA at World Junior A tournament, scoring a tying goal and setting up Tommy Novak's goal which clinched it:
It took 33 shots, but Brock Boeser ends Sorenson's incredible shutout. Great wrist shot over the blocker. 1-1 with 8 to go in 2nd. #WJAC2014

— Steven Ellis (@StevenEllisTHN) December 20, 2014
More from the 2015 NHL Draft War Room "Top Five" Series
Chris is THW's senior draft/prospect analyst and a Managing Editor. Watch for "The Next Ones" Prospect Profile series, exclusive rankings, mock drafts, as well as the annual THW NHL Entry Draft Guide. Follow @ChrisRalphYQ on Twitter as he infiltrates, dissects and analyzes all happenings of hockey prospects and the NHL entry draft. Email: cralph[at]thehockeywriters[dot]com