Dylan Larkin
THW's NHL Draft War Room Rankings (E-Mac): #22 (Feb 2014)
THW's NHL Draft Rankings – The Next Ones Edition (aka Chris's List): #28 (March 2014)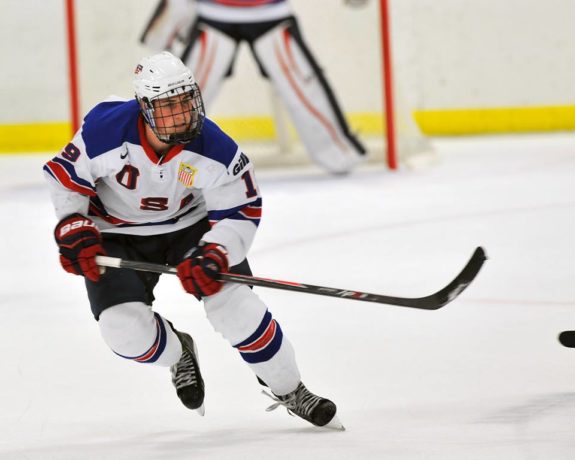 Hashtag: #MrPro
Team: #19, US U18 NDTP, USHL
Position: Left Wing
Shoots: Left
Height: 6'1
Weight: 190 lb.
Born: Waterford, MI, 30-Jul-96
Twitter: @Dylanlarkin39
Stats
Other Rankings
16 – Future Considerations, Feb-14
17 – HockeyProspect.com, Feb-14
19 – Craig Button, Jan-14
20 – Bob MacKenzie, Jan-14
21 – NHL Combined – Mid-term, Jan-14
23 – ISS, Feb-14
Worth Retweeting
A name you better get to know – Dylan Larkin (@Dylanlarkin39). #Wolverines commit impressed at #AAPG. Story: http://t.co/qomUoTT01T

— MiHockey (@MiHockeyNow) September 30, 2013
PHOTO: 2014 Under-18 Five Nations Tournament champions. @usantdp @usahockey #TeamUSA #5NationsU18 #GoUSA pic.twitter.com/pSIymGoP0C

— USA Hockey's NTDP (@USAHockeyNTDP) February 8, 2014
http://t.co/dTmaEKMf2A
#23 Dylan Larkin @Dylanlarkin39
Dangerous quickness & outside speed… Generates offense from high percentage areas.

— ISS Hockey (@ISShockey) March 9, 2014
Profiles
March @FCHockey Newsletter out. Updated 100, Dylan Larkin feature by @CRoatis, Draisaitl report from me and more! http://t.co/lh3kECP4tU

— Zenon Herasymiuk (@ZenonHerasymiuk) March 6, 2014
Quotable
Chris Dilks at SBNCollegeHockey.com, "He's a smooth skater that is very strong on his skates, and while he's not as flashy as Schmaltz, he was nearly as effective in terms of creating offense. He plays like a pro player already. There's become a bit of a bias against NCAA players in the first round of the draft, which could push Larkin towards the very edge of the first round, but he'll be a steal for whichever team takes him."
From the THW War Room
Eldon MacDonald, THW: A few words on Dylan Larkin:

Mr. Pro – Dylan Larkin just looks like a pro. He has that north/south style which would scream "power forward" if only he were just a little bit bigger. Add to that a pro defensive game and a high level of determination and intensity and you know you are making a safe draft choice with this guy.
Skills – Skating, passing, combined with those intangibles called drive, grit and vision and you have yourselves a hockey player.
Draft placement – Mid teens to mid twenties on most lists. He is  kind of like the Curtis Lazar of this draft (on and off the ice) – not producing high end points but doing the little things that make a good pro. Curtis Lazar looks like he will be all right; same with Dylan Larkin. For the record, Curtis Lazar went at 17 to Ottawa in 2013.
Video
About NHL Draft War Room Series
This series is compiled by Eldon MacDonald and edited by @ChrisRalphTHW)
Chris is THW's senior draft/prospect analyst and a Managing Editor. Watch for "The Next Ones" Prospect Profile series, exclusive rankings, mock drafts, as well as the annual THW NHL Entry Draft Guide. Follow @ChrisRalphYQ on Twitter as he infiltrates, dissects and analyzes all happenings of hockey prospects and the NHL entry draft. Email: cralph[at]thehockeywriters[dot]com