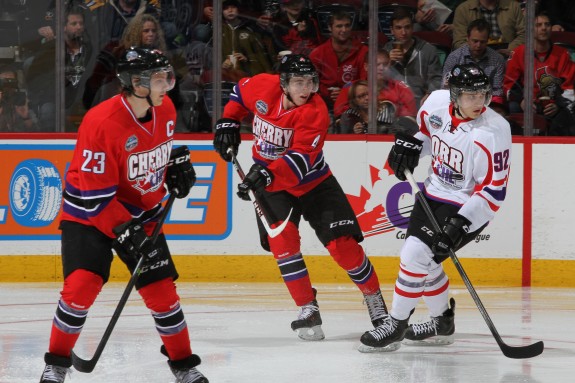 The following are links to the completed prospect profiles and interviews for the two draft series featured at THW:
The Next Ones (click here for Chris's List – Top 210 Final Rankings)
NHL Draft War Room (click here for Top 180 War Room Final Rankings)
They are currently sorted based on alphabetical order by last name. This document will be continuously updated as profiles released. Most of the prospects will have updated stats and videos in addition to the profiles or interviews. Enjoy!
[Check out: your quintessential FREE draft resource
Prospect List (117 Profiles thus far)
Allen, Evan – U. of Michigan, Big Ten, C, 5'10, 201 Profile(s): Next Ones – 2013
Aube-Kubel, Nicolas – Val d'Or, QMJHL, RW, 5'11, 179 – Profile(s) Next Ones
Audette, Donald, Sherbrooke, QMJHL, LW, 5'9, 176 – Profile(s): Next Ones
Barbashev, Ivan – Moncton, QMJHL, LW, 6'0, 180 – Profile(s): Next Ones – War Room
Bayreuther, Gavin, St. Lawrence, ECAC, D 6'1, 195 – Profile(s): War Room
Bennett, Sam – Kingston, OHL, C, 6,0, 178 – Profile(s):  Next Ones – War Room
Bergman, Julius – Frölunda J20, SWE J20, 6'1, 196 – Profile(s): Next Ones
Bishop, Clark – Cape Breton, QMJHL, 6'1, 183 – Profile(s): Next Ones
Bjork, Anders – USA U18, USHL, 5'11, 181 – Profile(s): Next Ones
Bleackley, Connor – Red Deer, WHL, C, 6'1, 195 – Profile(s):  Next Ones – War Room
Bunting, Michael – Sault Ste. Marie, OHL, LW, 6'0, 179 – Profile(s): Next Ones
Clarke, Blake – Saginaw, OHL, LW, 6'1, 190 – Profile(s):  Next Ones
Collins, Ryan – USA U18, USHL, D, 6'5, 202 – Profile(s): Next Ones
Cornel, Eric – Peterborough, OHL, C/RW, 6'2, 186 – Profile(s):  Next Ones– War Room
Dal Colle, Micheal – Oshawa, OHL, LW, 6'2, 182 – Profile(s):  Interview – Next Ones – War Room
DeAngelo, Anthony – Sarnia, OHL, D, 5'11, 175 – Profile(s): Next Ones– War Room
De Leo, Chase – Portland, WHL, C, 5,10, 175 – Profile(s):Next Ones
Demko, Thatcher – Boston College, Hockey East, G, 6'4, 192 Profile(s): Interview – Next Ones – War Room
Donato, Ryan – Dexter HS, HS MA, C, 6'0, 174 – Profile(s): War Room
Dougherty, Jack – USA U18, USHL, D, 6'1, 186 – Profile(s): Next Ones –  War Room
Duke, Reid – Lethbridge, WHL, LW, 6'0, 187 – Profile(s): Next Ones
Draisaitl, Leon – Prince Albert, C, 6'2, 204 – Profile(s):  Next Ones – War Room
Edmonds, Ty – Prince George, G, 6'2, 175 – Profile(s): Interview
Ehlers, Nikolaj – Halifax, QMJHL, LW, 5'11, 162 – Profile(s):  Next Ones – War Room
Ekblad, Aaron – Barrie, OHL, D, 6'4, 216 –  Profile(s):  Interview – Next Ones – War Room
Englund, Andreas – Djurgården, Allsvenskan, D, 6'3, 189 – Profile(s): War Room
Fabbri, Robert – Guelph, OHL, C, 5'10, 170 – Profile(s):  Next Ones – War Room
Fiala, Kevin – HV 71 – SHL, LW, 5'10, 180 – Profile(s):  Next Ones – War Room
Fleury, Haydn – Red Deer, WHL, D, 6'3, 203 – Profile(s):  Next Ones – War Room
Foegele, Warren – St. Andrews, HS ON, LW, 6,1, 178 – Profile(s): War Room
Fortunato, Brandon – USA U18, USHL, D, 5'10, 148 – Profile(s): Next Ones
Gendron, Miles – Rivers Academy, HS MA, D, 6'2, 181 – Profile(s): War Room–Next Ones
Gardiner, Reid – Prince Albert, WHL, C, 5'11, 185 – Profile(s):Next Ones
Gersich, Shane, USA U18, USHL, LW/C, 5'11, 174 – Profile(s): Next Ones
Glover, Jack – USA U18, USHL, D, 6'3, 190 – Profile(s): Next Ones – War Room
Goldobin, Nikolay – Sarnia, OHL, RW, 6'0, 178 – Profile(s):  Next Ones – War Room
Halladay, Logan – Janesville, NAHL, G, 6'2, 190 – Profile(s): Interview
Harper, Stephen – Belleville, OHL, LW, 6'1, 200 – Profile(s): Next Ones – 2013
Hawryluk, Jayce – Brandon, WHL, C, 5'10, 192 – Profile(s): Next Ones
Haydon, Aaron – Niagara, OHL, D, 6'3, 190 – Profile(s): Next Ones
Hitchcock, Ryan, USA U18, USHL, 5'9, 172 – Profile(s): Next Ones
Honka, Julius – Swift Current, WHL, D, 5'11, 180 – Profile(s):  Next Ones– War Room
Ho-Sang, Joshua – Windsor, OHL, RW, 5'11, 175 – Profile(s): Next Ones – War Room
Husso, Ville – HIFK, SM-liiga, G, 6'3, 205 – Profile(s):  Next Ones – 2013
Jacobs, Joshua – Indiana, USHL, D, 6'2, 196 – Profile(s): Next Ones – War Room
Johansson, Emil – HV 71 J20, SWE J20 – 6'0, 194 – Profile(s): Next Ones
Johansson, Jonas – Brynäs J20, SWE J20, G, 6'4, 198 – Profile(s):Next Ones
Kähkönen, Kaapo, Blues U20, SM-liiga, G, 6'2, 209 – Profile (s): Next Ones
Kamenev, Vladislav – Stalnye Lisy Magnitogorsk, MHL, C/LW, 6'2, 203 – Profile(s):Next Ones
Kapanen, Kasperi – Kalpa, SM-liiga, RW, 6,0, 180 – Profile(s):  Next Ones – War Room
Karabacek, Viktor – Gatineau, QMJHL, RW, 5'11, 185 – Profile(s):Next Ones
Karlsson, Anton, Frölunda J20, SWE J20, LW, 6'1, 187 – Profile(s): Next Ones – War Room
Kaskisuo, Kasimir – Minnesota, NAHL, G, 6'2, 201 – Profile(s): Interview–Next Ones
Kempe, Adrian – MODO, SHL, LW, 6'2, 187 – Profile(s):  Next Ones – War Room
Kirkland, Justin – Kelowna, WHL, LW, 6'3, 189 – Profile(s): War Room
Kulda, Edgars – Kootenay, WHL, LW, 6'0, 178 – Profile(s):War Room
Larkin, Dylan – USA U18, USHL, LW, 6'1, 190 – Profile(s):  Next Ones– War Room
Leblanc, Olivier – Saint John, QMJHL, D, 5'11, 159 – Profile(s): Next Ones
Lemieux, Brendan – Barrie, OHL, LW, 6'0, 206 – Profile(s):Next Ones  –War Room
Lindo, Jaden – Owen Sound, OHL, RW, 6'1, 203 – Profile(s): Next Ones
Lindholm, Oskar – Brynäs J20, SWE J20, RW, 6'2, 187 – Profile(s):Next Ones
Lotz, Austin – Everett, WHL, G, 6'1, 200 – Profile(s): Next Ones – 2013
Lyamkin, Nikita – Chicoutimi, QMJHL, D, 6'3, 165 – Profile(s): Next Ones
MacInnis, Ryan – Kitchener, OHL, C, 6'4, 185 – Profile(s):  Interview – War Room
MacLeod, Jonathan, USA U18, USHL, D, 6'1, 179 – Profile(s): Next Ones
Mantha, Ryan, Indiana (now Muskegon), USHL, 6'5, 225 – Profile(s): Next Ones
Martin, Brycen – Swift Current, WHL, D, 6'2, 185 – Profile(s): Next Ones
Masin, Dominik – HC Slavia Praha U20, CZE U20, D, 6,2, 194 – Profile(s): Next Ones
McCann, Jared – Sault Ste. Marie, OHL, C, 6'0, 179 – Profile(s):  Next Ones – War Room
McDonald, Mason – Charlottetown, QMJHL, 6'4, 178 – Profile(s): Interview – Next Ones – War Room
McKeown, Roland – Kingston, OHL, D, 6'1, 197 – Profile(s):  Next Ones – War Room
Merzlikins, Elvis – Lugano, NLA, G, 6'3, 187 – Profile(s): War Room
Middleton, Jacob – Ottawa, OHL, D, 6'3, 200 – Profile(s): Next Ones–War Room
Milano, Sonny – USA U18, USHL, LW, 6'0, 183 – Profile(s):  Next Ones –War Room
Minney, Edward – USA U18, USHL, G, 6'4, 191 – Profile(s): Interview–Next Ones
Mistele, Matt – Plymouth, OHL, LW,  6'2, 190 – Profile(s): Next Ones
Montour, Brandon, Waterloo, USHL, D, 6,0, 172 – Profile(s):War Room
Moran, Brent – Niagara, OHL, G, 6'4, 186 – Profile(s): Interview – Next Ones
Muzito Bagenda, Daniel – MODO J20, SWE J20, LW, 6'1, 198 – Profile(s): Next Ones
Nantel, Julien – Rouyn-Noranda, RW, 6'0, 168 – Profile(s):Next Ones
Nedeljkovice, Alex – Plymouth, OHL, G, 6'0, 190 – Profile(s): Interview – Next Ones – War Room
Nylander, William – MODO, SHL, C/RW, 5'11, 169 – Profile(s):  Next Ones – War Room
Ollas Mattsson, Adam – Djurgården J20, SWE J20, D, 6'4, 216 – Profile(s):Next Ones
Pastrňák, David – Södertälje,  Allsvenskan, RW, 6'0, 167 – Profile(s):  War Room–Next Ones
Pepin, Alexis – Gatineau, QMJHL, LW/C, 6'2, 238 – Profile(s): Next Ones
Perlini, Brendan – Niagara, OHL, LW, 6'3, 205 – Profile(s):  Next Ones – War Room
Perry, Chase, Wenatchee, NAHL, G, 6'3, 189 – Profile(s): Interview – Next Ones
Peters, Alex – Plymouth, OHL, D, 6'3, 207 – Profile(s): Next Ones – War Room
Pettersson, Marcus – Skellefteå J20, SWE J20, D, 6'4, 167 – Profile(s): War Room
Philp, Luke – Kootenay, WHL, RW, 5,10, 178 – Profile(s): Next Ones
Point, Brayden – Moose Jaw, WHL, C, 5'9, 161 – Profile(s): Next Ones
Pollock, Brett – Edmonton, WHL, C, 6'2, 187, Profile(s):Next Ones
Poganski, Austin – Tri-City, USHL, RW, 6'1, 198 – Profile(s): Next Ones
Quenneville, John – Brandon, WHL, C, 6'1, 182 – Profile(s): War Room–Next Ones
Rehill, Ryan – Everett, WHL, D, 6'3, 213 – Profile(s):War Room
Reich, Kevin – Dubuque, USHL, G, 6'1, 198 – Profile(s): Interview
Reinhart, Sam – Kootenay, WHL,  C, 6,1, 185 – Profile(s):  Interview – Next Ones – War Room
Ritchie, Nick – Peterborough, OHL, LW, 6'2, 226 – Profile(s):  Next Ones – War Room
Rod, Noah – Genève-Servette, NLA, RW, 6'0, 192 – Profile(s):  War Room
Sanheim, Travis – Calgary, AB, WHL, 6'3, 181 – Profile(s):  Next Ones – War Room
Scherbak, Nikita – Saskatoon, WHL, RW, 6'1, 175 – Profile(s):  Next Ones – War Room
Schmaltz, Nick – Green Bay, USHL, C, 6'0, 172 – Profile(s):  Next Ones – War Room
Sergeev, Dmitrii – Kitchener, OHL, D, 6'2, 209 – Profile(s): Next Ones
Smith, Hunter – Oshawa, OHL, RW, 6'6, 210 – Profile(s): War Room
Thomas, Ben – Calgary, WHL, D, 6'1, 190 – Profile(s): Next Ones
Tkachyov, Vladimir – Moncton, QMJHL, RW, 5'9, 163 – Profile(s):Next Ones
Tuch, Alex – USA U18, USHL, RW, 6'4, 213 – Profile(s):  War Room
Valiev, Rinat – Kootenay, WHL, D, 6'2, 205 – Profile(s): Next Ones – 2013
Vanier, Alexis – Baie-Comeau, QMJHL, D, 6'5, 255 – Profile(s):  Next Ones – War Room
Virtanen, Jake – Calgary, WHL, RW, 6'1, 208 – Profile(s):  Next Ones – War Room
Vrána, Jakub – Linköping, SHL, RW, 5'11, 185 – Profile(s):  Next Ones – War Room
Wallmark, Lucas – Luleå, SHL, C, 6'0, 176 – Profile(s): Next Ones – 2013
Warner, Hunter –Waterloo, USHL,D, 6'3, 190 – Profile(s):Next Ones
Watson, Spencer – Kingston, OHL, RW, 5'9, 170 – Profile(s): Next Ones
Wegwerth, Joe – USA U 18, USHL, RW, 6'3, 229 – Profile(s):Next Ones
Weyrick, Blake – USA U18, USHL, G, 6'3, 203 – Profile(s): Interview
Wood, Kyle – North Bay, OHL, 6'5, 229 – Profile(s):War Room
_________________________________
About NHL Draft War Room Series
This series is compiled by Eldon MacDonald and edited by @ChrisRalphTHW)