Micheal Dal Colle
THW's NHL Draft War Room Rankings: #4 (Feb 2014)
THW's NHL Draft Rankings – The Next Ones Edition (aka Chris's List): #6 (March 2014)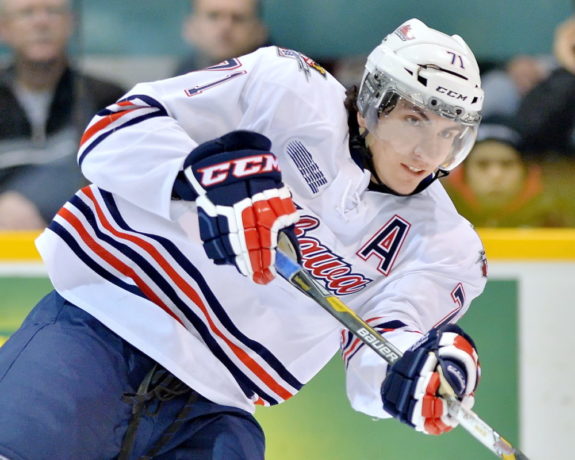 Hashtag/Nickname: MrSlick
Team: #71, Oshawa, OHL
Position: Left Wing/Centre
Shoots: Left
Height: 6'2
Weight: 179 lb.
Born: Woodbridge, ON, 20-Jun-96
Twitter: @MDalColle71
Stats
Other Rankings
4 – Bob MacKenzie, Jan-14
4 – Craig Button, Jan-14
4 – ISS, Feb-14
5 – Future Considerations, Feb-14
5 – NHL Combined – Mid-term, Jan-14
Worth Retweeting
First #CHL Player of the Week for 2013-14 is #NHLDraft prospect Michael Dal Colle @MDalColle71 of #OHL @Oshawa_Generals with 7PTS in 2GP

— Canadian Hockey League (@CHLHockey) September 24, 2013
#NHLDraft Profile: Michael Dal Colle's (@MDalColle71) family has powered his relentless drive ~ http://t.co/BIbqrTJukN

— Calgary Flames (@NHLFlames) February 21, 2014
http://t.co/TMB326PEad
#4 Michael Dal Colle @MdalColle71
Powers his way to scoring areas & shows excellent finish. Veteran presence on puck.

— ISS Hockey (@ISShockey) January 19, 2014
Profiles
New Hot List up, 2014 prospect Michael Dal Colle of the Oshawa Generals in the spotlight: http://t.co/qOhyFeLkPn

— Ryan Kennedy (@THNRyanKennedy) December 11, 2013
Interview
Quotable
NHL Director of Central Scouting, Dan Marr at durhamregion.com, "Michael Dal Colle, from our opinion, is an NHL power forward in the making. He's one of the more consistent game-in and game-out performers in this draft class. Every game you go to you see the same game from him, the same work ethic, the same energy. Our projection is that he is going to creep into the mix where he's going to be up there for the top consideration."
From the War Room
Eldon MacDonald, THW: A few words on Michael Dal Colle:

Size – The first thing you notice about Michael is that he has that NHL frame that every team is looking for. Although he has yet to fill out at 179 lb., the basis of a big NHL forward is there.
Scorer – Micheal has one if not the highest skillset for scorers in the draft. Size, creativity, elusiveness, puck protection, stickhandling, battling – Michael is your man.
Power forward – You hear the phrase "power forward" a lot when you hear what each team needs in the draft. Micheal is not yet that power forward due to strength considerations but he will be in the near future. NHL teams are drafting for the future so I would be very surprised if Micheal didn't go in the top five; how high is still up to him.
Video
http://www.youtube.com/watch?v=MubBtfBZGhI
About NHL Draft War Room Series
This series is compiled by Eldon MacDonald and edited by @ChrisRalphTHW)